---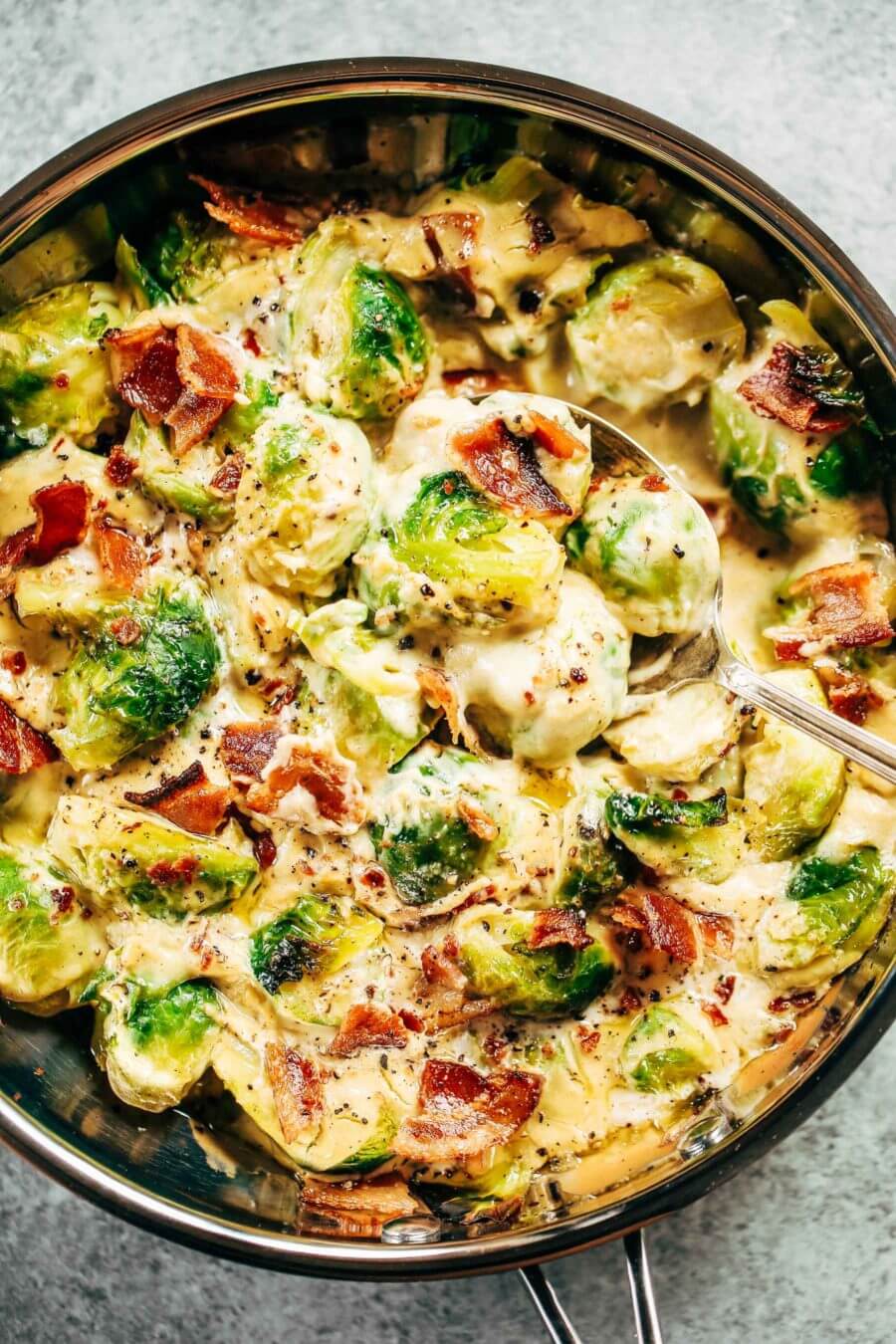 Creamy bacon brussel sprouts in cauliflower cream sauce! This dish is outstanding all on it's own or can be paired with another side of greens. It's a family favorite! Gluten free, dairy free, paleo, and whole30. 

Print Recipe Creamy Cauliflower Bacon Garlic Brussel Sprouts Creamy bacon brussel sprouts in cauliflower cream sauce! This dish is outstanding all on it's own or can be paired with another side of greens. It's a family favorite! Gluten free, dairy free, paleo, and whole30.  Ingredients Main Dish Votes: 73
Rating: 3.27
You: Rate this recipe! Info Cook Time 20 minutes Prep Time 20 minutes Servings servings MetricUS Imperial Course Main Dish Votes: 73
Rating: 3.27
You: Rate this recipe! Ingredients
Cook bacon as directed on packaging until crispy then cut into bacon bits.
Steam brussel sprouts for 5-8 minutes until soft, but not mushy. Then drain excess water.
In a small sauce pan steam cauliflower rice in 1" water for 5-8 minutes until soft, then drain excess water. Blend cauliflower and ingredients for sauce in a high speed blender until smooth. Pour sauce into saucepan and simmer for 10 minutes (stirring on occasion).
Add brussel sprouts and bacon bits into a skillet and top with cauliflower sauce. Serve right away or bake on 450F for 10 minutes to crisp the brussel sprout tops.
Nutrition Facts Creamy Cauliflower Bacon Garlic Brussel Sprouts Amount Per Serving Calories 316 Calories from Fat 126 % Daily Value* Total Fat 14g 22% Saturated Fat 10g 50% Polyunsaturated Fat 0.3g Monounsaturated Fat 0.1g Cholesterol 4mg 1% Sodium 744mg 31% Potassium 1078mg 31% Total Carbohydrates 34g 11% Dietary Fiber 14g 56% Sugars 9g Protein 15g 30% Vitamin A 32% Vitamin C 408% Calcium 12% Iron 26% * Percent Daily Values are based on a 2000 calorie diet.
Read more