---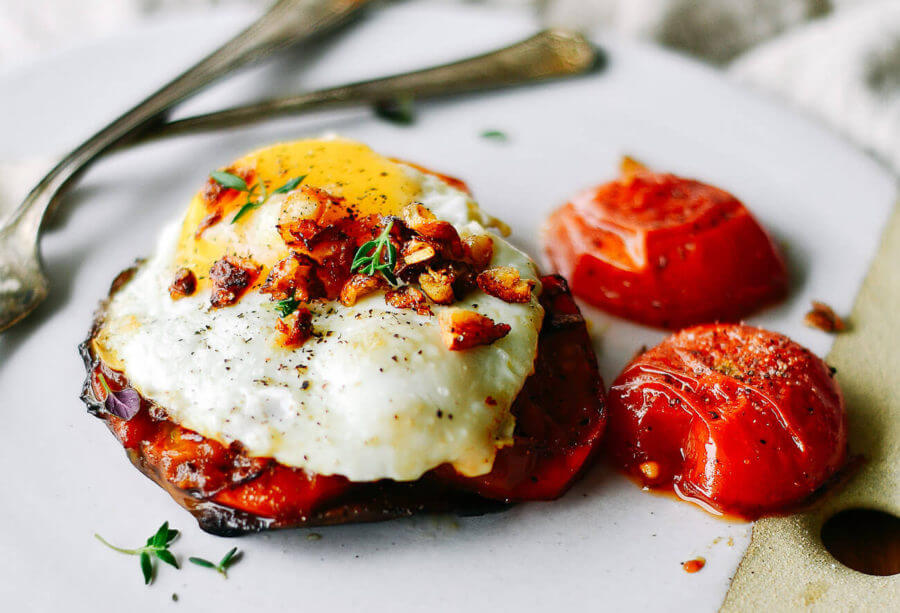 Beautiful egg toast with gorgeous roasted tomatoes and pan roasted portobella mushrooms. Topped off with crispy garlic bits, fresh thyme, and sea salt and fresh cracked pepper. A quick, easy, whole30, and paleo breakfast!

Print Recipe Whole30 Pan Roasted Portobello Egg "Toast" Beautiful egg toast with gorgeous roasted tomatoes and pan roasted portobello mushrooms. Topped off with crispy garlic bits, fresh thyme, and sea salt and fresh cracked pepper. A quick, easy, whole30, and paleo breakfast! Ingredients Info Cook Time 25 minutes Prep Time 25 minutes Servings MetricUS Imperial Course Main Dish Votes: 4
Rating: 4.25
You: Rate this recipe! Info Cook Time 25 minutes Prep Time 25 minutes Servings MetricUS Imperial Course Main Dish Votes: 4
Rating: 4.25
You: Rate this recipe! Ingredients Instructions
Slice the portobello mushrooms in half. Drizzle a large fry pan with olive oil. Place the mushrooms in the pan and cook for about 10 minutes over medium heat on the stovetop (about 5 minutes on each side) until soft and kinda crispy on the edges. Once the mushrooms are cooked set them aside.
Cut tomatoes in half and cook in the fry pan with a drizzle of olive oil (enough olive oil so they don't stick or burn). Cook for about 10 minutes (about 5 minutes on each side). Once the tomatoes are cooked remove them from the pan and set aside.
Mince garlic and sauté with a drizzle of olive oil for about 1 minute until golden and crispy. Then set aside.
Fry the eggs (to your liking). Then layer and assemble the mushroom "toast". Top with crispy garlic, fresh thyme leaves, sea salt, and fresh cracked pepper.
Nutrition Facts Whole30 Pan Roasted Portobello Egg "Toast" Amount Per Serving Calories 162 Calories from Fat 108 % Daily Value* Total Fat 12g 18% Saturated Fat 2g 10% Polyunsaturated Fat 1g Monounsaturated Fat 7g Cholesterol 186mg 62% Sodium 74mg 3% Potassium 228mg 7% Total Carbohydrates 8g 3% Dietary Fiber 1g 4% Sugars 4g Protein 8g 16% Vitamin A 16% Vitamin C 28% Calcium 3% Iron 6% * Percent Daily Values are based on a 2000 calorie diet.
Read more