---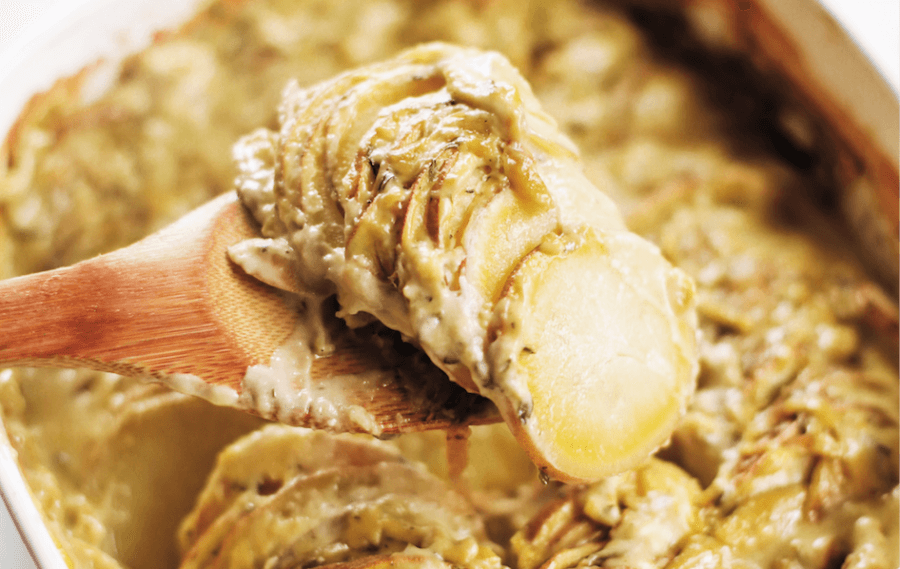 Cheese-free vegan scalloped potato recipe. Easy paleo and whole30 sweet potato casserole for breakfast, lunch, or dinner. A healthy sweet potato side dish for anytime of year! 

Print Recipe Scalloped Sweet Potatoes Cheese-free vegan scalloped potato recipe. Easy paleo and whole30 sweet potato casserole for breakfast, lunch, or dinner. A healthy sweet potato side dish for anytime of year! Ingredients Info Cook Time 80 minutes Prep Time 10 minutes Servings servings MetricUS Imperial Course Side Dish Votes: 4
Rating: 5
You: Rate this recipe! Info Cook Time 80 minutes Prep Time 10 minutes Servings servings MetricUS Imperial Course Side Dish Votes: 4
Rating: 5
You: Rate this recipe! Ingredients Instructions
Preheat oven to 350F.
In a saucepan whisk all ingredients together (except potatoes). Heat the sauce over medium heat and whisk continually for about 2-4 minutes until it simmers, thickens, and reaches a thick gravy-like consistency.
Layer the 1/4" thick sliced sweet potatoes into an 8" casserole dish. Pour sauce over potatoes and bake on 350F for about 80 minutes until bubbly and golden on the top.
Nutrition Facts Scalloped Sweet Potatoes Amount Per Serving Calories 321 Calories from Fat 171 % Daily Value* Total Fat 19g 29% Saturated Fat 15g 75% Polyunsaturated Fat 0.03g Monounsaturated Fat 0.01g Sodium 620mg 26% Potassium 242mg 7% Total Carbohydrates 30g 10% Dietary Fiber 5g 20% Sugars 6g Protein 9g 18% Vitamin A 189% Vitamin C 12% Calcium 3% Iron 20% * Percent Daily Values are based on a 2000 calorie diet.
Read more