Whole30 Pan Roasted Portobello Egg Toast
---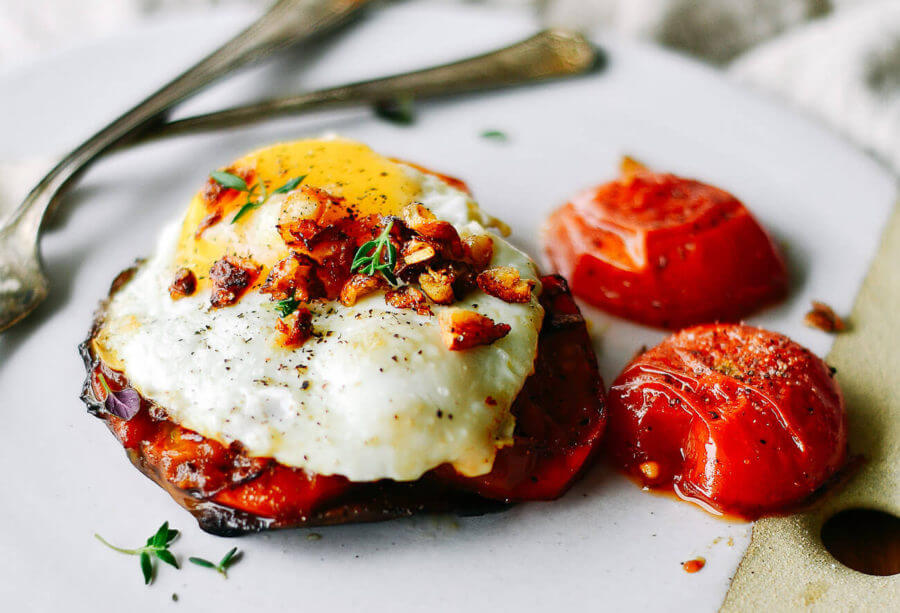 Beautiful egg toast with gorgeous roasted tomatoes and pan roasted portobello mushrooms. Topped off with crispy garlic bits, fresh thyme, sea salt, and fresh cracked pepper. A quick, easy, whole30, and paleo breakfast!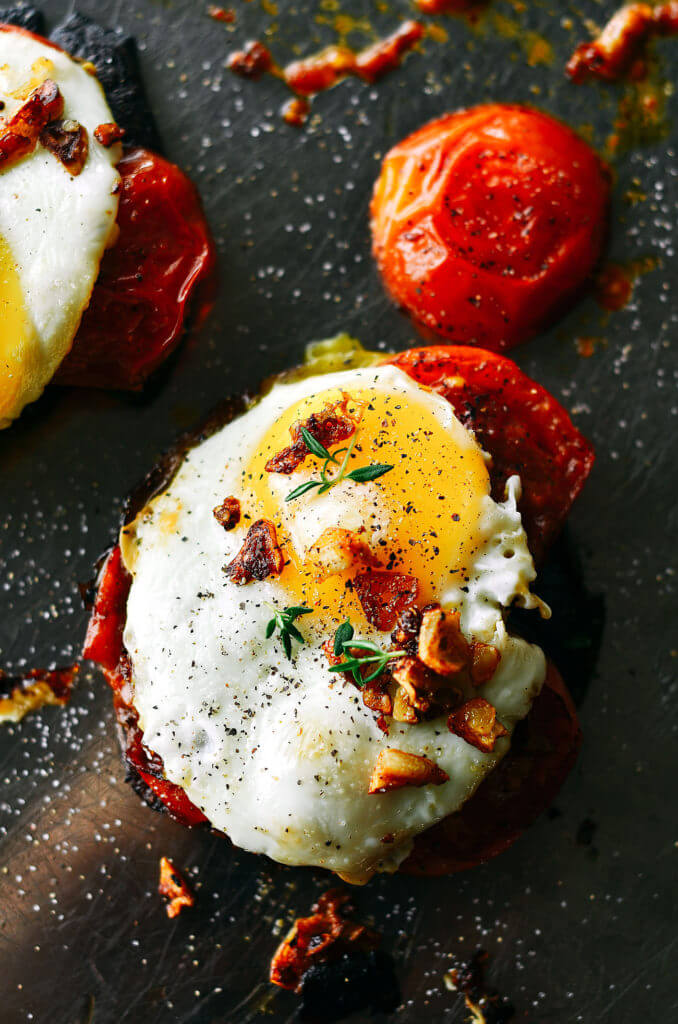 This sunny dish of breakfast goodness made my morning. I saw this pin on Pinterest about a tomato egg toast. So I decided that I had to make a whole30 version! Pan seared portobello mushrooms serve as the "toast" in this dish.
Roasted tomatoes add a bit of a color pop and a dazzling rich vibrant flavor! And that gorgeous sunny delicious egg on top; can't beat it! It was everything I ever wanted out of egg toast- without the carbs!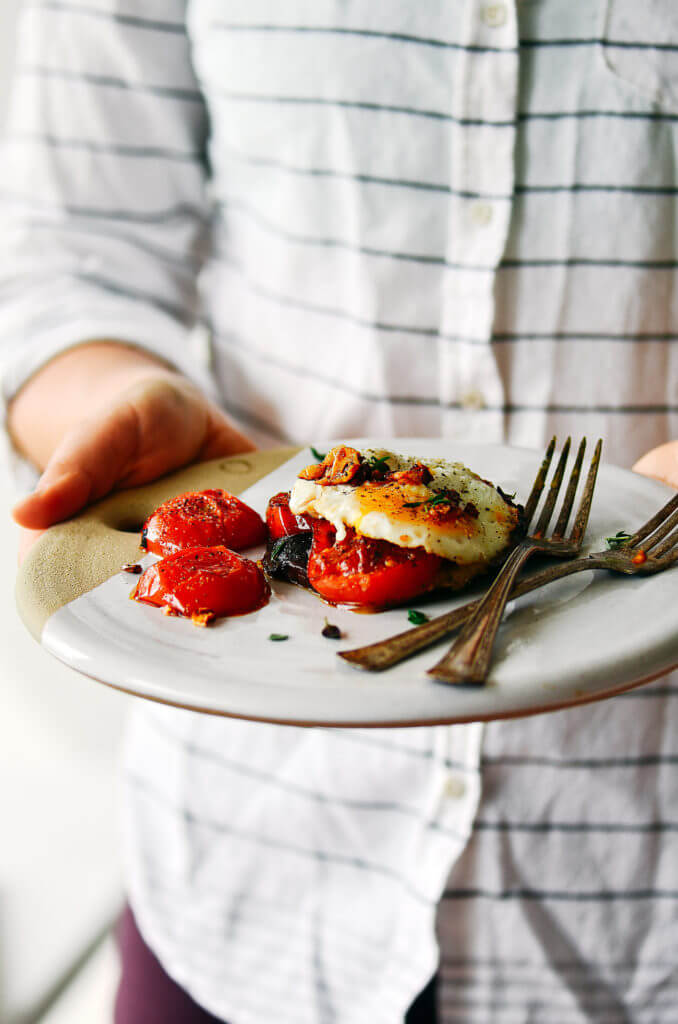 My new studio space is taking such stress off me; I am literally so thrilled!!
Being able to leave everything up and not having to haul all my dishes out from under my bed and work in a tiny kitchen is the best gift ever. And makes waking up to the thought of work a joy instead of a pain (followed by tears!!.. not literally. Okay, maybe literally tears some days).
I still haul my sheetrock wall background in from time to time though. 😉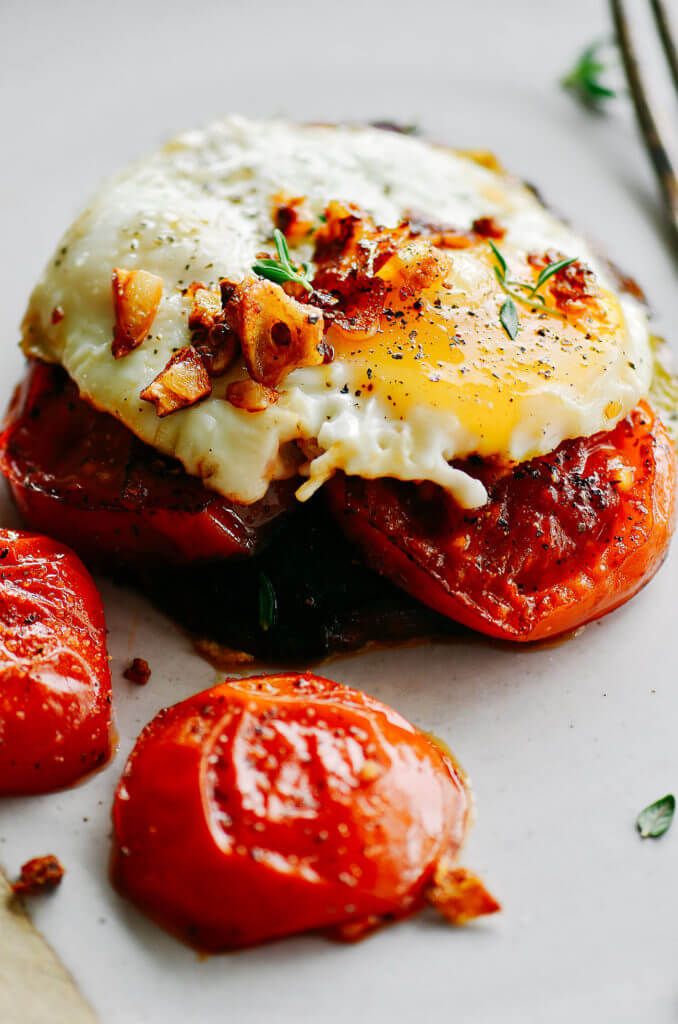 Due to the fresh inspiration from having a new and clean space to work in, making these roasted porto mushroom toasts were definitely top on the to do list. Yes, it was the very first thing that I did once I got organized.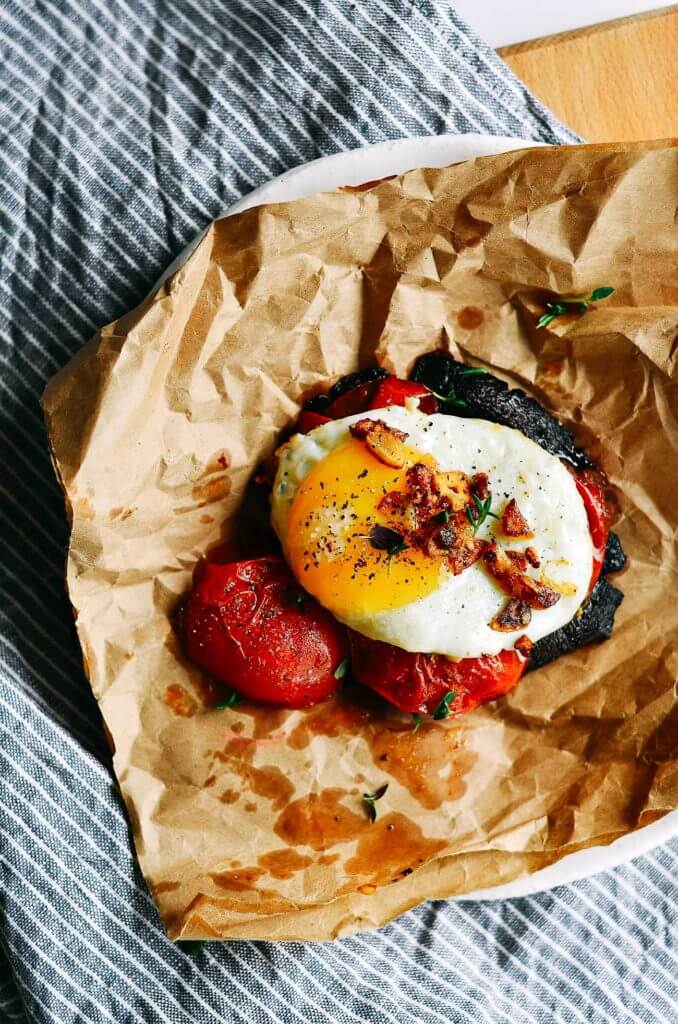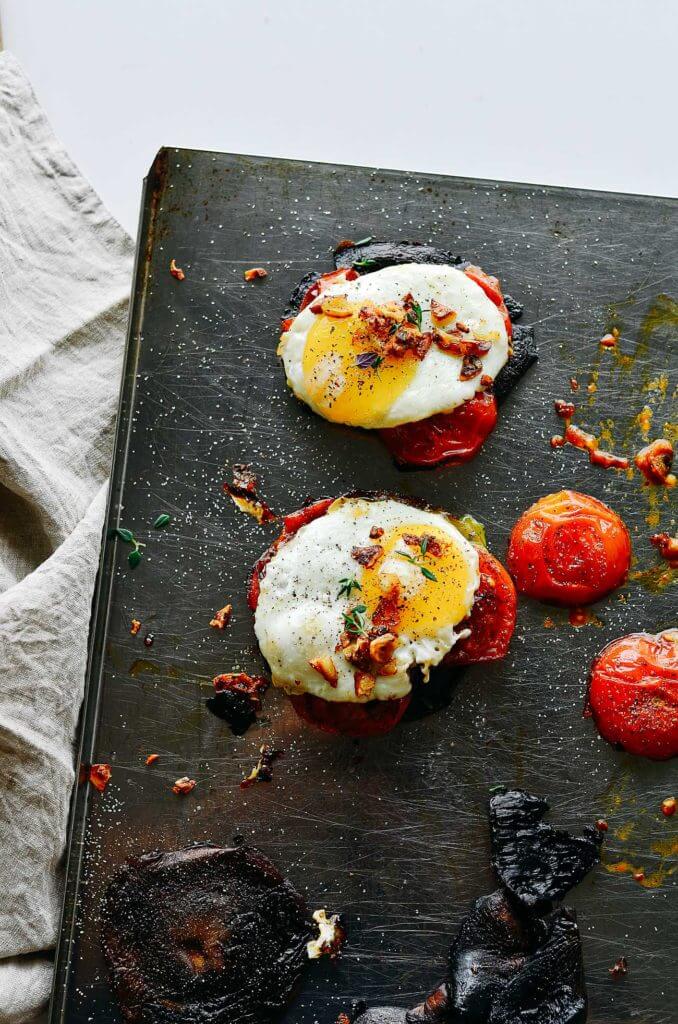 This easy whole30 breakfast was a refreshing change of pace for me. I usually just reach for a slab of leftover baked chicken and 1/2 an avocado. But having something more "like a meal" was kinda fun, I have to admit! It only takes a few minutes to whip up this beautiful spread.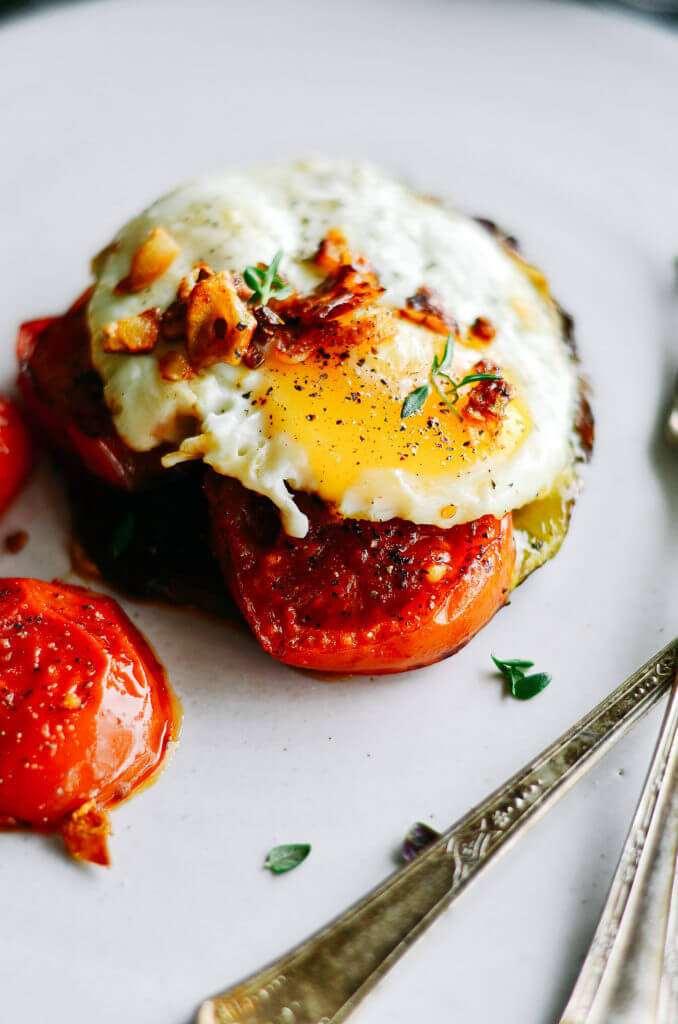 topping off your portobello "toast"
I topped my "toast" off with some fresh thyme. That was a good move. I have been LOVING sprinkling a little fresh thyme on my dishes lately because it adds an extra depth of flavor that is incredibly fresh.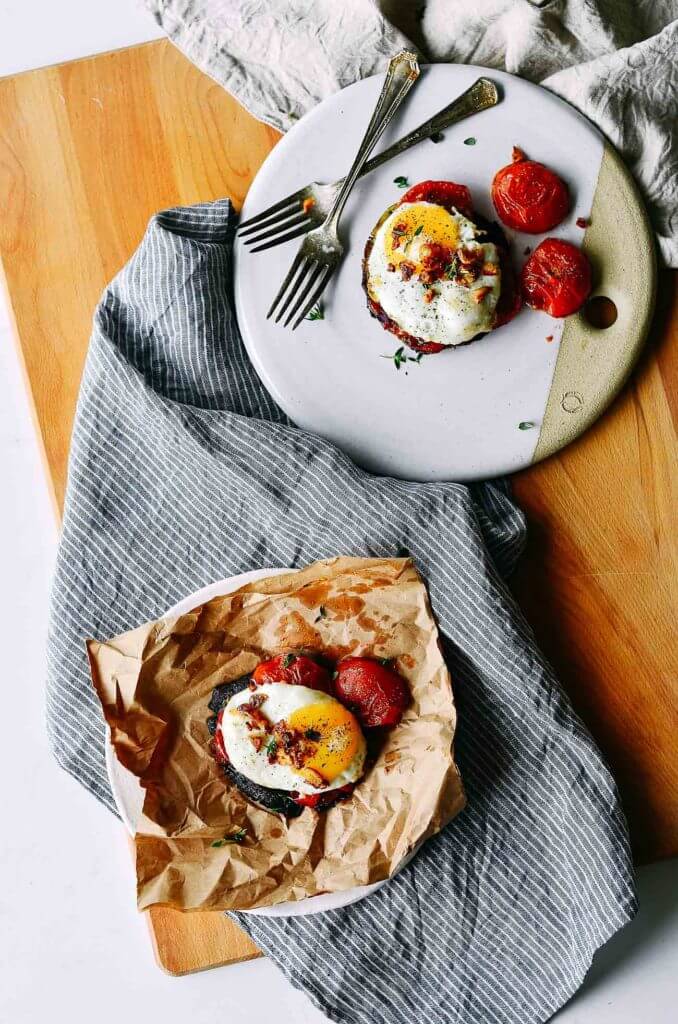 This recipe has a lot left up to you. Basically, you can make the egg how you want. You can cook the portobello more… or less. And you can choose to use fresh or roasted tomatoes. I mean, you can't really go wrong any way with this. Except maybe eating it cold! I tried that and it was terrible!! Hahaha.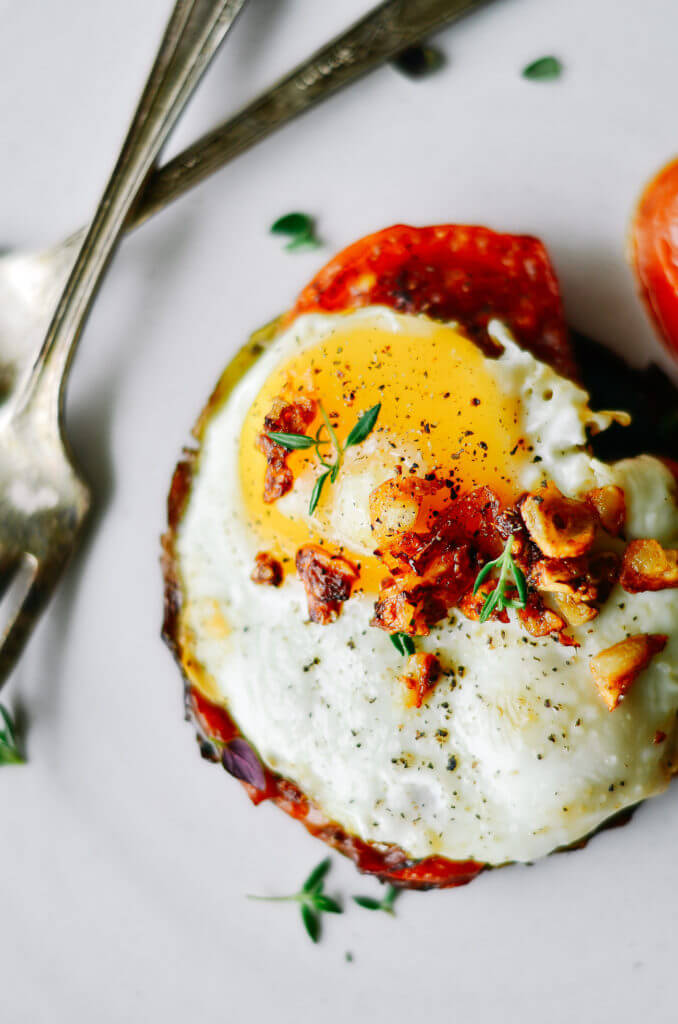 Since whole30 breakfast can get kinda boring with the same recipe (basically boiled eggs, fried eggs, or poached eggs and bacon, right?). I thought I would suggest to you a few of my new faves that have me excited about breakfast! Check it out-
Instant Whole30 Cinnamon Apple Hot Cereal
Oh! I almost forgot! You can totally make this with my most popular 5 minute paleo sandwich bread instead of a portobello if you aren't doing whole30.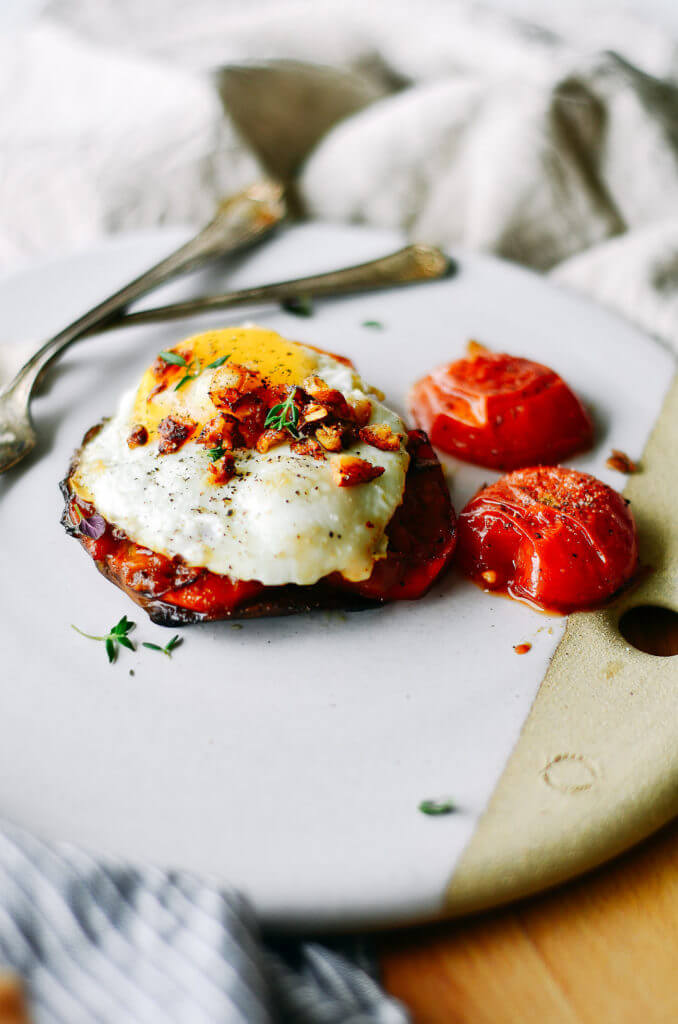 Slice the portobello mushrooms in half. Drizzle a large fry pan with olive oil. Place the mushrooms in the pan and cook for about 10 minutes over medium heat on the stovetop (about 5 minutes on each side) until soft and kinda crispy on the edges. Once the mushrooms are cooked set them aside.

Cut tomatoes in half and cook in the fry pan with a drizzle of olive oil (enough olive oil so they don't stick or burn). Cook for about 10 minutes (about 5 minutes on each side). Once the tomatoes are cooked remove them from the pan and set aside.

Mince garlic and sauté with a drizzle of olive oil for about 1 minute until golden and crispy. Then set aside.

Fry the eggs (to your liking). Then layer and assemble the mushroom "toast". Top with crispy garlic, fresh thyme leaves, sea salt, and fresh cracked pepper.
Nutrition Facts

Whole30 Pan Roasted Portobello Egg "Toast"

Amount Per Serving

Calories 162

Calories from Fat 108

% Daily Value*

Total Fat 12g 18%

Cholesterol 186mg 62%

Sodium 74mg 3%

Potassium 228mg 7%

Total Carbohydrates 8g 3%

Protein 8g 16%

* Percent Daily Values are based on a 2000 calorie diet.