---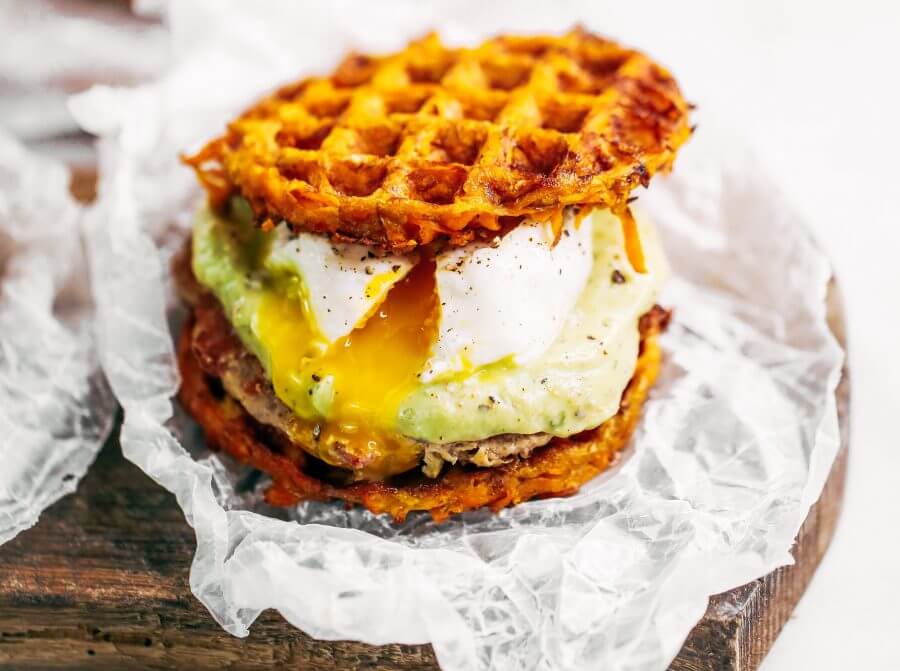 Bacon turkey burgers with avocado ranch dressing and sweet potato waffles! This whole30 breakfast is easy, delicious, and filling. If you're looking for a healthy paleo breakfast burger recipe, this is it!

Print Recipe Whole30 Bacon Turkey Burger Bacon turkey burger with avocado ranch dressing and sweet potato waffles! This whole30 breakfast is easy, delicious, and filling. If you're looking for a healthy paleo breakfast burger recipe, this is it! Ingredients Info Cook Time 10 minutes Prep Time 8 minutes Servings patties MetricUS Imperial Course Main Dish Votes: 12
Rating: 4.42
You: Rate this recipe! Recipe Notes

Waffle Maker I use in this recipe- click here.

2 Ingredient Sweet Potato Waffle recipe- click here.

Avocado Ranch Dressing- click here. 

Info Cook Time 10 minutes Prep Time 8 minutes Servings patties MetricUS Imperial Course Main Dish Votes: 12
Rating: 4.42
You: Rate this recipe! Recipe Notes

Waffle Maker I use in this recipe- click here.

2 Ingredient Sweet Potato Waffle recipe- click here.

Avocado Ranch Dressing- click here. 

Ingredients Instructions
In a bowl combine all ingredients until fully mixed.
Heat a skillet over medium heat, drizzle lightly with olive oil, and use a large ice-cream scoop to form 8 patties. Press patties down with a fork on the skillet and cook until golden brown on each side (about 3-5 minutes on each side; I cover with a lid on the first side, then remove it when I turn them).
You can choose to serve these patties with my 2 ingredient sweet potato waffles, avocado ranch spread, and poached eggs for a healthy breakfast, lunch, or dinner- see recipe notes for the recipes above.
Nutrition Facts Whole30 Bacon Turkey Burger Amount Per Serving Calories 165 Calories from Fat 81 % Daily Value* Total Fat 9g 14% Saturated Fat 3g 15% Polyunsaturated Fat 2g Monounsaturated Fat 3g Cholesterol 82mg 27% Sodium 410mg 17% Potassium 184mg 5% Total Carbohydrates 2g 1% Dietary Fiber 0.3g 1% Sugars 1g Protein 17g 34% Vitamin A 1% Vitamin C 3% Calcium 1% Iron 9% * Percent Daily Values are based on a 2000 calorie diet.
Read more