---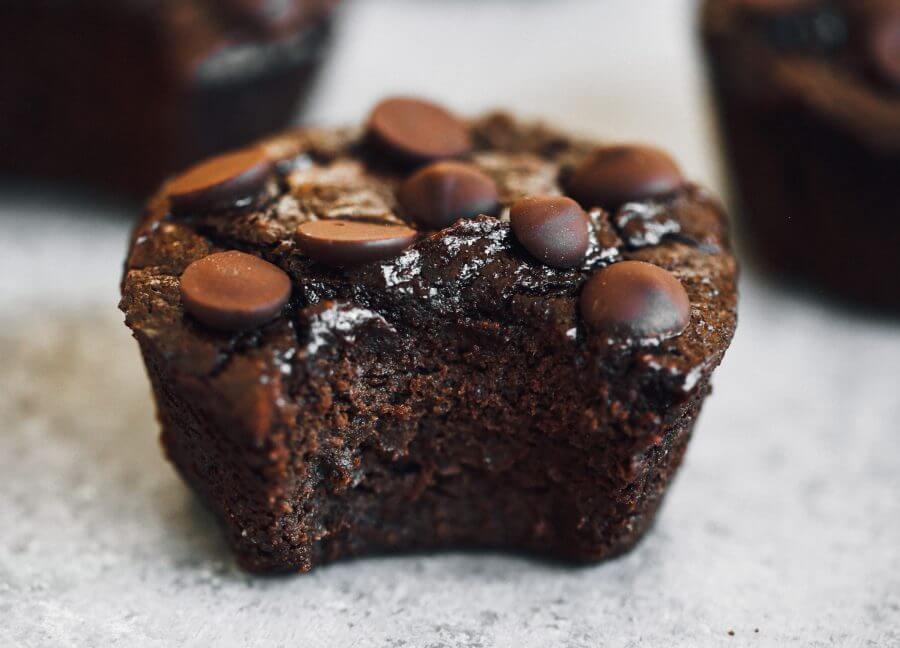 Fudgey chocolate muffins made with avocado and sweetened with dates and an apple! These healthy paleo chocolate muffins taste almost like brownies and are so delicious! They can be stored in the freezer for future breakfasts or desserts.

Print Recipe Chocolate Avocado Muffins Fudgey chocolate muffins made with avocado and sweetened with dates and an apple! These healthy paleo chocolate muffins taste almost like brownies and are so delicious! They can be stored in the freezer for future breakfasts or desserts. Ingredients Info Cook Time 30 minutes Prep Time 5 minutes Servings muffins MetricUS Imperial Course Snack Votes: 41
Rating: 3.56
You: Rate this recipe! Info Cook Time 30 minutes Prep Time 5 minutes Servings muffins MetricUS Imperial Course Snack Votes: 41
Rating: 3.56
You: Rate this recipe! Ingredients Instructions
Preheat oven to 350F. Generously grease a standard muffin pan with coconut oil.
In a food processor combine all ingredients (except baking soda and chocolate chips) until smooth. Add baking soda and pulse until combined.
Use a large ice-cream scoop and fill the muffin pan about 3/4 the way up (almost to the top). Sprinkle the tops with chocolate chips (optional) and bake on 350F for 30-35 minutes until cooked. You will know they are finished cooking when a knife inserted into the center of a muffin comes out clean. Makes 9-10 muffins.
Nutrition Facts Chocolate Avocado Muffins Amount Per Serving Calories 214 Calories from Fat 99 % Daily Value* Total Fat 11g 17% Saturated Fat 4g 20% Polyunsaturated Fat 1g Monounsaturated Fat 3g Cholesterol 56mg 19% Sodium 191mg 8% Potassium 271mg 8% Total Carbohydrates 27g 9% Dietary Fiber 5g 20% Sugars 19g Protein 5g 10% Vitamin A 2% Vitamin C 4% Calcium 3% Iron 5% * Percent Daily Values are based on a 2000 calorie diet.
Read more