---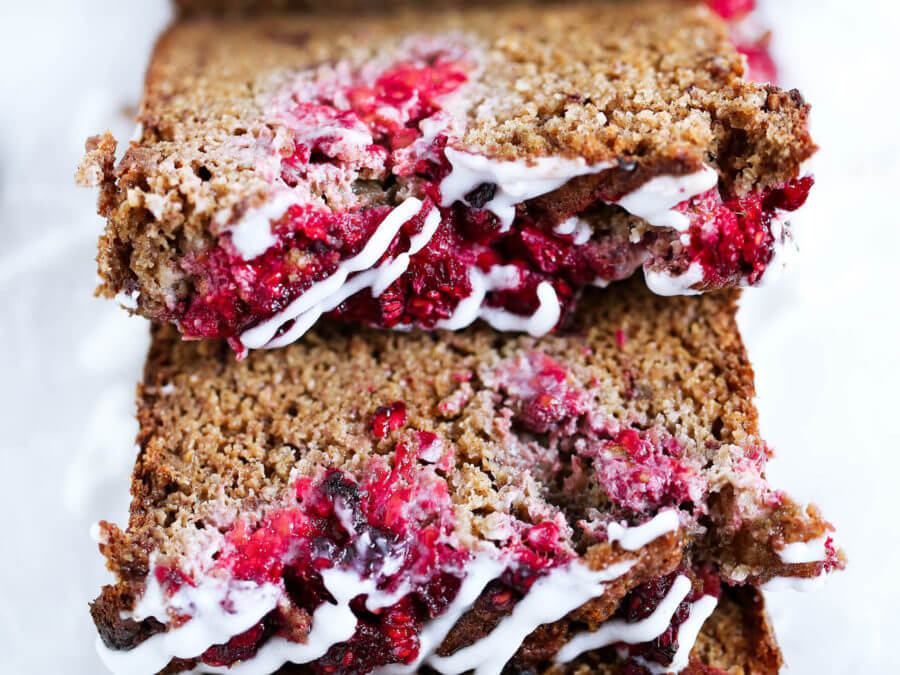 Quick, healthy, and easy paleo banana bread topped off with raspberries and a coconut butter glaze. Easily stores in the freezer for breakfast in the morning. Kid friendly, oil free, and contains NO sugar (just fruit!).

Print Recipe Paleo Banana Raspberry Bread Quick, healthy, and easy paleo banana bread topped off with raspberries and a coconut butter glaze. Easily stores in the freezer for breakfast in the morning. Kid friendly, oil free, and contains NO sugar (just fruit!). Ingredients Bread Side Dish Votes: 0
Rating: 0
You: Rate this recipe! Info Cook Time 45 minutes Prep Time 5 minutes Servings slices MetricUS Imperial Course Side Dish Votes: 0
Rating: 0
You: Rate this recipe! Ingredients Bread
Preheat oven to 400F. Line a small 5 1/2" by 3 1/2" loaf pan with parchment paper.
In a food processor combine all the bread ingredients (except raspberries) and blend until smooth.
Pour the dough into the loaf pan. Top off with raspberries, then bake on 400F for about 45 minutes until cooked. You will know the bread is cooked when a knife inserted into the center of the loaf comes out clean.
For the glaze, blend all ingredients together in a food processor until completely smooth. Then drizzle (or pipe) over the loaf.
Nutrition Facts Paleo Banana Raspberry Bread Amount Per Serving Calories 294 Calories from Fat 189 % Daily Value* Total Fat 21g 32% Saturated Fat 7g 35% Polyunsaturated Fat 0.2g Monounsaturated Fat 0.4g Cholesterol 47mg 16% Sodium 145mg 6% Potassium 107mg 3% Total Carbohydrates 20g 7% Dietary Fiber 8g 32% Sugars 8g Protein 9g 18% Vitamin A 1% Vitamin C 8% Calcium 12% Iron 12% * Percent Daily Values are based on a 2000 calorie diet.
Read more