---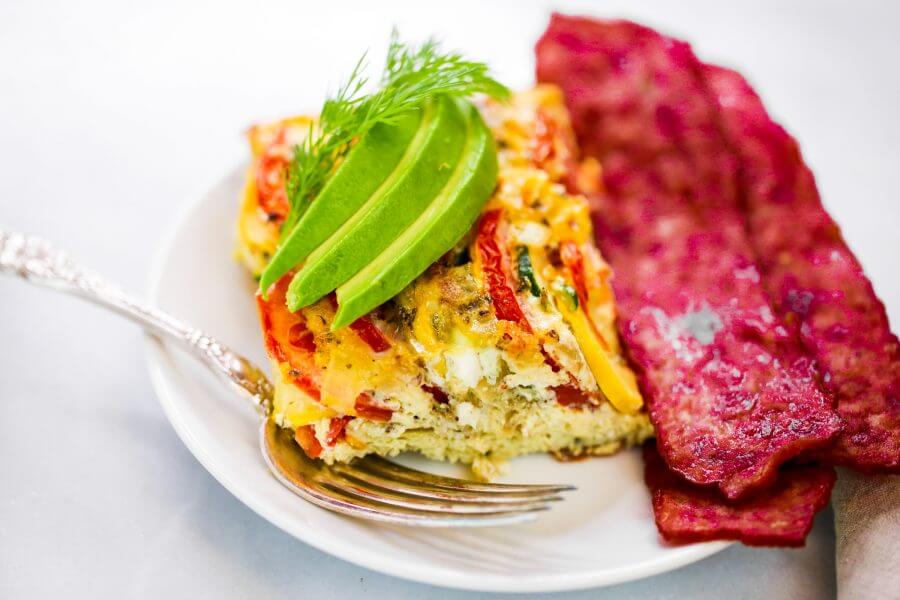 Easy whole30 egg and zucchini breakfast bake with tomatoes, yellow squash, herbs, and zucchini. This paleo breakfast is perfect for meal prep at the beginning of the week and paired with one of my homemade sweet potato tortillas!

Print Recipe Tomato Zucchini Egg Breakfast Bake Easy whole30 egg and zucchini breakfast bake with tomatoes, yellow squash, herbs, and zucchini. This paleo breakfast is perfect for meal prep at the beginning of the week and paired with one of my homemade sweet potato tortillas! Ingredients Info Cook Time 50 minutes Prep Time 15 minutes Servings servings MetricUS Imperial Course Main Dish Votes: 2
Rating: 4.5
You: Rate this recipe! Info Cook Time 50 minutes Prep Time 15 minutes Servings servings MetricUS Imperial Course Main Dish Votes: 2
Rating: 4.5
You: Rate this recipe! Ingredients Instructions
Slice tomatoes, zucchini, and yellow squash into 1/4" rounds and alternately layer into an 8" casserole dish.
In a saucepan saute diced onion and minced garlic in a drizzling of olive oil (about 1 tablespoon) until golden.
Whisk eggs and spices together, then add sautéed onions and garlic and pour over vegetables.
Bake on 350F for about 50 minutes until golden on edges and the middle springs back when you push on it with your finger.
Nutrition Facts Tomato Zucchini Egg Breakfast Bake Amount Per Serving Calories 158 Calories from Fat 81 % Daily Value* Total Fat 9g 14% Saturated Fat 3g 15% Polyunsaturated Fat 1g Monounsaturated Fat 3g Cholesterol 372mg 124% Sodium 368mg 15% Potassium 336mg 10% Total Carbohydrates 7g 2% Dietary Fiber 1g 4% Sugars 4g Protein 12g 24% Vitamin A 11% Vitamin C 22% Calcium 6% Iron 9% * Percent Daily Values are based on a 2000 calorie diet.
Read more