---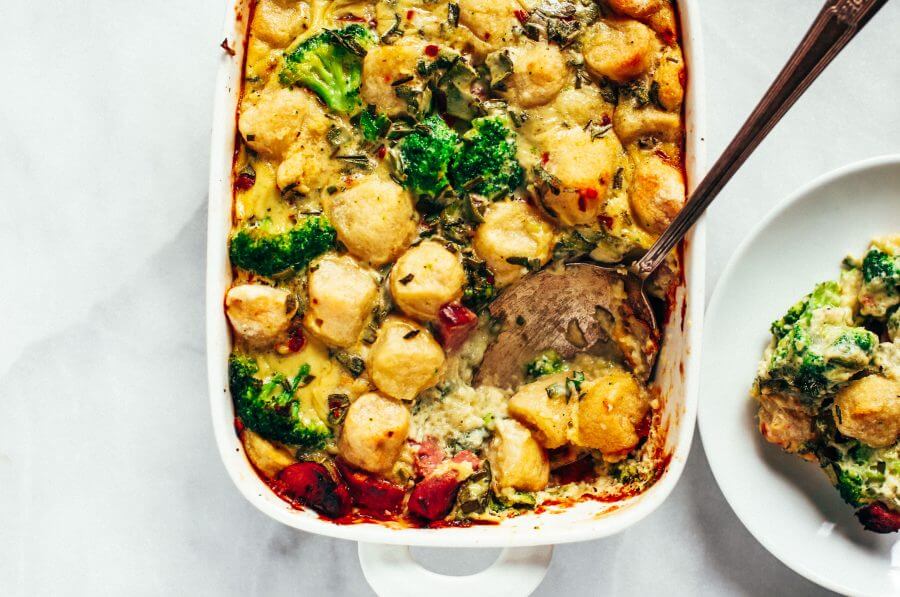 Baked cauliflower gnocchi casserole- made with homemade two ingredient cauliflower gnocchi and rosemary sage cream sauce. Paleo, gluten free, and dairy free family dinner. This casserole is perfect for breakfast or dinner!

Print Recipe Cauliflower Gnocchi Paleo Casserole Baked cauliflower gnocchi casserole- made with homemade two ingredient cauliflower gnocchi and rosemary sage cream sauce. Paleo, gluten free, and dairy free family dinner. This casserole is perfect for breakfast or dinner! Ingredients Sauce Main Dish Votes: 46
Rating: 3.96
You: Rate this recipe! Recipe Notes

Homemade 2 Ingredient Cauliflower Gnocchi: GET RECIPE HERE.

Info Cook Time 50 minutes Prep Time 10 minutes Servings servings MetricUS Imperial Course Main Dish Votes: 46
Rating: 3.96
You: Rate this recipe! Recipe Notes

Homemade 2 Ingredient Cauliflower Gnocchi: GET RECIPE HERE.

Ingredients Sauce
Preheat oven to 350F. Slice chicken sausages in bite size pieces and layer ingredients for base in a casserole dish. You can use my homemade two ingredient cauliflower gnocchi (see recipe notes for the link) or you can use Trader Joes packaged one from the frozen food section (although, it is not 100% paleo- it's close enough for me).
Whisk together eggs and coconut milk for sauce, then add spices and pour sauce over the base.
Bake on 350F for 50-60 minutes.
Nutrition Facts Cauliflower Gnocchi Paleo Casserole Amount Per Serving Calories 317 Calories from Fat 198 % Daily Value* Total Fat 22g 34% Saturated Fat 15g 75% Polyunsaturated Fat 1g Monounsaturated Fat 1g Cholesterol 93mg 31% Sodium 638mg 27% Potassium 61mg 2% Total Carbohydrates 18g 6% Dietary Fiber 2g 8% Sugars 6g Protein 13g 26% Vitamin A 40% Vitamin C 93% Calcium 6% Iron 11% * Percent Daily Values are based on a 2000 calorie diet.
Read more