2 Ingredient Paleo Ravioli Made With Sweet Potato
---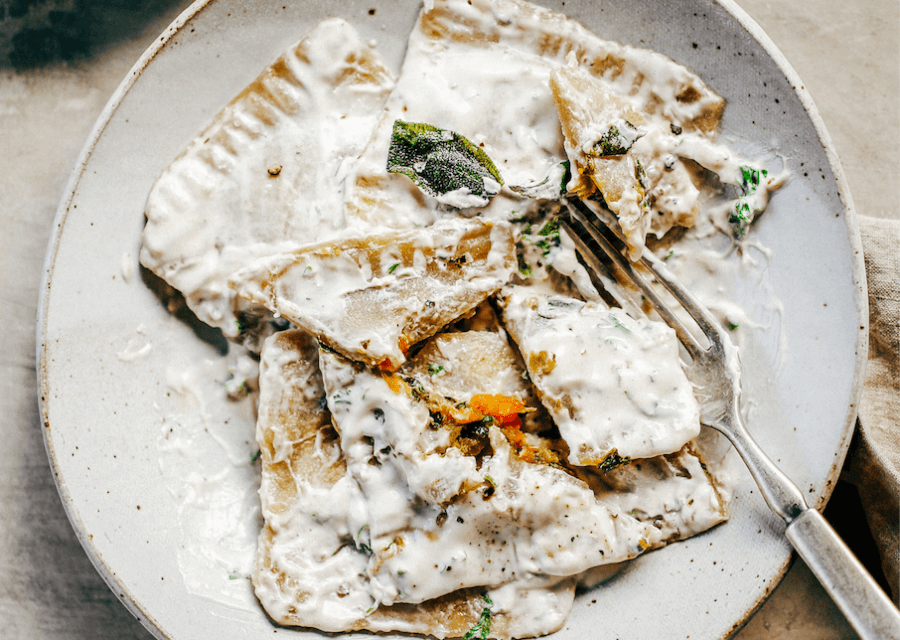 2 ingredient paleo ravioli made with sweet potato! Filled with butternut kale sage filling and served with cream sauce. A delicious paleo family dinner the whole family will love! Paleo pasta recipe made with white sweet potato.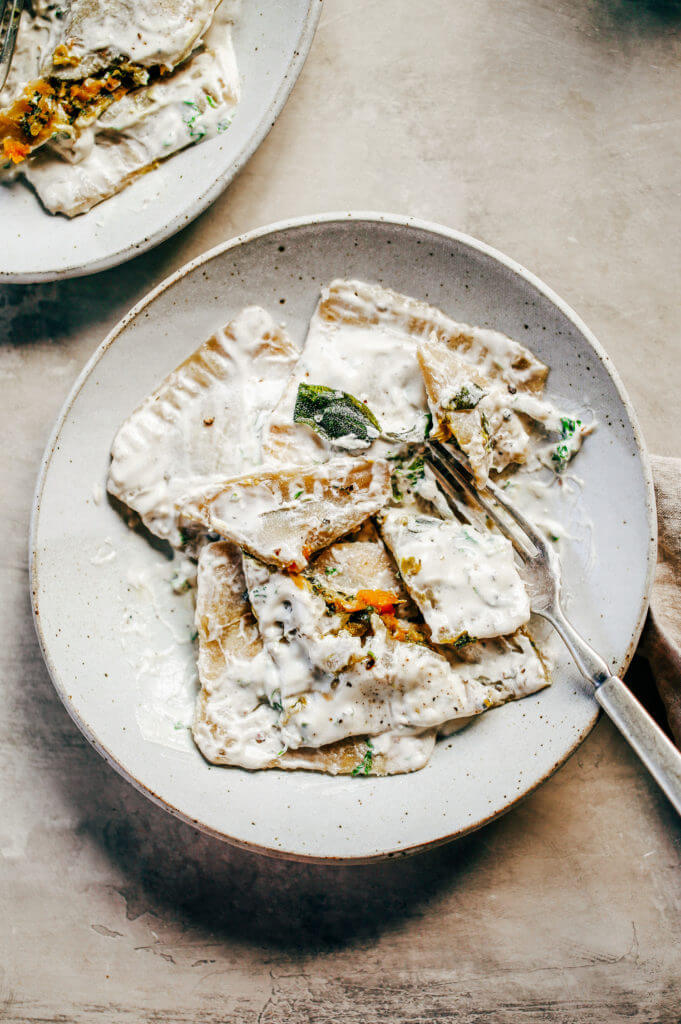 Pasta!
Are you for reals??
Oh my word, this stuff is legit goodness.
I can't get enough of these happy pockets of butternut kale sage ravioli and cream sauce… it's just pure perfection and deliciousness.
Paleo pasta isn't a think I do often, but when I do I get that happy feeling like I've just gone on a tropical vacation or bought a house.
…You get the idea, it's an event…
A full-on, hands in the flour, smells of sautéed onion and sage, and all taste-tests that go on pre-plating… event!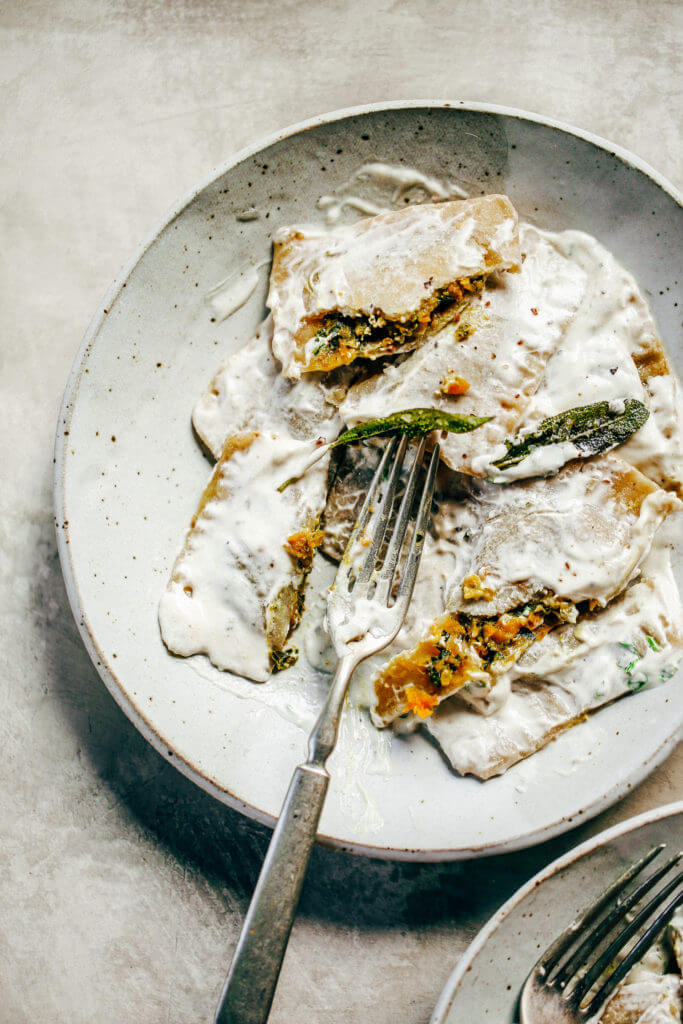 Making pasta with sweet potato wasn't something I thought I would be doing a few years ago, but it's honestly life-changing.
Unsuspecting healthy swaps are where it's at… one of my highlighted hobbies.
Any excuse to saute golden cubes of butternut squash and kale, I'm there!
And with that added sage, you just can't go wrong.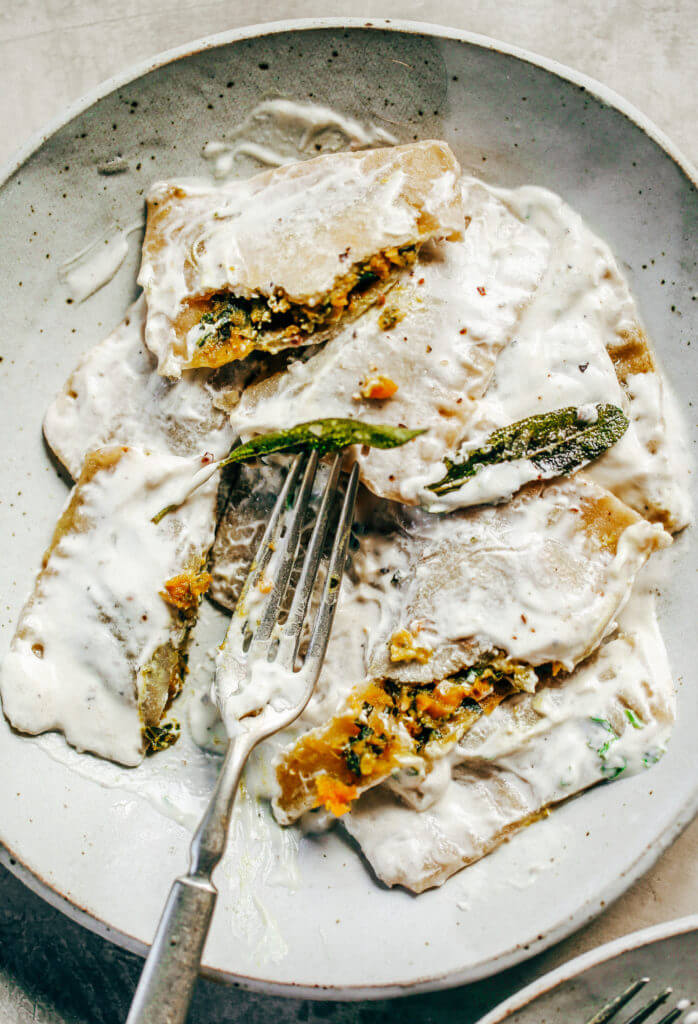 Ravioli Makings:
I almost didn't get any photos of this recipe, because I was too focused on stuffing my belly with paleo pasta!
Like, this is a ceremonial day.
It's not every day I make pasta, so I was so ready for this one!
It turned out SO flavorful!
The kale, butternut, and sage are the dream team for sure and that cream sauce combo has me falling in love.
Now, I wouldn't say this recipe is the easiest in the world; I mean, it does include making pasta by hand… but it's fun, therapeutic, and SO SO worth the effort! Every bite.
So, go ahead: make the pasta, then we can chat. 🙂
P.S. This is the food processor I use in this recipe!
In a saucepan, steam sweet potato cubes until soft, then drain, and transfer to food processor or bowl (a food processor is recommended). Puree sweet potato in food processor then add other ingredients for pasta and combine. You might have to add more flour until the dough is not sticky (it depends on the size of your sweet potato).

Divide dough into four equal parts. On a floured surface, roll out each divided dough until it's about 1/8" thick or the thickness of ravioli pasta. Cut each sheet of pasta dough into 2" squares.

For the filling, saute ingredients for stuffing until butternut is golden and soft, but not mushy. Transfer to a food processor and pulse until ingredients are blended.

Scoop about 1 tablespoon filling onto half the ravioli squares. Cover with the leftover squares or "lids". Pinch around the corners to seal edges- you may have to dab the perimeter of the ravioli with a bit of water to create a seal.

Bring a large pot of water to a simmer/low boil and gently transfer ravioli to water and cook for about 1-2 minutes until they rise to the top of the water, then rotate and cook for another minute. Remove with slotted strainer.

Once all the ravioli have been boiled, transfer to a baking tray lined with parchment paper and drizzle lightly with olive oil. Bake on 350F for about 20 minutes until golden on the edges.

In a saucepan, saute garlic cloves for sauce in olive oil until golden, then add rest of ingredients, simmer, and continuously stir until thick and warmed (be sure to use same brand full fat canned coconut milk for same results!). Add ravioli and serve with salt and pepper to taste.
Nutrition Facts

2 Ingredient Paleo Ravioli Made With Sweet Potato

Amount Per Serving

Calories 515

Calories from Fat 198

% Daily Value*

Total Fat 22g 34%

Sodium 792mg 33%

Potassium 392mg 11%

Total Carbohydrates 79g 26%

Protein 8g 16%

* Percent Daily Values are based on a 2000 calorie diet.