Paleo Sweet Potato Gnocchi In Spinach Cream Sauce
---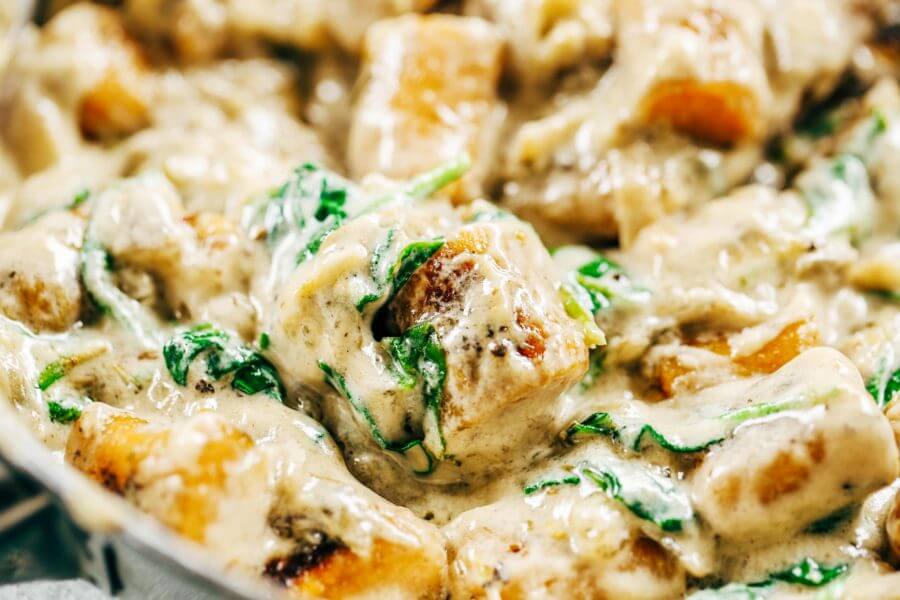 The easiest paleo gnocchi made with 2 ingredients! Flourless sweet potato gnocchi served with dairy free spinach cream sauce! Whole30, paleo, and gluten free. This recipe can be made ahead and frozen.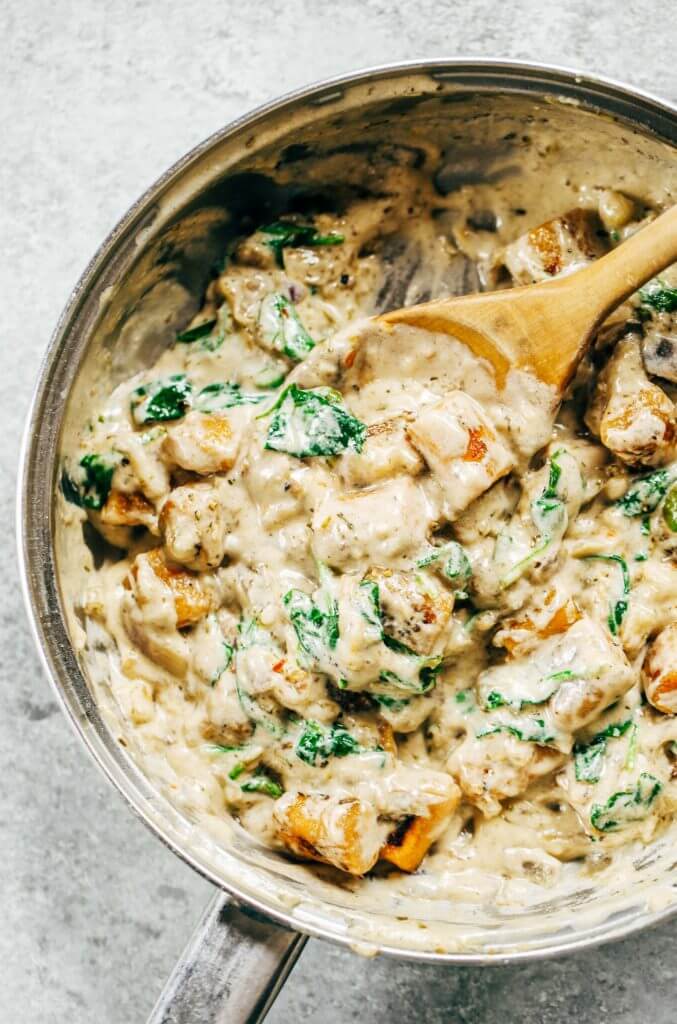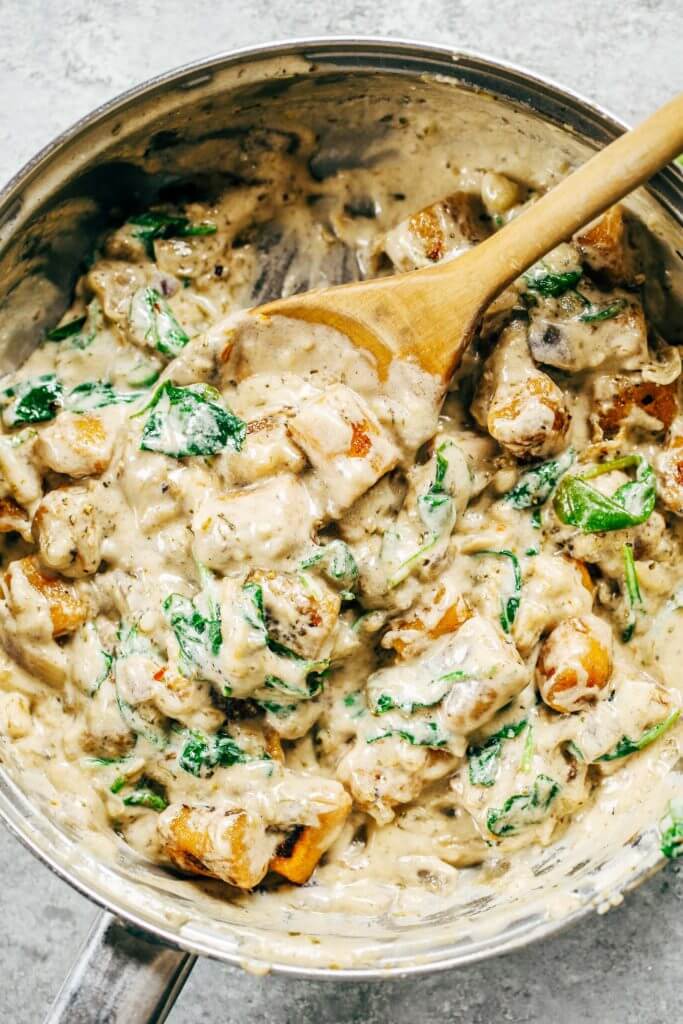 Holy cream sauce. You're in my dreams. The creamy factor in this is not your average; it's dairy free, dangerously addictive, finger dipping worthy cream sauce.
Served warm or cold, it doesn't matter in my opinion – it's still so good!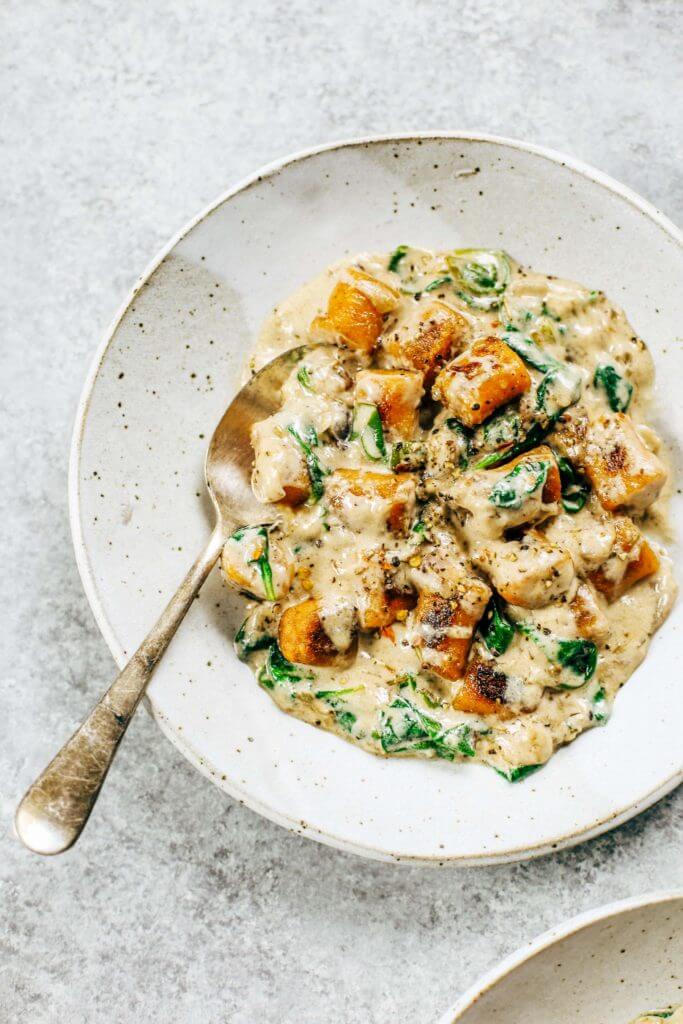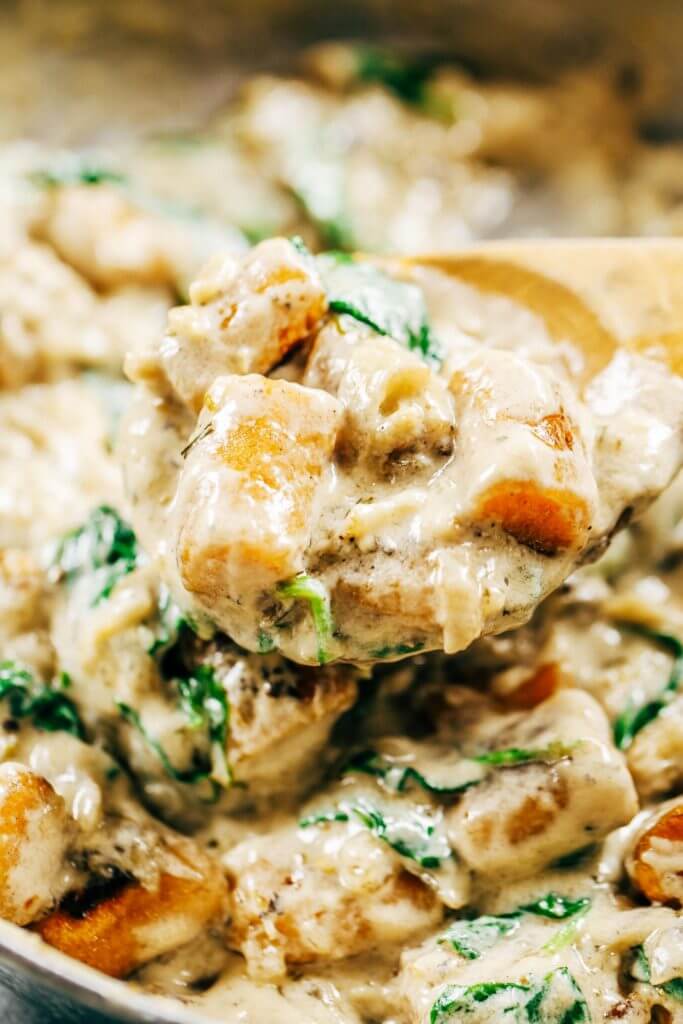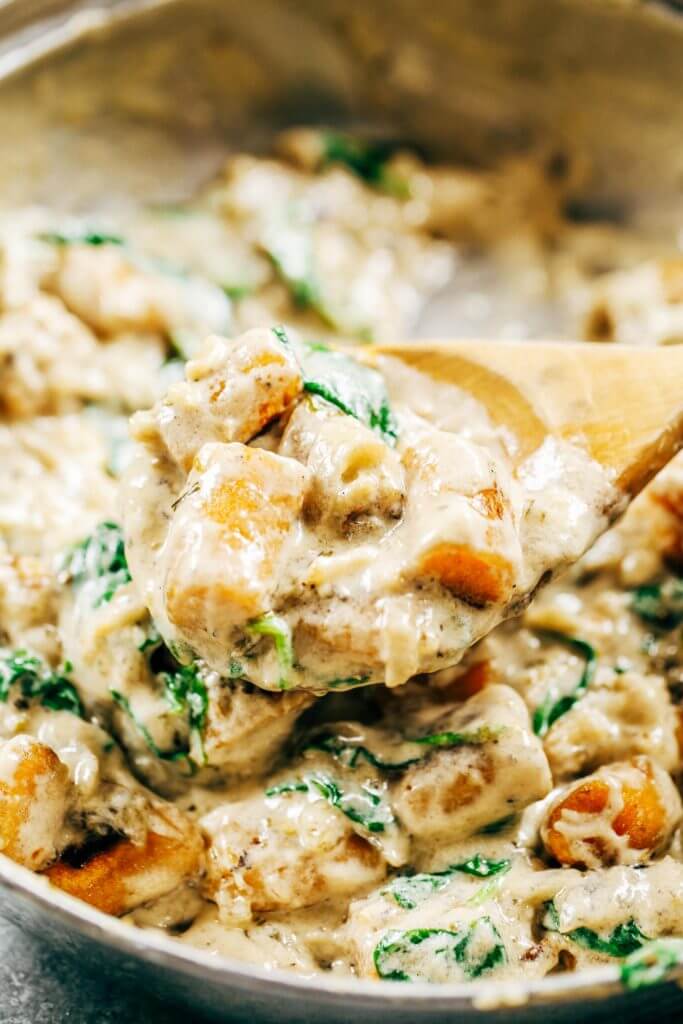 Dairy free cream sauce that doesn't taste like coconut or cashews is sometimes hard to come by, but that doesn't mean it's impossible to find! Here you go. Enjoy every bite.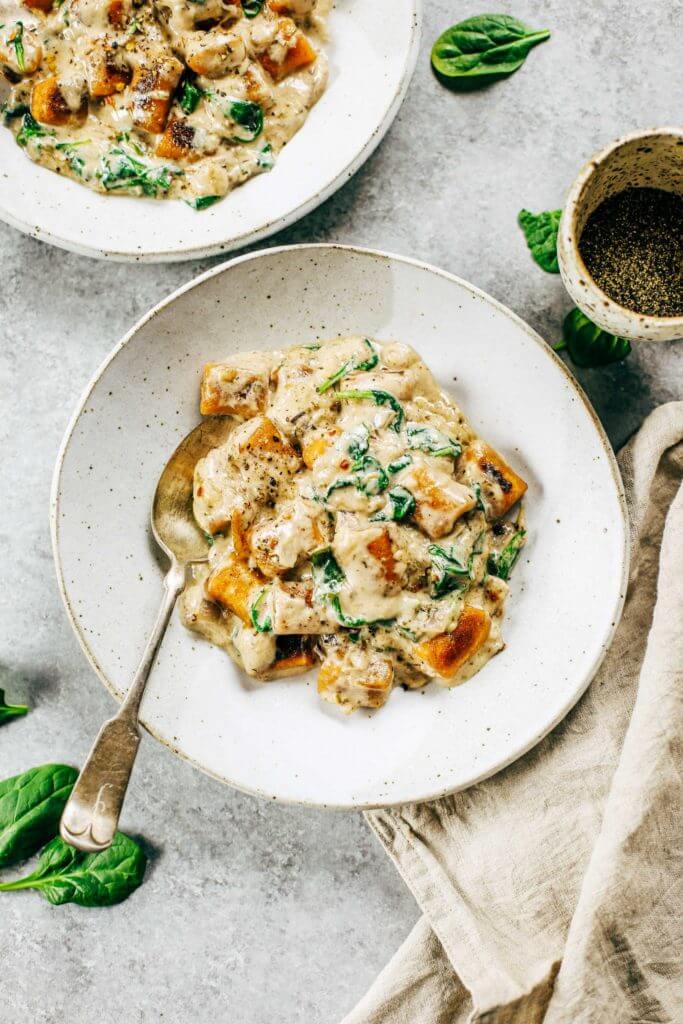 gnocchi of my dreams
Dangerously addictive recipes are just that– dangerously addictive, and hard to stay away from!
If there are leftovers, I'll be the first to congratulate you! And I might even come over to your house with a medal of honor.
…When recipes should really stretch for four servings, but it ends up being one or two… first world problems.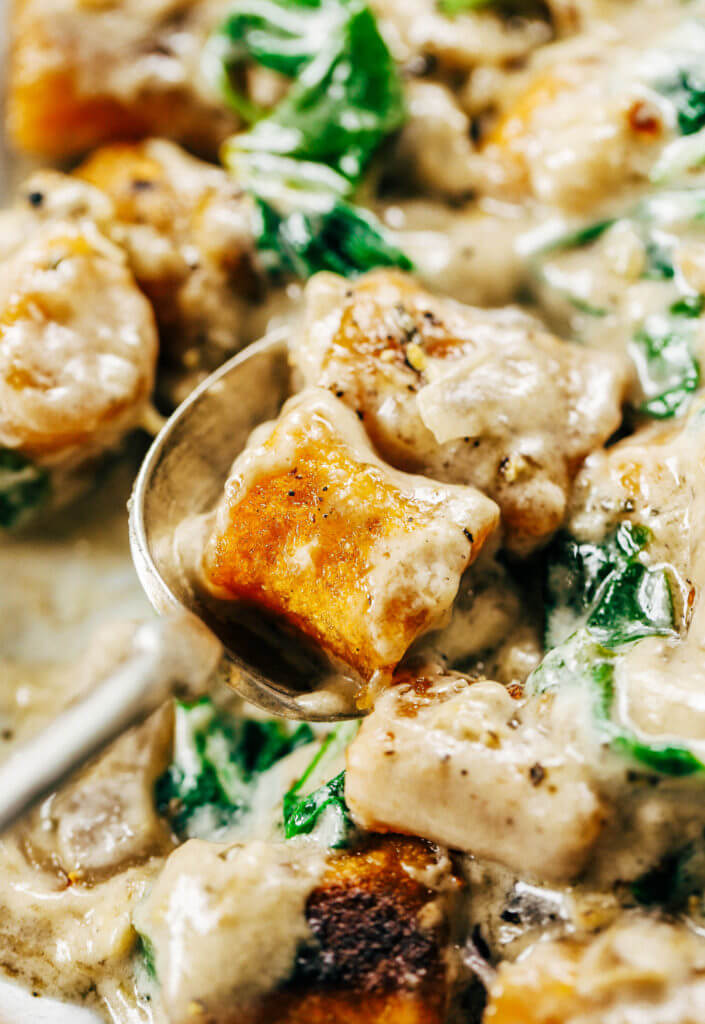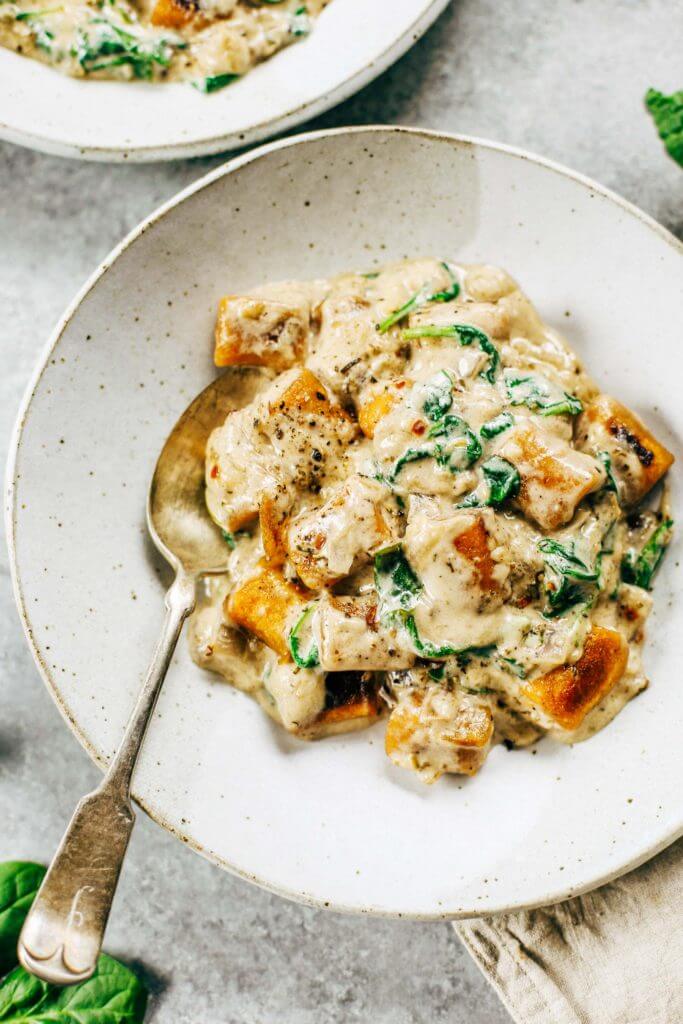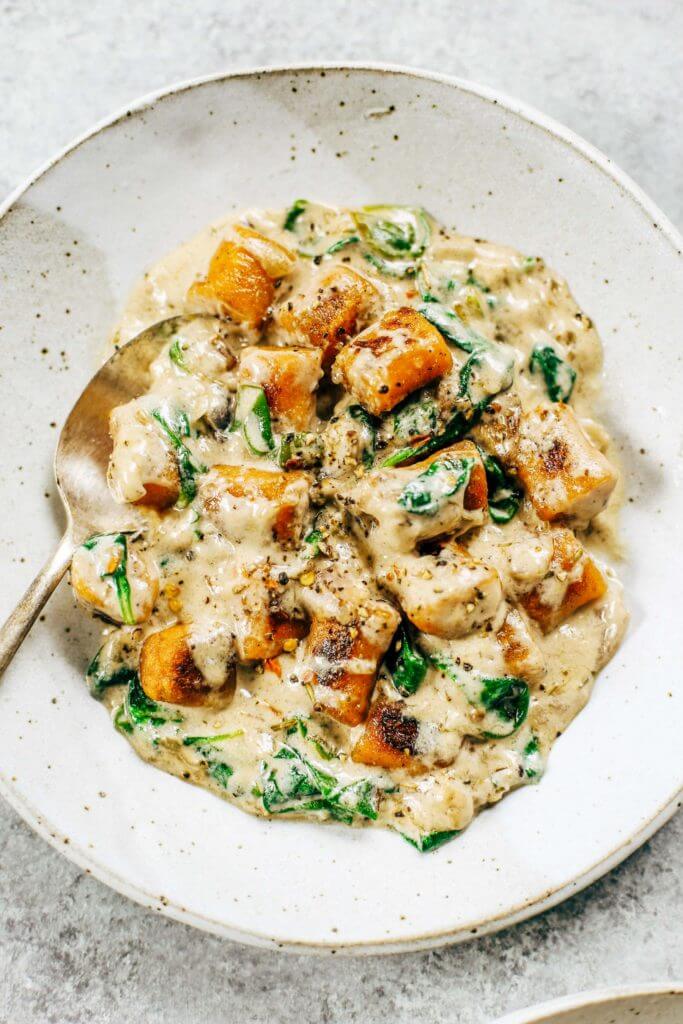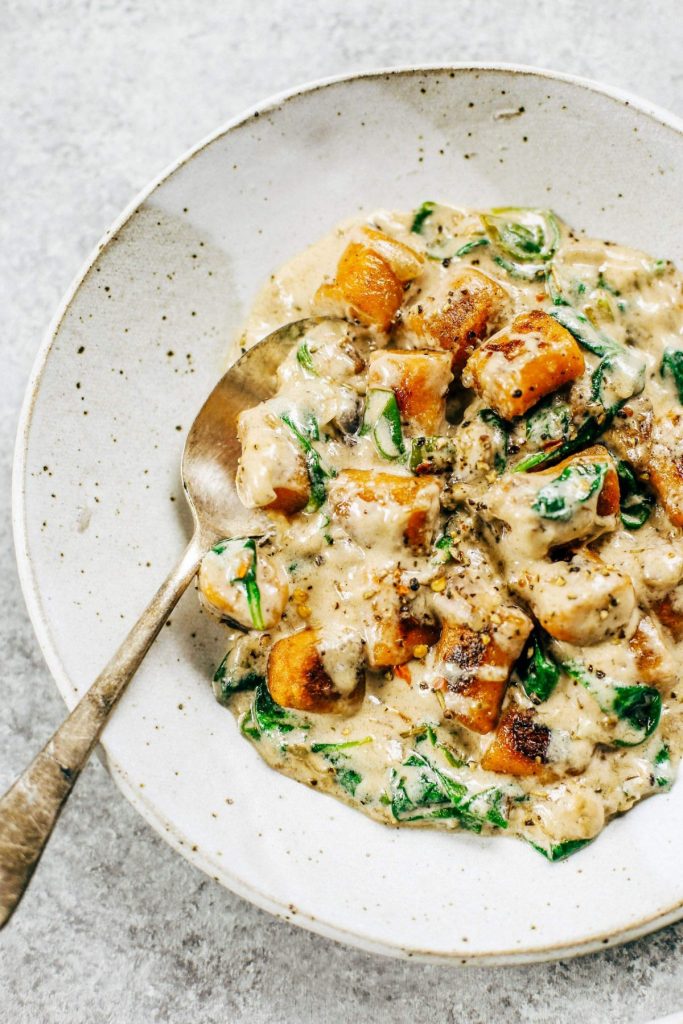 I have been dying to experiment making gnocchi.
Partly because of my Italian heritage.
Partly form the way my mom came home from a weekend getaway raving about the gnocchi that went down!
And partly because it just is so fun to say and it looks absolutely divine!
I couldn't wait to get my hands on some dough, flour on my nose, and some good ol' gnocchi and sage cream sauce in my belly.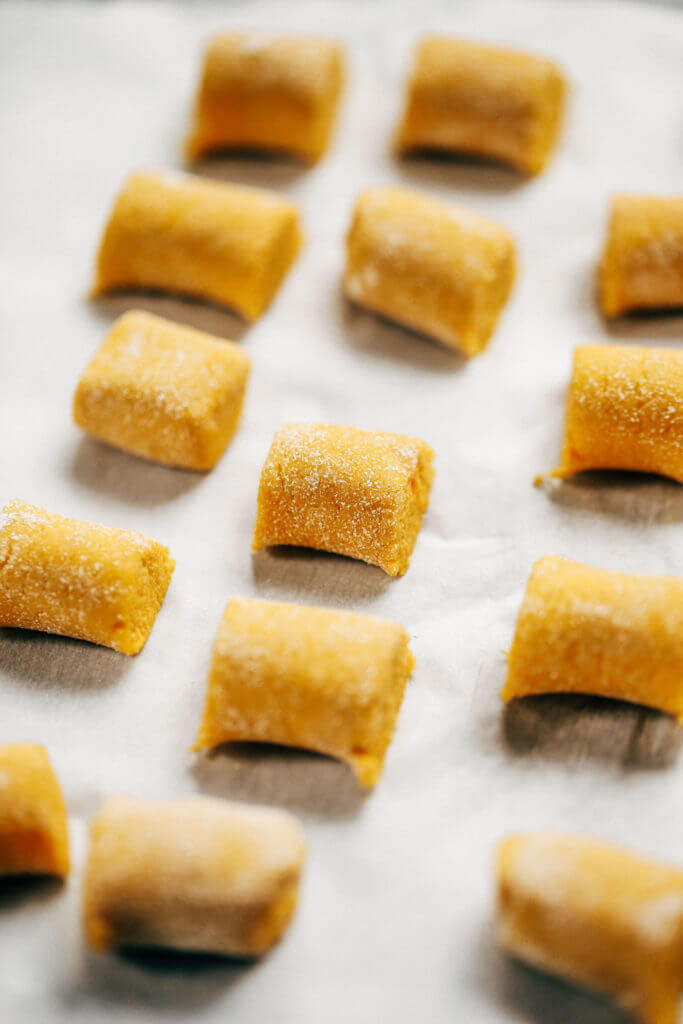 And check it out: in case you have been worried that you would want to tear your hair out because gnocchi seems like it's one of the dishes that's really hard to make- don't be fooled, it's INCREDIBLY easy!
It's so tasty and mind-blowingly easy.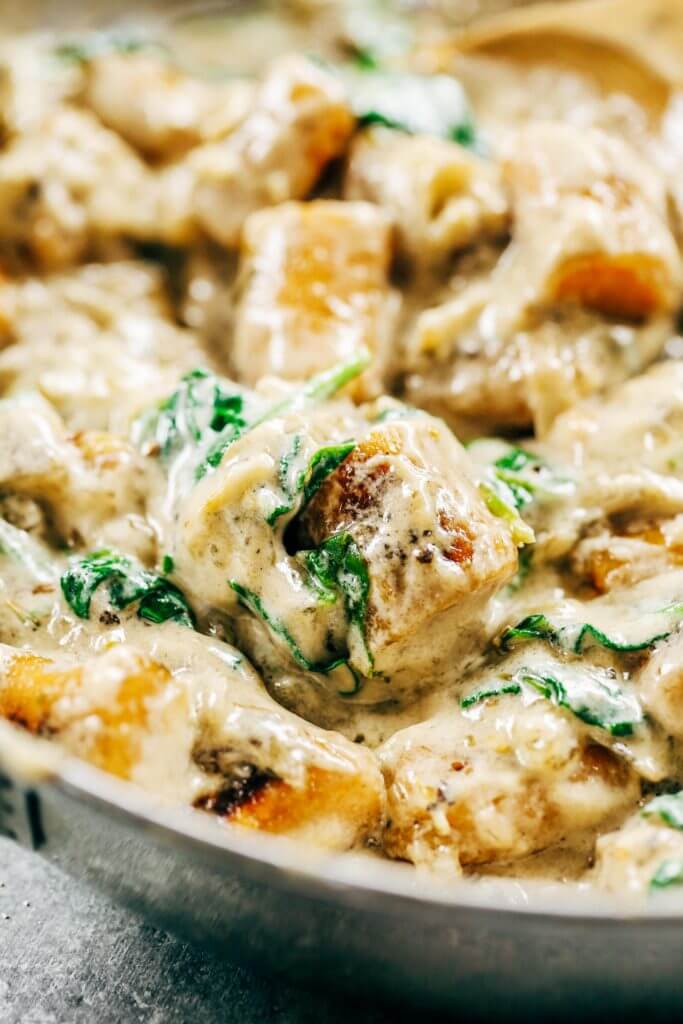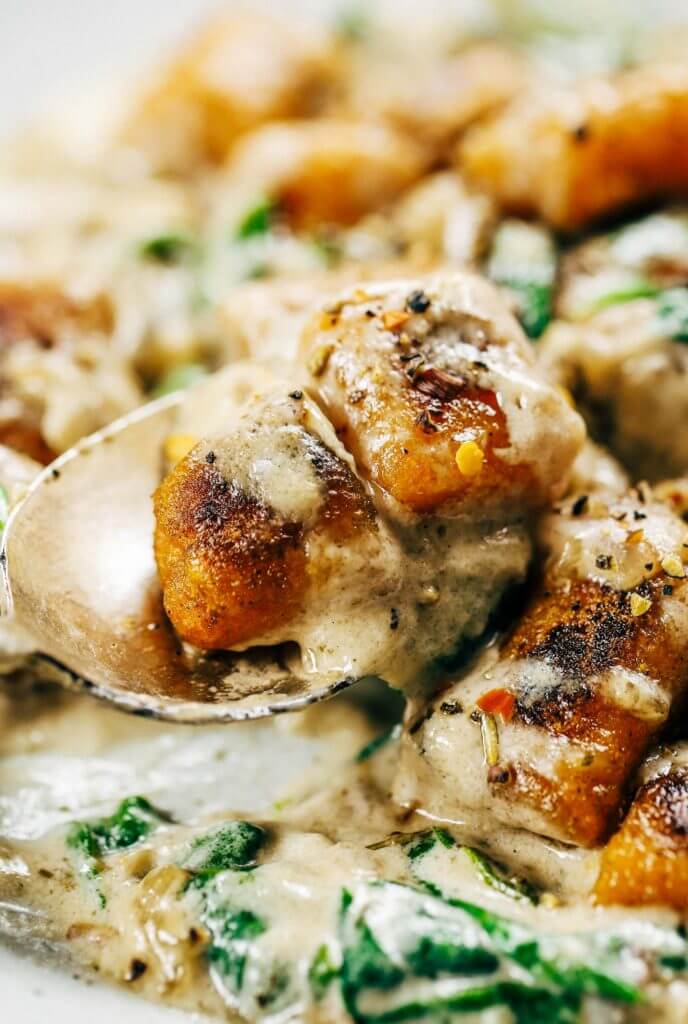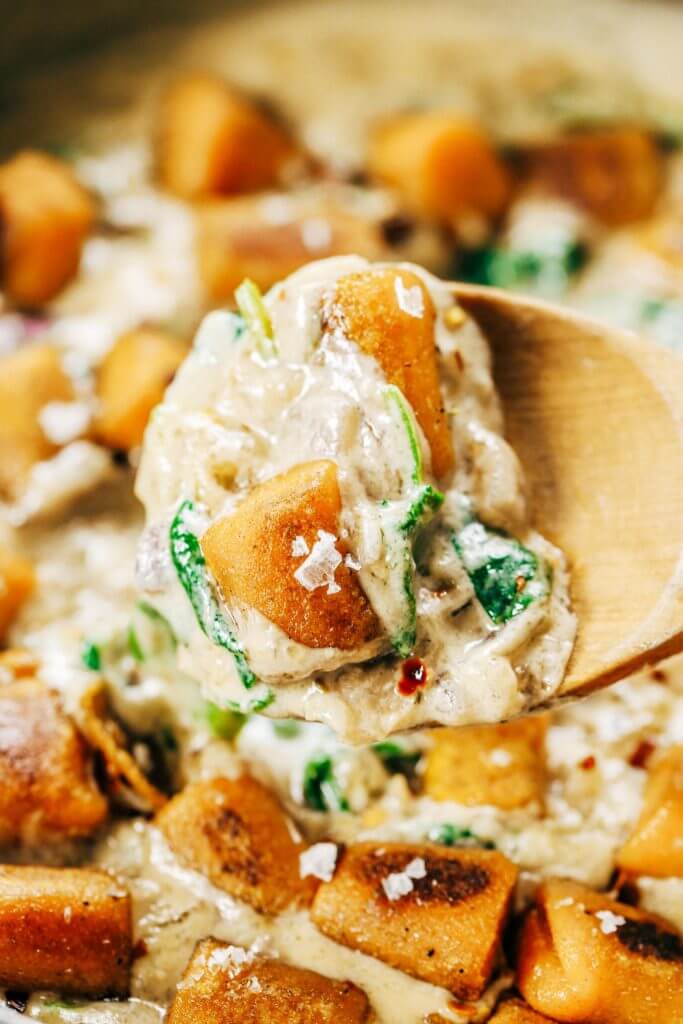 In a bowl stir together the cooked mashed sweet potato and flour (use Anthony's Goods brand to get same results) for the gnocchi until completely smooth. If you don't have cooked sweet potato on hand, make it by peeling a large sweet potato, cutting into 2" chunks, and boiling in water until soft (drain water from sweet potatoes after boiling).

Separate dough into four equal parts and roll out into 3/4" diameter tubes on a surface dusted lightly with cassava flour. Cut the tubes of dough into 1" pieces.

Bring a large pot of water to a boil and drop gnocchi into it. Once they have risen to the surface, remove, and drizzle lightly with olive oil.

Heat a skillet over medium heat and pour 1 tablespoon olive oil into the pan. Add gnocchi and cook on each side until golden, then remove.
In a skillet saute the minced onion and garlic in 1 tablespoon olive oil for the sauce until golden then set aside.

Add rest of ingredients for the sauce (except spinach and leave out tapioca flour if you want the sauce to be thinner) to the sautéed onion and garlic. Bring sauce to a low boil and boil for 1-2 minutes, stirring continuously (otherwise the flour will clump in the sauce) until sauce thickens. Then stir in spinach, let it wilt, and add gnocchi.
Nutrition Facts

Paleo Sweet Potato Gnocchi In Spinach Cream Sauce

Amount Per Serving

Calories 675

Calories from Fat 423

% Daily Value*

Total Fat 47g 72%

Sodium 908mg 38%

Potassium 804mg 23%

Total Carbohydrates 61g 20%

Protein 6g 12%

* Percent Daily Values are based on a 2000 calorie diet.