---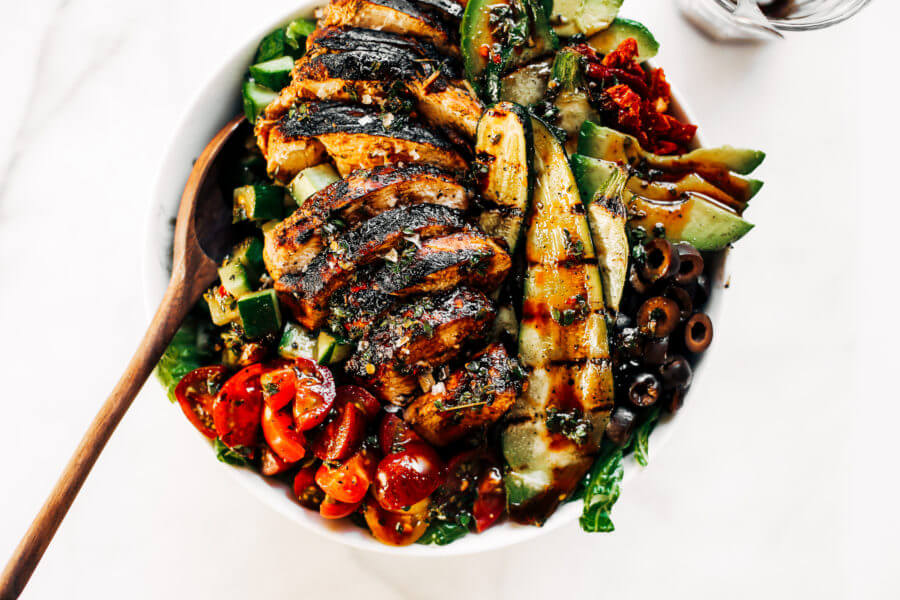 Grilled chicken salad with balsamic dressing and grilled vegetables. An easy paleo whole30 dinner for the whole family! Light, refreshing, and filling healthy dinner.

Print Recipe Whole30 Balsamic Grilled Chicken Salad Grilled chicken salad with balsamic dressing and grilled vegetables. An easy paleo whole30 dinner for the whole family! Light, refreshing, and filling healthy dinner. Ingredients Dressing Main Dish Votes: 2
Rating: 5
You: Rate this recipe! Info Cook Time 20 minutes Prep Time 15 minutes Servings servings MetricUS Imperial Course Main Dish Votes: 2
Rating: 5
You: Rate this recipe! Ingredients Dressing
Add ingredients for dressing into a jar with a lid and shake until combined.
Add 2-4 tablespoons dressing to chicken in a zip lock or bowl and set in fridge to marinate for 30 minutes or as time will allow.
Heat grill pan over medium heat. Once hot, generously grease with olive oil and cook chicken breast and sliced zucchini with a lid. Chicken will cook for about 8-10 minutes on each side until there is no pink on the inside. Zucchini cooks for about 4 minutes on each side.
Once chicken and zucchini has cooked, set aside to set before cutting chicken. Then add all ingredients into a large bowl and serve with remaining dressing.
Nutrition Facts Whole30 Balsamic Grilled Chicken Salad Amount Per Serving Calories 306 Calories from Fat 189 % Daily Value* Total Fat 21g 32% Saturated Fat 3g 15% Polyunsaturated Fat 2g Monounsaturated Fat 14g Cholesterol 33mg 11% Sodium 652mg 27% Potassium 464mg 13% Total Carbohydrates 16g 5% Dietary Fiber 5g 20% Sugars 7g Protein 16g 32% Vitamin A 13% Vitamin C 36% Calcium 9% Iron 13% * Percent Daily Values are based on a 2000 calorie diet.
Read more