---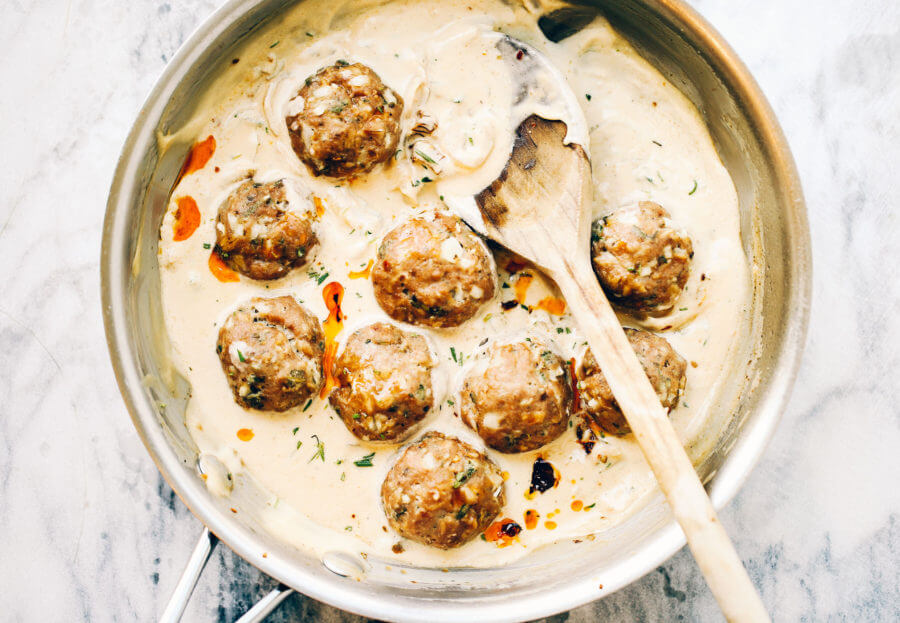 Unbelievably easy oven baked Paleo turkey meatballs and sage cream sauce. (Gluten free, whole30, paleo). Perfect for a weeknight dinner or breakfast! On the table in LESS than 25 minutes!

Print Recipe Turkey Sausage Meatballs In Sage Cream Sauce Unbelievably easy oven baked Paleo turkey meatballs and sage cream sauce. (Gluten free, whole30, paleo). Perfect for a weeknight dinner or breakfast! On the table in LESS than 25 minutes! Ingredients Meatballs Main Dish Votes: 141
Rating: 3.7
You: Rate this recipe! Info Cook Time 20 minutes Prep Time 10 minutes Servings meatballs MetricUS Imperial Course Main Dish Votes: 141
Rating: 3.7
You: Rate this recipe! Ingredients Meatballs
Preheat oven to 375F. Line a baking tray with parchment paper and drizzle it with avocado oil (about 1-2 tablespoons).
In a bowl combine all ingredients for the meatballs (except the oil).
Form 1 1/2" round meatballs by scooping some mixture into your hand and rolling until round. Place the meatballs on the baking tray with parchment paper and roll lightly in avocado oil (that is already on the tray). Bake on 375F for 20 minutes until golden.
In a pan saute onions and garlic for the sauce in 2 tablespoons oil (avocado or olive). Once the onions and garlic are golden brown add in the rest of the ingredients for the sauce and heat until simmering. Then take off the heat and pour over meatballs.
To make this a complete meal I love sautéing 4 cups cauliflower rice with 4 cups kale and serving the meatballs alongside (or over) the veggies.
Nutrition Facts Turkey Sausage Meatballs In Sage Cream Sauce Amount Per Serving Calories 98 Calories from Fat 63 % Daily Value* Total Fat 7g 11% Saturated Fat 4g 20% Polyunsaturated Fat 1g Monounsaturated Fat 1g Cholesterol 19mg 6% Sodium 126mg 5% Potassium 71mg 2% Total Carbohydrates 2g 1% Dietary Fiber 1g 4% Sugars 1g Protein 6g 12% Vitamin A 1% Vitamin C 3% Calcium 1% Iron 5% * Percent Daily Values are based on a 2000 calorie diet.
Read more