---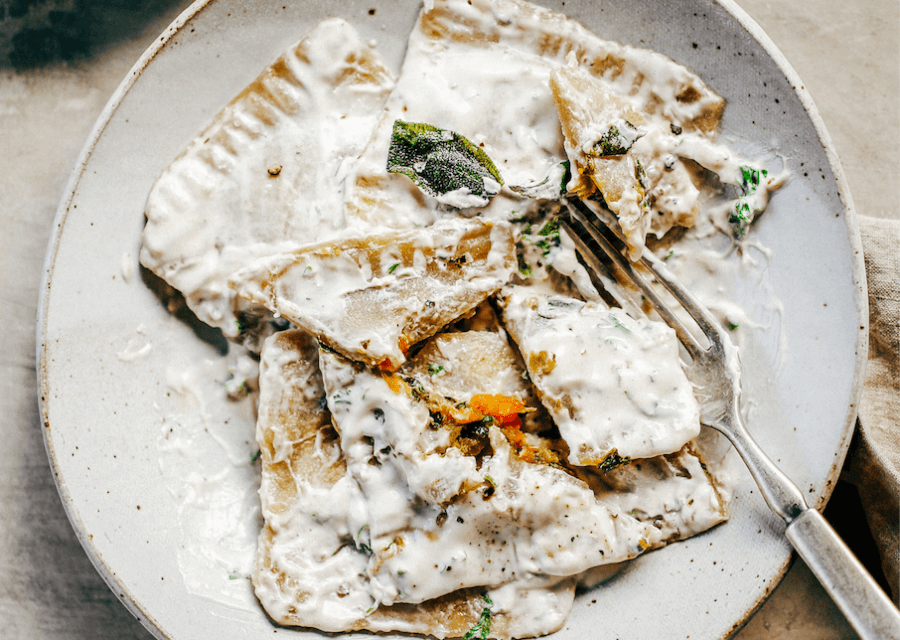 2 Ingredient ravioli made with sweet potato! Filled with butternut kale sage filling and served with cream sauce. A delicious paleo family dinner the whole family will love! Paleo pasta recipe made with white sweet potato.

Print Recipe 2 Ingredient Paleo Ravioli Made With Sweet Potato 2 Ingredient ravioli made with sweet potato! Filled with butternut kale sage filling and served with cream sauce. A delicious paleo family dinner the whole family will love! Paleo pasta recipe made with white sweet potato. Ingredients Pasta Main Dish Votes: 2
Rating: 5
You: Rate this recipe! Info Cook Time 20 minutes Prep Time 30 minutes Servings servings MetricUS Imperial Course Main Dish Votes: 2
Rating: 5
You: Rate this recipe! Ingredients Pasta
In a saucepan, steam sweet potato cubes until soft, then drain, and transfer to food processor or bowl (a food processor is recommended). Puree sweet potato in food processor then add other ingredients for pasta and combine. You might have to add more flour until the dough is not sticky (it depends on the size of your sweet potato).
Divide dough into four equal parts. On a floured surface, roll out each divided dough until it's about 1/8" thick or the thickness of ravioli pasta. Cut each sheet of pasta dough into 2" squares.
For the filling, saute ingredients for stuffing until butternut is golden and soft, but not mushy. Transfer to a food processor and pulse until ingredients are blended.
Scoop about 1 tablespoon filling onto half the ravioli squares. Cover with the leftover squares or "lids". Pinch around the corners to seal edges- you may have to dab the perimeter of the ravioli with a bit of water to create a seal.
Bring a large pot of water to a simmer/low boil and gently transfer ravioli to water and cook for about 1-2 minutes until they rise to the top of the water, then rotate and cook for another minute. Remove with slotted strainer.
Once all the ravioli have been boiled, transfer to a baking tray lined with parchment paper and drizzle lightly with olive oil. Bake on 350F for about 20 minutes until golden on the edges.
In a saucepan, saute garlic cloves for sauce in olive oil until golden, then add rest of ingredients, simmer, and continuously stir until thick and warmed (be sure to use same brand full fat canned coconut milk for same results!). Add ravioli and serve with salt and pepper to taste.
Nutrition Facts 2 Ingredient Paleo Ravioli Made With Sweet Potato Amount Per Serving Calories 515 Calories from Fat 198 % Daily Value* Total Fat 22g 34% Saturated Fat 11g 55% Polyunsaturated Fat 2g Monounsaturated Fat 8g Sodium 792mg 33% Potassium 392mg 11% Total Carbohydrates 79g 26% Dietary Fiber 11g 44% Sugars 22g Protein 8g 16% Vitamin A 740% Vitamin C 294% Calcium 42% Iron 42% * Percent Daily Values are based on a 2000 calorie diet.
Read more