---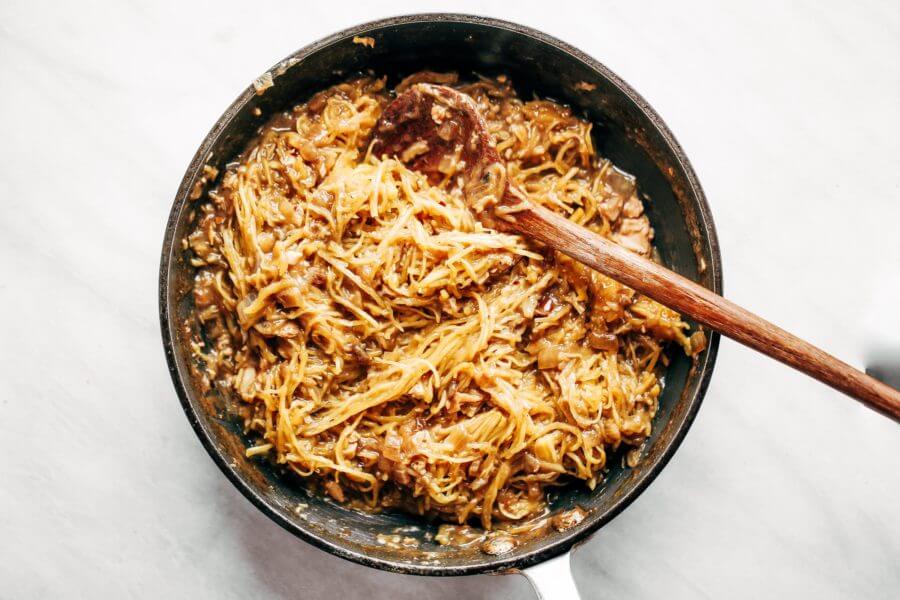 Spicy spaghetti squash noodles with creamy flavor-packed coconut cream sauce! Whole30, paleo, and made in just minutes. An easy healthy family recipe everyone will love. Perfect for meal prep; can be made ahead and frozen- pulled out at your convenience!

Print Recipe Spicy Spaghetti Squash Noodles Spicy spaghetti squash noodles with creamy-flavor-packed-coconut-cream sauce! Whole30, paleo, and made in just minutes! An easy healthy family recipe everyone will love. Perfect for meal prep; can be made ahead and frozen- pulled out at your convenience! Ingredients Sauce Main Dish Votes: 207
Rating: 3.54
You: Rate this recipe! Recipe Notes

How to bake spaghetti squash: cut spaghetti squash in half lengthwise, use a large spoon to scrape the seeds from the center, lay face up on a baking tray, and brush lightly with olive oil. Bake on 450F for 25 minutes.

Info Cook Time 5-8 minutes Prep Time 10 minutes Servings servings MetricUS Imperial Course Main Dish Votes: 207
Rating: 3.54
You: Rate this recipe! Recipe Notes

How to bake spaghetti squash: cut spaghetti squash in half lengthwise, use a large spoon to scrape the seeds from the center, lay face up on a baking tray, and brush lightly with olive oil. Bake on 450F for 25 minutes.

Ingredients Sauce
In a fry pan, sauté chopped onions with a drizzle of olive oil over medium heat for a few minutes until golden. Then add rest of sauce ingredients (except the arrowroot flour) and stir. Bring the sauce to a boil, then reduce to a simmer and cook for 3-5 minutes. Sprinkle arrowroot flour into sauce and whisk until sauce thickens (do not over cook, because the sauce will become too thick), then remove from heat.
Add cooked spaghetti squash and tuna to sauce, combine, and serve!
Nutrition Facts Spicy Spaghetti Squash Noodles Amount Per Serving Calories 372 Calories from Fat 207 % Daily Value* Total Fat 23g 35% Saturated Fat 14g 70% Polyunsaturated Fat 3g Monounsaturated Fat 3g Cholesterol 23mg 8% Sodium 1515mg 63% Potassium 601mg 17% Total Carbohydrates 33g 11% Dietary Fiber 5g 20% Sugars 11g Protein 14g 28% Vitamin A 25% Vitamin C 18% Calcium 9% Iron 15% * Percent Daily Values are based on a 2000 calorie diet.
Read more