---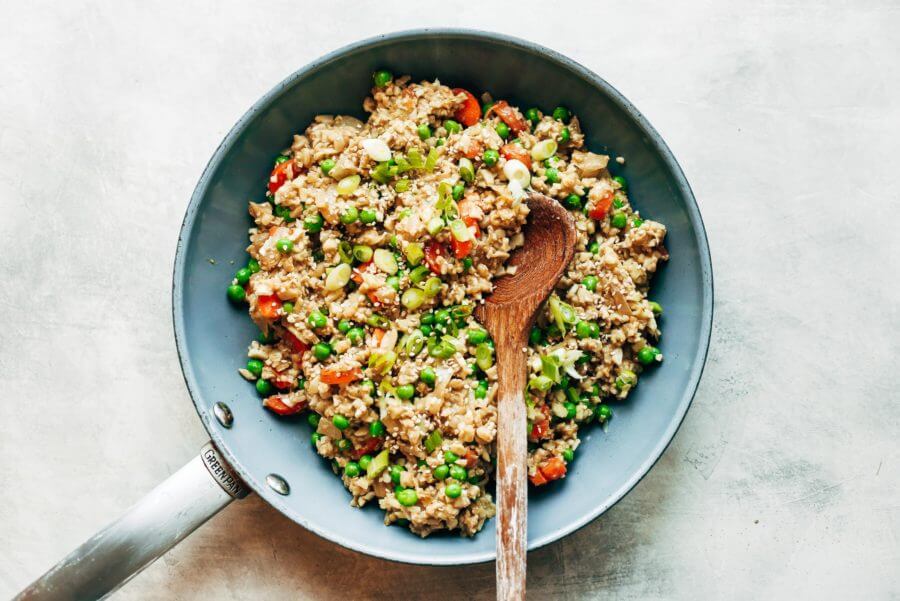 Easy whole30 compliant and paleo fried rice recipe. A new twist with cauliflower rice, veggies, and homemade asian sauce. Ready in 20 minutes. Make ahead and freeze! A healthy and fun family dinner.

Print Recipe Whole30 Fried Cauliflower Rice Easy whole30 compliant and paleo fried rice recipe. A new twist with cauliflower rice, veggies, and homemade asian sauce. Ready in 20 minutes. Make ahead and freeze! A healthy and fun family dinner. Ingredients Rice Main Dish Votes: 8
Rating: 3.88
You: Rate this recipe! Info Cook Time 5-10 minutes Prep Time 5 minutes Servings servings MetricUS Imperial Course Main Dish Votes: 8
Rating: 3.88
You: Rate this recipe! Ingredients Rice
Blend all ingredients for the sauce in a blender or by hand until smooth.
Heat a fry pan over medium heat. Add cauliflower rice, chopped carrots, and onions. Fry in 2 tablespoons sesame oil for a few minutes until slightly soft. Then add the peas.
Make a well in the middle of the fried rice and add the beaten eggs. Stir eggs until fully cooked. Stir in sauce and top off with green onions and sesame seeds.
Nutrition Facts Whole30 Fried Cauliflower Rice Amount Per Serving Calories 311 Calories from Fat 189 % Daily Value* Total Fat 21g 32% Saturated Fat 4g 20% Polyunsaturated Fat 0.4g Monounsaturated Fat 1g Cholesterol 93mg 31% Sodium 472mg 20% Potassium 336mg 10% Total Carbohydrates 20g 7% Dietary Fiber 8g 32% Sugars 5g Protein 6g 12% Vitamin A 66% Vitamin C 88% Calcium 6% Iron 16% * Percent Daily Values are based on a 2000 calorie diet.
Read more