red pepper flakes
Category
---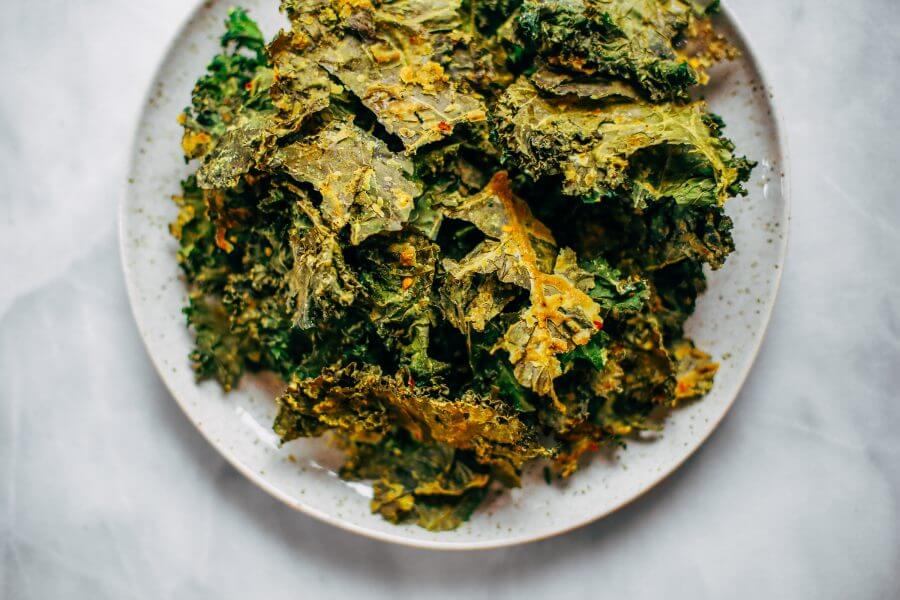 Zesty lemon garlic kale chips. Homemade kale chip recipe. Easy whole30 snack for on the go. These healthy paleo kale chips are made with just a few ingredients and are SO easy to make!

Print Recipe Lemon Garlic Kale Chips Zesty lemon garlic kale chips. Homemade kale chip recipe. Easy whole30 snack for on-the-go. These healthy paleo kale chips are made with just a few ingredients and are SO easy to make! Ingredients Info Cook Time 2 hours Prep Time 5 minutes Servings servings MetricUS Imperial Course Snack Votes: 5
Rating: 4
You: Rate this recipe! Info Cook Time 2 hours Prep Time 5 minutes Servings servings MetricUS Imperial Course Snack Votes: 5
Rating: 4
You: Rate this recipe! Ingredients Instructions
Preheat oven to 200F. Line 2 baking trays with parchment paper.
In a large bowl whisk together all ingredients (except kale) until smooth. Wash and remove stems from kale then toss in the large bowl until the leaves are evenly coated.
Spread kale out on baking trays in a single layer and bake on 200F for about 2 hours or until crisp.
Once kale is crisp, break the leaves into chip size pieces, then serve.
Nutrition Facts Lemon Garlic Kale Chips Amount Per Serving Calories 166 Calories from Fat 108 % Daily Value* Total Fat 12g 18% Saturated Fat 2g 10% Polyunsaturated Fat 0.4g Monounsaturated Fat 4g Sodium 372mg 16% Potassium 202mg 6% Total Carbohydrates 15g 5% Dietary Fiber 3g 12% Sugars 6g Protein 5g 10% Vitamin A 129% Vitamin C 93% Calcium 14% Iron 13% * Percent Daily Values are based on a 2000 calorie diet.
Read more