---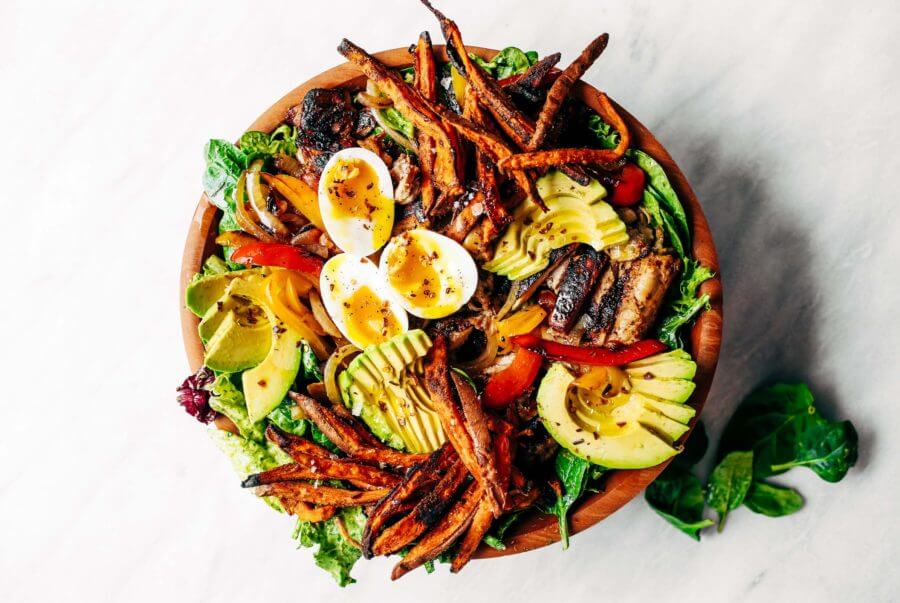 Fast and easy fajita salad loaded with crispy sweet potato fries, grilled chicken, and topped with creamy avocado dressing! Paleo, whole30, and makes for easy meal prep!

Print Recipe Grilled Garlic Lime Chicken Fajita Salad Fast and easy fajita salad loaded with crispy sweet potato fries, grilled chicken, and topped with creamy avocado dressing! Paleo, whole30, and makes for easy meal prep! Ingredients Dressing Main Dish Votes: 4
Rating: 4.5
You: Rate this recipe! Info Cook Time 15 minutes Prep Time 20 minutes Servings servings MetricUS Imperial Course Main Dish Votes: 4
Rating: 4.5
You: Rate this recipe! Ingredients Dressing
Blend marinade ingredients together until smooth. Pour marinade into a ziplock bag with the chicken thighs and marinade for two hours or as time allows.
Grease a grill pan or skillet with olive oil and cook chicken fillets over medium heat, cook on each side until crispy and cooked through. Once chicken is cooked, set aside and allow to rest.
Fry peppers and onion lightly in olive oil in a skillet over medium heat, until cooked to your liking.
Preheat oven to 475F. Line a baking tray with parchment paper. Slice sweet potato fries into thin strips and toss in oil, flour, and seasoning. Bake fries on 475F for about 30-45 minutes until crispy.
In a blender or food processor, blend ingredients for dressing until smooth.
Slice chicken into strips and prepare salad with salad mix, avocado slices, peppers, onion strips, chicken, fries, and eggs. Drizzle with avocado dressing and serve.
Nutrition Facts Grilled Garlic Lime Chicken Fajita Salad Amount Per Serving Calories 467 Calories from Fat 297 % Daily Value* Total Fat 33g 51% Saturated Fat 6g 30% Polyunsaturated Fat 4g Monounsaturated Fat 18g Cholesterol 143mg 48% Sodium 677mg 28% Potassium 883mg 25% Total Carbohydrates 30g 10% Dietary Fiber 6g 24% Sugars 9g Protein 19g 38% Vitamin A 262% Vitamin C 160% Calcium 9% Iron 31% * Percent Daily Values are based on a 2000 calorie diet.
Read more