---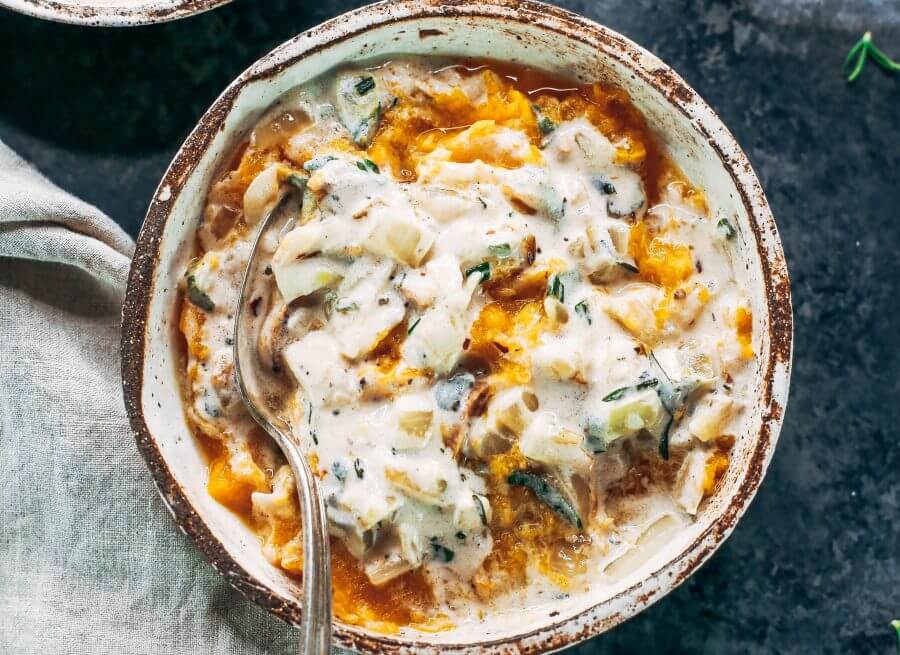 This savory whole30 breakfast bowl is made with butternut squash, chicken sausage, and sage cream sauce. Dairy free and paleo breakfast idea for busy families and individuals who are looking for a healthy breakfast packed with protein, nutrients, and flavor!

Print Recipe Savory Whole30 Butternut Chicken Breakfast Bowl This savory whole30 breakfast bowl is made with butternut squash, chicken sausage, and sage cream sauce. Dairy free and paleo breakfast idea for busy families and individuals who are looking for a healthy breakfast packed with protein, nutrients, and flavor! Ingredients Base Main Dish Votes: 19
Rating: 3.89
You: Rate this recipe! Recipe Notes

How to bake butternut squash: Preheat oven to 400F. Cut squash in half lengthwise and set facedown on a baking tray with 1/2" water. Bake on 400F until when poked with a fork is soft, but not mushy (about 40-60 minutes, depending on the size of your squash).

Info Cook Time 10 minutes Prep Time 15 minutes Servings servings MetricUS Imperial Course Main Dish Votes: 19
Rating: 3.89
You: Rate this recipe! Recipe Notes

How to bake butternut squash: Preheat oven to 400F. Cut squash in half lengthwise and set facedown on a baking tray with 1/2" water. Bake on 400F until when poked with a fork is soft, but not mushy (about 40-60 minutes, depending on the size of your squash).

Ingredients Base
Prepare squash (see notes on how to make). Scrape the meat from the skin of the squash and set in a bowl.
Slice chicken sausages into bite size rounds. In a fry pan cook sausage pieces in a drizzle of olive oil over medium heat until golden and crispy on the edges.
In a sauce pan, saute minced onion with 1 tablespoon olive oil until golden and soft. Add rest of ingredients for sauce and heat until hot enough to serve.
Add cooked sausages to squash and mix, then pour cream sauce over and serve.
Nutrition Facts Savory Whole30 Butternut Chicken Breakfast Bowl Amount Per Serving Calories 420 Calories from Fat 261 % Daily Value* Total Fat 29g 45% Saturated Fat 16g 80% Polyunsaturated Fat 0.4g Monounsaturated Fat 3g Sodium 680mg 28% Potassium 46mg 1% Total Carbohydrates 27g 9% Dietary Fiber 3g 12% Sugars 9g Protein 16g 32% Vitamin A 124% Vitamin C 12% Calcium 4% Iron 12% * Percent Daily Values are based on a 2000 calorie diet.
Read more