Whole30 Harvest Chicken Salad
---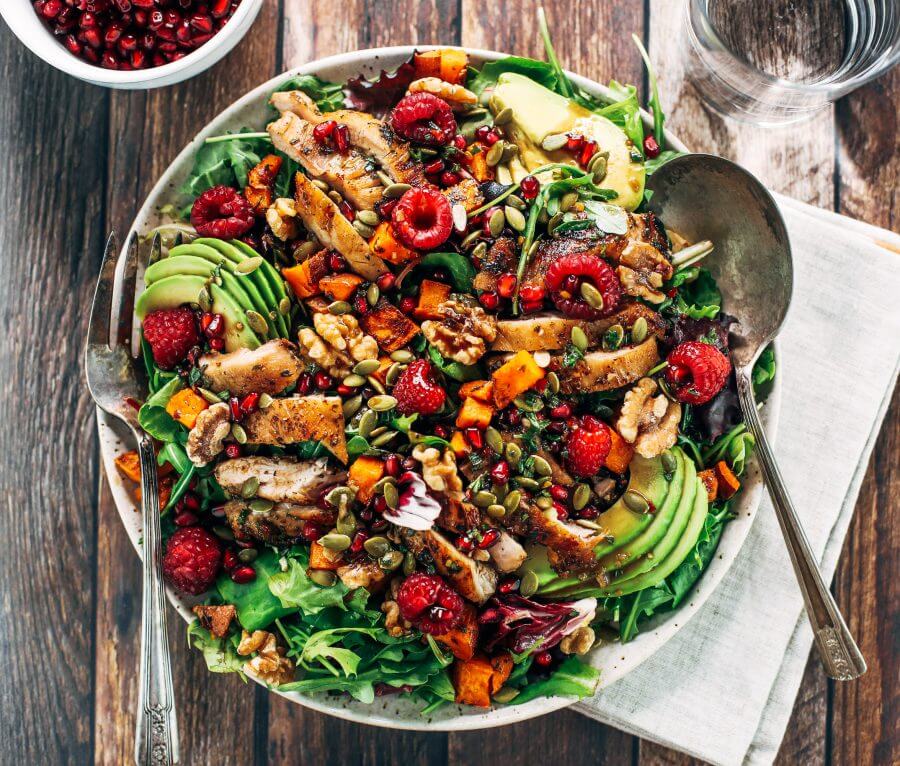 Whole30 harvest chicken salad with roasted rosemary sweet potatoes, avocado, nuts and berries, and homemade balsamic dressing. My favorite salad I eat on repeat! A healthy family dinner for paleo meal prep.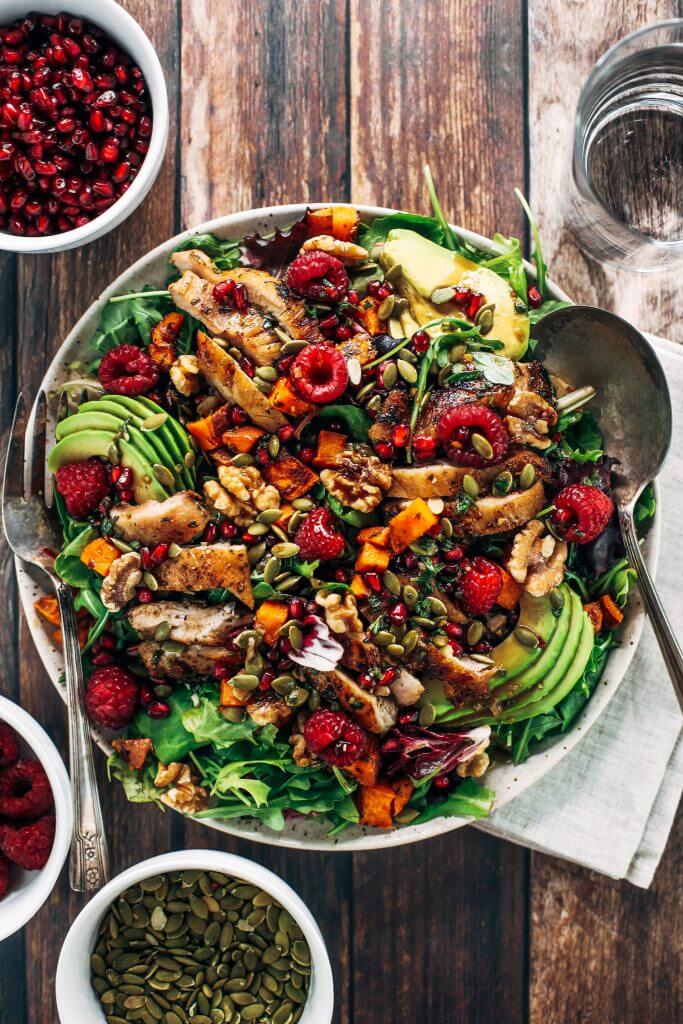 This salad is what dreams are made of!
When I think of eating salad for lunch, this is the one.
It's got all the goods… and more!
I'm a major fan of everything avocado, raspberries, pom seeds, and that rosemary chicken. Yum!
And we haven't even gotten to the fact that those sweet potatoes are good enough to eat like candy for dessert.
Yup, mmm hmm- sweet potatoes for dessert.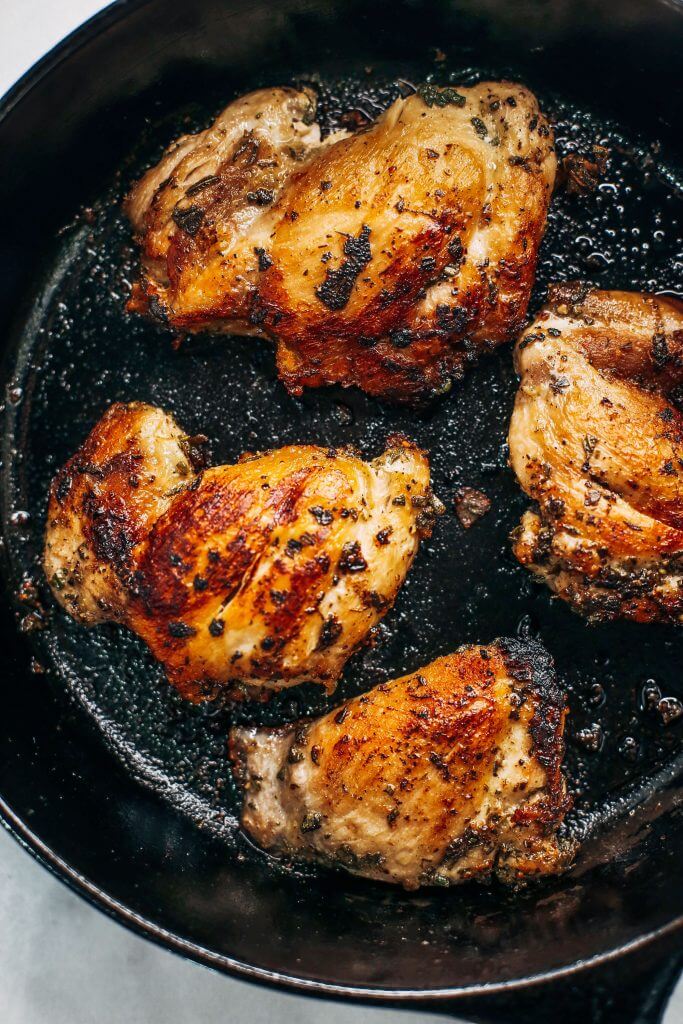 harvest salad doings
I have been testing out a new lighting set up in the kitchen today and let me tell you, trying to maneuver around our tiny two butt kitchen with four lighting units reaching to the ceiling is no easy feat!
I'm surprised we made it out of that shoot without any screaming and tempers flaring, but we managed to keep it chill and dance around all the equipment, singing Dancing Queen at the top of our lungs.
It was a good day.
And what made it even better was eating a feast size plate of this salad for lunch/dinner!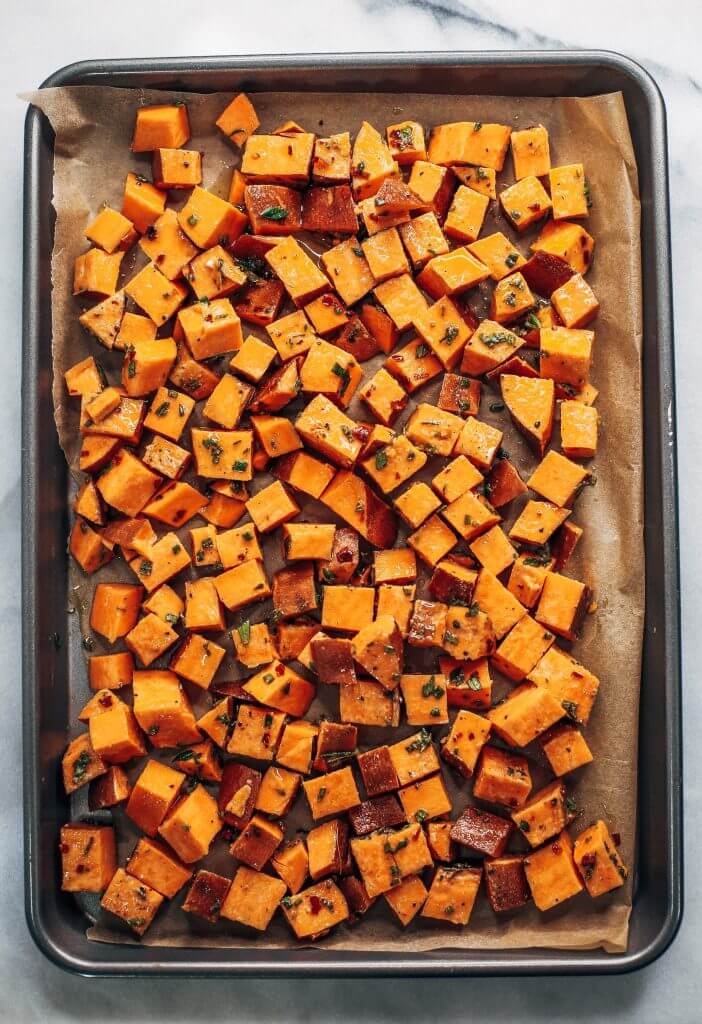 I have been meaning to make this salad for weeks, but every time I bought the ingredients; somehow, I devoured all the berries or arugula before I could assemble the salad.
Whoops!
Better late than never, though.
Pro tip for making crispy chicken: use a cast iron skillet to get that nice golden color!
This is the one I love and use on a daily basis.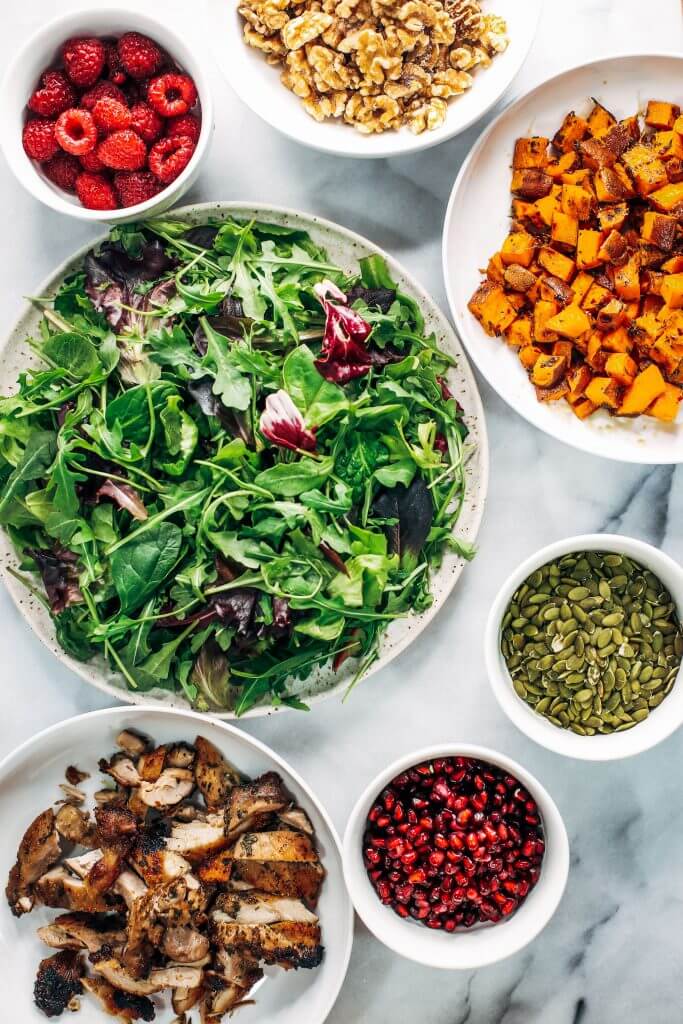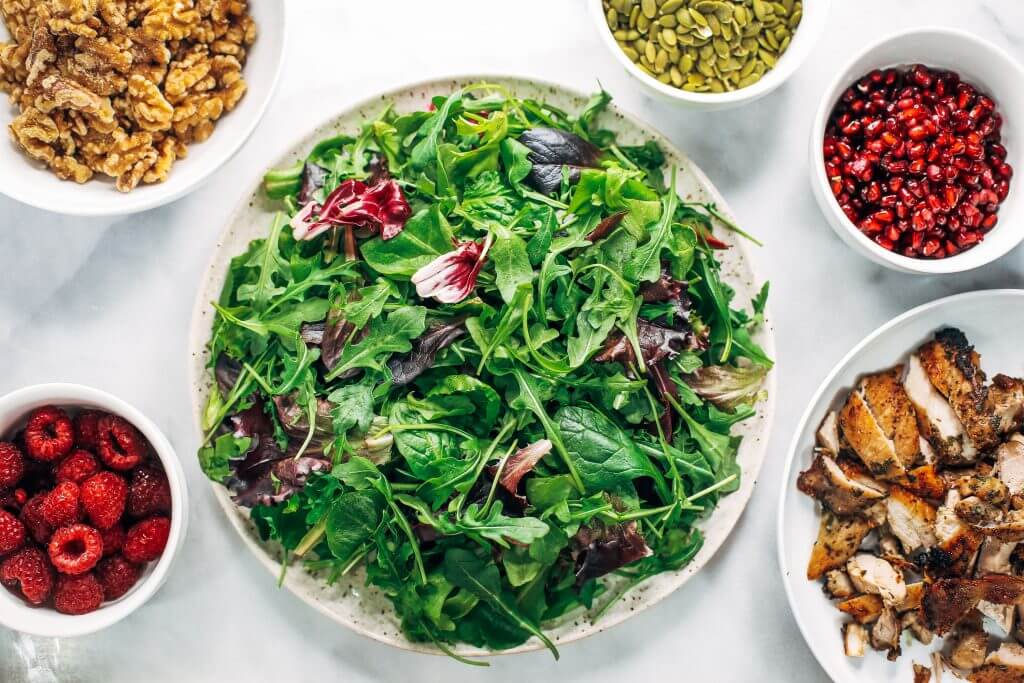 Well, you're pretty much ready to be a boss at making salads now, so let's go cook!
Enjoy!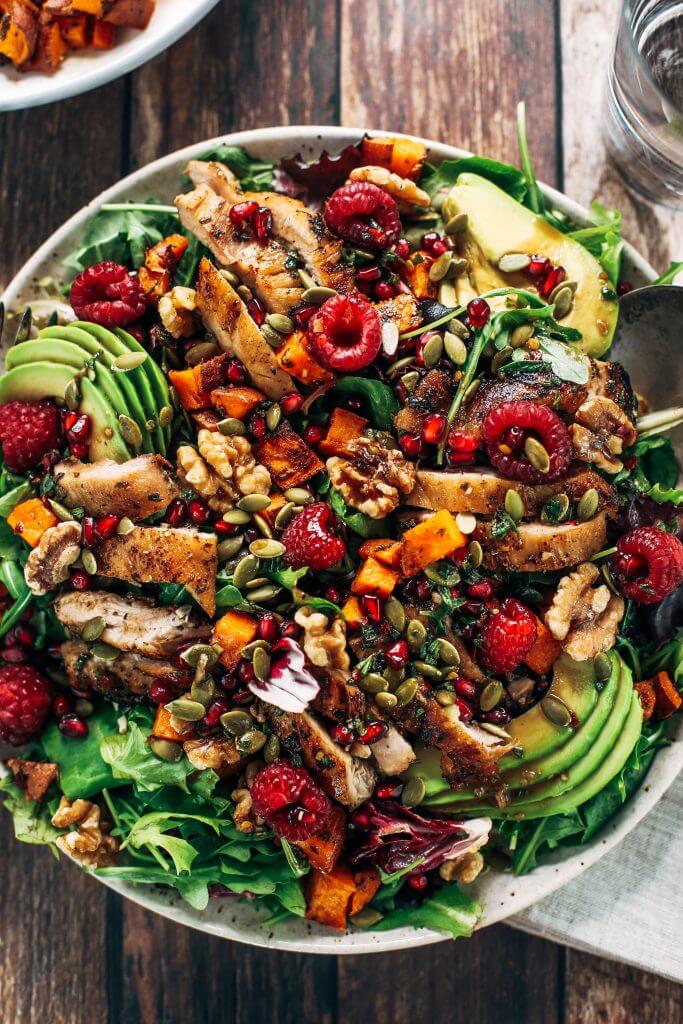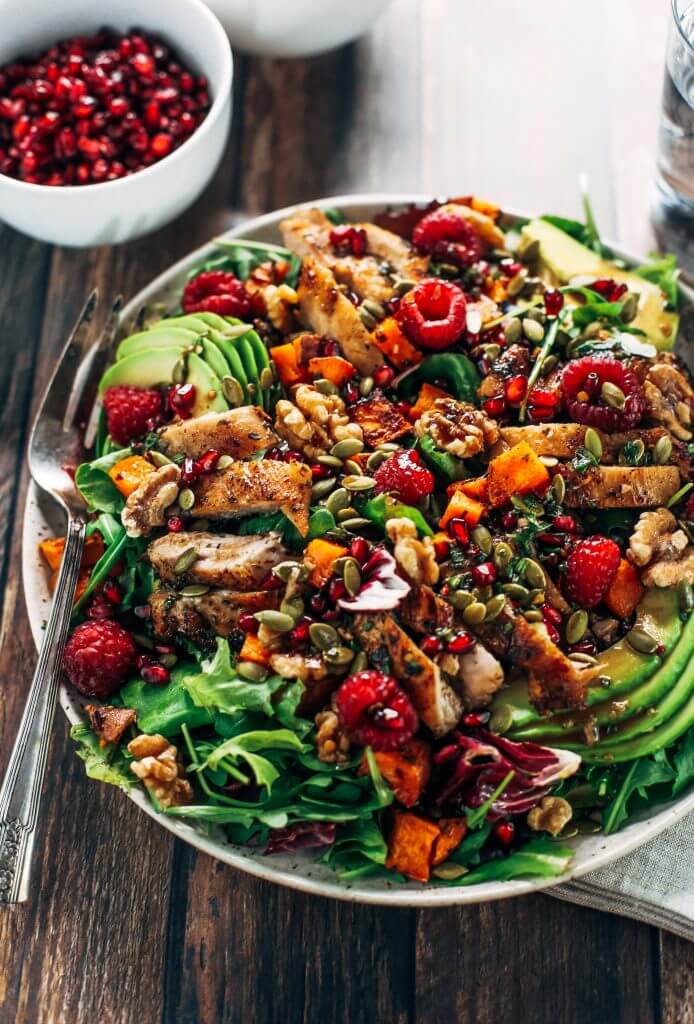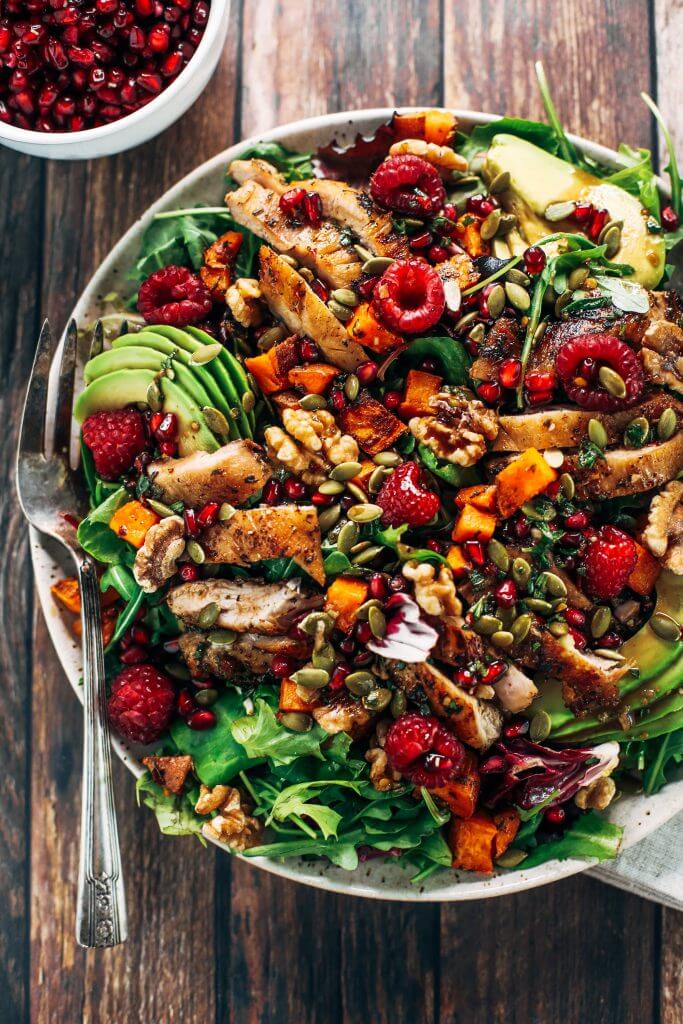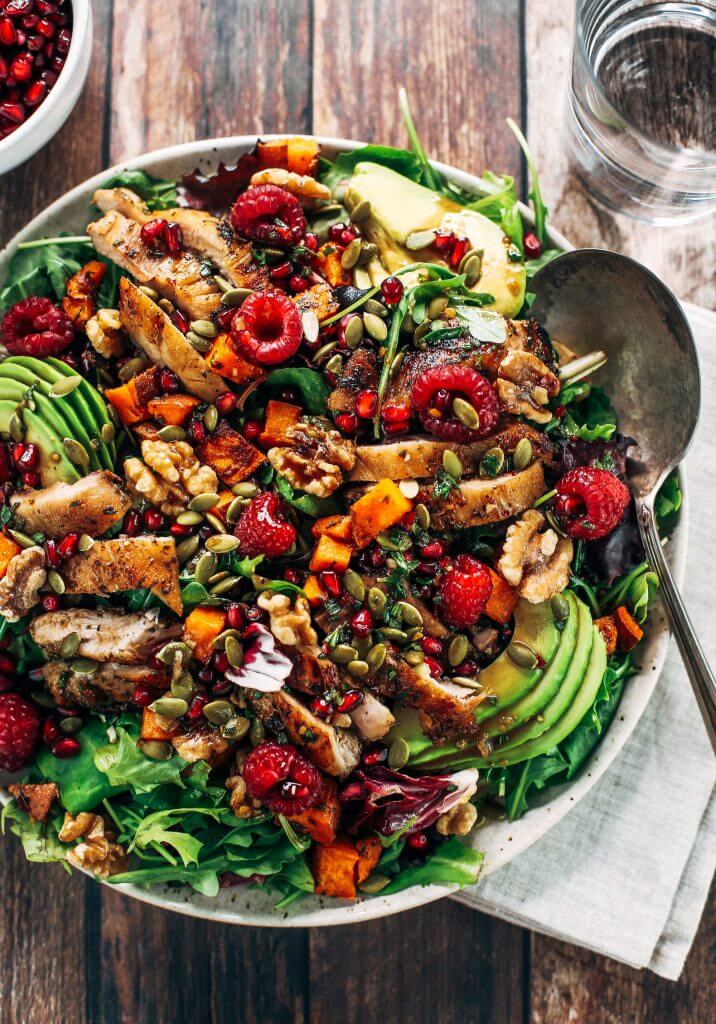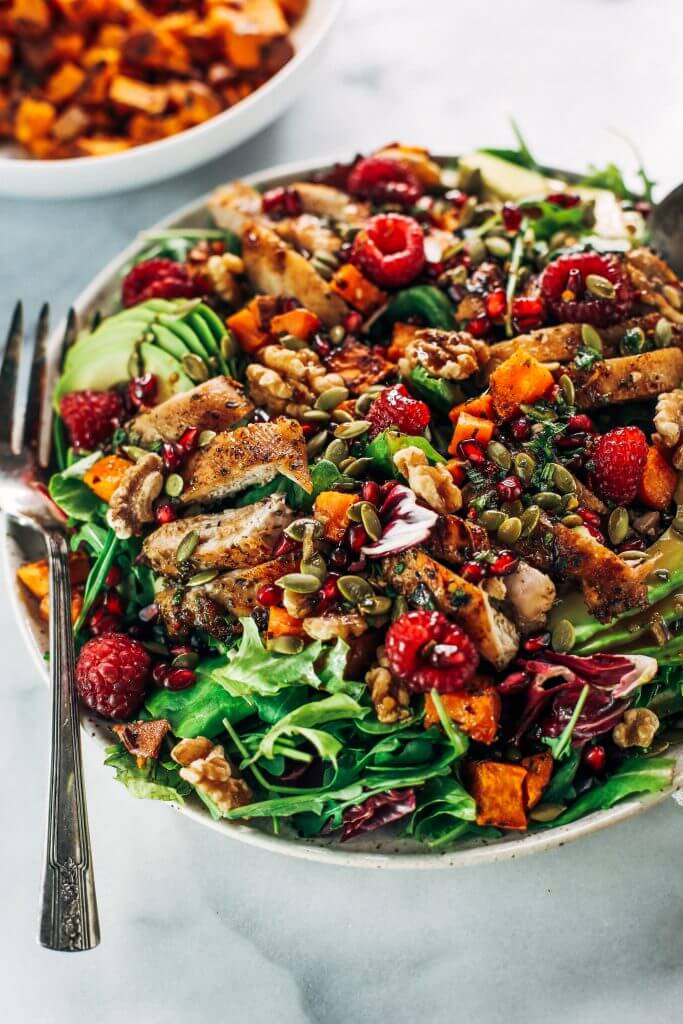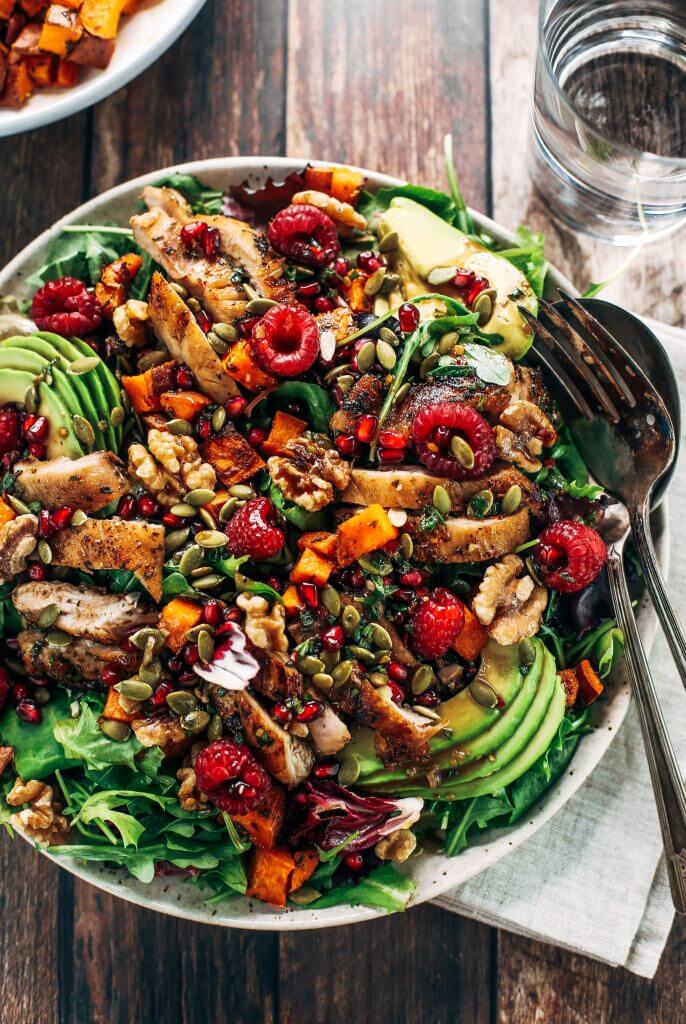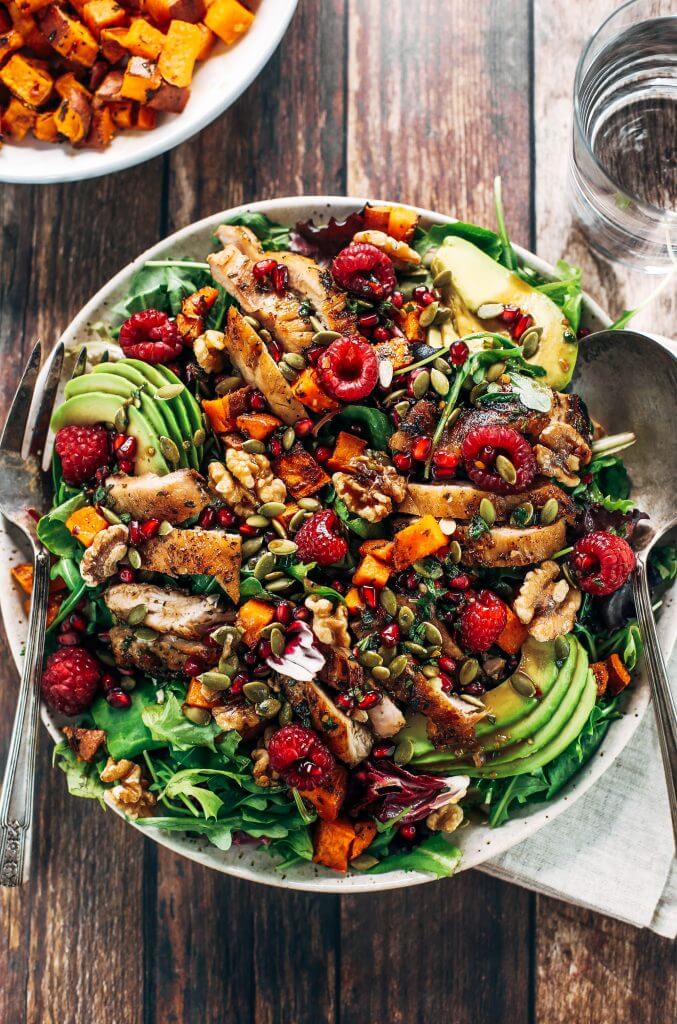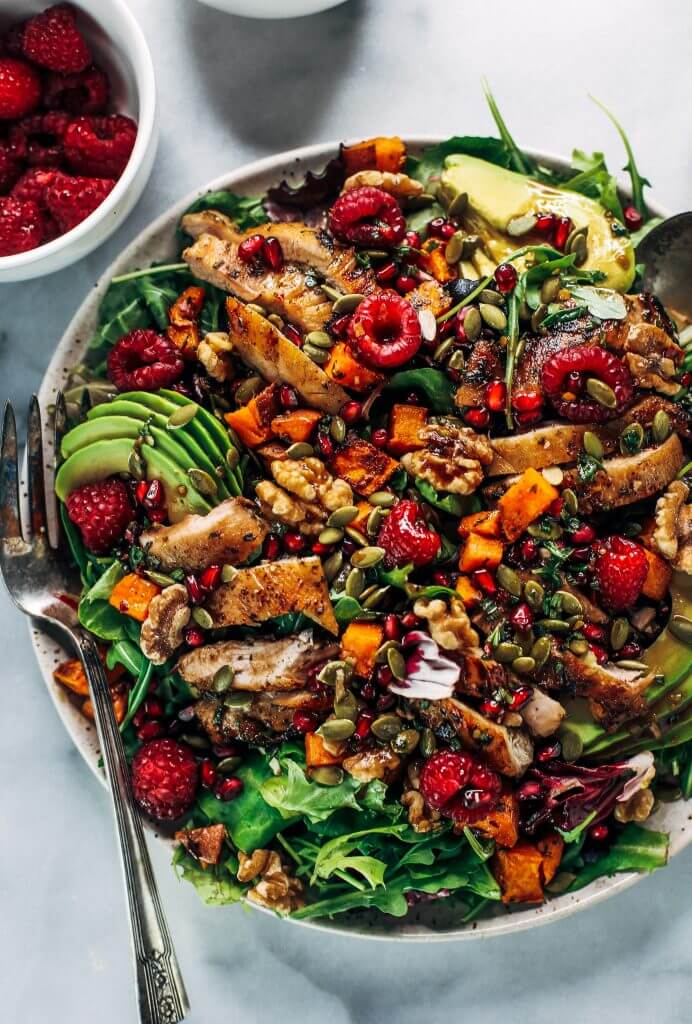 Heat a skillet over medium heat and drizzle with olive oil. Trim fat off chicken thighs and rinse, then place in a bowl with spices and olive oil and toss. Set chicken on skillet and cook until crispy and golden on each side (they will be done when there is not pink left when cut open; takes about 10-15 minutes, depending on the size of chicken thighs). Once cooked, allow to set, then slice into strips and set aside.

Preheat oven to 425F and line a baking tray with parchment paper. Cut sweet potato into bite size cubes, toss with spices, olive oil, and arrowroot flour. Spread out on a baking tray lined with parchment paper and bake on 425F for about 30 minutes until golden. Once cooked, set aside for later.

In a jar or blender add ingredients for dressing and shake or blend until smooth, then set aside for later.

In a large bowl or serving plate, layer greens, chicken strips, sweet potatoes, the rest of the salad fixings, and top with dressing before serving.
Nutrition Facts

Whole30 Harvest Chicken Salad

Amount Per Serving

Calories 812

Calories from Fat 531

% Daily Value*

Total Fat 59g 91%

Cholesterol 75mg 25%

Sodium 807mg 34%

Potassium 687mg 20%

Total Carbohydrates 48g 16%

Protein 31g 62%

* Percent Daily Values are based on a 2000 calorie diet.