---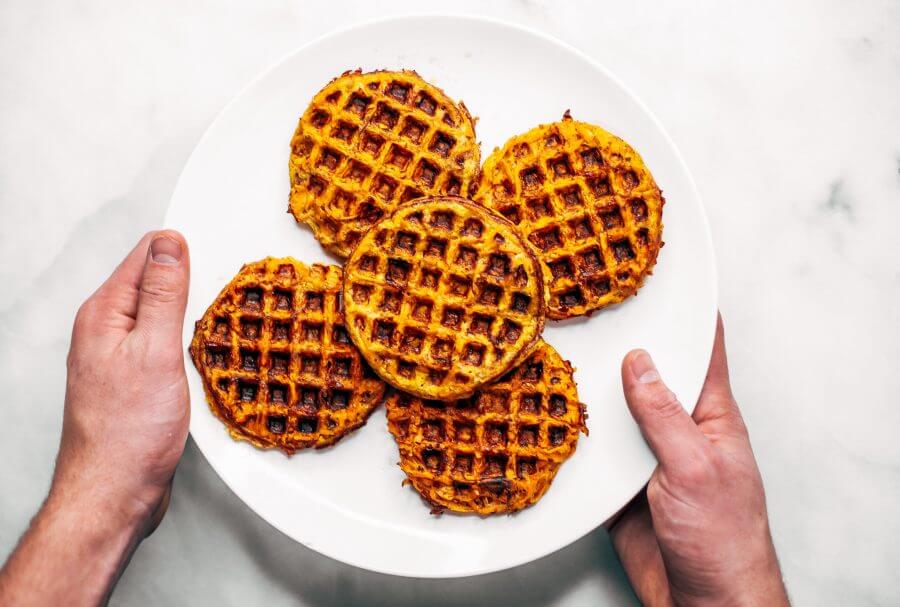 Sweet potato waffles made with two ingredients and ready in just five minutes! These sweet potato waffles are better than Eggos and can be made ahead and frozen for quick meal prep. Best paleo waffles for healthy eaters. Easy gluten free waffles for everyone!

Print Recipe Sweet Potato Paleo Waffles Sweet potato waffles made with two ingredients and ready in just five minutes! These sweet potato waffles are better than Eggos and can be made ahead and frozen for quick meal prep. Best paleo waffles for healthy eaters. Easy gluten free waffles for everyone! Ingredients Info Prep Time 5 minutes Servings waffles MetricUS Imperial Course Main Dish Votes: 5
Rating: 3.8
You: Rate this recipe! Recipe Notes

This is the waffle iron I use. 

Info Prep Time 5 minutes Servings waffles MetricUS Imperial Course Main Dish Votes: 5
Rating: 3.8
You: Rate this recipe! Recipe Notes

This is the waffle iron I use. 

Ingredients Instructions
In a bowl whisk together grated sweet potato, eggs, and salt (optional).
Heat waffle iron, then drizzle with olive oil to keep waffles from sticking. See recipe notes for the waffle iron I use. Cook waffles until golden and crispy on the edges then serve with your favorite toppings.
Nutrition Facts Sweet Potato Paleo Waffles Amount Per Serving Calories 158 Calories from Fat 18 % Daily Value* Total Fat 2g 3% Saturated Fat 0.5g 3% Polyunsaturated Fat 0.2g Monounsaturated Fat 1g Cholesterol 62mg 21% Sodium 188mg 8% Potassium 551mg 16% Total Carbohydrates 32g 11% Dietary Fiber 5g 20% Sugars 7g Protein 4g 8% Vitamin A 449% Vitamin C 6% Calcium 6% Iron 6% * Percent Daily Values are based on a 2000 calorie diet.
Read more