Whole30 Balsamic Grilled Chicken Salad
---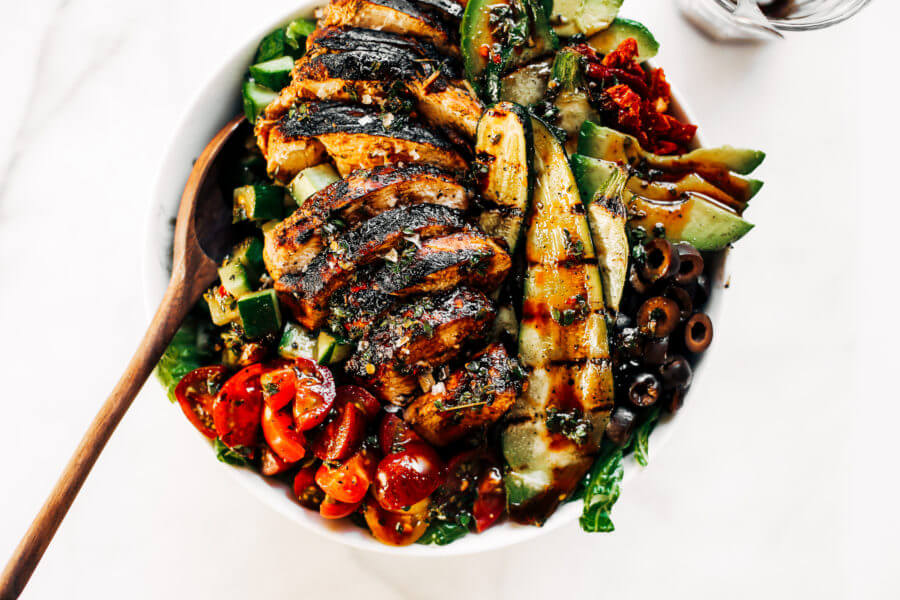 Grilled chicken salad with balsamic dressing and grilled vegetables. An easy paleo whole30 dinner for the whole family! Light, refreshing, and filling healthy dinner.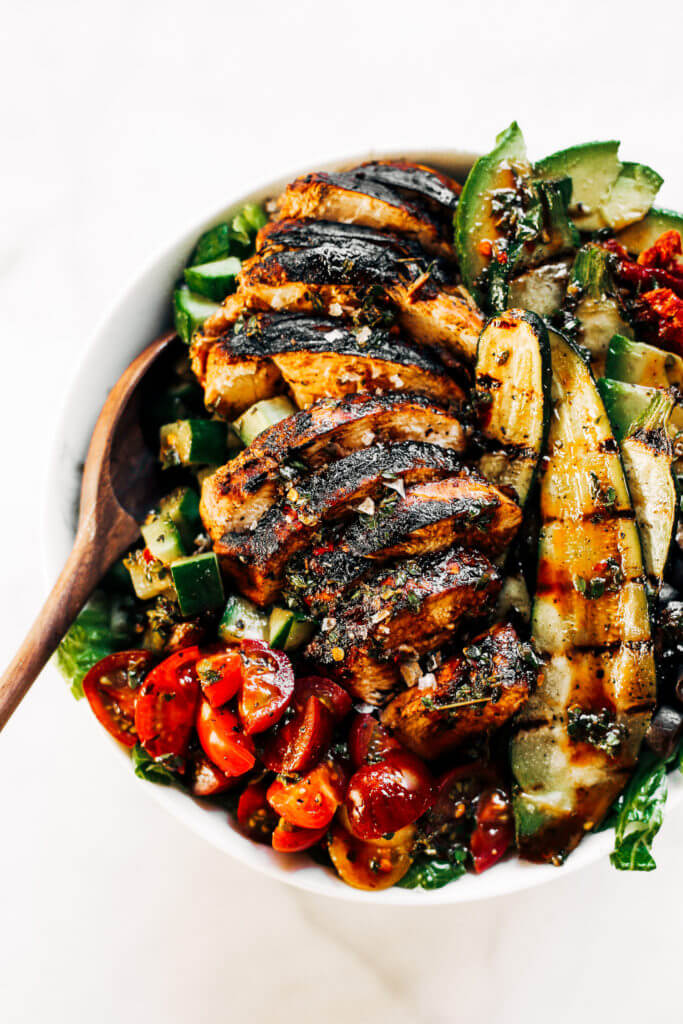 Hey guys!
 We all know by now that my grill probably isn't going to get a rest till the end of summer, so let's just jump straight into the goods.
First off, I think I should brief you by telling you that I was the girl that once did shots of straight balsamic vinegar with my sister and friends when I was little…
Back when my friends and I would host medieval festivals for our twelve year old selves, we would take everything to the max.
Head to toe, we would adorn ourselves in hand sewn costumes; some of us girls would smear mud on our faces for beards, because of the lack of male presence.
Trust me, it wasn't always the easiest trying to drag young boys into dancing with us girls and share minced meat pies, fruit platters, and vinegar shots.
So, some of us girls wold take on the role and come to the feast with our swords, linen tunics, and mud beards.
Of course, no medieval festival is complete without our beverage of choice: balsamic vinegar.
For reals, we did legit shots of this stuff and I think I can still feel the burn in my throat.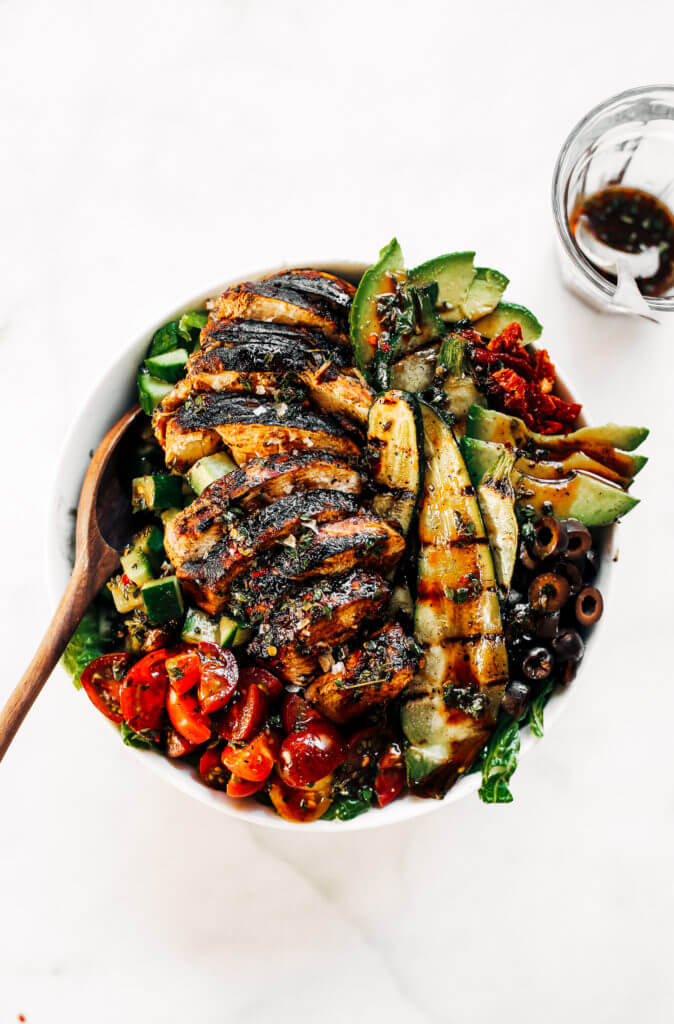 balsamic vinegar thing…
So, we have established the fact that I will not shy away from balsamic vinegar.
But the chicken and salad combo will forever have me swooning.
It's been my favorite staple all the way through my teenage years.
Lunch 360 days of the year, ages 16-18 was a basic bed of romaine served with chicken, all the veggies on hand, and topped off with feta, cranberries, pecans, and homemade balsamic vinaigrette.
It never got old and I think it's due time to share the goods with you guys!
But, this time: a paleo version. 🙂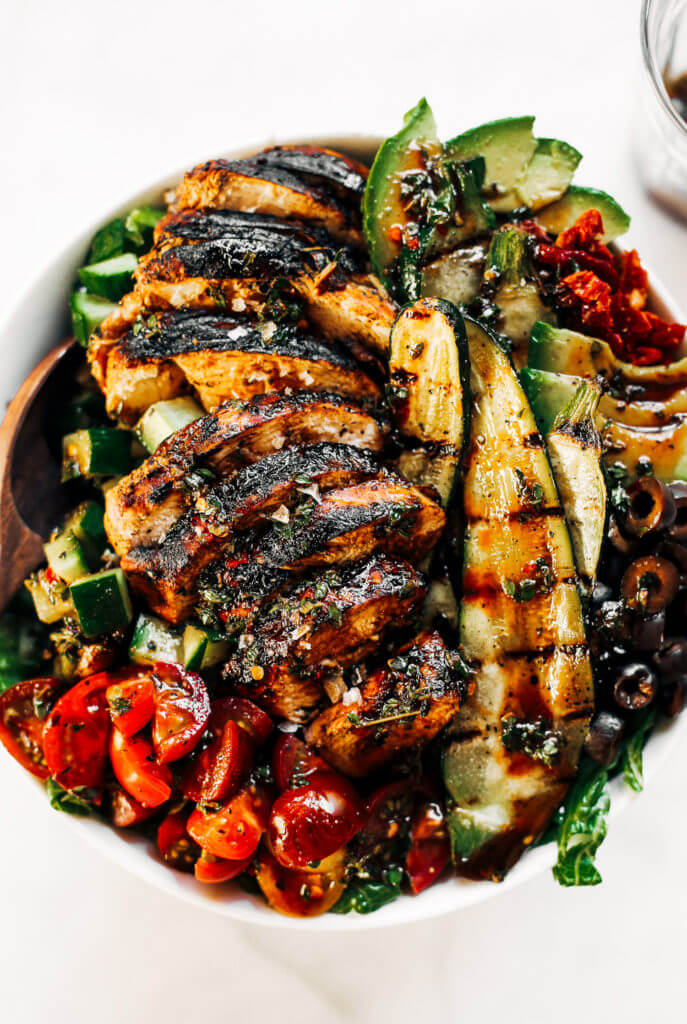 I love sharing family meals when everybody actually wants to eat the salad I make.
Sometimes the fam gets a little scared by the sweet potato hummus, sprouts overload, or mixing sardines with fruits and vegetables that aren't exactly ordinary.
But that's okay, because every once in a while I'll pull together a non-health food safe and delicious classic like this one and we'll all share a good family meal, full of fresh vegetables and a safe dressing (i.e. not drenched in tahini, too much garlic, or excess of chili flakes- all of which I'm known for).
Add ingredients for dressing into a jar with a lid and shake until combined.

Add 2-4 tablespoons dressing to chicken in a zip lock or bowl and set in fridge to marinate for 30 minutes or as time will allow.

Heat grill pan over medium heat. Once hot, generously grease with olive oil and cook chicken breast and sliced zucchini with a lid. Chicken will cook for about 8-10 minutes on each side until there is no pink on the inside. Zucchini cooks for about 4 minutes on each side.

Once chicken and zucchini has cooked, set aside to set before cutting chicken. Then add all ingredients into a large bowl and serve with remaining dressing.
Nutrition Facts

Whole30 Balsamic Grilled Chicken Salad

Amount Per Serving

Calories 306

Calories from Fat 189

% Daily Value*

Total Fat 21g 32%

Cholesterol 33mg 11%

Sodium 652mg 27%

Potassium 464mg 13%

Total Carbohydrates 16g 5%

Protein 16g 32%

* Percent Daily Values are based on a 2000 calorie diet.