---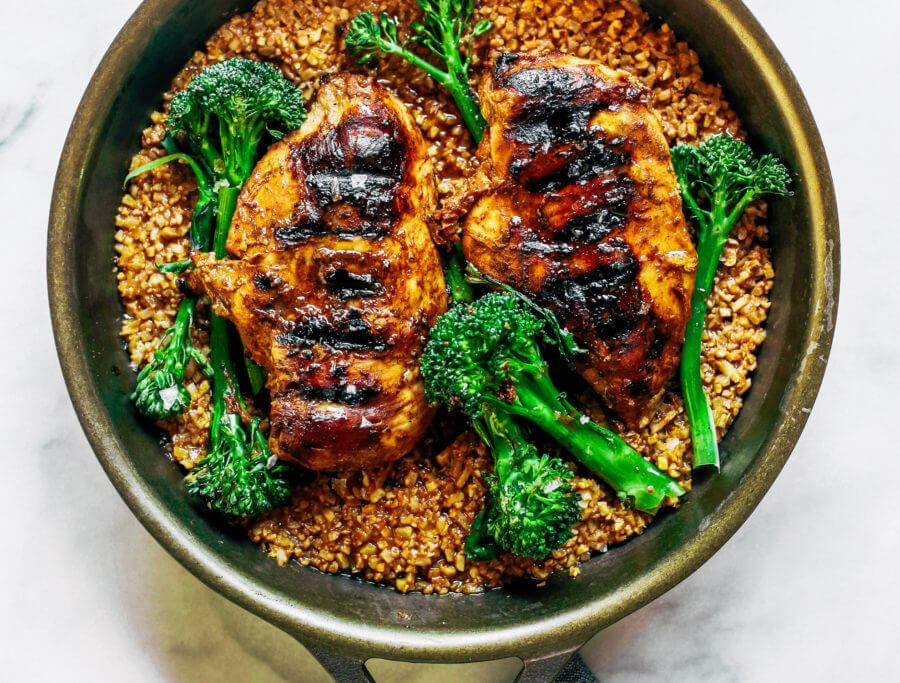 Easy thai chicken cauliflower rice. A delicious, whole30, and paleo family meal! You can even make this dish ahead of time, freeze it, and eat later! Easy whole30 meal prep.

Print Recipe Whole30 Thai Chicken Cauliflower Rice Easy thai chicken cauliflower rice. A delicious, whole30, and paleo family meal! You can even make this dish ahead of time, freeze it, and eat later! Easy whole30 meal prep. Ingredients Sauce Main Dish Votes: 28
Rating: 3.93
You: Rate this recipe! Info Cook Time 20 minutes Prep Time 15 minutes Servings servings MetricUS Imperial Course Main Dish Votes: 28
Rating: 3.93
You: Rate this recipe! Ingredients Sauce
Puree ingredients for sauce in a blender until smooth.
Marinate chicken breast in 1/3 the sauce and put in the fridge for 30 minutes.
Cook chicken on either a grill pan or skillet (I did both!). Place chicken on a well greased pan, cover with a lid, and cook for 5-6 minutes on each side until cooked through (there should be no pink on inside when cut open).
Once the chicken is cooked, remove, and add broccoli to cast iron skillet and cook in leftover juices until it's soft, but not mushy.
In the cast iron skillet, pour the rest of the sauce over the cauliflower rice and cook for about 10 minutes until soft (stirring on occasion to prevent sticking to the pan). Then serve with chicken and broccoli.
Nutrition Facts Whole30 Thai Chicken Cauliflower Rice Amount Per Serving Calories 232 Calories from Fat 18 % Daily Value* Total Fat 2g 3% Saturated Fat 0.01g 0% Polyunsaturated Fat 0.1g Monounsaturated Fat 0.01g Cholesterol 35mg 12% Sodium 1175mg 49% Potassium 388mg 11% Total Carbohydrates 31g 10% Dietary Fiber 12g 48% Sugars 17g Protein 18g 36% Vitamin A 50% Vitamin C 81% Calcium 11% Iron 14% * Percent Daily Values are based on a 2000 calorie diet.
Read more