marinated tomatoes
Category
---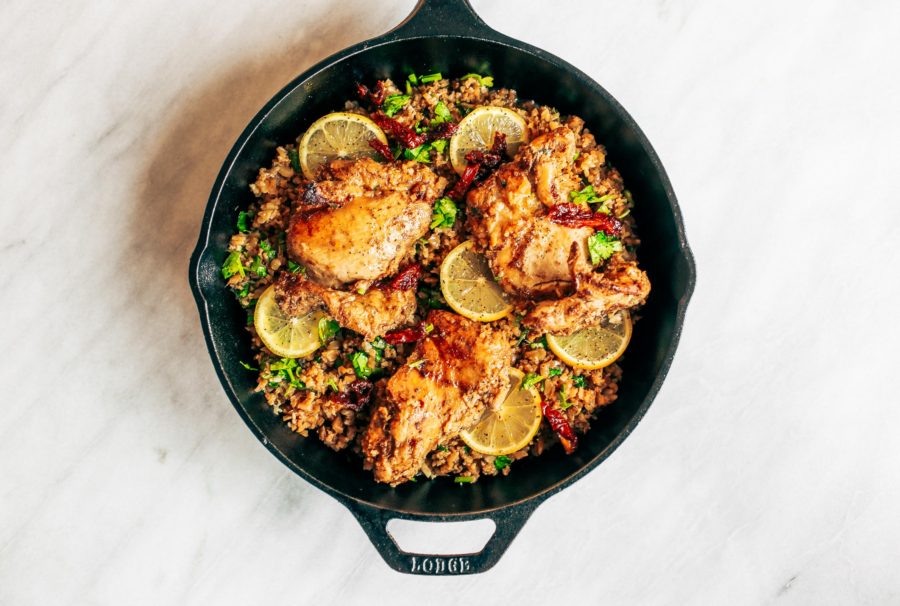 One pan Spanish cauliflower rice made in 25 minutes! Bursting with flavor! Paleo and whole30 friendly. Made with lemon, cilantro, chicken, and cauliflower rice. This one-pan skillet recipe makes for fast and easy meal prep.

Print Recipe Whole30 Spanish Chicken And Cauliflower Rice One pan Spanish cauliflower rice made in 25 minutes! Bursting with flavor! Paleo and whole30 friendly. Made with lemon, cilantro, chicken, and cauliflower rice. This one-pan skillet recipe makes for fast and easy meal prep. Ingredients Chicken Main Dish Votes: 158
Rating: 3.68
You: Rate this recipe! Info Cook Time 20 minutes Prep Time 8 minutes Servings servings MetricUS Imperial Course Main Dish Votes: 158
Rating: 3.68
You: Rate this recipe! Ingredients Chicken
In a small bowl mix together the spices for the chicken, then rub half of it on chicken (reserve half for later)
Heat a skillet over medium heat then drizzle with 1-2 tablespoons olive oil and cook chicken until golden brown on each side (about 2-3 minutes on each side- you will finish cooking it later). Then remove and set aside.
Fill skillet with cauliflower rice, stock, lemon juice, and the other half of the spice mix. Stir the cauliflower rice then set chicken thighs over rice and cook on medium/low heat for 20 minutes until chicken is cooked through.
Garnish with chopped cilantro and lemon wedges (optional).
Nutrition Facts Whole30 Spanish Chicken And Cauliflower Rice Amount Per Serving Calories 201 Calories from Fat 90 % Daily Value* Total Fat 10g 15% Saturated Fat 3g 15% Polyunsaturated Fat 1g Monounsaturated Fat 2g Cholesterol 75mg 25% Sodium 742mg 31% Potassium 352mg 10% Total Carbohydrates 7g 2% Dietary Fiber 2g 8% Sugars 3g Protein 20g 40% Vitamin A 26% Vitamin C 35% Calcium 1% Iron 13% * Percent Daily Values are based on a 2000 calorie diet.
Read more