Lemon Thyme Grilled Salmon Cauliflower Rice
---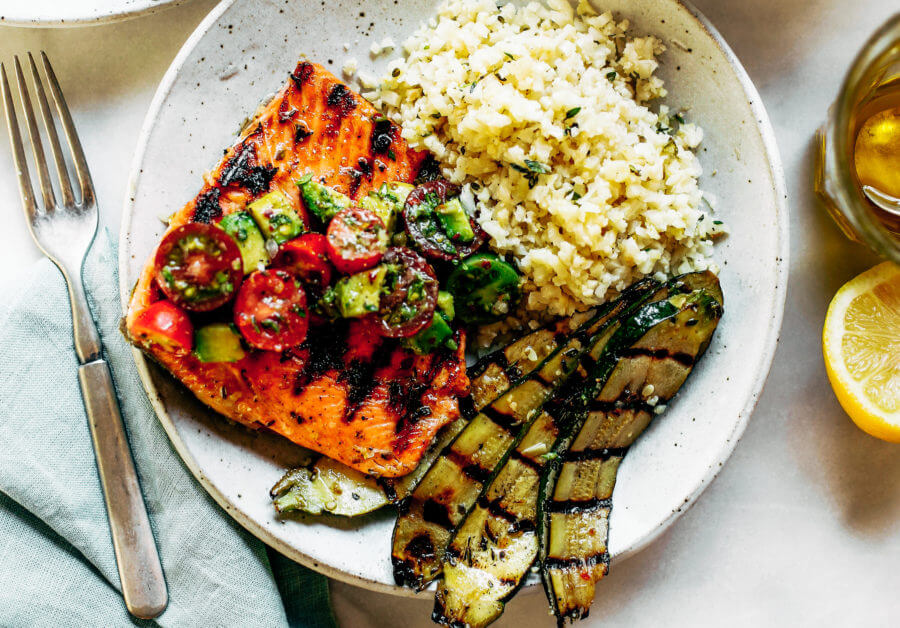 Lemony thyme grilled salmon with cauliflower rice and grilled zucchini. A light and fresh whole30 dinner idea! An easy paleo meal for the whole family.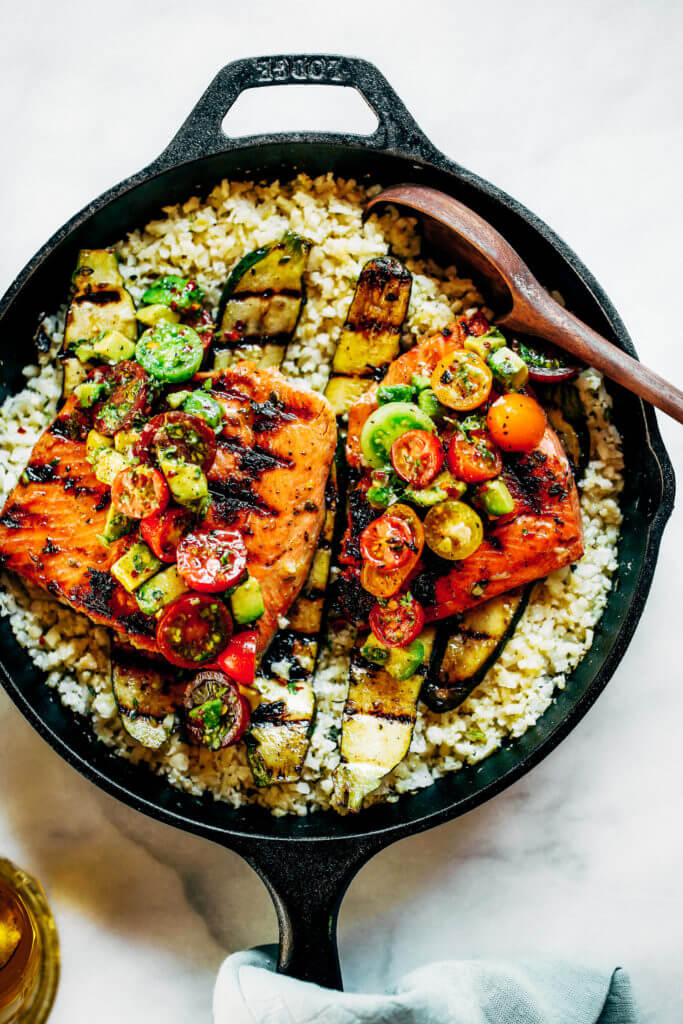 Those of you who know me, know I really like sweating my buns off in 90 degree weather and lake days.
I'm finding it reeeeeally hard to work this summer, because all I want to do is be on-in-above-around-within the water, read Jane Austin and let my brain go on vacation, and sip chilled Spindrifts.
Ahhhh, whyyyyy can't we all just not work during July pluuueasse.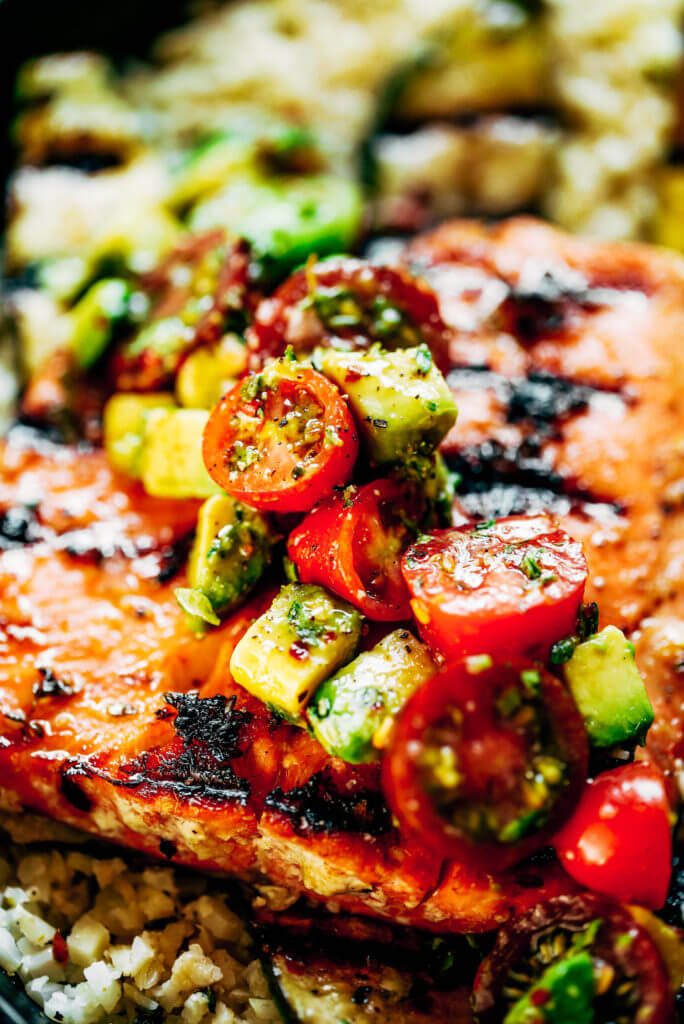 Thyme for good food… hehe!
Okay, I'm done now.
I will survive.
But in trending good news this week: this plate of double yum lemony-thyme cauliflower rice and grilled salmon has to be a highlight of the week.
It's everything wonderful about summer. And more.
Fresh and light, but filling and satisfying at the same time- mind. blown.
SO many lemony vibes happening, which I can never get enough of… I mean, I eat lemons like oranges and blend the whole fruit in my smoothies, so I kinda really like lemons and stuff.
Also: LEFTOVERS. Thank you.
And finally, only minutes for meal prep! Which is an essential for me during the summer. I'm all about fast and easy recipes during the hot summer months, because why risk heat stroke in the hot kitchen when you could be paddling on the water taking a pit stop for this cauliflower and salmon? 😉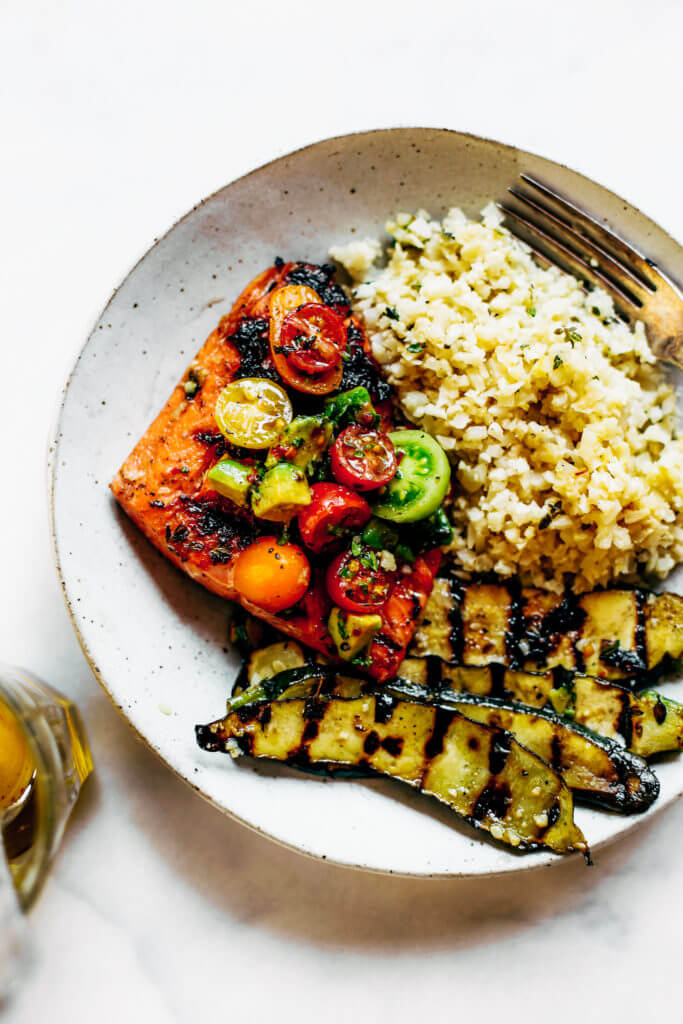 Okay, so a few favorites worthy of a mention:
This golden latte is on repeat and is one of the most popular recipes on my site that you probably should go make! 😉
It's like summer sunshine in a cup… and is deliciously addictive, so consider yourself warned!
Totally non-food related note here, but it's summer and you need to know.
I have been on some kinda intense summer dress swing and these are two of my faves: this sunny yellow wrap dress is perfection and this print skater button-up looks like it walked right outta the the set of full house and you bet I'm gonna be wearing that with white sneakers and ruffle socks to swing night!
(Not sponsored, just some love for this months faves!)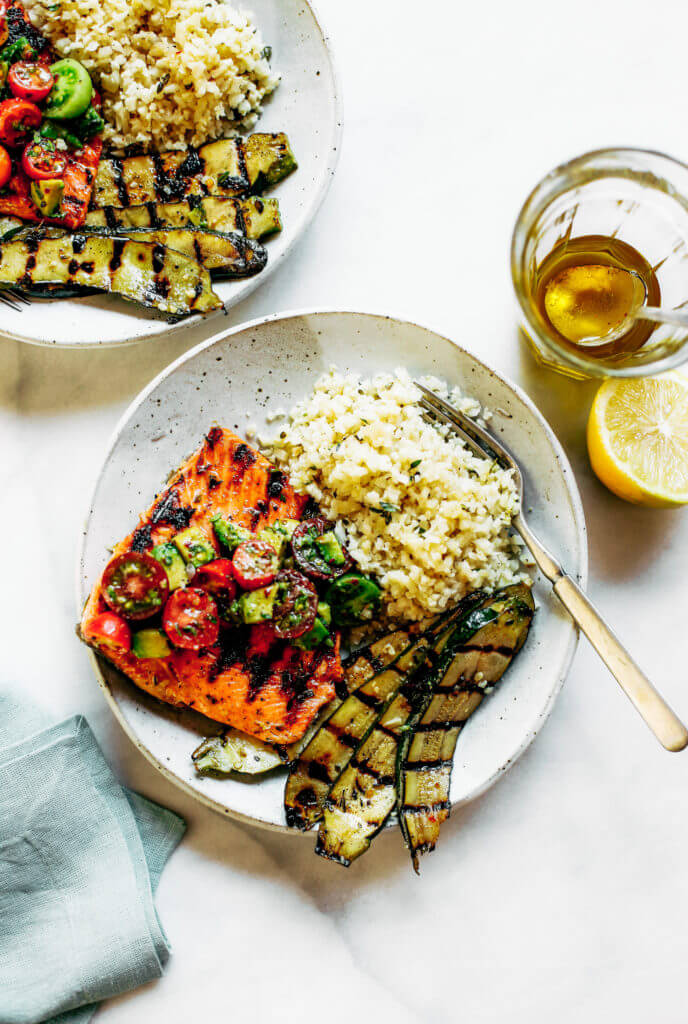 K, I think we should eat now.
Add lemon zest and juice, minced garlic, sea salt, and oregano for salmon and squash into a small bowl, then pour over salmon and sliced zucchini. Set in fridge (in ziplock or bowl) to marinade for 20-30 minutes or as time allows.

Heat grill pan over medium heat on the stove. Once hot, grease generously with olive oil and place salmon and zucchini on pan. Cook covered with a lid for 5 minutes on one side and 2-3 on the other.

Add ingredients for cauli rice to a pan and cook covered with a lid over medium heat for about 8-10 minutes until soft.

Toss ingredients for salsa together in a bowl then serve with cauli rice, salmon, and zucchini. Top with fresh lemon (optional).
Nutrition Facts

Lemon Thyme Grilled Salmon Cauliflower Rice

Amount Per Serving

Calories 247

Calories from Fat 108

% Daily Value*

Total Fat 12g 18%

Cholesterol 30mg 10%

Sodium 521mg 22%

Potassium 854mg 24%

Total Carbohydrates 20g 7%

Protein 16g 32%

* Percent Daily Values are based on a 2000 calorie diet.