---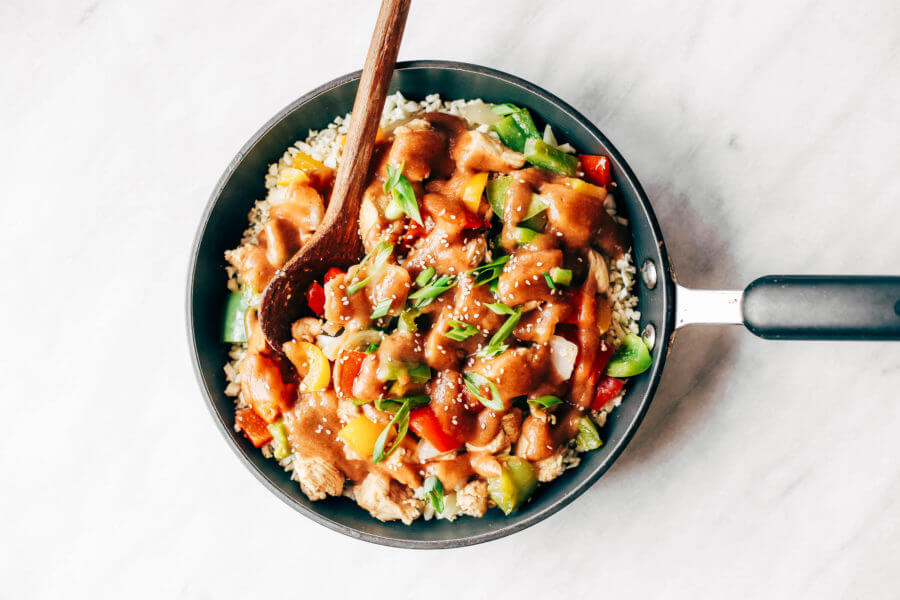 Healthy sweet and sour chicken with cauliflower rice. Paleo, whole30, and made without sugar! An easy weeknight dinner recipe, freezer friendly, and makes for fast meal prep!

Print Recipe Sweet And Sour Chicken With Cauliflower Rice Healthy sweet and sour chicken with cauliflower rice. Paleo, whole30, and made without sugar! An easy weeknight dinner recipe, freezer friendly, and makes for fast meal prep! Ingredients Main Dish Votes: 10
Rating: 4.4
You: Rate this recipe! Info Cook Time 10 minutes Prep Time 10 minutes Servings servings MetricUS Imperial Course Main Dish Votes: 10
Rating: 4.4
You: Rate this recipe! Ingredients
Cut chicken breasts into 1" cubes and place in a large ziplock.
In a blender combine all ingredients for sauce until smooth. Pour 1/3 of the sauce into the ziplock with chicken and let marinade for as long as permitted (anywhere from 5 minutes to 5 hours). Set the rest of the sauce aside for later.
In a heated skillet over medium heat, sauté marinated chicken for five minutes, then add chopped vegetables and cook until chicken is fully cooked (cut a chunk open, if there is no pink, it's fully cooked).
Steam cauliflower rice and serve with chicken, vegetables, and top off with leftover sauce. Green onions and sesame seeds are optional toppings.
Nutrition Facts Sweet And Sour Chicken With Cauliflower Rice Amount Per Serving Calories 362 Calories from Fat 9 % Daily Value* Total Fat 1g 2% Saturated Fat 0.01g 0% Polyunsaturated Fat 0.03g Monounsaturated Fat 0.003g Cholesterol 49mg 16% Sodium 752mg 31% Potassium 464mg 13% Total Carbohydrates 64g 21% Dietary Fiber 9g 36% Sugars 43g Protein 23g 46% Vitamin A 26% Vitamin C 171% Calcium 6% Iron 10% * Percent Daily Values are based on a 2000 calorie diet.
Read more