---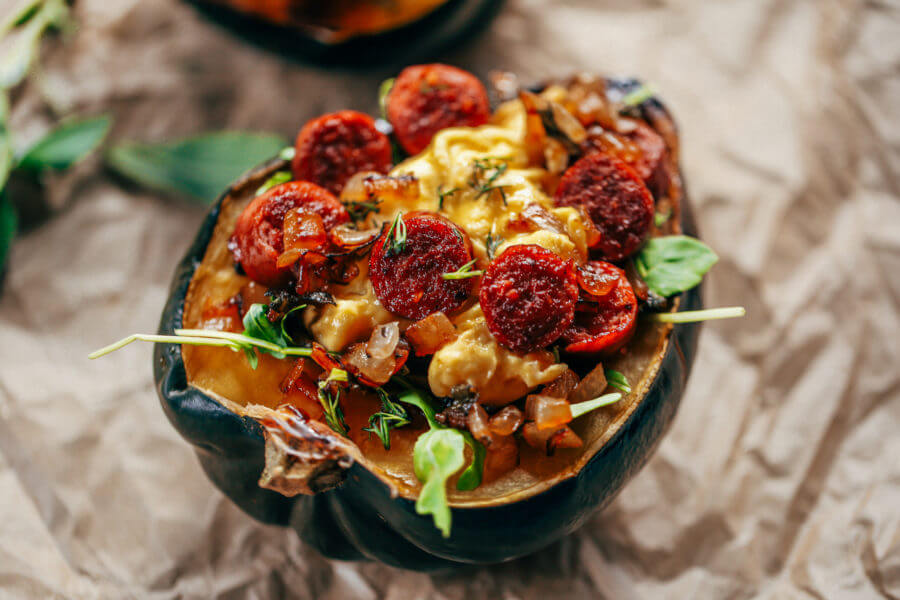 Whole30 breakfast stuffed acorn squash makes a great breakfast, lunch or dinner! Soft scrambled eggs, crispy sausage, sage, and onions all stuffed in a roasted acorn squash makes for easy paleo breakfast meal prep.

Print Recipe Egg Sage Sausage Stuffed Acorn Squash Whole30 breakfast stuffed acorn squash makes a great breakfast, lunch or dinner! Soft scrambled eggs, crispy sausage, sage, and onions, all stuffed in a roasted acorn squash- makes for easy paleo breakfast meal prep. Ingredients Info Cook Time 30 minutes Prep Time 15 minutes Servings servings MetricUS Imperial Course Main Dish Votes: 1
Rating: 5
You: Rate this recipe! Info Cook Time 30 minutes Prep Time 15 minutes Servings servings MetricUS Imperial Course Main Dish Votes: 1
Rating: 5
You: Rate this recipe! Ingredients Instructions
Preheat oven to 400F. Line a baking tray with parchment paper.
Cut squash in half lengthwise, drizzle squash halves lightly with avocado oil, lay face down on baking tray, and bake on 400F for about 30 minutes until soft.
While squash is baking, heat a skillet over medium heat on the stove. Dice onion and sage, then saute with about 1 tablespoon avocado oil. Stir on occasion until onions are golden, then remove and set aside.
Cut sausages into bite size rounds and cook in the skillet with a bit of oil until golden and crisp on each side, then remove and set aside.
Beat eggs together, then cook scrambled.
Assemble by layering in a handful of arugula into each squash half, then sautéed onions and sage, sausage pieces, and eggs. Top with salt and pepper to taste and serve.
Nutrition Facts Egg Sage Sausage Stuffed Acorn Squash Amount Per Serving Calories 447 Calories from Fat 252 % Daily Value* Total Fat 28g 43% Saturated Fat 11g 55% Polyunsaturated Fat 1g Monounsaturated Fat 3g Cholesterol 417mg 139% Sodium 787mg 33% Potassium 888mg 25% Total Carbohydrates 26g 9% Dietary Fiber 4g 16% Sugars 2g Protein 25g 50% Vitamin A 34% Vitamin C 46% Calcium 15% Iron 18% * Percent Daily Values are based on a 2000 calorie diet.
Read more