Best Whole30 Chicken Lo Mein
---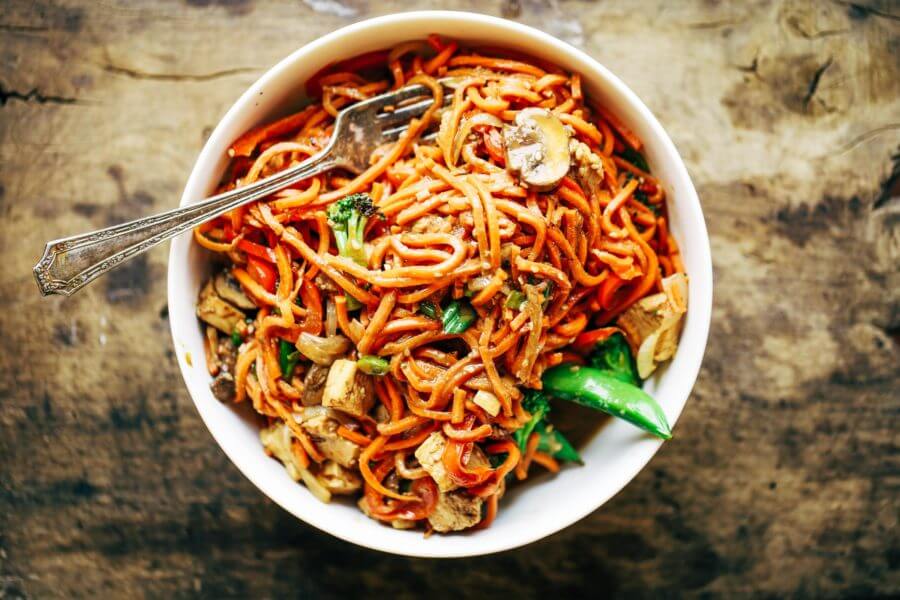 Healthy Lo Mein made with delicious carrot noodles! An Easy 15 minute whole30 meal the whole family will enjoy! Grain free, paleo, and gluten free.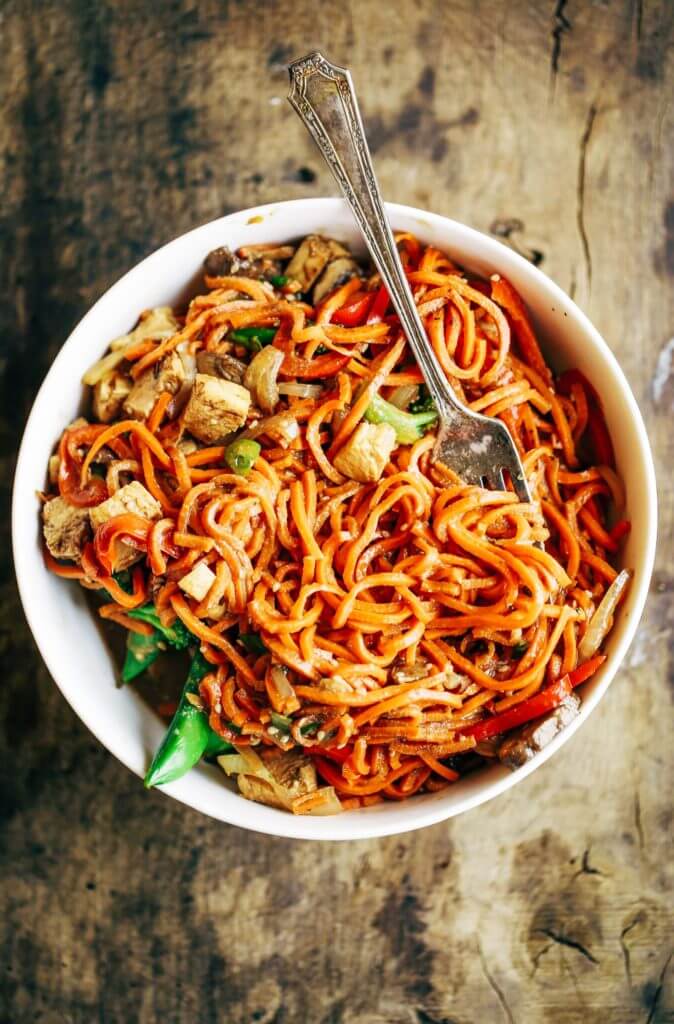 Lo mein all dayyyy!!! Who knew noodle-free lo mein, with a three ingredient sauce could actually taste kinda amazing. BUT IT DOES!!! In fact, it tastes more than kind of amazing; it's perfect. Perfectly healthy. Perfect addicting. And perfectly, prep-ahead-for-dinner-tonight-when-I'm-too-lazy-to-cook, kind of perfect.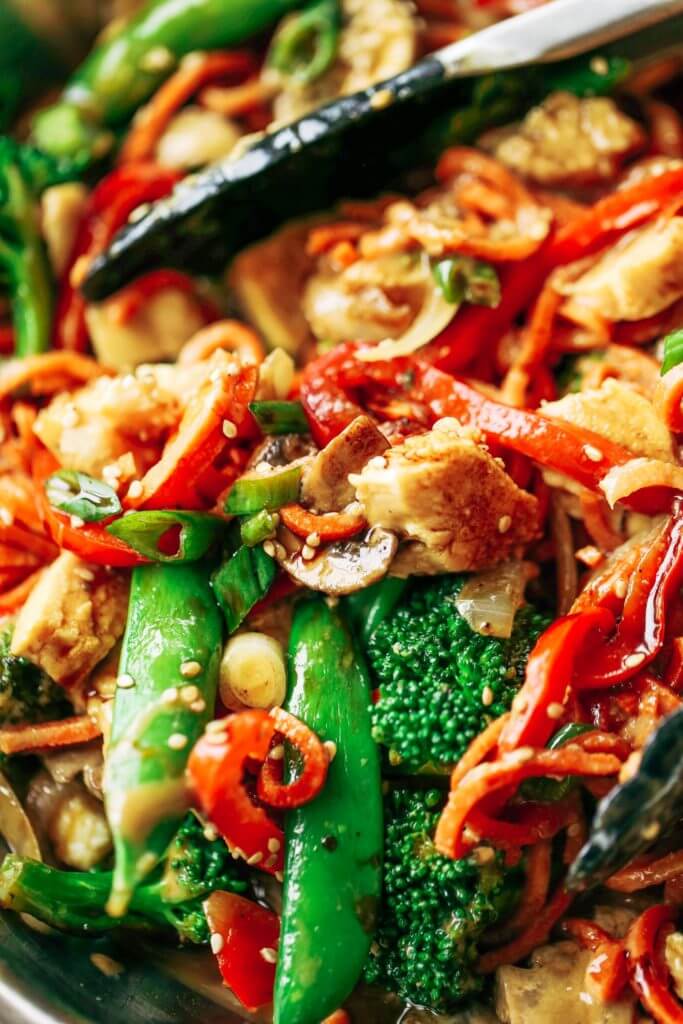 This traditional Chinese noodle dish has somehow become not so traditional when it reached my hands- we are talking carrot noodles, baby! Carrot noodles all the way! Haven't you heard? Carrots are the new zucchini. 🙂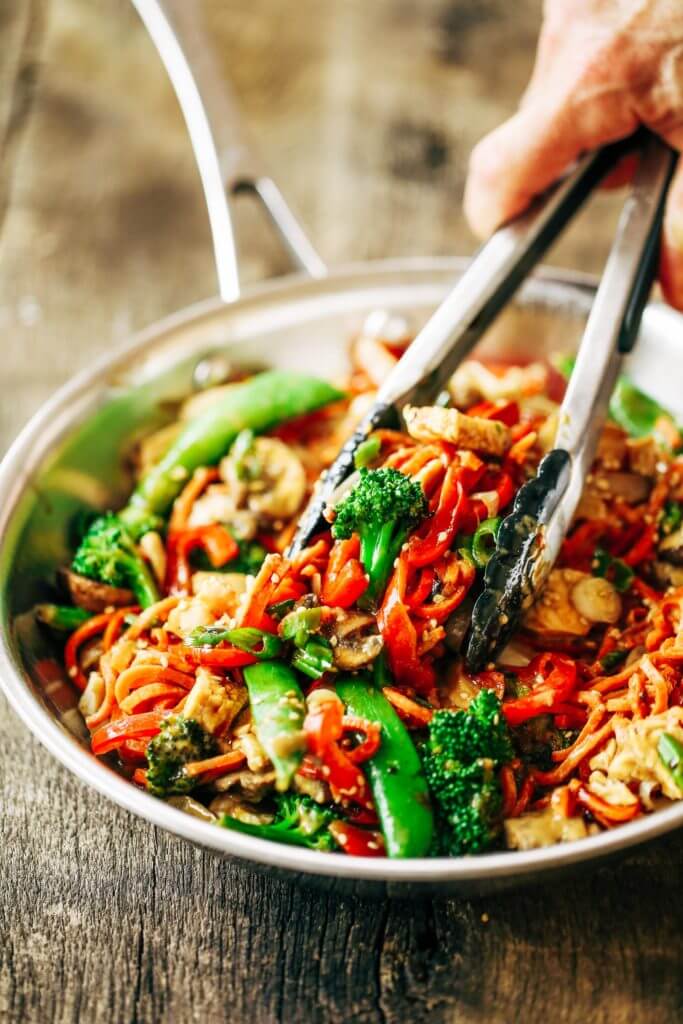 Lo Mein breakdown
So, here's the breakdown. I'm all about carrot noodles. And frankly, I'm quite obsessed. For a few reasons; including, their amazing taste, not to mention, the way they hold together perfectly and don't fall apart and become mush (all the yasss!!!). And the fact that they are a super healthy and an easy alternative to grain noodles. A big ol' serving of these lo mein noodles carries all of the delicousness factor with only 343 calories! Win!
You can make carrot noodles at home using this spiralizer. Or, thanks to Trader Joe's being all trendy and all, you can now walk your white sneakers straight into the frozen food section of TJ's and pick yourself up a box or two of carrots noodles that somebody else has already put the labor into to create perfect little's orange spirals, just for you!
*This is not a sponsored post for Trader Joe's, I'm just really thankful for clean and convenient eating options straight out of the frozen food section!
I thought I should also mention that you can sub out the carrot noodles for any other type of vegetable noodle (zucchini, sweet potato, squash, etc..) or grain.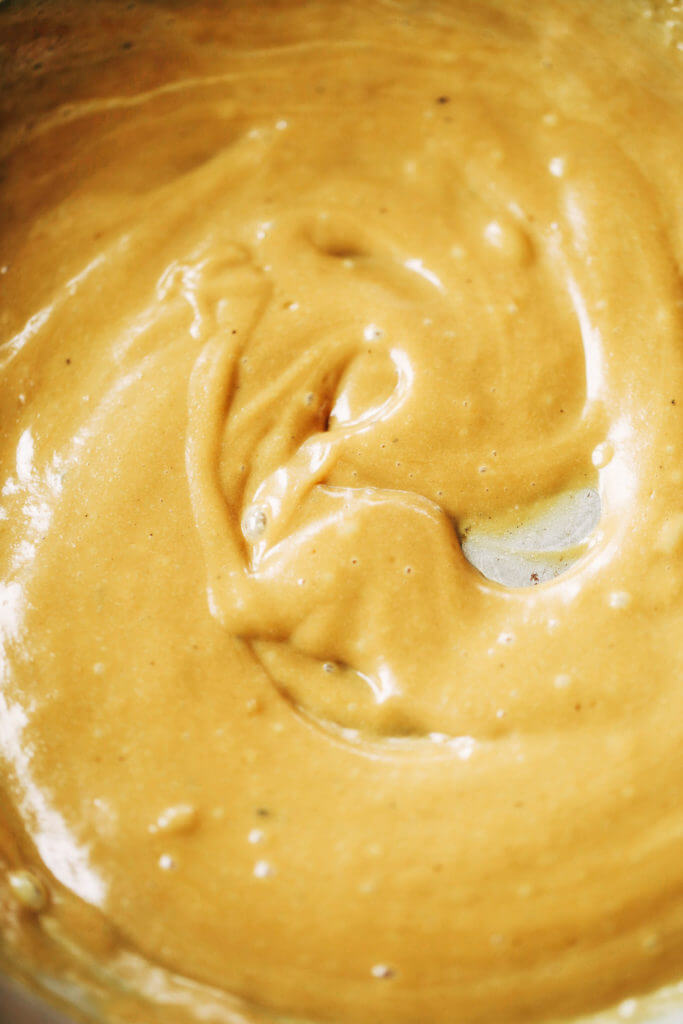 Okay, moving on. Have you heard? This delicious, glistening, amber colored, soy sauce flavored, sauce contains only three epic and clean (whole30 compliant) ingredients!!! It's all the rage. All the cool kids are doing it… coconut amino's, it's the secret (not so secret) ingredient in this Asian inspired dish.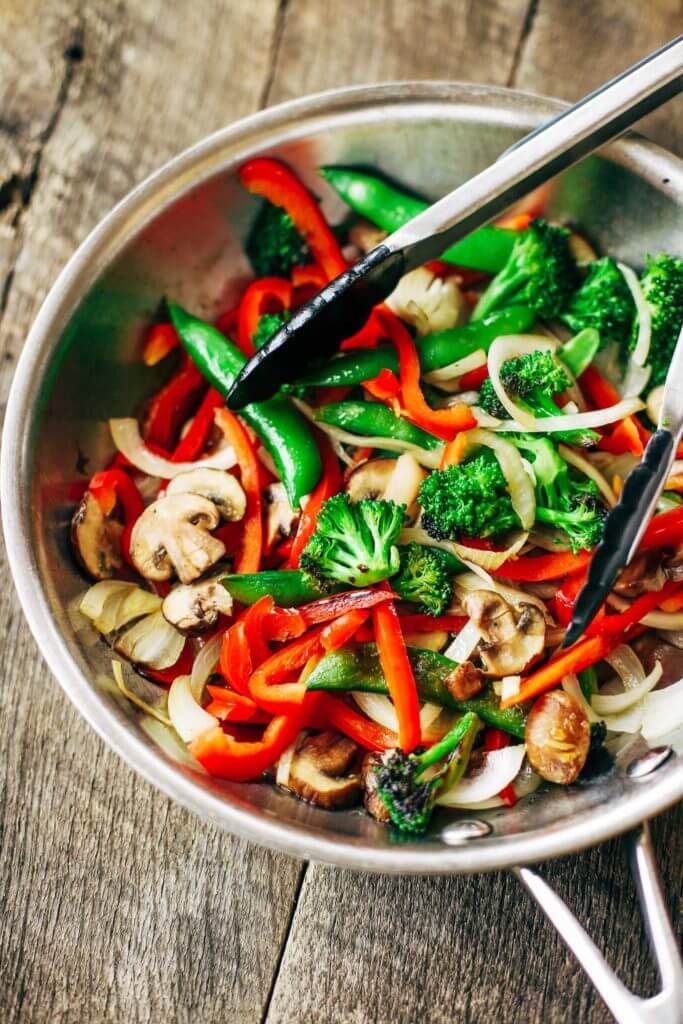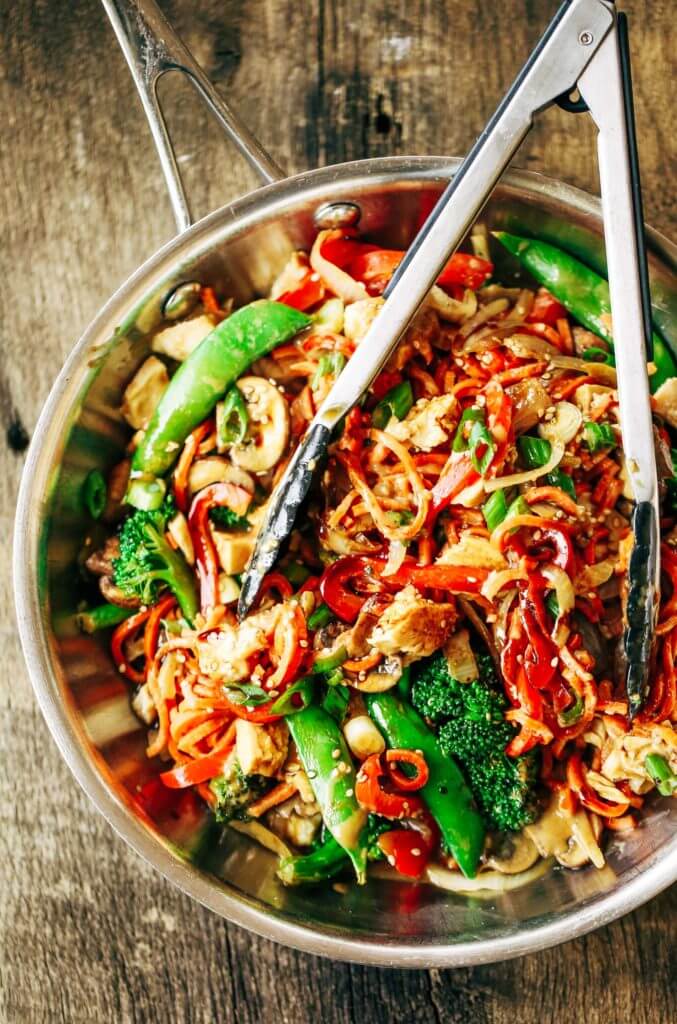 Coconut aminos is my best friend in the kitchen when it comes to creating soy-free Asian cuisine. It's sweet "soy saucey" flavor is made with 100% pure coconuts and a dash of salt! All you need for this lo mein sauce is, coconut amino's (found here), sesame oil (or tahini), and a dash of tapioca flour.
If you're feeling adventurous, you can top your bowl of noodles off with a drizzle of balsamic vinegar for a little pizzazz. Getting creative now, aren't we?😉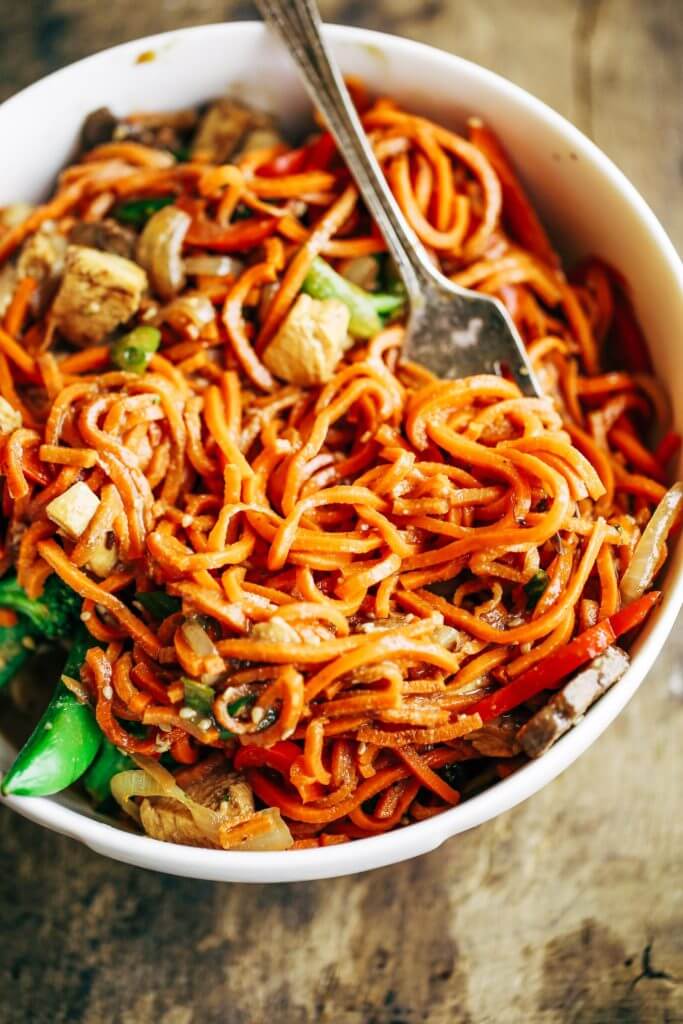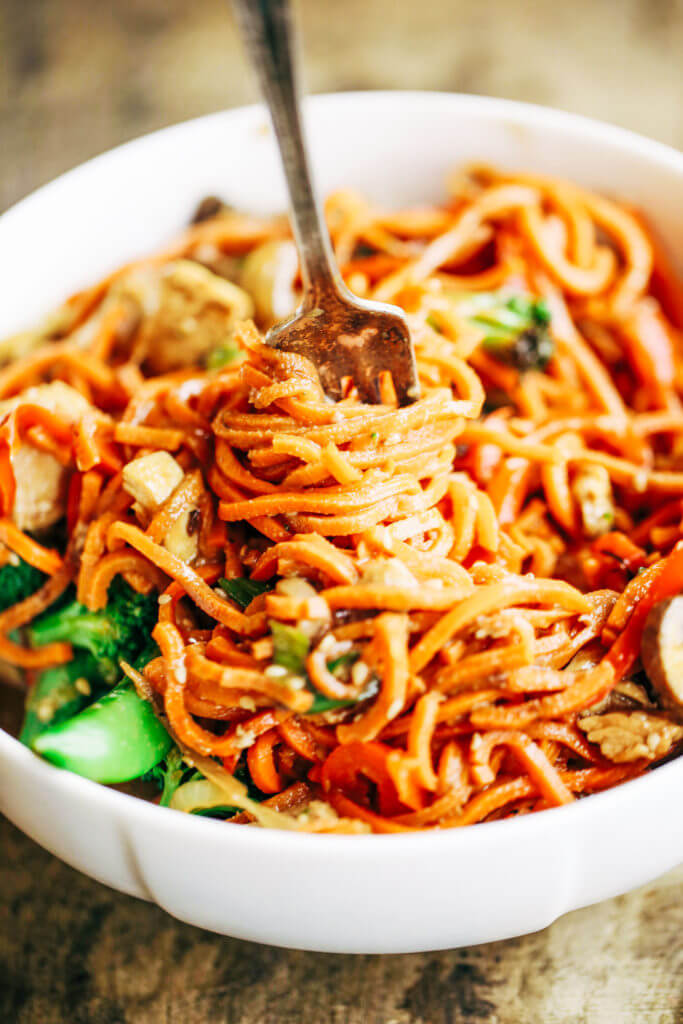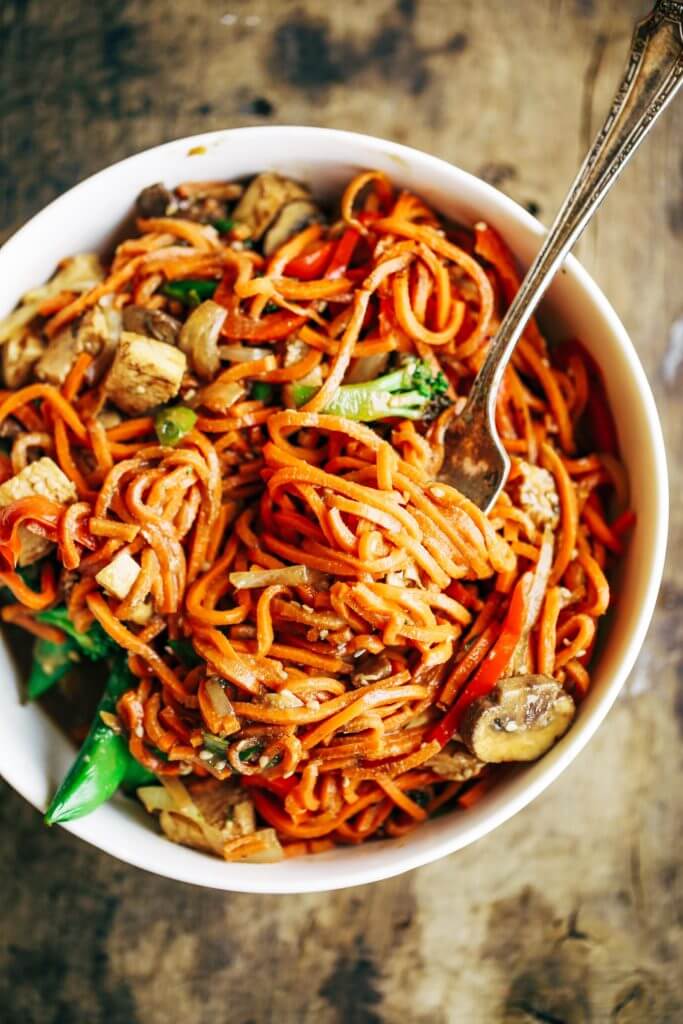 The servings are big. The food is tasty! I did not want to stop eating this! I wanted to eat all four servings by myself. Except, I didn't actually, because I really LOVE sharing food with people! I hope you love this simple and yummy family recipe! Cheers to more fresh and healthful recipes this year!
More like this:
Sesame Ginger Zucchini Noodles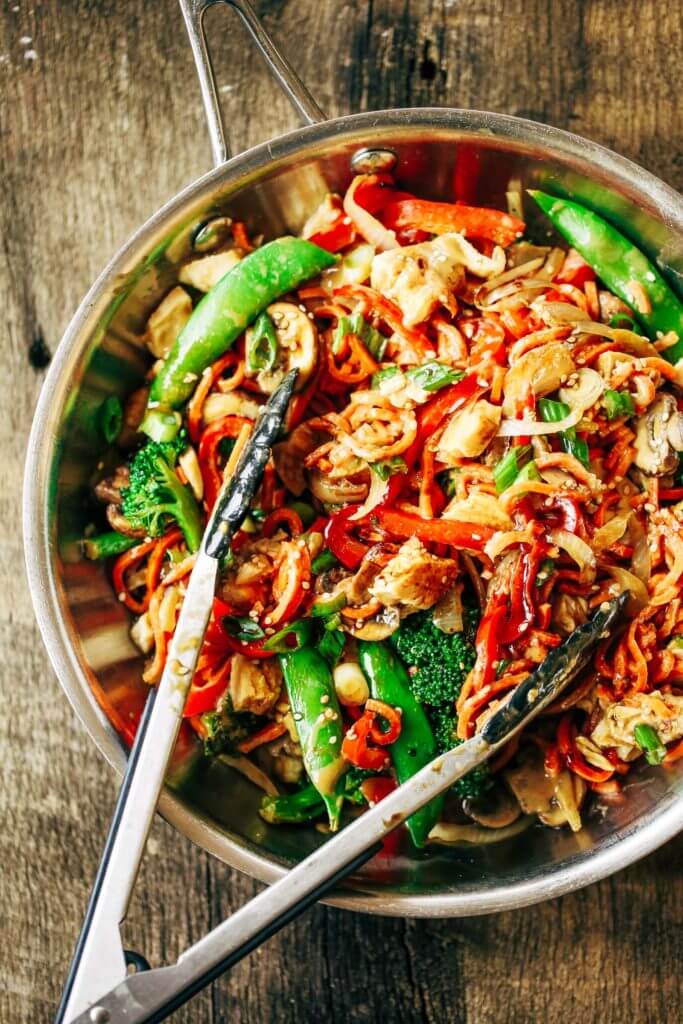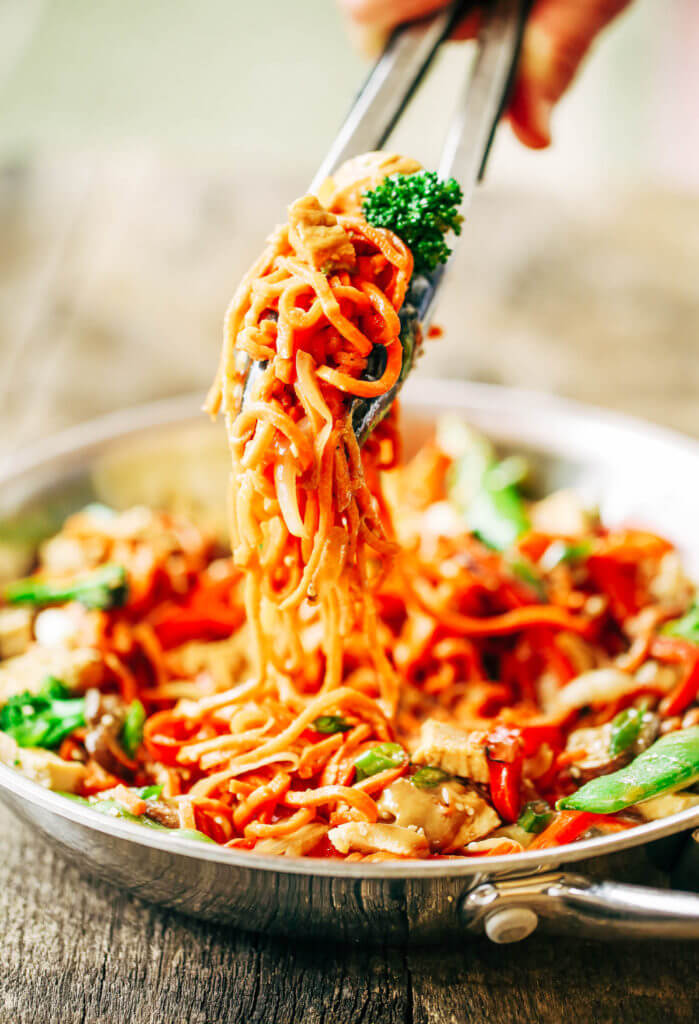 Place the carrot noodles on a baking tray and cook in a convection toaster (or oven) on 450F for about 10-15 minutes until soft. Then set aside. *You can also cook them in a skillet on the stovetop instead, but I have found that convection baking the noodles turns out perfect results every time and eliminates excess water!

In a frying pan, lightly saute the vegetables in 1-2 tablespoons sesame oil or water. Cook for about 5 minutes until soft (but not mushy). Then set aside.

In a mason jar or hand blender puree ingredients for the sauce. Thicken sauce over medium heat in a sauce pan or skillet, stirring consistently with a whisk, until the sauce thickens and is smooth. Do not over cook the sauce otherwise it will become too thick! If this happens, just add more water.

In a serving bowl, add the noodles, vegetables, cooked chicken, and pour the sauce over top. Serve with sesame seeds and chopped green onion.
Nutrition Facts

Best Whole30 Chicken Lo Mein

Amount Per Serving

Calories 343

Calories from Fat 108

% Daily Value*

Total Fat 12g 18%

Cholesterol 49mg 16%

Sodium 925mg 39%

Potassium 554mg 16%

Total Carbohydrates 34g 11%

Protein 25g 50%

* Percent Daily Values are based on a 2000 calorie diet.