Paleo Sweet Potato Gnocchi With Kale
---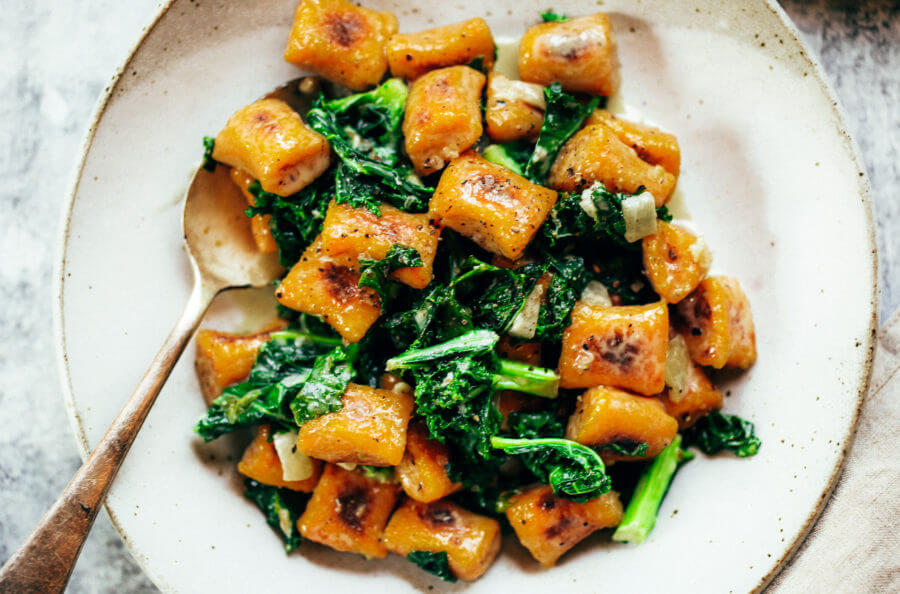 Easy paleo sweet potato gnocchi served with kale sage sauce. Delicious, healthy, family meal. Soft pillowy gnocchi made with sweet potato.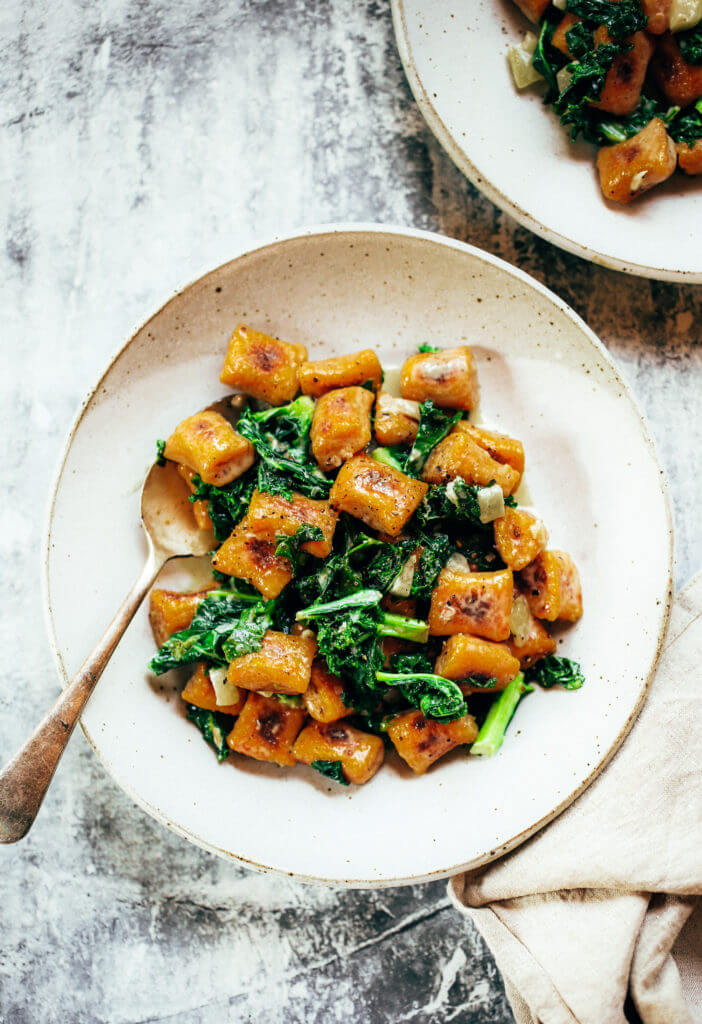 Excuse me while I finishing wiping my drool.
Um, actually I was licking my plate, because every drop of this kale sage sauce is life.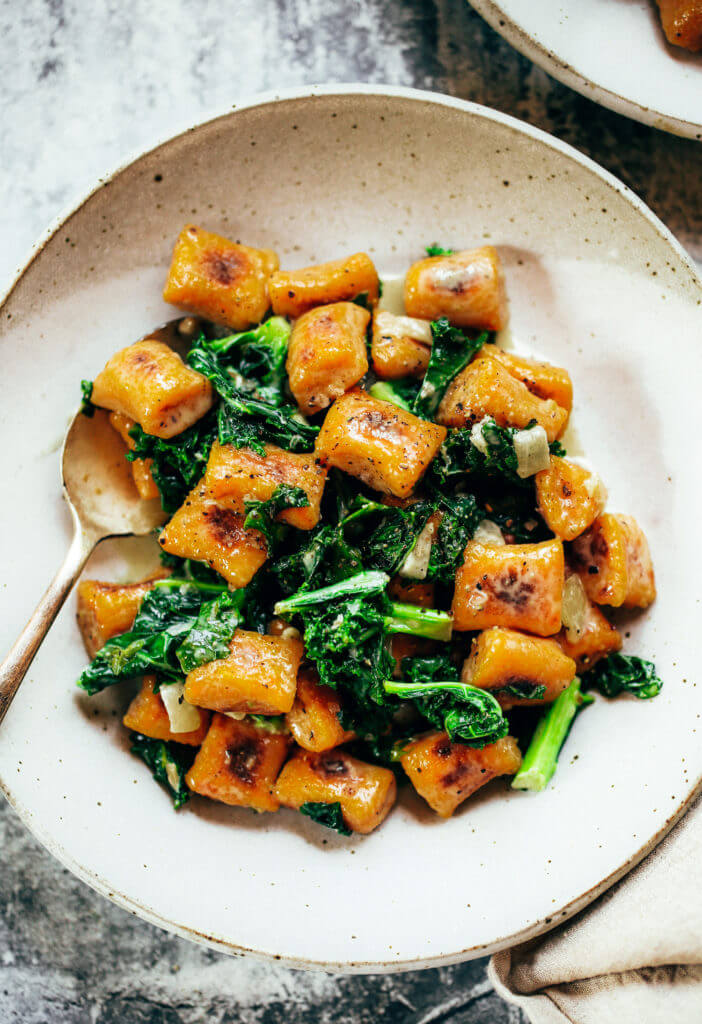 Reasons why making sweet potato gnocchi is so worth it:
Insane flavor and texture!
This gnocchi is pillowy.
The jump up and down on your bed up, fly up in the air and land on a soft pillow- kind of pillowy.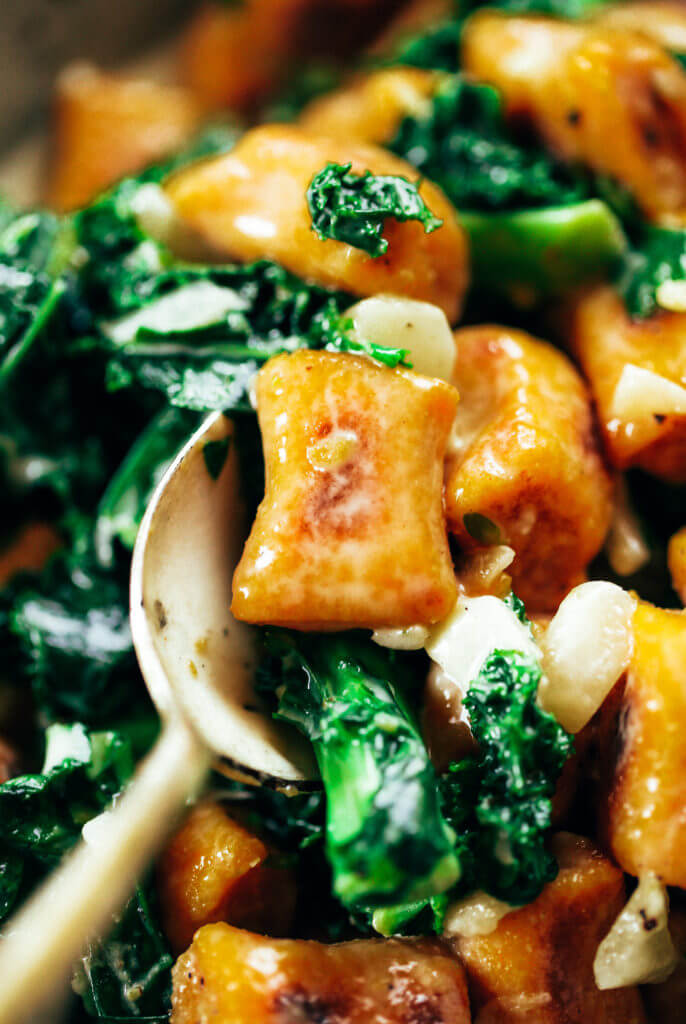 Easy factor.
There's no hiding it, this recipe is SO easy to make.
No reason to be intimidated.
My first time making gnocchi, I roped my sister into helping me, because I was expecting it to be a huge ordeal.
But in reality, I whipped up this recipe by myself (so proud over here😂) in just a handful of minutes.
Then I was shoveling spoonfuls of gnocchi on my way to happiness.
This recipe is ridiculously easy and can be made minutes.
The flavors blend together beautifully and the results are timeless.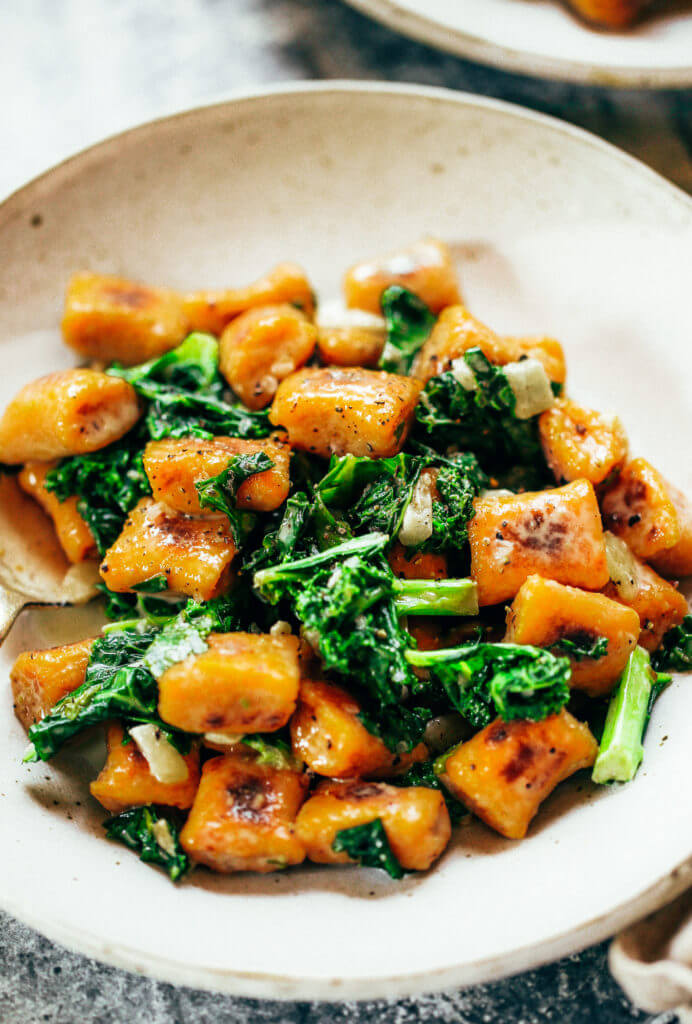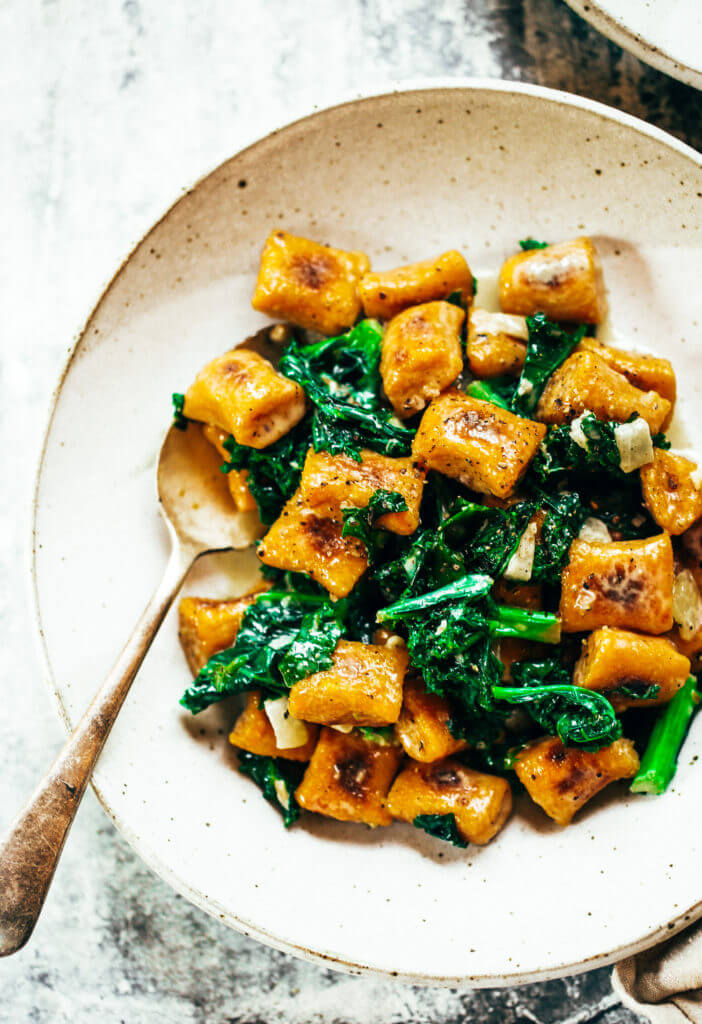 kale + gnocchi thing
The whole kale and sage sauce, plus sweet potato gnocchi combo has me swooning.
It's no secret that I'm an avid kale fan over here, but this is just next level.
It's pasta!
You can buy paleo pasta at Whole Foods for like a gazillion bucks.
But if you're not into wiping out your life savings for paleo pasta, then you're gonna wanna run and make this recipe real quick.
The Mediterranean in me was like: ooooh, pasta!! Need!
So, I made this.
And it was every bit of deliciousness and satisfying I'd hoped for.
It always happens like this:
Just as the weather starts to get all nice and stuff…
The kind of warm and cozy evenings that make you want to sit on the porch 'till dark, just sitting outside sipping on a Golden Latte, staring at the trees, and listening to the birds…
Then it's, swat, swat, itch, itch!
Those dang mosquitoes have hatched and are in their prime- on the hunt for my blood.
I was swatting mosquitoes away from my cake and gnocchi today, feeling like I was on a camping trip, sharing my food with the bugs.
I might be red and itchy, but I'm still going to enjoy my sweet potato gnocchi on the porch, listening to the birds, and staring at the lovely trees.
More like this:
2 Ingredient Paleo Sweet Potato Gnocchi
Paleo Sweet Potato Breakfast Bowl
Whole30 Vegan Sweet Potato Falafel
P.S. This is the food processor I use to make the gnocchi- not sponsored, just love it!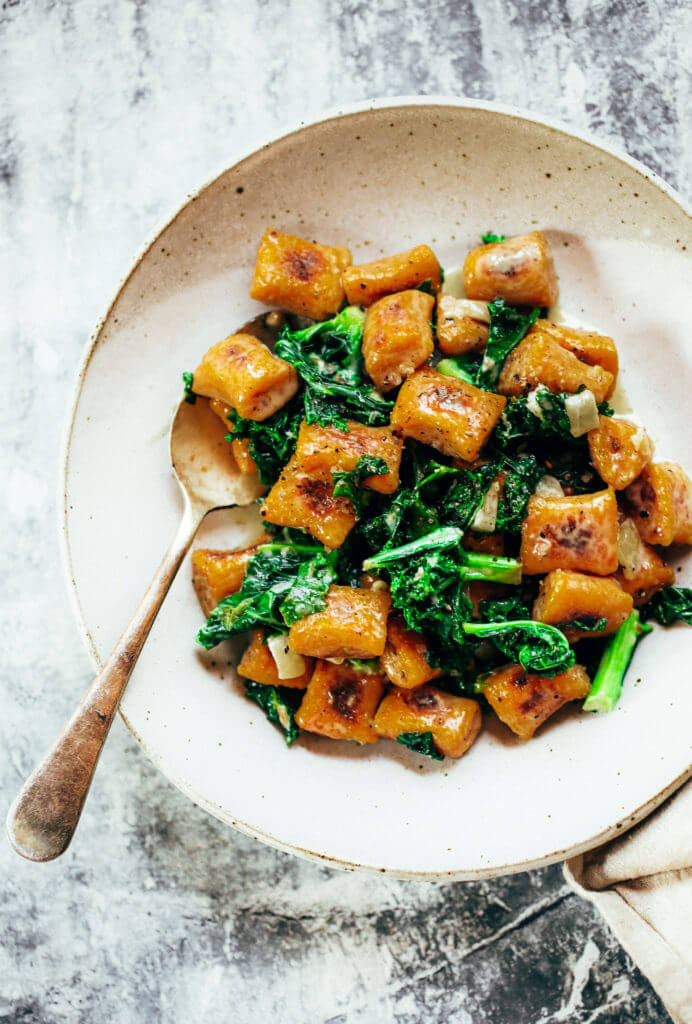 In a food processor or bowl combine ingredients for gnocchi until smooth. If you don't have cooked sweet potato on hand, make it by peeling a large sweet potato, cutting into 2" chunks, and boiling in water until soft (drain water from sweet potatoes after boiling).

Separate dough into eight equal parts and roll out into 3/4" diameter tubes on a surface dusted lightly with cassava flour. Cut the tubes of dough into 1" pieces.

Bring a large pot of water to a boil and drop gnocchi into it. Once they have risen to the surface, remove, and drizzle lightly with olive oil.

Heat a non-stick skillet over medium heat and drizzle with olive oil. Add gnocchi and cook on each side until golden, then remove.

In a saucepan simmer ingredients for sauce for about five minutes. Add kale and wilt in sauce. Serve with gnocchi.
Nutrition Facts

Paleo Sweet Potato Gnocchi With Kale

Amount Per Serving

Calories 287

Calories from Fat 135

% Daily Value*

Total Fat 15g 23%

Cholesterol 47mg 16%

Sodium 798mg 33%

Potassium 241mg 7%

Total Carbohydrates 30g 10%

Protein 8g 16%

* Percent Daily Values are based on a 2000 calorie diet.