red chili flakes
Category
---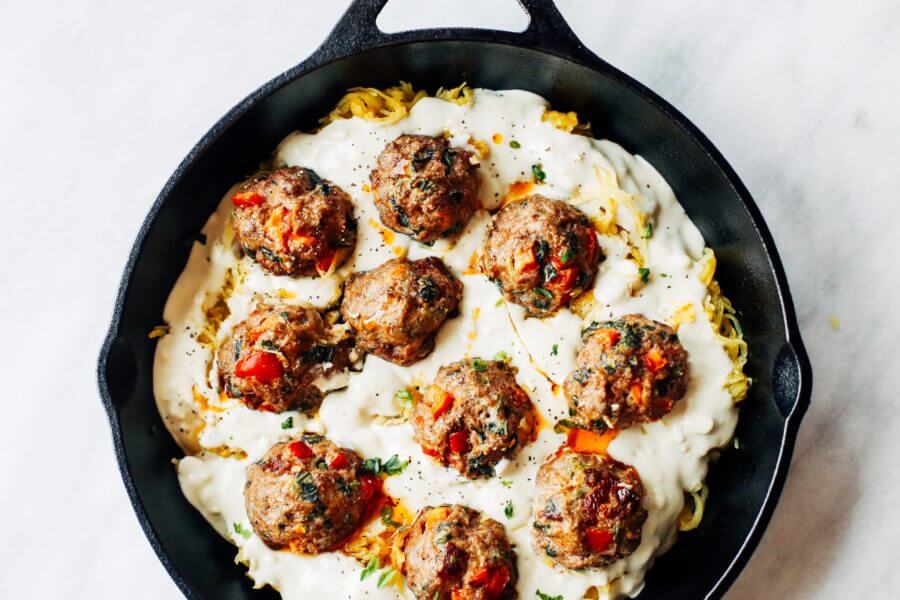 Best healthy paleo and whole30 creamy spaghetti squash noodles with italian meatballs and alfredo sauce!

Print Recipe Paleo Spaghetti Squash Italian Meatball Alfredo Best healthy paleo and whole30 creamy spaghetti squash noodles with italian meatballs and alfredo sauce! A delicious healthy paleo, dairy free, and whole30 recipe that can be made a head and frozen. Ingredients Meatballs Main Dish Votes: 9
Rating: 4.33
You: Rate this recipe! Recipe Notes

How to bake spaghetti squash: cut spaghetti squash in half lengthwise, use a large spoon to scrape the seeds from the center, lay face up on a baking tray, and brush lightly with olive oil. Bake on 450F for 25 minutes (cook longer for softer noodles). Then scrape the meat (noodles) from the squash with a large fork or spoon.

Recipe for cashew cheese sauce here.

Info Cook Time 20 minutes Prep Time 15 minutes Servings servings MetricUS Imperial Course Main Dish Votes: 9
Rating: 4.33
You: Rate this recipe! Recipe Notes

How to bake spaghetti squash: cut spaghetti squash in half lengthwise, use a large spoon to scrape the seeds from the center, lay face up on a baking tray, and brush lightly with olive oil. Bake on 450F for 25 minutes (cook longer for softer noodles). Then scrape the meat (noodles) from the squash with a large fork or spoon.

Recipe for cashew cheese sauce here.

Ingredients Meatballs
Preheat oven to 350F.
In a medium bowl add ingredients for meatballs and kneed until combined. Form 16 meatballs and place on a baking tray lined with parchment paper.
Bake meatballs on 350F for 25-30 minutes until cooked through.
In a sauce pan whisk together cashew cheese sauce (recipe in notes above) and coconut milk. Heat on stove until warm. Then serve over spaghetti squash noodles and meatballs.
Nutrition Facts Paleo Spaghetti Squash Italian Meatball Alfredo Amount Per Serving Calories 559 Calories from Fat 324 % Daily Value* Total Fat 36g 55% Saturated Fat 14g 70% Trans Fat 0.3g Polyunsaturated Fat 5g Monounsaturated Fat 14g Cholesterol 108mg 36% Sodium 771mg 32% Potassium 640mg 18% Total Carbohydrates 31g 10% Dietary Fiber 6g 24% Sugars 11g Protein 28g 56% Vitamin A 47% Vitamin C 33% Calcium 12% Iron 42% * Percent Daily Values are based on a 2000 calorie diet.
Read more