---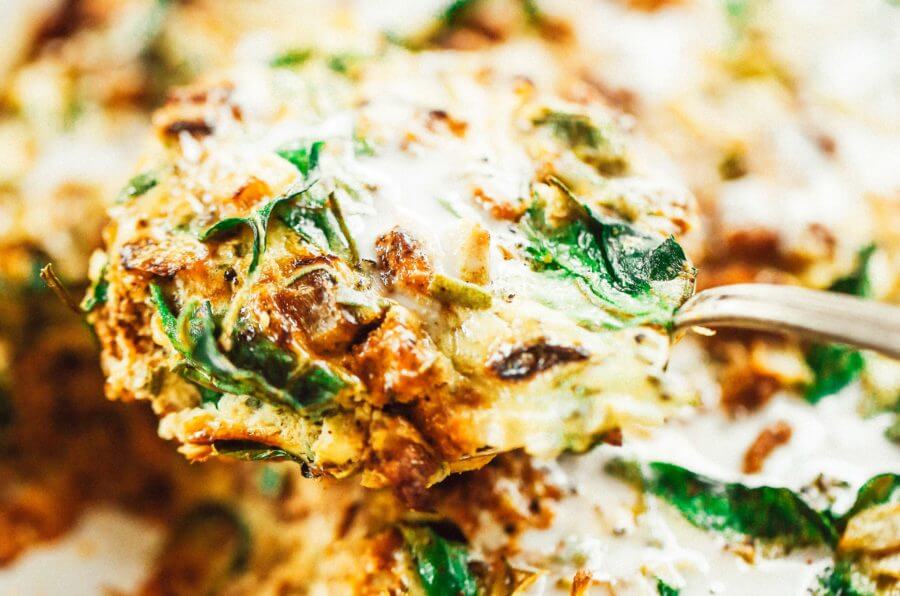 A warm and comforting home-style paleo whole30 breakfast casserole. Made with sweet potato, turkey sausage, and eggs. And easy healthy dairy free breakfast recipe. This recipe can be made ahead and frozen. 

Print Recipe Whole30 Breakfast Lasanga A warm and comforting home-style paleo whole30 breakfast casserole. Made with sweet potato, turkey sausage, and eggs. And easy healthy dairy free breakfast recipe. This recipe can be made ahead and frozen.  Ingredients Base Main Dish Votes: 18
Rating: 3.94
You: Rate this recipe! Info Cook Time 50 minutes Prep Time 10 minutes Servings servings MetricUS Imperial Course Main Dish Votes: 18
Rating: 3.94
You: Rate this recipe! Ingredients Base
Preheat oven to 350F. Lightly grease the bottom of a 8" by 5" casserole dish with olive oil (about 1 teaspoon).
Mix all ingredients for sausage together in a skillet and cook over medium heat for 8-10 minutes until cooked through (undercook slightly so it can finish cooking in lasagna).
Layer shredded white sweet potato, sautéed onion, spinach, and sausage into an 8" by 5" casserole dish.
Beat eggs until smooth and mix in the herbs for the sauce. Pour eggs over the layered ingredients into the casserole dish.
Bake on 350F for about 50 minutes until baked through- when cooked, the middle of the casserole should spring back when you press your finger into the middle.
Nutrition Facts Whole30 Breakfast Lasanga Amount Per Serving Calories 477 Calories from Fat 198 % Daily Value* Total Fat 22g 34% Saturated Fat 6g 30% Polyunsaturated Fat 5g Monounsaturated Fat 8g Cholesterol 299mg 100% Sodium 786mg 33% Potassium 919mg 26% Total Carbohydrates 31g 10% Dietary Fiber 6g 24% Sugars 15g Protein 40g 80% Vitamin A 368% Vitamin C 52% Calcium 10% Iron 41% * Percent Daily Values are based on a 2000 calorie diet.
Read more