Fluffy Vegan Cinnamon Rolls
---
Fluffy cinnamon rolls made with coconut oil, almond milk, and no refined sugar! These healthier cinnamon rolls are light, fluffy, gooey, and delicious. You can make these vegan with cashew cream cheese frosting- yum!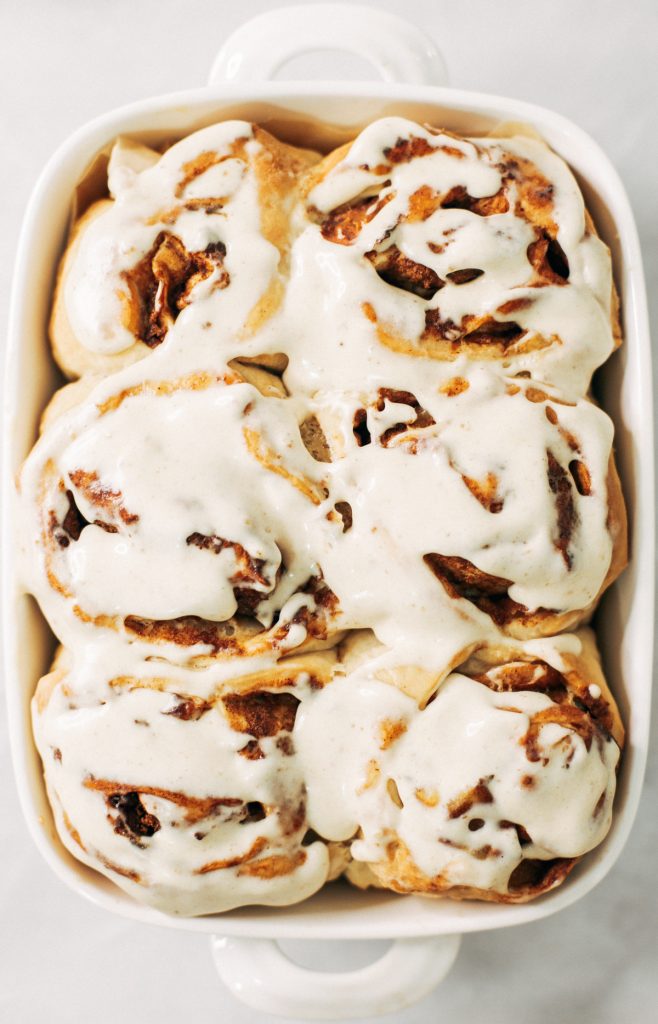 Obsessed with cinnamon rolls lately!
If you don't have apples around, you can swap the apples out for banana and then you will enjoy banana cinnamon rolls…
And boy, are they good!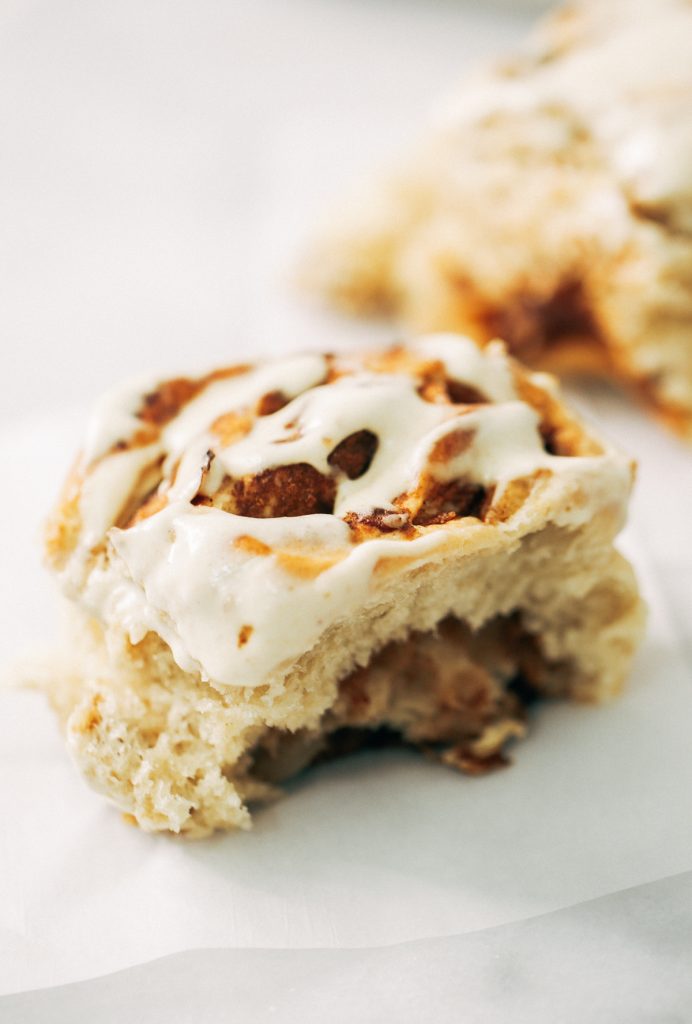 I made this recipe using caramelized bananas earlier and let me tell you- SO good!
All I did was cook frozen bananas in their own liquid until they were soft and brown caramel was bubbling from the fruit sugars.
Then, I took the banana off the stove heat and transferred them onto the dough for the filling!
So good and easy!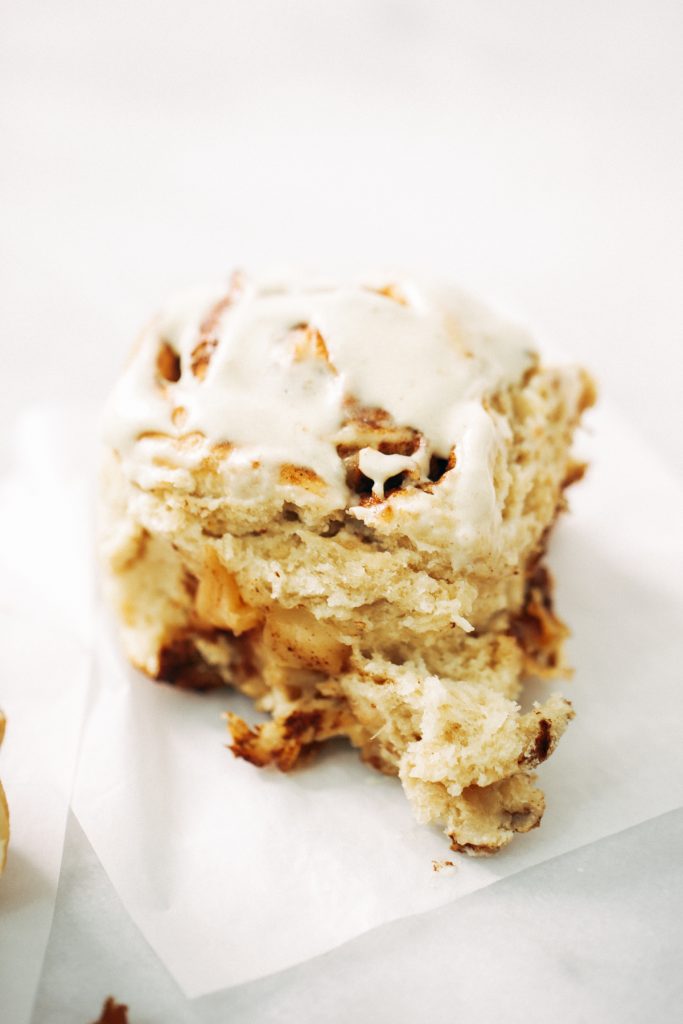 How to make coconut oil cinnamon rolls:
To top these off, there are a few options:
First, I have a maple glaze that would be bomb on these- and it's vegan.
Find that recipe here.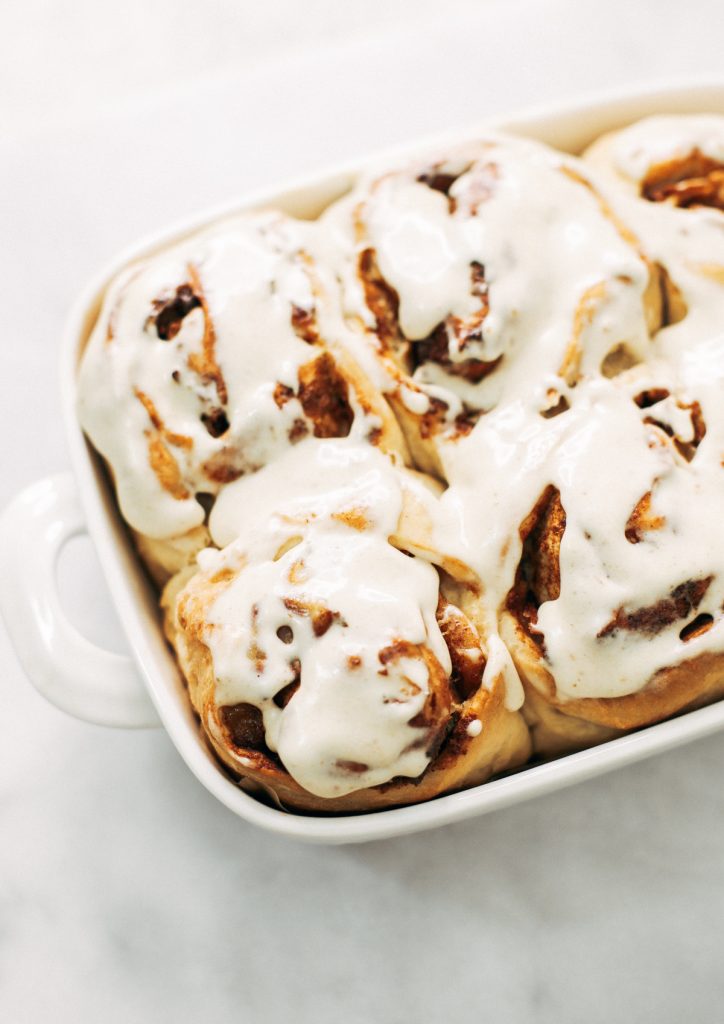 Or you can do the traditional cream cheese way, which I give instructions for below.
To make that recipe vegan, simply swap the cream cheese out for a vegan cream cheese.
Vegan cream cheese is usually made from cashews or almonds and I just buy it at the grocery store or make it at home.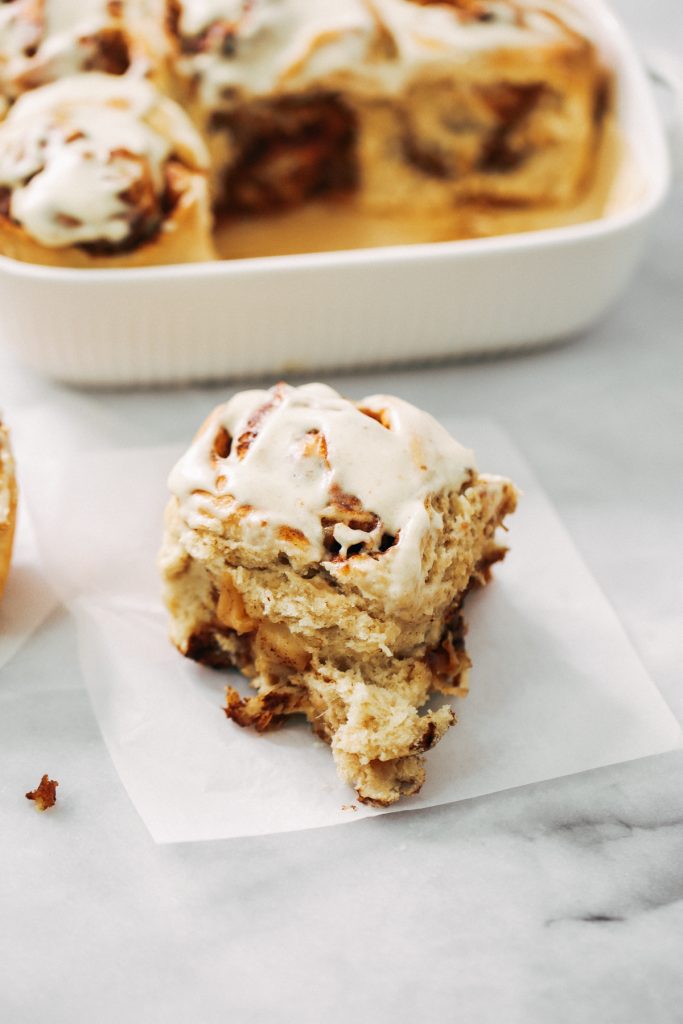 Heat coconut oil, almond milk, and coconut sugar for dough in a small saucepan until it reaches 110F degrees.

Sprinkle yeast over warmed milk and set for 5 minutes until yeast becomes bubbly.

Add 2 cups of flour into the milk mixture. Stir with a wooden spoon until just combined. Cover with a clean towel and allow to rise in a warm area for 60 minutes.

Once dough has risen, add salt, baking powder, and remaining flour. Stir until combined.

On a floured surface, kneed dough until it looses it's stickiness (doesn't stick to the surface). With a rolling pin, roll dough into 1/4" thick rectangle.

Core and dice apple, then add to a small saucepan with about 1-2" water, cover with a lid and cook until apples are soft, then drain water (this should take around 8 minutes).

Mash apples and spread over dough. In a small bowl, stir together coconut sugar and cinnamon for filling, then sprinkle evenly over dough. NOTE: These are not very sweet intentionally, so if you like a sweeter dessert, I suggest adding more sugar and/or chopped dates to the filling and frosting! Roll dough into a log and cut about 2" cinnamon rolls.

Line a 4" by 6" baking dish with parchment paper and set cinnamon rolls into it. Bake on 350F for 30 minutes until golden on top.

In a small hand blender combine ingredients for frosting until smooth, then spread over cinnamon rolls and serve!
Nutrition Facts

Fluffy Vegan Cinnamon Rolls

Amount Per Serving

Calories 346

Calories from Fat 108

% Daily Value*

Total Fat 12g 18%

Polyunsaturated Fat 0.02g

Cholesterol NaNmg 0%

Sodium 466mg 19%

Potassium 126mg 4%

Total Carbohydrates 58g 19%

Protein 5g 10%

* Percent Daily Values are based on a 2000 calorie diet.