minced white onion
Category
---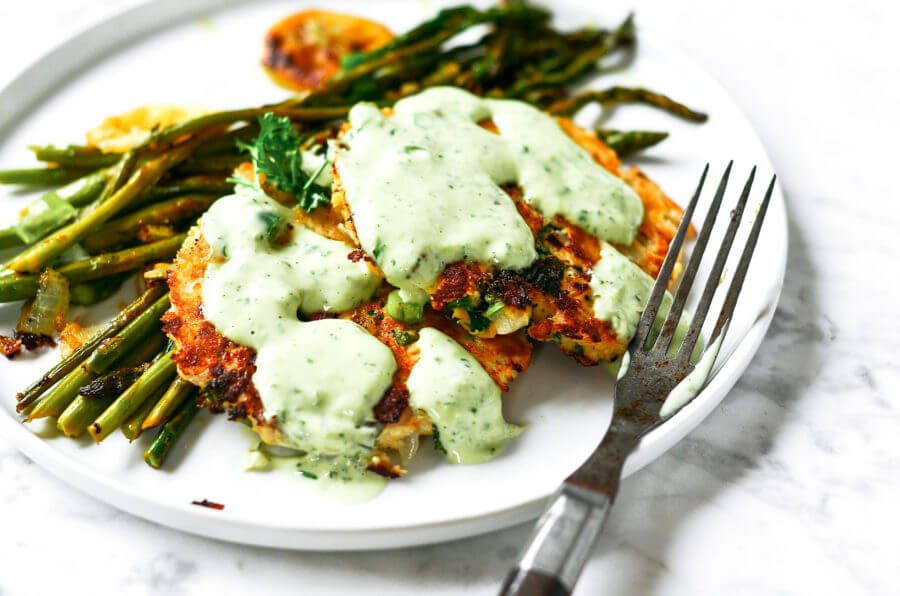 Z herb salmon burgers with lemon asparagus and tzatziki sauce! An easy and delicious whole30 meal that is ready in 20 minutes! Paleo, whole30, and a whole lot of fresh flavor.

Print Recipe Best Whole30 Zesty Salmon Burgers Zesty herb salmon burgers with lemon asparagus and tzatziki sauce! An easy and delicious whole30 meal that is ready in 20 minutes! Paleo, whole30, and a whole lot of fresh flavor. Ingredients Salmon Bugers Main Dish Votes: 53
Rating: 3.42
You: Rate this recipe! Info Cook Time 15 Minutes Prep Time 20 Minutes Servings Burgers MetricUS Imperial Course Main Dish Votes: 53
Rating: 3.42
You: Rate this recipe! Ingredients Salmon Bugers
Combine all the ingredients for the salmon burger in a medium size bowl. Mash everything together with a large fork.
Heat a large fry pan over medium heat on the stove. Drizzle the pan with 1 tablespoon olive oil.
Separate the salmon burger mix into four burgers on the fry pan and cook for about 3 minutes on each side until golden brown.
Lemon Asparagus
On the stove, heat a large fry pan on medium heat. Add everything for the asparagus and cook for about 14 minutes (stirring occasionally).
Magic Green Sauce
Combine everything for the sauce in a blender or food processor. Blend until smooth.
Plate everything and serve!
Nutrition Facts Best Whole30 Zesty Salmon Burgers Amount Per Serving Calories 373 Calories from Fat 288 % Daily Value* Total Fat 32g 49% Saturated Fat 5g 25% Polyunsaturated Fat 13g Monounsaturated Fat 13g Cholesterol 105mg 35% Sodium 816mg 34% Potassium 63mg 2% Total Carbohydrates 11g 4% Dietary Fiber 2g 8% Sugars 3g Protein 12g 24% Vitamin A 5% Vitamin C 38% Calcium 2% Iron 3% * Percent Daily Values are based on a 2000 calorie diet.
Read more