Zesty Whole30 Salmon Cakes With Lemon Garlic Asparagus
---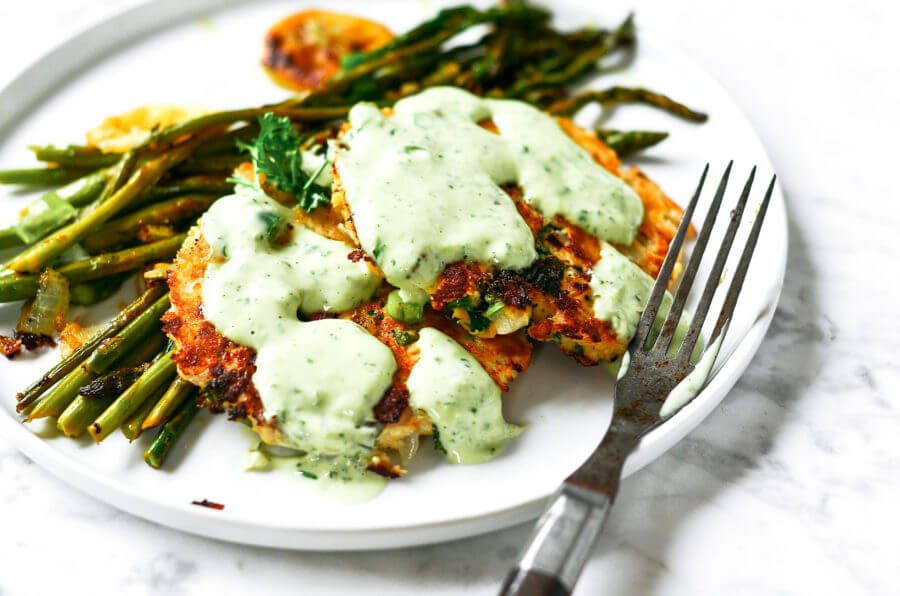 Zesty herb salmon burgers with lemon asparagus and tzatziki sauce! An easy and delicious whole30 meal that's ready in 20 minutes! Paleo, whole30, and a whole lot of fresh flavor.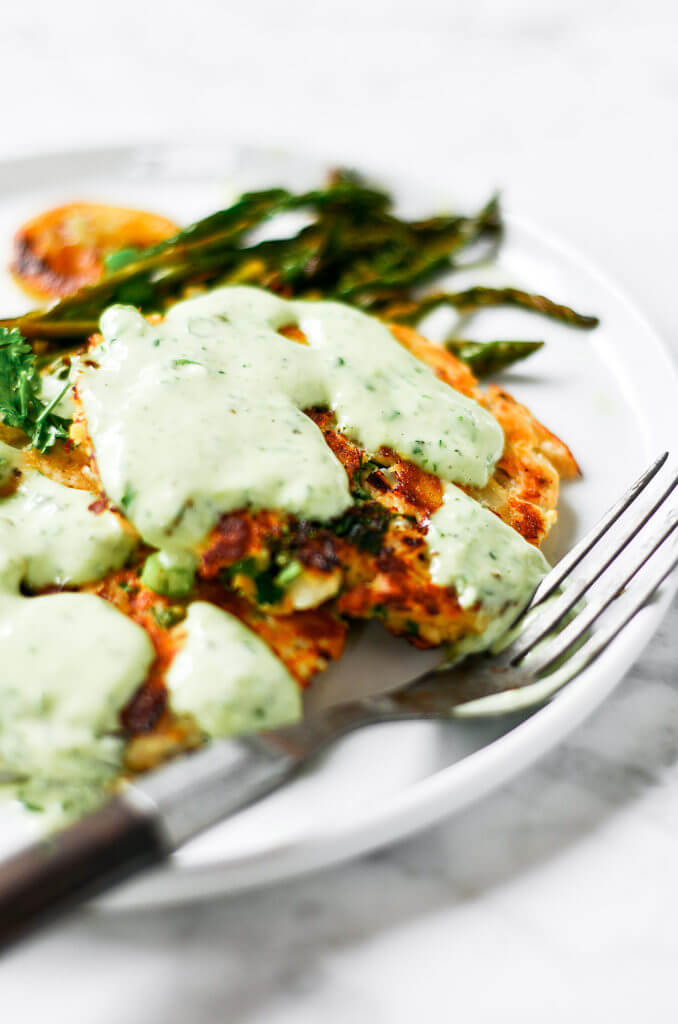 an appetite for zesty salmon burgers!
Seeing as how our driveway is more akin to an ice-skating rink (no, for reals!! We actually went ice-skating on it!!!). I decided to wait out the freezing rainstorm with a little extra time in the kitchen and laps around the driveway with my skates.
Failed attempts at pirouettes and axels on the bumpy driveway ice is a sure way to work up an appetite for some zesty salmon burgers!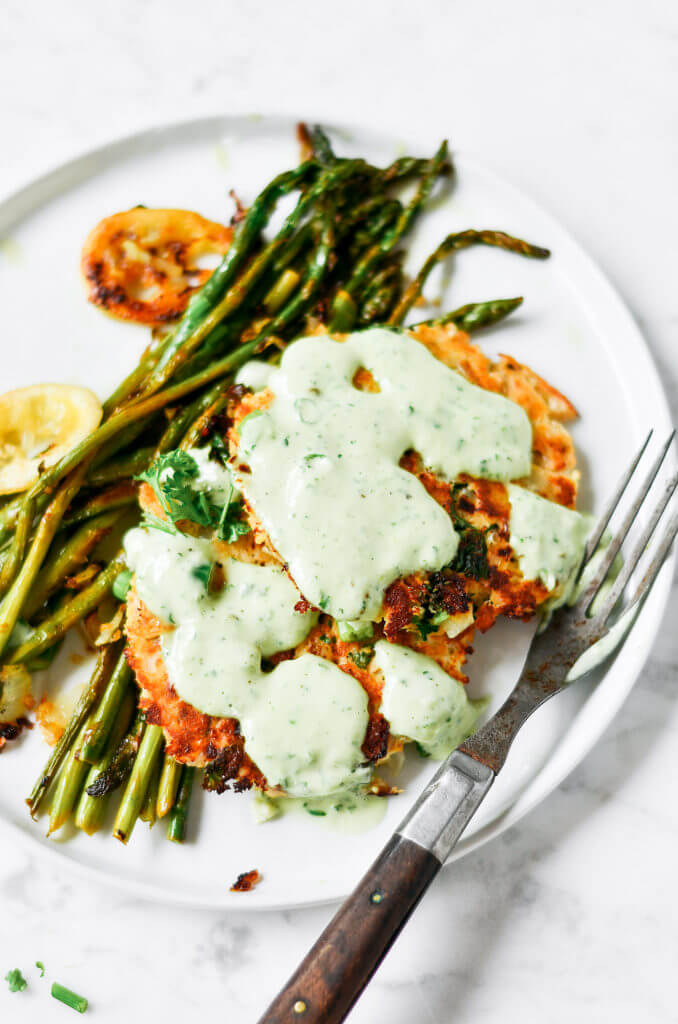 Lookie at all those beautiful greeeeens. Heart eyes. All. Day. Long. Those asparagus diving into a pool of cool and creamy tzatziki sauce has to be a highlight of my morning.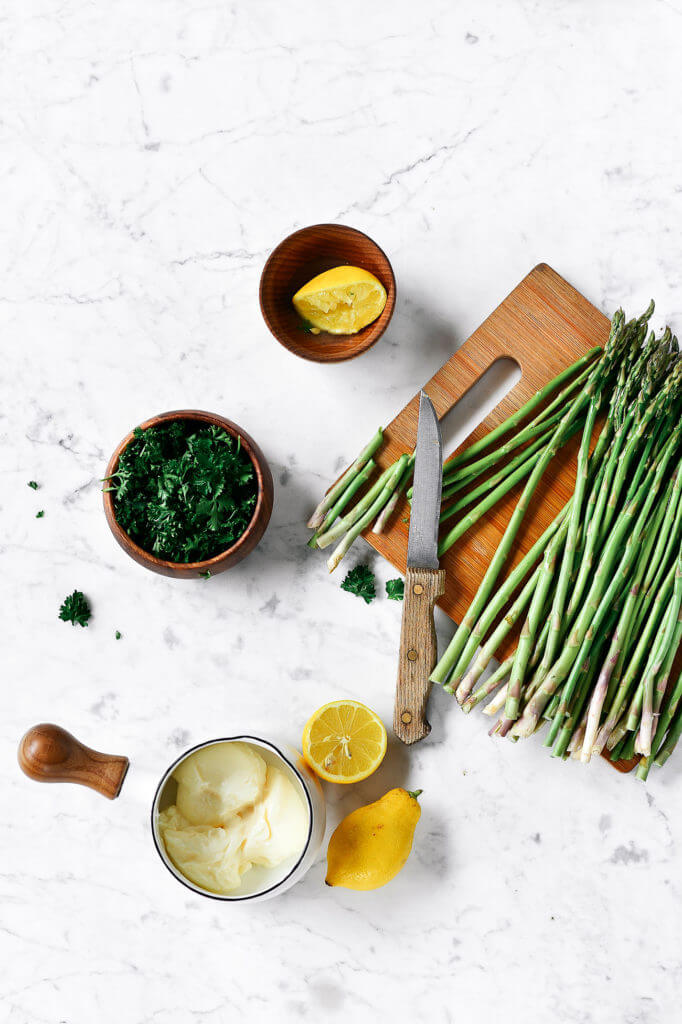 Prepping this plate of scrumptiousness is way easier (and faster!) than one might assume.
The salmon burgers are ready in no longer than eight minutes. The asparagus is made in one pan and is low maintenance cooking for about fourteen minutes.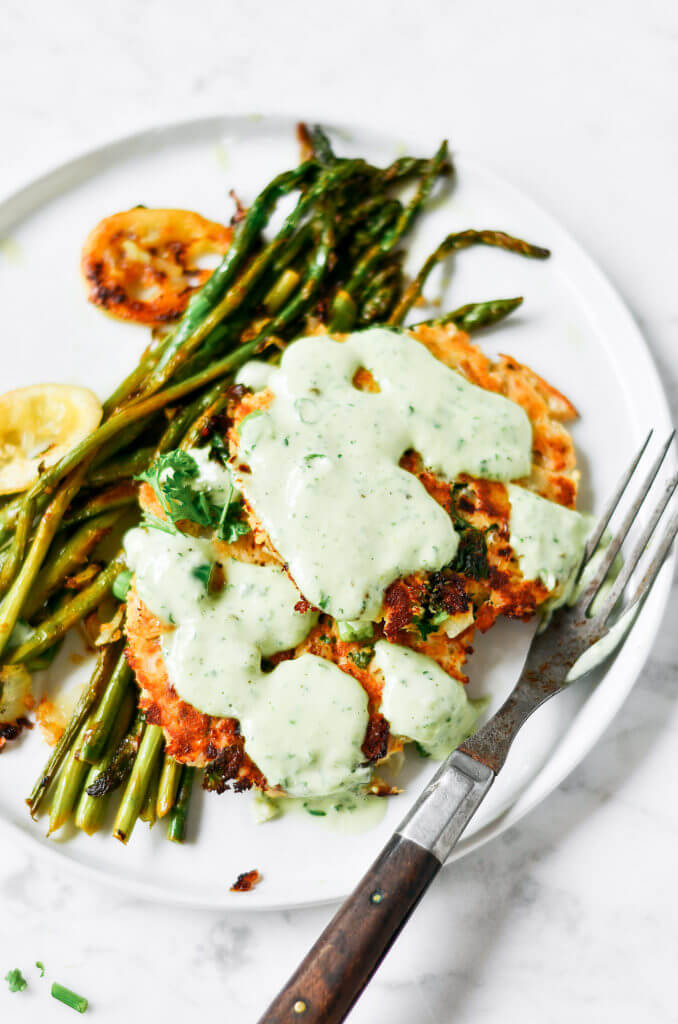 And that sauce!! Oooooh, did I mention that sauce? Well, that beautiful magic green sauce is whipped up in the blender (or food processor). And there it is; one, two, and three! Boom. Dinner is served.
garlic & lemon love
I wish you guys could be in my kitchen right now and smell the aroma… It's like a gallon of bright happy lemons mingling with cooking garlic and more earthy flavors. Two of the best things in the world. Garlic. And lemons.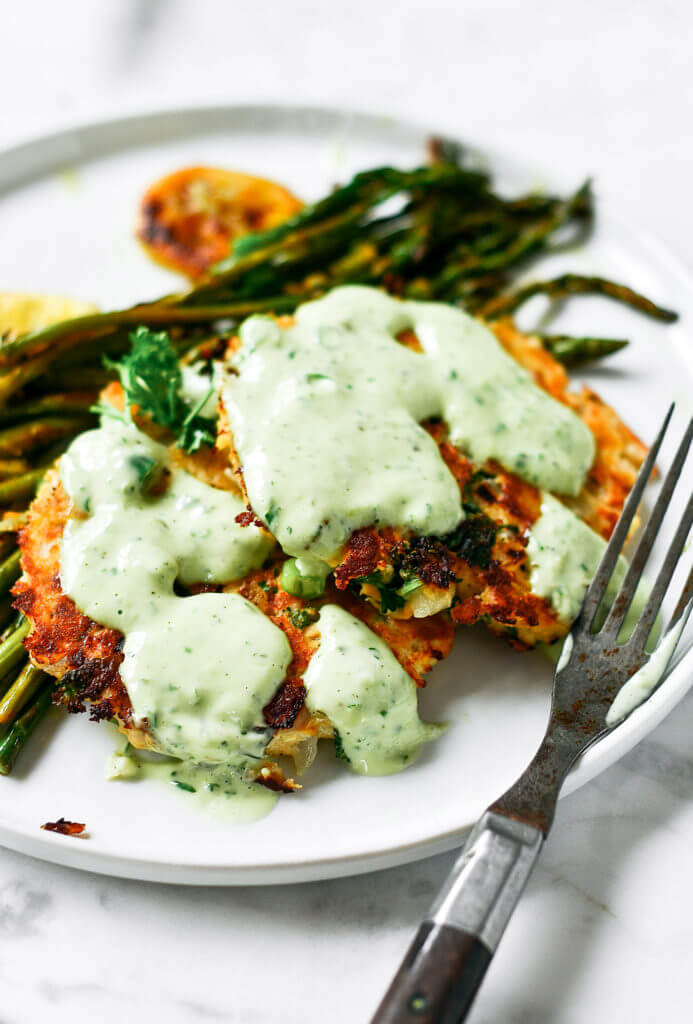 So, I have been traveling around a bit this week. With that being said, making food on the road isn't always easy. I feel like I've been eating too many sweet plantain chips from Trader Joe's and truffle roasted almonds (not that I don't love eating those goodies… it's just not the best for my body. 😉
Now that I am back home and back to work, I am hoping I can start eating real meals. This 20 minute whole30 meal was a perfect place to start.
Anyway, who's ready to eat? Dinner will be served in 20 minutes! 🙂 Thanks for letting me join you in your kitchen today as I share my recent favorite! Enjoy!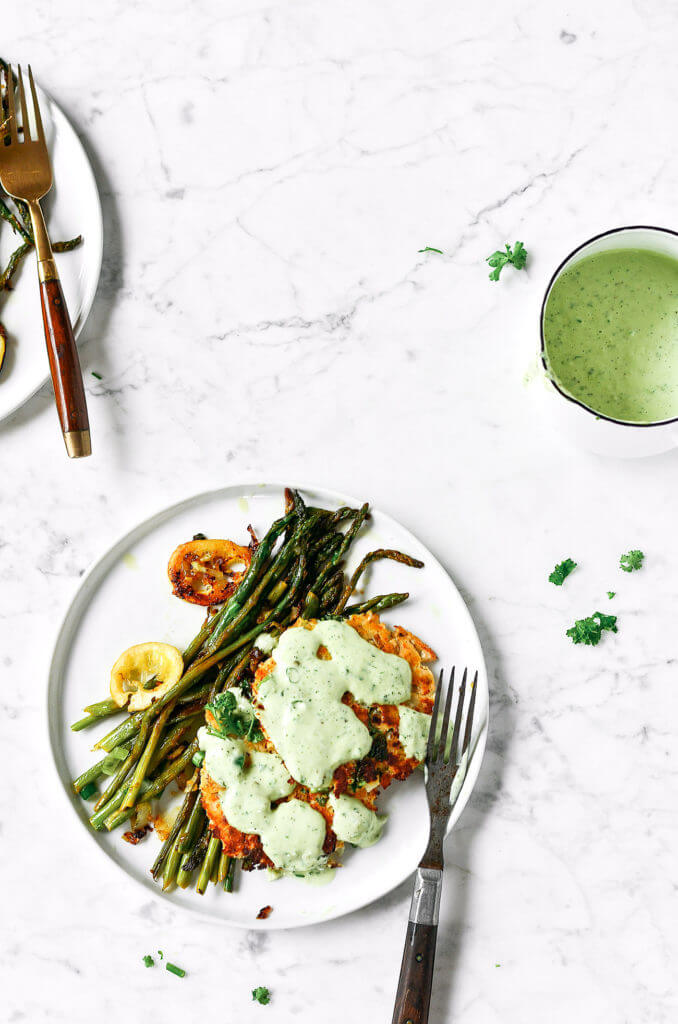 Combine all the ingredients for the salmon burger in a medium size bowl. Mash everything together with a large fork.

Heat a large fry pan over medium heat on the stove. Drizzle the pan with 1 tablespoon olive oil.

Separate the salmon burger mix into four burgers on the fry pan and cook for about 3 minutes on each side until golden brown.
On the stove, heat a large fry pan on medium heat. Add everything for the asparagus and cook for about 14 minutes (stirring occasionally).
Combine everything for the sauce in a blender or food processor. Blend until smooth.

Plate everything and serve!
Nutrition Facts

Best Whole30 Zesty Salmon Burgers

Amount Per Serving

Calories 373

Calories from Fat 288

% Daily Value*

Total Fat 32g 49%

Cholesterol 105mg 35%

Sodium 816mg 34%

Potassium 63mg 2%

Total Carbohydrates 11g 4%

Protein 12g 24%

* Percent Daily Values are based on a 2000 calorie diet.