---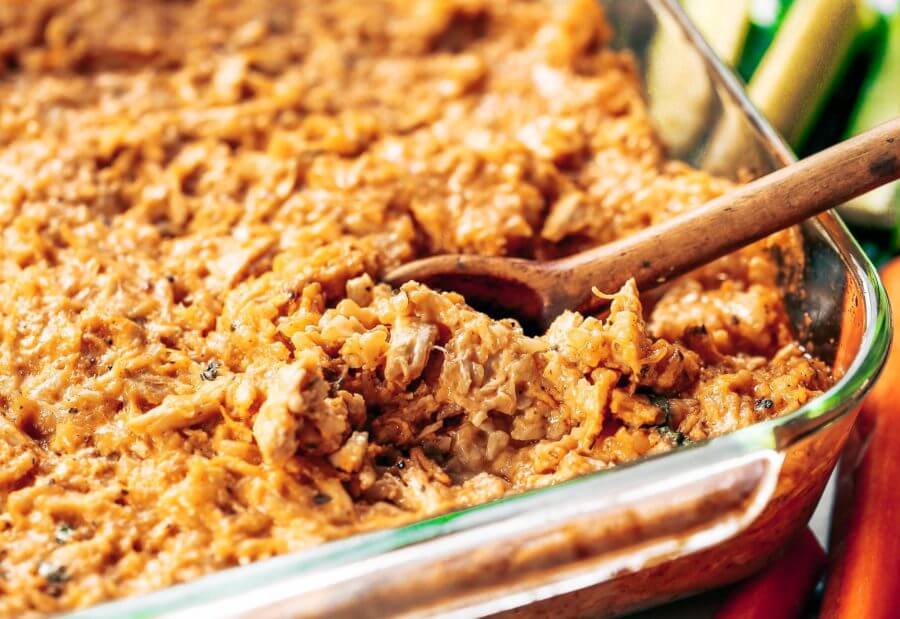 Creamy dairy free buffalo chicken and cauliflower rice bake. Perfect for dipping veggies, chips, or loading on a baked potato! This "cheesy" creamy dip makes the perfect lunch when paired with a handful of carrot sticks! Paleo, whole30, and gluten free.

Print Recipe Creamy Buffalo Chicken Cauliflower Rice Bake Creamy dairy free buffalo chicken and cauliflower rice bake. Perfect for dipping veggies, chips, or loading on a baked potato! This "cheesy" creamy dip makes the perfect lunch when paired with a handful of carrot sticks! Paleo, whole30, and gluten free. Ingredients Main Dish Votes: 33
Rating: 3.85
You: Rate this recipe! Recipe Notes

How to make shredded chicken: Bring a medium/large pot of water to a boil and add 1 teaspoon sea salt. Add chicken breasts and simmer for 15-30 minutes until cooked through (no pink left!). Then remove chicken from the water and shred between two forks.

Info Cook Time 1 hour Prep Time 10 minutes Servings servings MetricUS Imperial Course Main Dish Votes: 33
Rating: 3.85
You: Rate this recipe! Recipe Notes

How to make shredded chicken: Bring a medium/large pot of water to a boil and add 1 teaspoon sea salt. Add chicken breasts and simmer for 15-30 minutes until cooked through (no pink left!). Then remove chicken from the water and shred between two forks.

Ingredients
Preheat oven to 350F.
Blend all ingredients for sauce by hand or in a blender. Layer shredded chicken (see notes for how to cook chicken) and cauliflower rice into a 8" by 8" baking dish and cover with sauce.
Bake on 350F for 50-60 minutes until golden and crispy on the edges. Dip with vegetables, chips, or add to a baked potato or sandwich.
Nutrition Facts Creamy Buffalo Chicken Cauliflower Rice Bake Amount Per Serving Calories 361 Calories from Fat 252 % Daily Value* Total Fat 28g 43% Saturated Fat 10g 50% Polyunsaturated Fat 12g Monounsaturated Fat 5g Cholesterol 42mg 14% Sodium 1429mg 60% Potassium 152mg 4% Total Carbohydrates 8g 3% Dietary Fiber 4g 16% Sugars 2g Protein 15g 30% Vitamin A 15% Vitamin C 62% Calcium 3% Iron 6% * Percent Daily Values are based on a 2000 calorie diet.
Read more