---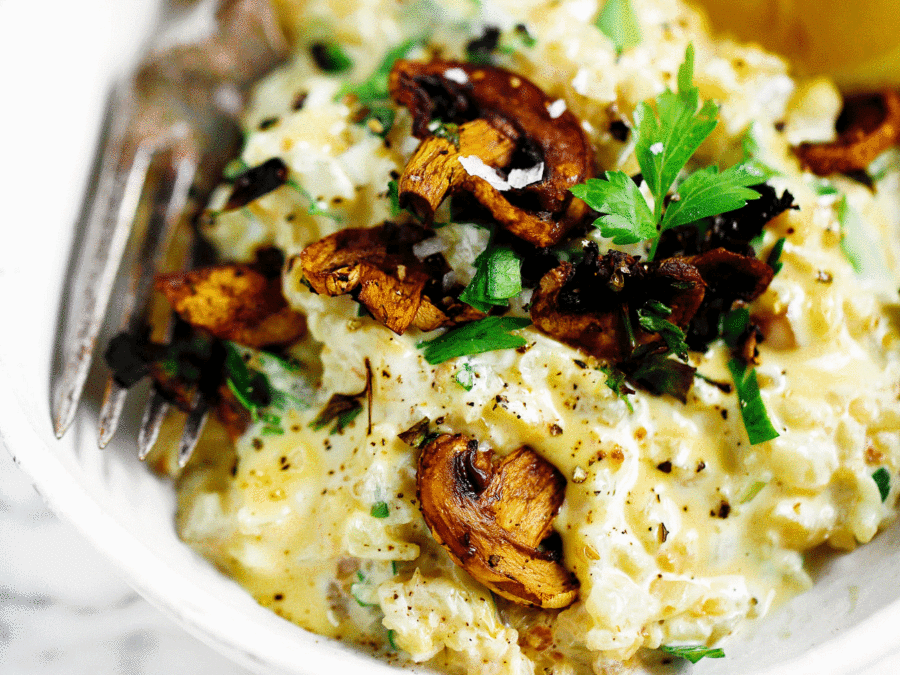 Healthy whole30 and paleo creamy cauliflower risotto with truffle toasted mushrooms and a silky smooth best ever vegan cheese sauce!

Print Recipe Cheesy Vegan Cauliflower Mushroom Risotto Healthy whole30 and paleo creamy cauliflower risotto with truffle toasted mushrooms and a silky smooth best ever vegan cheese sauce! Only three minutes cooking time! Ingredients Cauli Rice Main Dish Votes: 39
Rating: 3.69
You: Rate this recipe! Info Cook Time 3 minutes Prep Time 10 minutes Servings servings MetricUS Imperial Course Main Dish Votes: 39
Rating: 3.69
You: Rate this recipe! Ingredients Cauli Rice
In a large fry pan sauté the cauliflower rice with 1 tablespoon olive oil on medium heat over the stove for about 3-4 minutes until soft (but not mushy!).
In a high powered blender puree all ingredients for the cheese sauce on high for a few minutes until completely smooth.
Toss all the ingredients for the mushrooms together on a baking tray lined with parchment paper. Toast them in a toaster oven for a few minutes until cooked and slightly crisp (if you like them crispy). You can also bake them in the oven.
Pour the cheese sauce over the cauliflower rice and top with mushrooms and toppings!
Nutrition Facts Cheesy Vegan Cauliflower Mushroom Risotto Amount Per Serving Calories 641 Calories from Fat 315 % Daily Value* Total Fat 35g 54% Saturated Fat 13g 65% Polyunsaturated Fat 4g Monounsaturated Fat 14g Sodium 1146mg 48% Potassium 786mg 22% Total Carbohydrates 46g 15% Dietary Fiber 17g 68% Sugars 12g Protein 23g 46% Vitamin A 23% Vitamin C 260% Calcium 18% Iron 42% * Percent Daily Values are based on a 2000 calorie diet.
Read more