cooked chicken breast
Category
---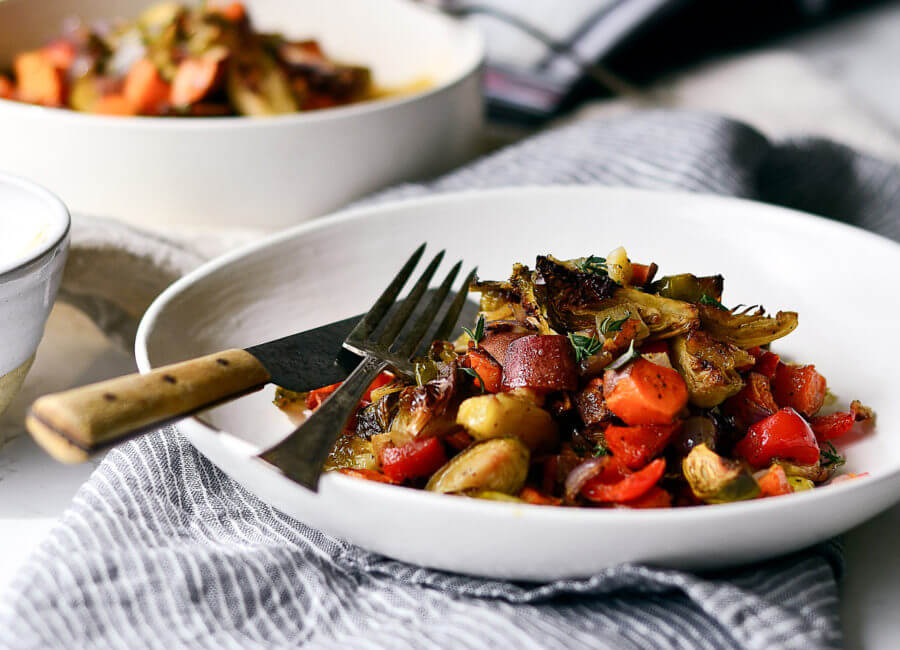 Easy whole30 chicken and roasted veggie sheet pan dinner. Incredibly easy to make and loads of fresh garlic herb flavor! Can be made ahead, frozen, and served as leftovers!

Print Recipe Crispy Veg Garlic Chicken Sheet Pan Meal Easy whole30 chicken and roasted veggie sheet pan dinner. Incredibly easy to make and loads of fresh garlic herb flavor! Can be made ahead, frozen, and served as leftovers! Ingredients Info Cook Time 50 minutes Prep Time 10 minutes Servings servings MetricUS Imperial Course Main Dish Votes: 5
Rating: 4.8
You: Rate this recipe! Info Cook Time 50 minutes Prep Time 10 minutes Servings servings MetricUS Imperial Course Main Dish Votes: 5
Rating: 4.8
You: Rate this recipe! Ingredients Instructions
Preheat oven to 400F.
Toss all the ingredients together (except the cooked chicken breast) on a sheet pan with olive oil.
Cook for 50 minutes on 400F. Toss and turn the veggies on occasion to prevent burning and ensure even cooking throughout.
Once the veggies are cooked, add precooked chicken breast to the dish; either chicken strips, shredded, or cubed.
Sprinkle with fresh thyme and serve, freeze, or store in the fridge.
Nutrition Facts Crispy Veg Garlic Chicken Sheet Pan Meal Amount Per Serving Calories 335 Calories from Fat 135 % Daily Value* Total Fat 15g 23% Saturated Fat 2g 10% Trans Fat 0.02g Polyunsaturated Fat 2g Monounsaturated Fat 10g Cholesterol 51mg 17% Sodium 598mg 25% Potassium 877mg 25% Total Carbohydrates 27g 9% Dietary Fiber 7g 28% Sugars 6g Protein 26g 52% Vitamin A 234% Vitamin C 245% Calcium 7% Iron 14% * Percent Daily Values are based on a 2000 calorie diet.
Read more