---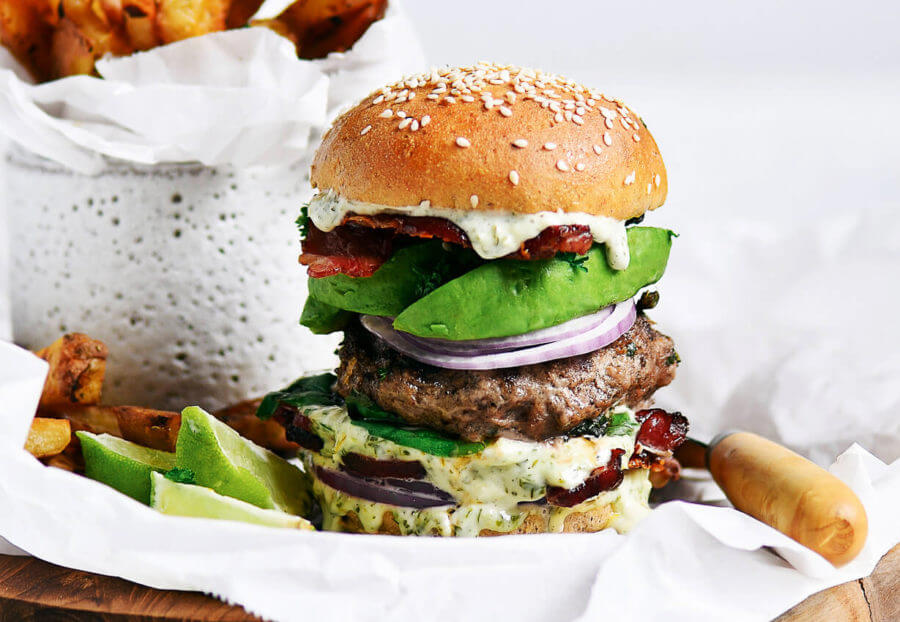 These legit bacon avocado paleo burgers are loaded with fresh basil and garlic and topped with a creamy white sauce and red onion. Plus, these fluffy and soft grain free buns are to die for!

Print Recipe Paleo Bacon Garlic Avocado Burger These legit bacon avocado paleo burgers are loaded with fresh basil and garlic and topped with a creamy white sauce and red onion. Plus, these fluffy and soft grain free buns are to die for! Ingredients Hamburgers Main Dish Votes: 15
Rating: 3.67
You: Rate this recipe! Recipe Notes

Find the recipe for 5 minute fluffy paleo hamburger buns and creamy whole30 ranch here.

Serve with extra crispy garlic lime sweet potato fries.

Info Cook Time 8 minutes Prep Time 20 minutes Servings burgers MetricUS Imperial Course Main Dish Votes: 15
Rating: 3.67
You: Rate this recipe! Recipe Notes

Find the recipe for 5 minute fluffy paleo hamburger buns and creamy whole30 ranch here.

Serve with extra crispy garlic lime sweet potato fries.

Ingredients Hamburgers
Combine all the ingredients for the hamburgers and knead until well combined.
Heat a grill pan on the stove over medium heat.
Divide the meat into four patties. Drizzle each meat patty with olive oil. Then grill for four minutes on each side (or to personal taste).
Assemble burgers with buns, cooked bacon, ranch dressing, avocado wedges, and red onion slices.
Serve with extra crispy garlic lime sweet potato fries and some more ranch dip!
Nutrition Facts Paleo Bacon Garlic Avocado Burger Amount Per Serving Calories 487 Calories from Fat 297 % Daily Value* Total Fat 33g 51% Saturated Fat 10g 50% Trans Fat 2g Polyunsaturated Fat 3g Monounsaturated Fat 16g Cholesterol 194mg 65% Sodium 1292mg 54% Potassium 746mg 21% Total Carbohydrates 10g 3% Dietary Fiber 6g 24% Sugars 1g Protein 40g 80% Vitamin A 70% Vitamin C 34% Calcium 13% Iron 35% * Percent Daily Values are based on a 2000 calorie diet.
Read more