Extra Crispy Garlic Lime Sweet Potato Fries
---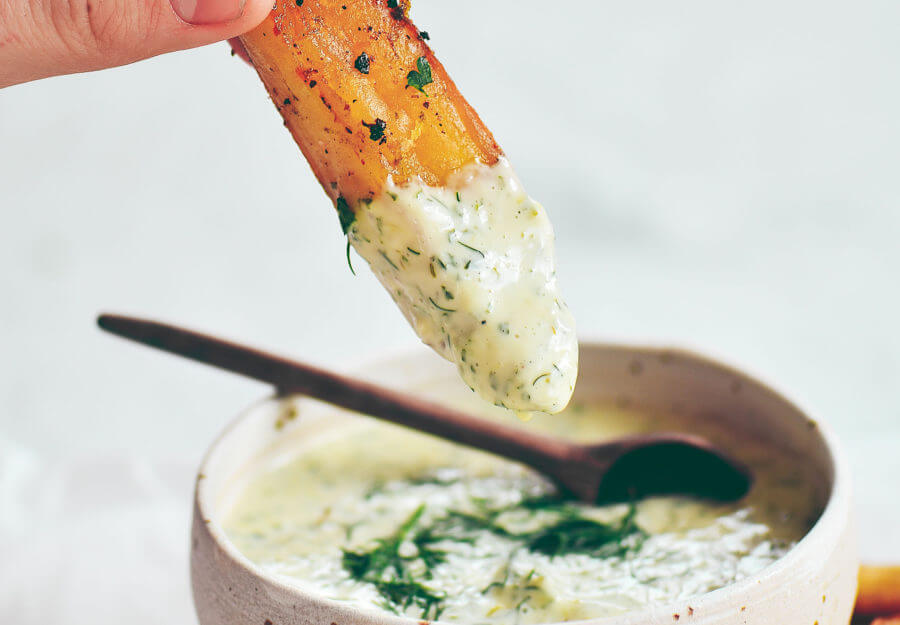 Extra crispy sweet potato fries loaded with fresh lime zest and baked garlic. These delicious whole30 compliant, paleo fries are a beautiful snacking addiction waiting to happen!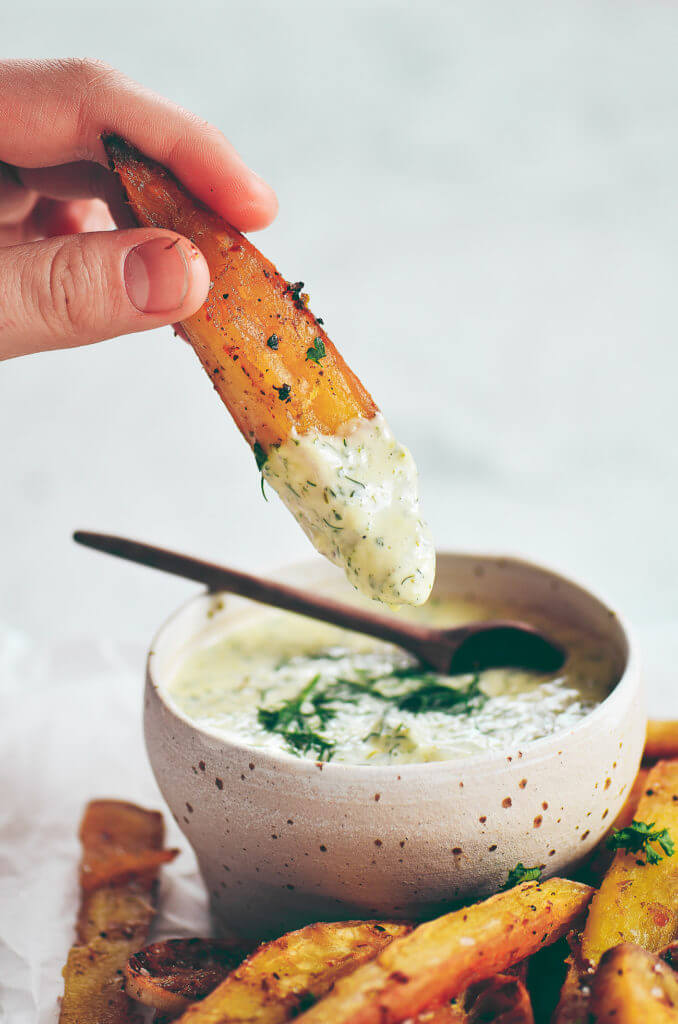 Want to know the secret to making extra crispy sweet potato fries?
Here goes.
It's all in the cooking time and amount of oil.
Bake those babies long and slow with not too much and not too little extra virgin olive oil.
Turn them halfway through to spread the crispness around to everyone.
And then watch them bake and turn into beautiful brown munchies.
Dipping these fries in some of that sauce never hurts either 😉
*Pro tip: baking sweet potato fries is mounds easier using this Di Oro Living baking mat, which makes for crispy fry heaven and easy clean up.
And what's better than crispy sweet potato fries with ranch dipping sauce? It's crispy sweet potato fries with ranch dipping sauce and no clean up!!
This baking mat also serves as the zero-clean-up part of the recipe, which, I'm a fan.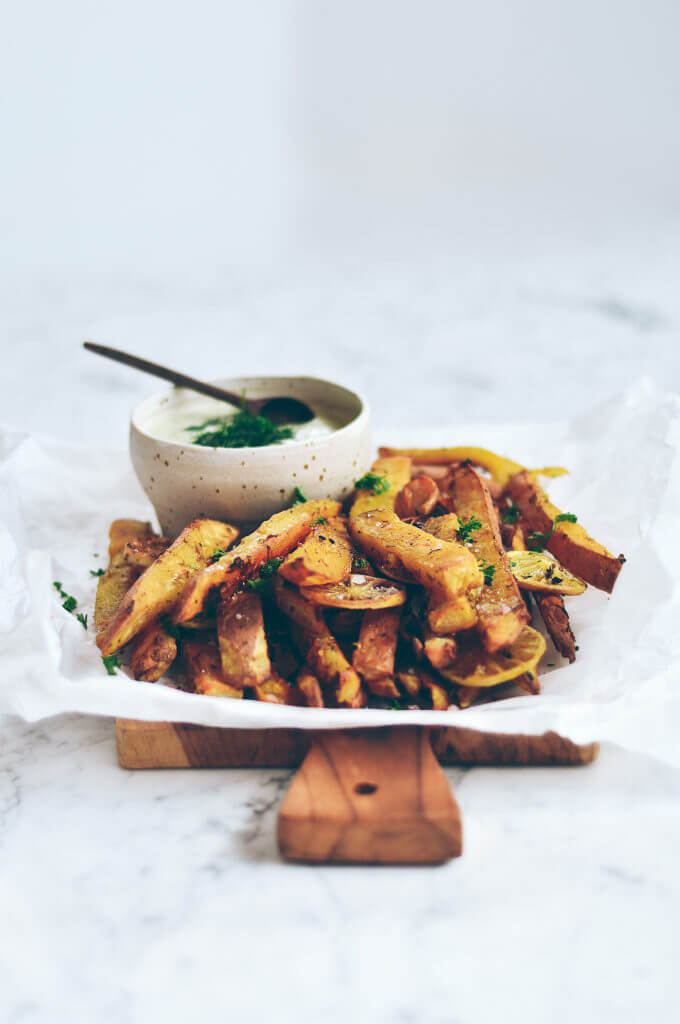 Extra crispy fries!
Is there a bigger fan of sweet potato fries than myself? If so, please introduce yourself and we can battle it out in an epic showdown of fry eating to prove our devotion.
Naaaah, I'd rather just make a double (or triple) batch of these extra crispy garlic lime sweet potato fries. And eat them ALL BY MYSELF.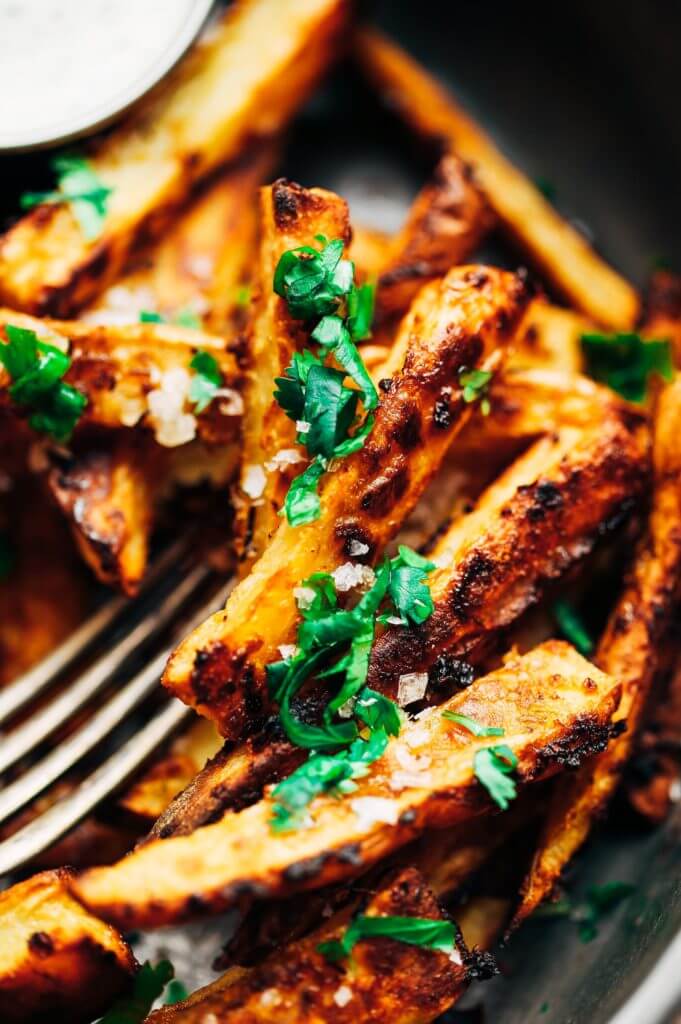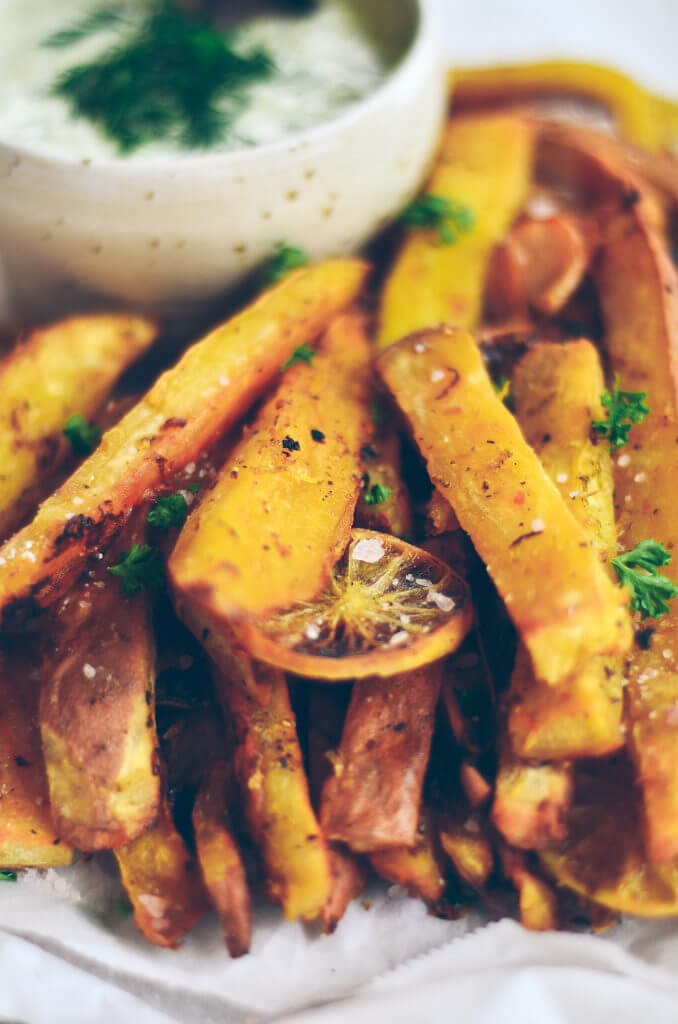 love that lime and garlic!
The loads of lime and garlic melting into these fries is unreal. The zesty pop from the lime is a beautiful compliment to the sweetness of the sweet potato and spice of garlic.
I was making these fries with my sister, and I kept asking her to taste test to see if they needed anything, her one answer- garlic, garlic, more garlic! Well, okay… but we want to taste the lime too. 🙂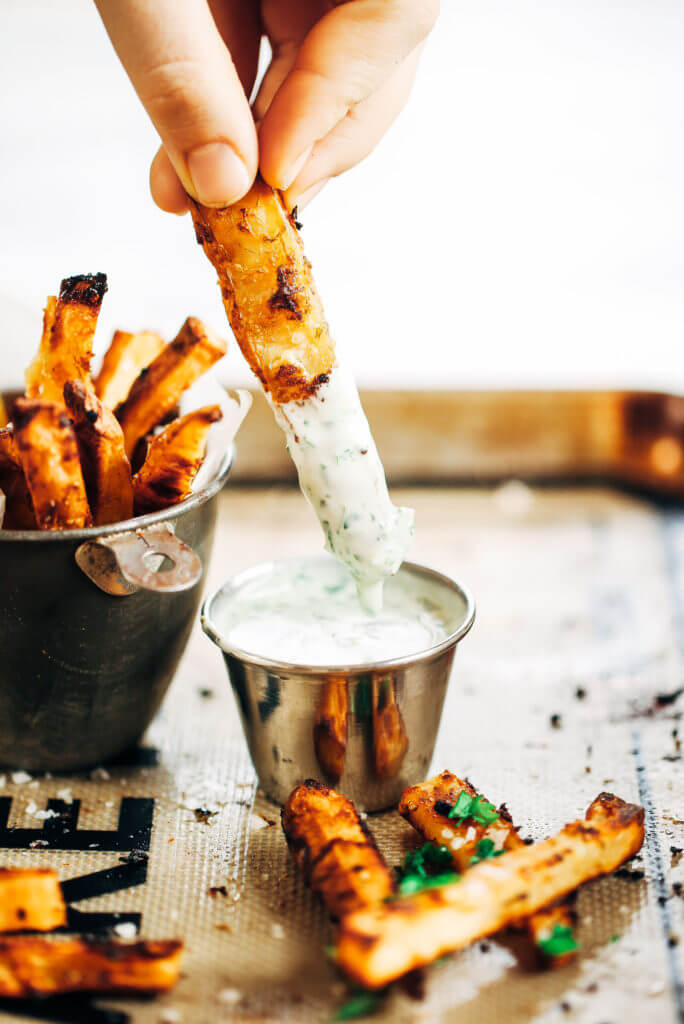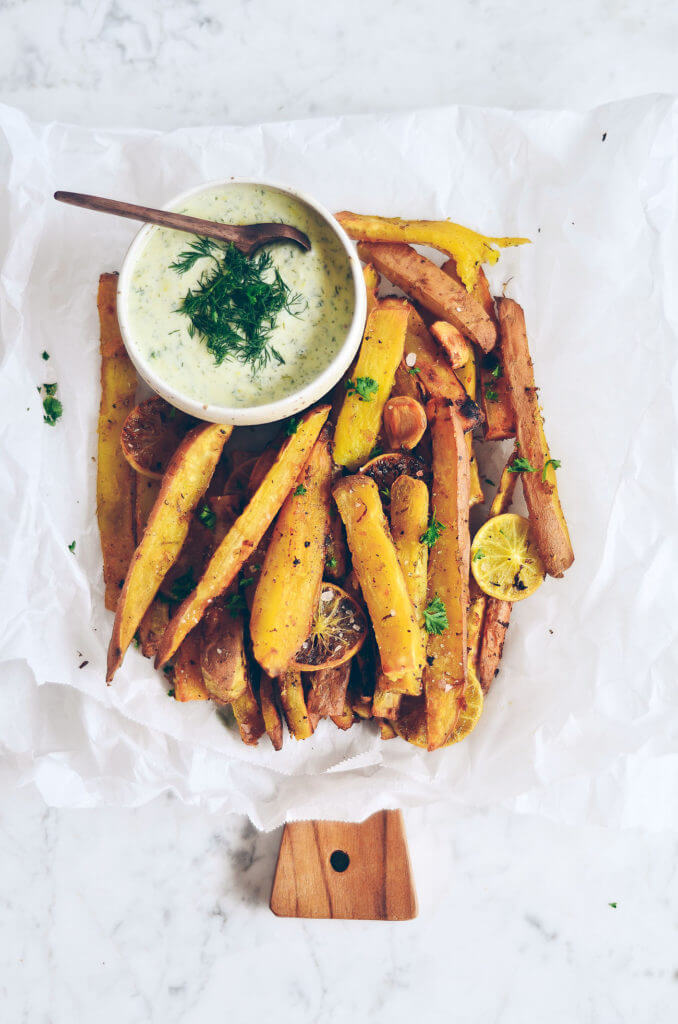 This sauce!! Creamy herby white sauce… also known as my favorite homemade dairy free ranch dressing! I make this recipe for the fam quite frequently and it's always a hit.
Plus, it's the perfect side for dipping your crispy fries in. Since I've been making these fries on repeat (especially this week!!) a special sauce is definitely called for.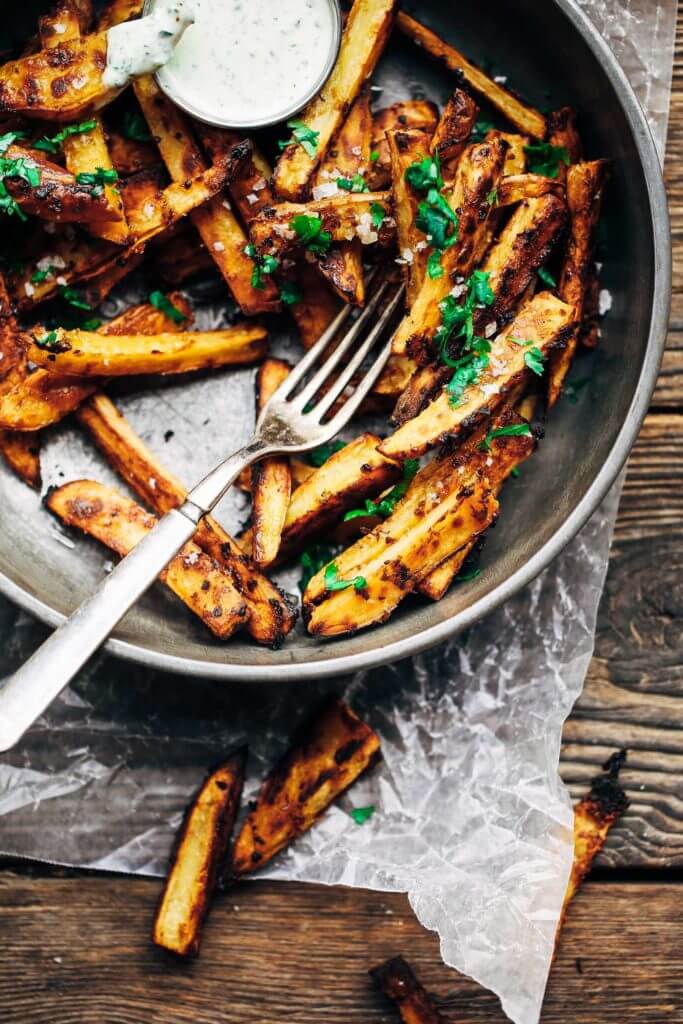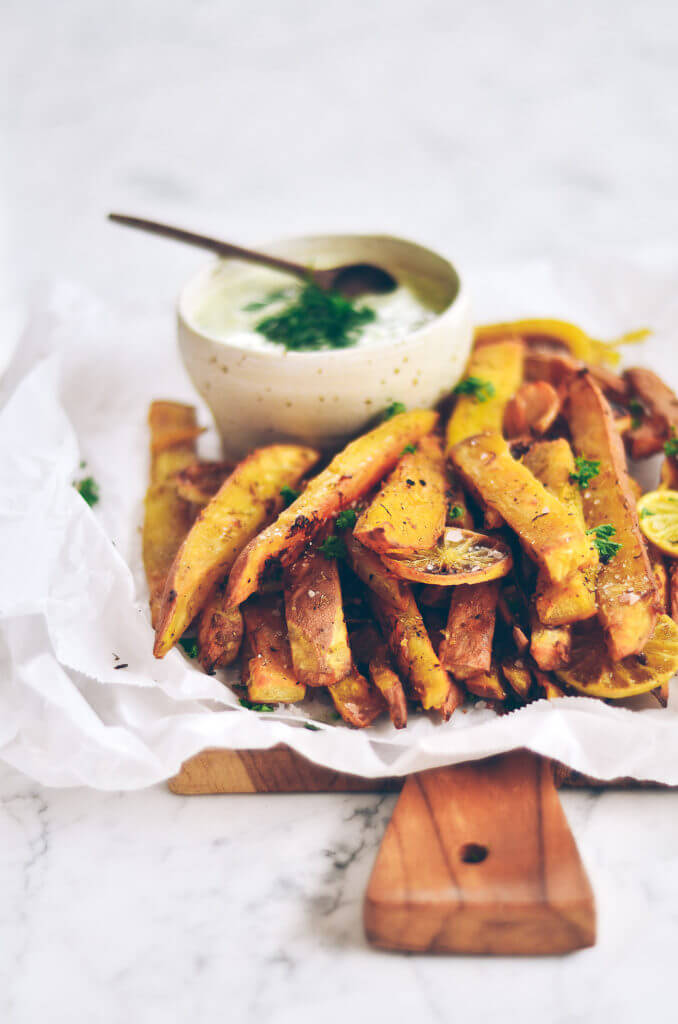 Okay, time to eat! Thanks for inviting my recipes into your kitchen today, let's get cooking!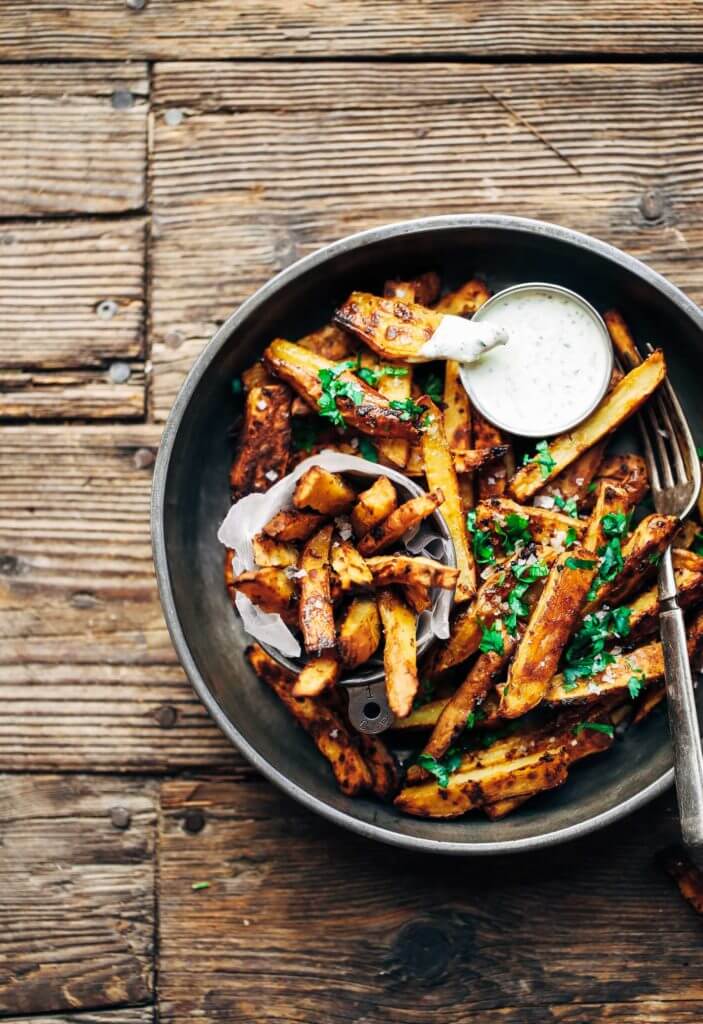 Cut the sweet potato into even medium size wedges or strips. Toss them on a sheet pan with the olive oil, tapioca flour, and seasonings.

Spread the fries out evenly on the sheet pan. Bake on 425F for 20 minutes then rotate the fries and cook for another 20 minutes or until crisp.
Nutrition Facts

Extra Crispy Garlic Lime Sweet Potato Fries

Amount Per Serving

Calories 211

Calories from Fat 153

% Daily Value*

Total Fat 17g 26%

Sodium 714mg 30%

Potassium 235mg 7%

Total Carbohydrates 15g 5%

Protein 1g 2%

* Percent Daily Values are based on a 2000 calorie diet.