Paleo Bacon Garlic Avocado Burger
---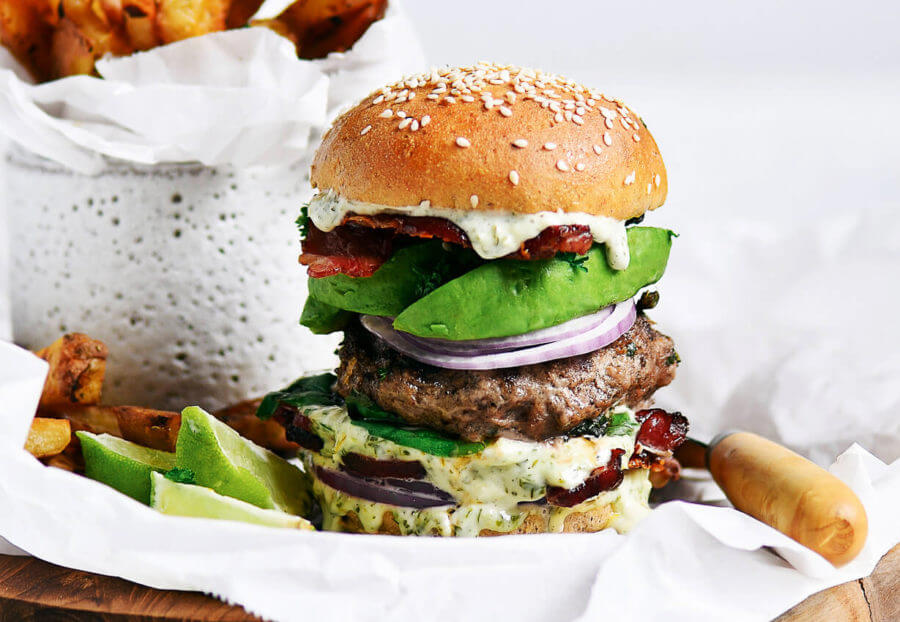 These legit paleo bacon avocado burgers are loaded with fresh basil and garlic and topped with a creamy white sauce and red onion. Plus, these fluffy and soft grain free buns are to die for! Check out the whole30 burger option too!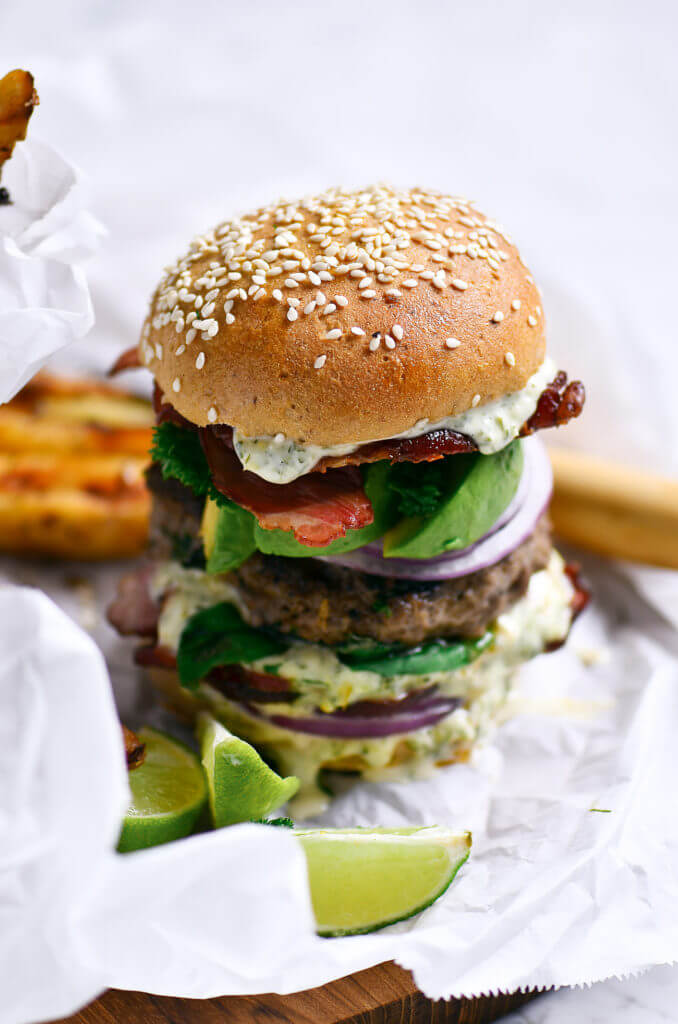 A huge thank you to the team at PRE Brands for making this post possible and always delivering quality 100% grass fed beef! Their delicious meat is going to leave you obsessed. Trust me, it happened 😉 Making these burgers with PRE Brands lean grass fed ground hamburger made all the difference! Grass fed beef is bomb. The difference in color and texture is incredible and the flavor was a perfect fit for these healthy avocado bacon burgers. Enjoy!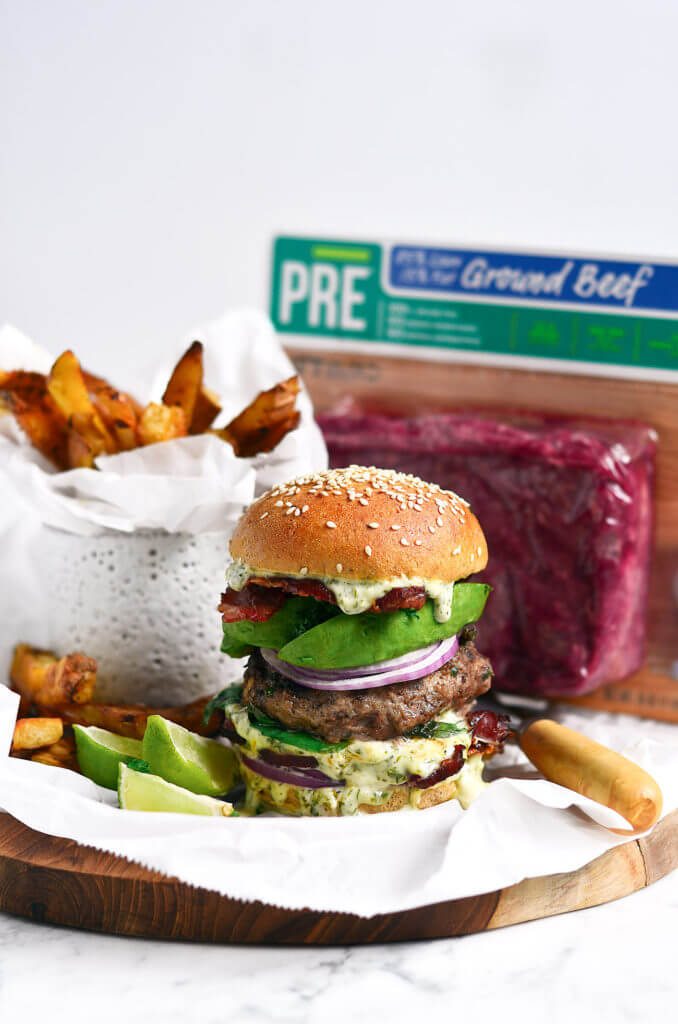 paleo bacon burger reviews
I got a lot of reviews on these burgers. Here are some of my favorites:
"It makes me want to cry, it's so good. All the flavors are like, bam!"
"I will pay $36,000 for one of those burgers!"
"The burger is SO moist! And that fresh basil👌."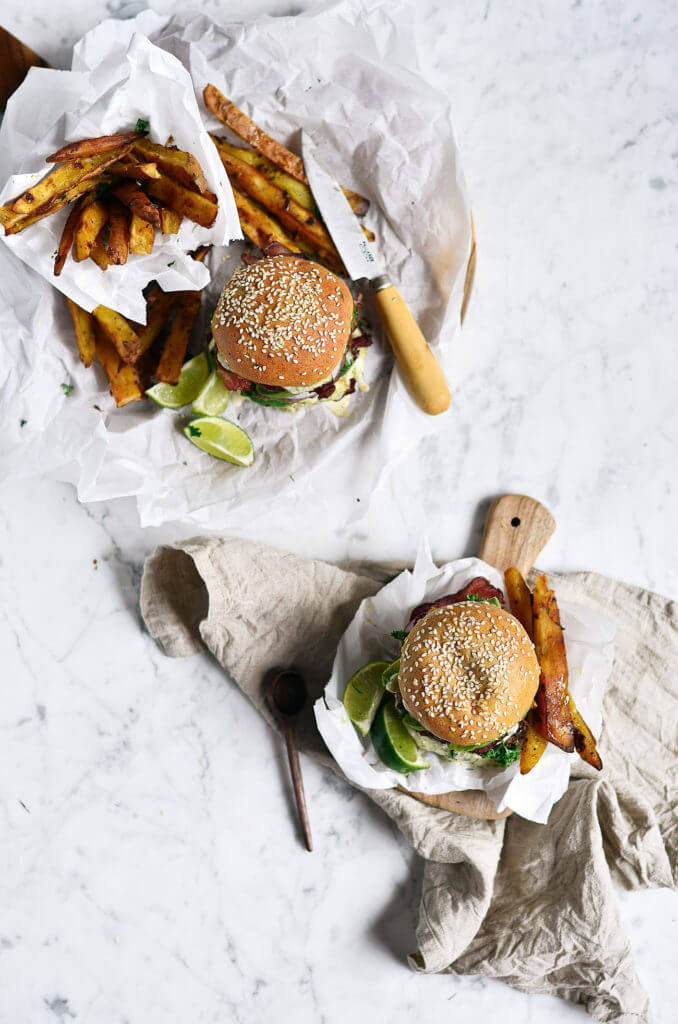 Bacon. Avocado. Grass fed beef burgers loaded with one cup fresh chopped basil. One word: GIMME!! And those fluffy grain free buns! Did I fool you into thinking they were "real"? Well, they are 100% paleo! And you wouldn't believe how easy they are to make. Everything goes in the food processor and gets blended up. Then it's in the oven. Easy as pie. And delicious.
Everybody wanted in on the action at today's photoshoot. All the peeps pulled out their iPhones and were snapping photos and showing off their edits. I love seeing these kiddos handle food like a boss✌🏼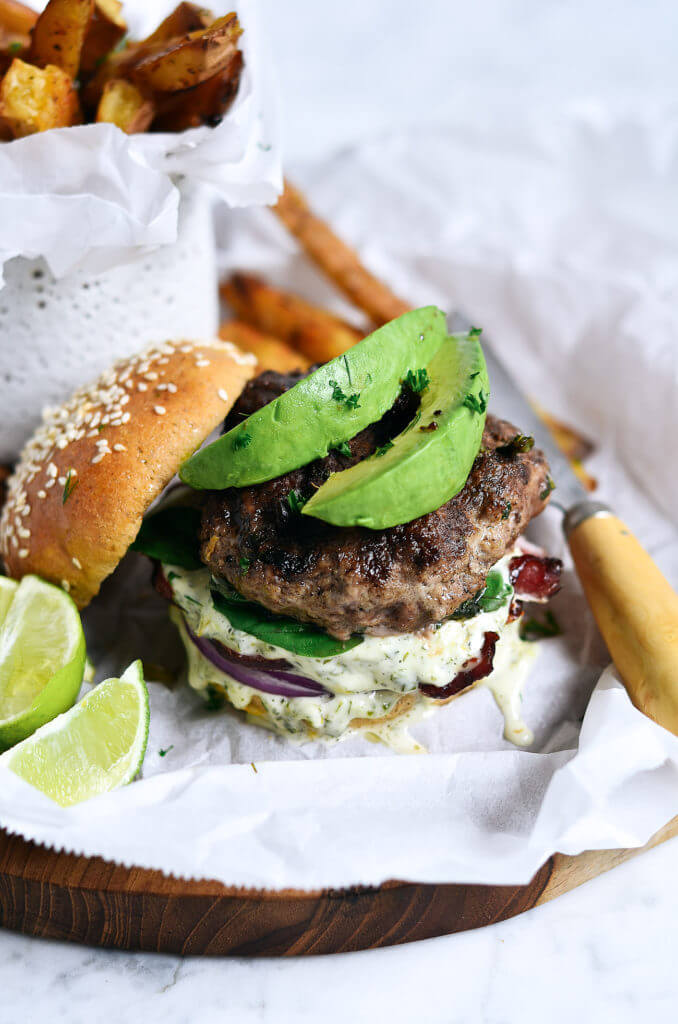 So, the other great thing about these burgers is this: they can totally be whole30 compliant! Simply leave out the bun and have yourself a mega burger topped with fresh avo, bacon, white sauce, and wrapped up in a leaf of lettuce (or not). How awesome is that! Eating whole30 can be so fun and enjoyable you totally forget you are eating healthy!
loads of sauces!
This sauce though. Sauces have been my latest obsession. I have been making all kinds of sauces; white, green, you name it. I have been putting sauces on my toast, salads, burgers… and anything that tastes better with sauce.
I have realized that the spice of life comes in a creamy form with all varieties… and it's always, always made in the food processor (or blender). Because, life is easier that way.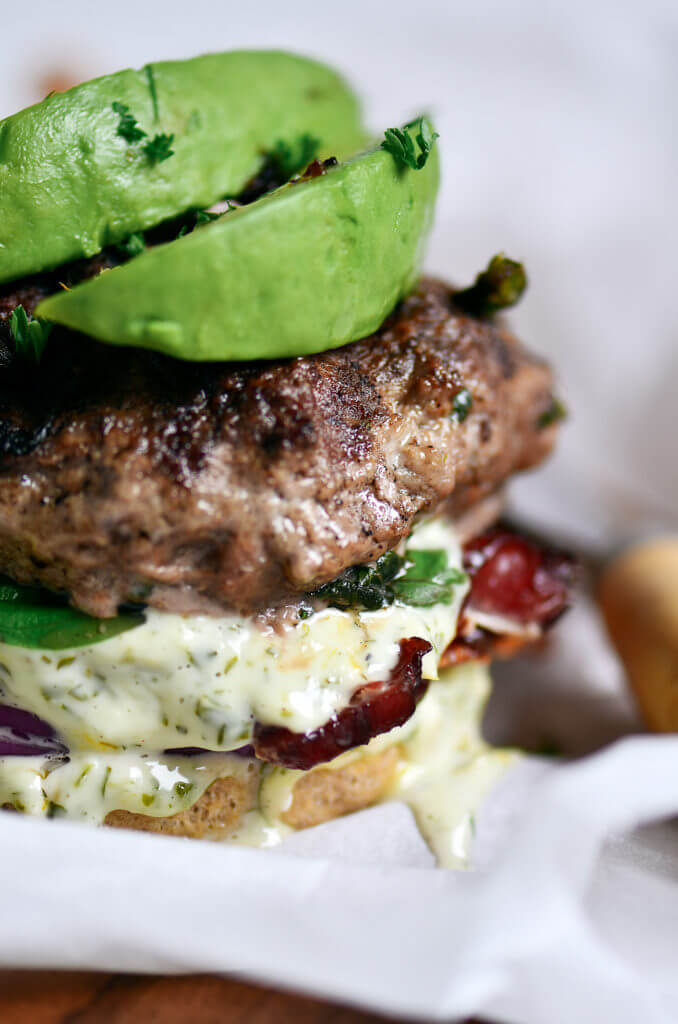 This fresh and zesty white sauce is yes, made in the blender, but also, it's loaded with fresh herbs and lemon juice… and lemon zest. One can never have too much lemon. To my wonderful surprise, this sauce looks like a melty piece of cheese on the burger. And for that, I cannot complain 😉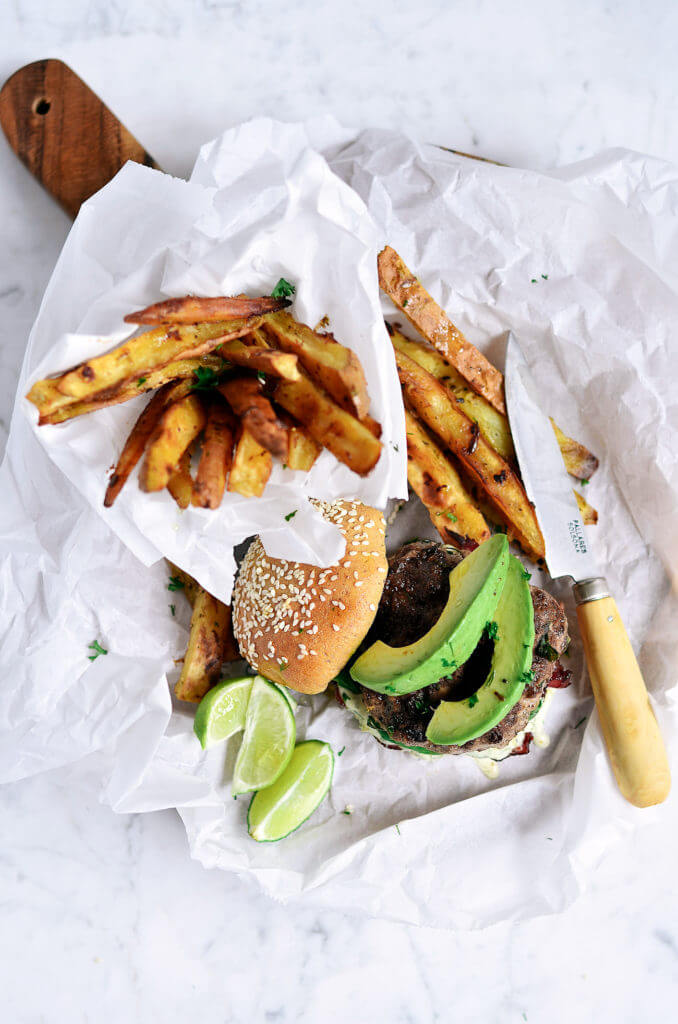 Moving on… to these fries!! Is there a bigger fan of sweet potato fries than myself? If so, please introduce yourself and we can battle it out in an epic showdown of fry eating to prove our devotion.
Naaaah, I'd rather just make a double (or triple) batch of these extra crispy garlic lime sweet potato fries. And eat them ALL. BY. MYSELF.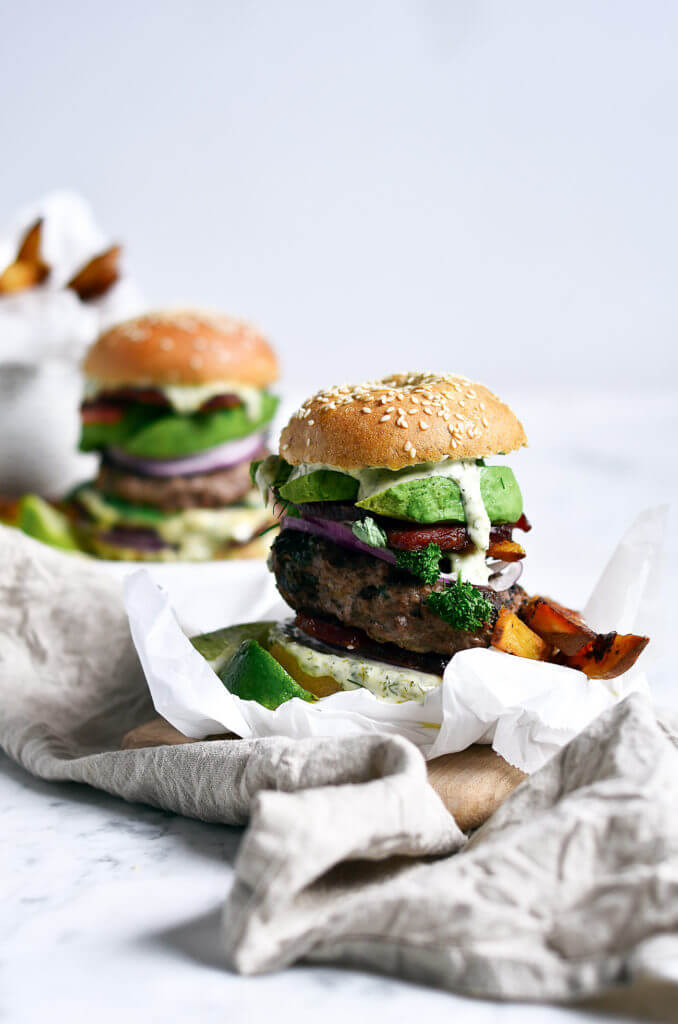 Want to know the secret to making crispy sweet potato fries? Here goes. It's all in the cooking time and amount of oil. Bake those babies long and slow with not too much and not too little extra virgin olive oil. Turn them halfway through to spread the crispness around to everyone. And then watch them bake and turn into beautiful brown munchies. Dipping these fries in some of that sauce never hurts either 😉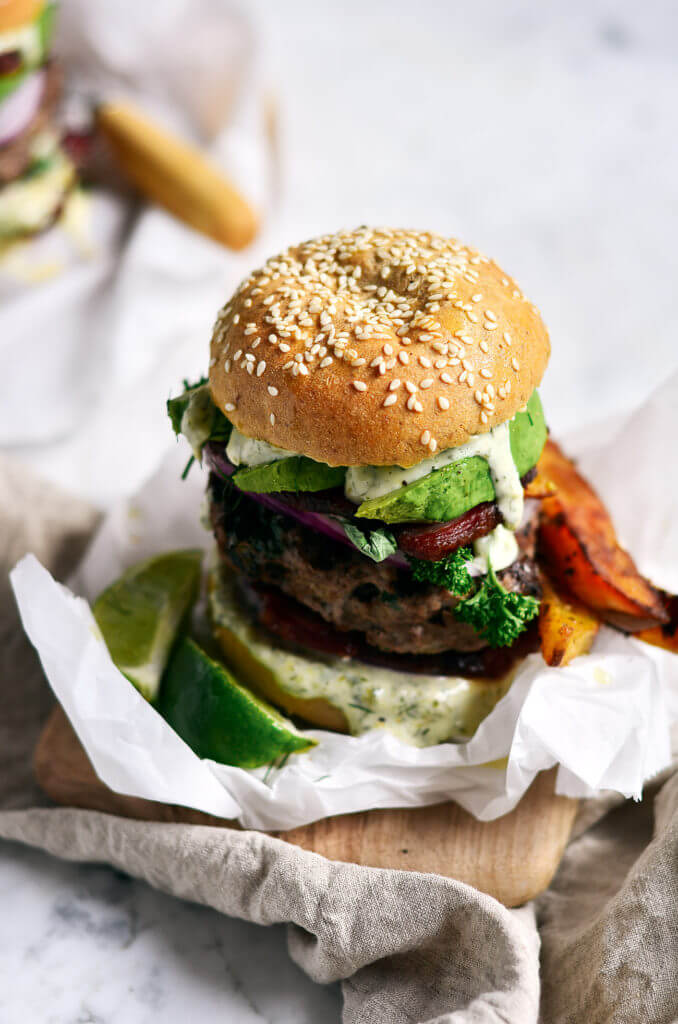 Now that I have worked up an appetite looking at those burgers and fries, let the good eats vibes roll and lemme bite into one of those PRE Brands burgers.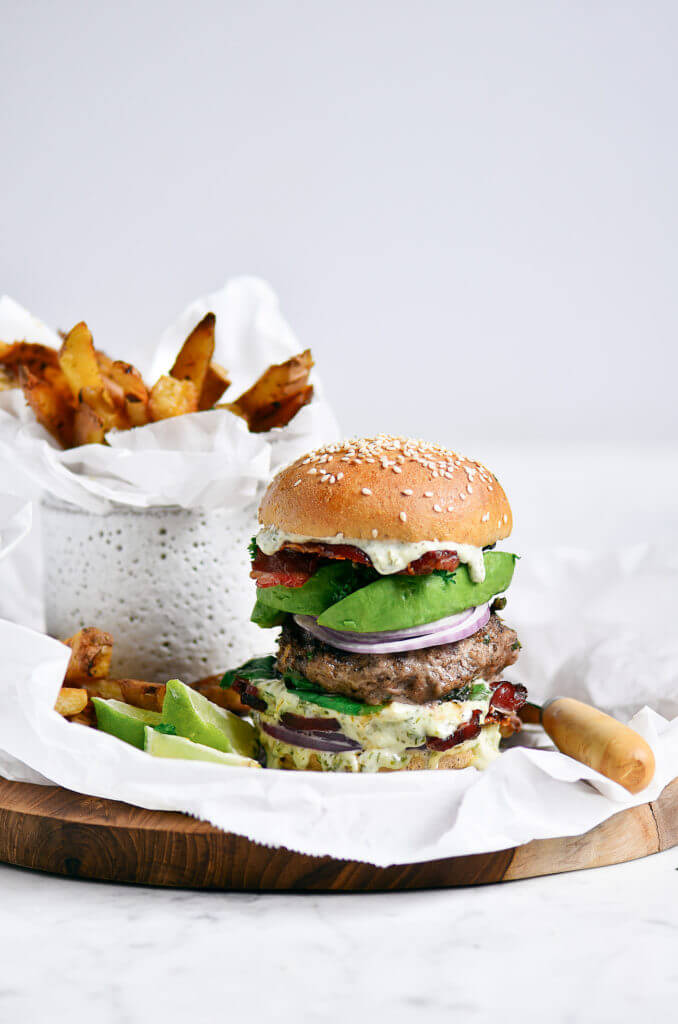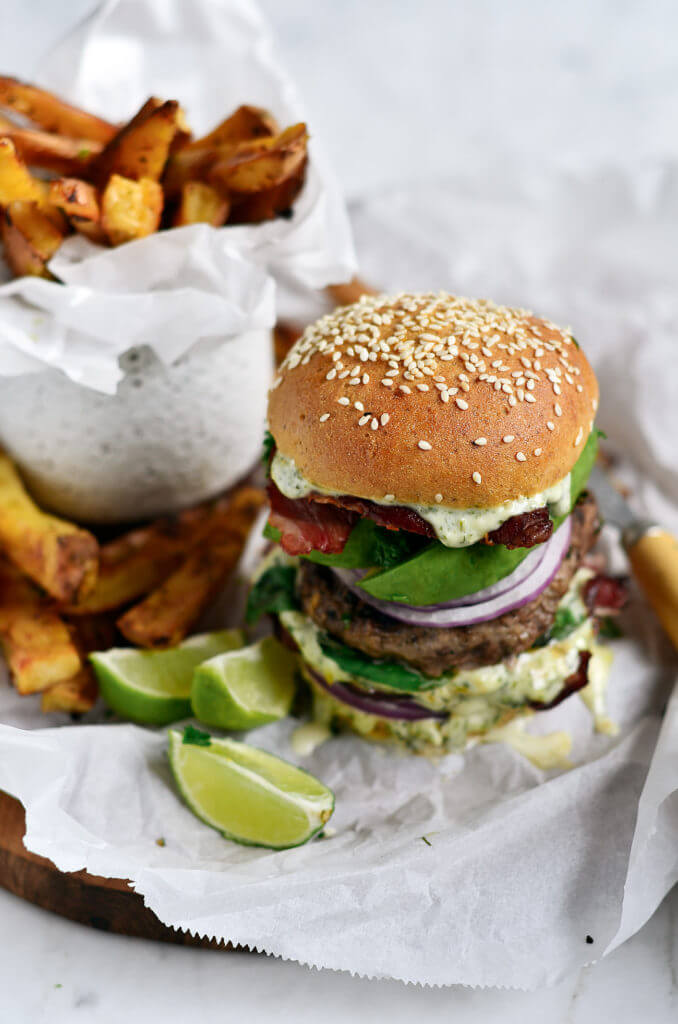 Combine all the ingredients for the hamburgers and knead until well combined.

Heat a grill pan on the stove over medium heat.

Divide the meat into four patties. Drizzle each meat patty with olive oil. Then grill for four minutes on each side (or to personal taste).

Assemble burgers with buns, cooked bacon, ranch dressing, avocado wedges, and red onion slices.

Serve with extra crispy garlic lime sweet potato fries and some more ranch dip!
Nutrition Facts

Paleo Bacon Garlic Avocado Burger

Amount Per Serving

Calories 487

Calories from Fat 297

% Daily Value*

Total Fat 33g 51%

Cholesterol 194mg 65%

Sodium 1292mg 54%

Potassium 746mg 21%

Total Carbohydrates 10g 3%

Protein 40g 80%

* Percent Daily Values are based on a 2000 calorie diet.