Asian Zucchini Noodle Bowl
---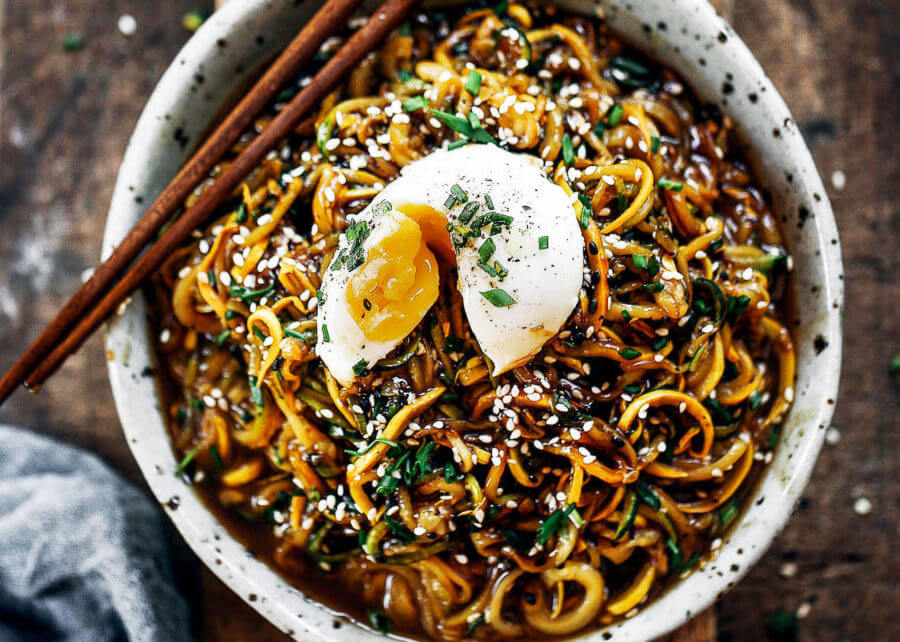 192 calorie whole30 balsamic glazed asian zucchini noodles! Super easy whole30 and paleo meal. A healthy dinner recipe for the whole family! Kid friendly noodles with a tempting asian sauce.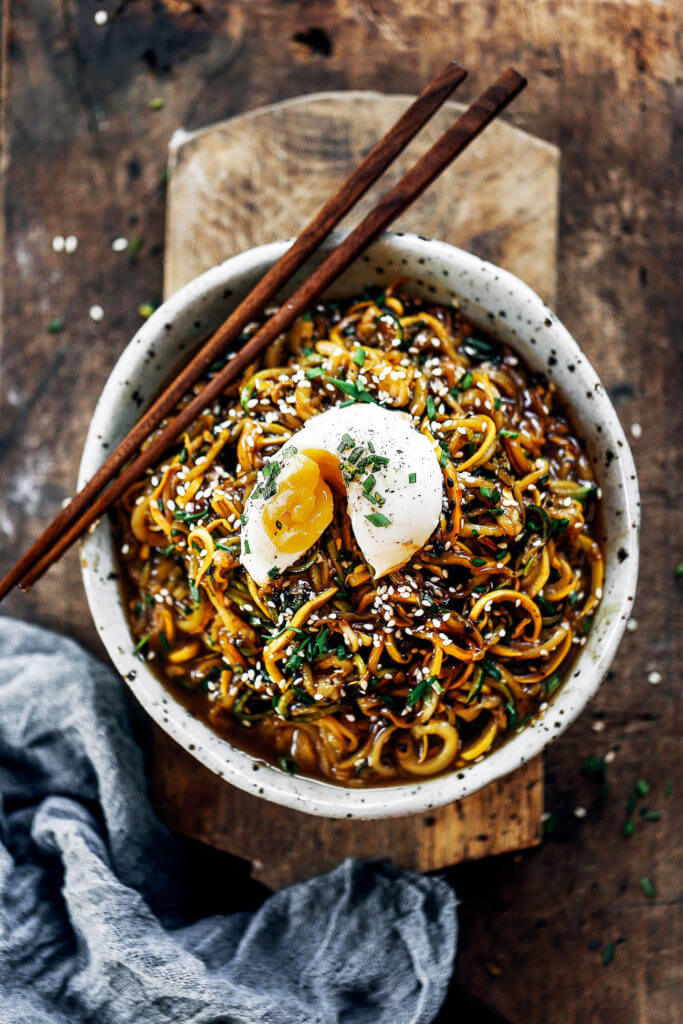 Ever play catch with the giant melon underwater? Yep, I hadn't either until today. My family was prepping for a barbecue gathering with some friends and brought back a watermelon to dish out. It was supposed to make it to the freezer to be chilled in time for eating but it never made it there.
My brother grabbed it and tossed it to me in the pool. Then we spent the next hour launching the giant watermelon underwater like a missile. All natural pool toys.
You're probably wondering what this scenario has to do with these noodles, right? Well, nothing really. Let's just say the watermelon never made it to the dinner table, because when my brother brought it up out of the pool it dropped and turned into watermelon juice. End of story.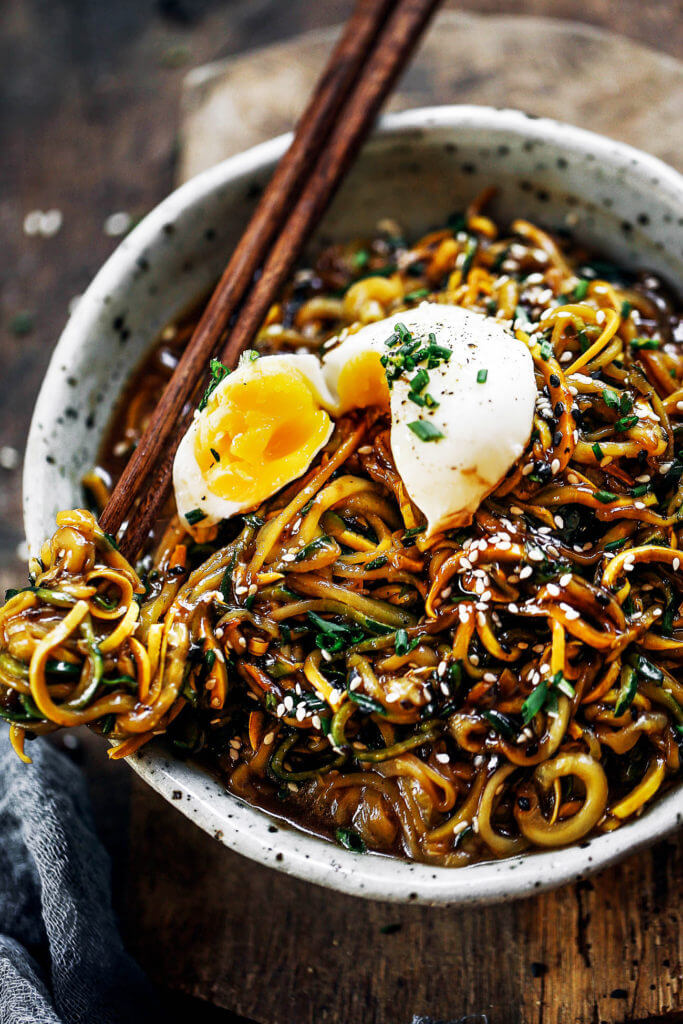 never a big enough bowl of asian balsamic noodles
Ooodles of noodles baby! This dish for Asian noodles is way healthier than a carb loaded bowl of starch. Instead, the green veg of the zucchini makes a light and refreshing meal. Leaving you feeling satisfied and not weighed down by calorie overload.
So… this sauce… What can I tell you? It only takes a small handful of ingredients you probably already have around your house, which makes it a no brainer to make on weeknight dinners (at least around here). Nothing super fancy. Just loads of flavor! I made the sauce by thickening it on the stovetop for a few minutes and voila, dinner is served.
Everything in the recipe is incredible easy to make. But make sure you have either one of these or one of these to make your zucchini noodles.
P.S. This one is by far the best spiralizer and I highly recommend it!!
I want more noodles!!! I shared a big bowl of these for lunch today and all I wanted for dinner was another serving. Still waiting for them to magically appear. Sad how it doesn't work that way. One day though, there will be a paleo fast food restaurant that delivers asian zucchini noodles to my door. Until then, see ya in the kitchen! Happy cooking!
More like this:
Whole30 Spaghetti Squash Casserole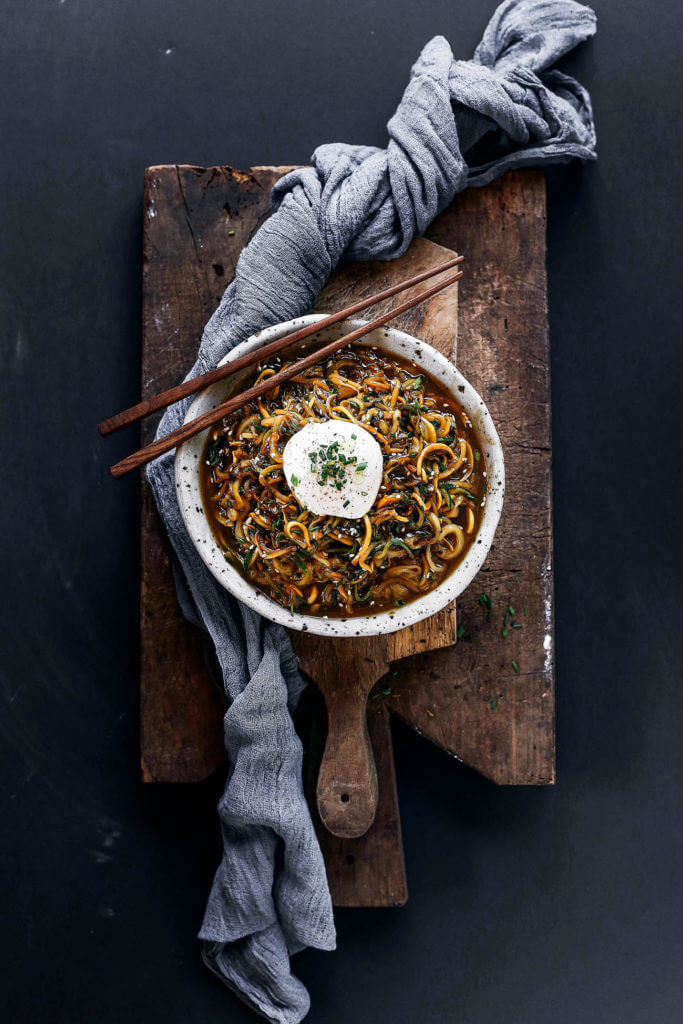 Begin by preparing your noodles with a spiralizer (read post to see which one I recommend).

Heat a large fry pan over medium/high heat on the stove. Fry the noodles with 1 tablespoon sesame seed oil for about 3-4 minutes until softened. Then remove from the heat and set aside. Drain excess liquid.

Prepare the sauce by incorporating the balsamic vinegar, maple syrup, coconut aminos, and hot sauce together in small sauce pan over medium heat on the stove.

In a small cup mix the cold water and arrowroot flour together into a liquidy paste.

Bring the sauce to a simmer then stir continuously while pouring in the arrowroot and cold water mixture.

Continue to cook and stir the sauce (keeping it at a simmer) for a few minutes until the sauce thickens. Then take off the heat and pour over noodles.

Top off with sesame seeds, chopped cilantro, chopped green onions, and a poached egg, if desired.
Nutrition Facts

Asian Zucchini Noodle Bowl

Amount Per Serving

Calories 192

Calories from Fat 72

% Daily Value*

Total Fat 8g 12%

Sodium 359mg 15%

Potassium 814mg 23%

Total Carbohydrates 28g 9%

Protein 5g 10%

* Percent Daily Values are based on a 2000 calorie diet.