Crispy Baked Whole30 Cauliflower Patties
---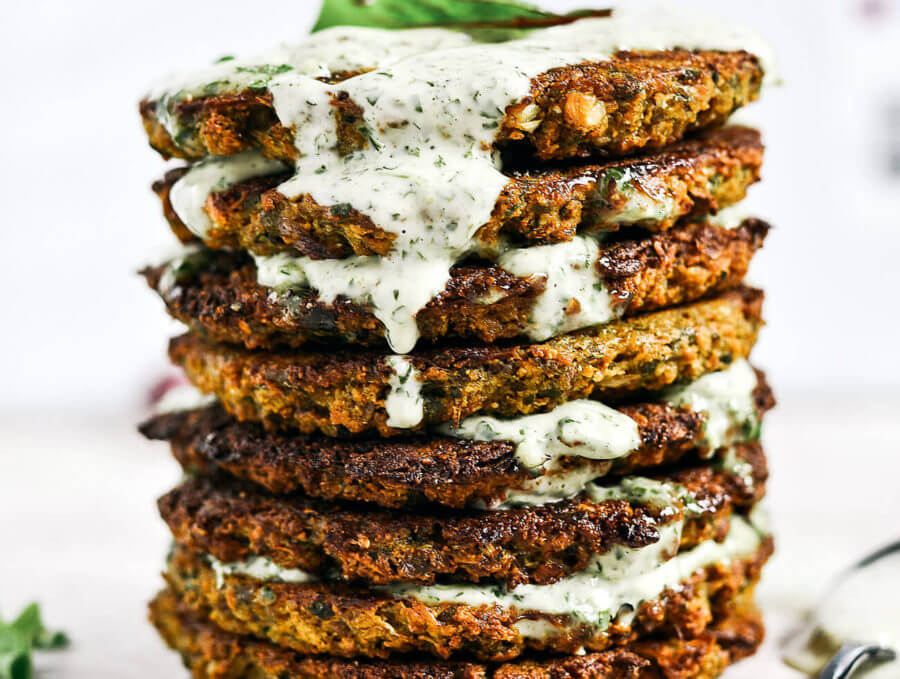 Crispy baked whole30 cauliflower patties with a delicious creamy cilantro garlic sauce. Easy paleo and whole30 recipe for lunch, dinner, and even breakfast if you're like me!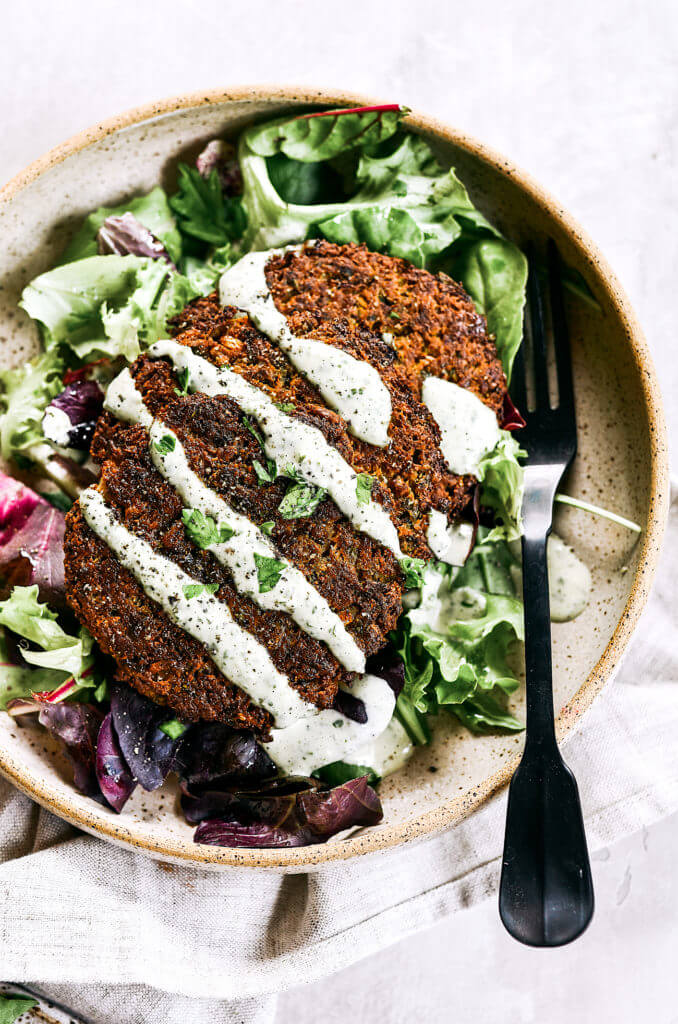 These crispy baked cauliflower patties are everything a healthy summer lunch needs to be. I am completely head over heals in love with these delicious crispy patties full of loads of flavor!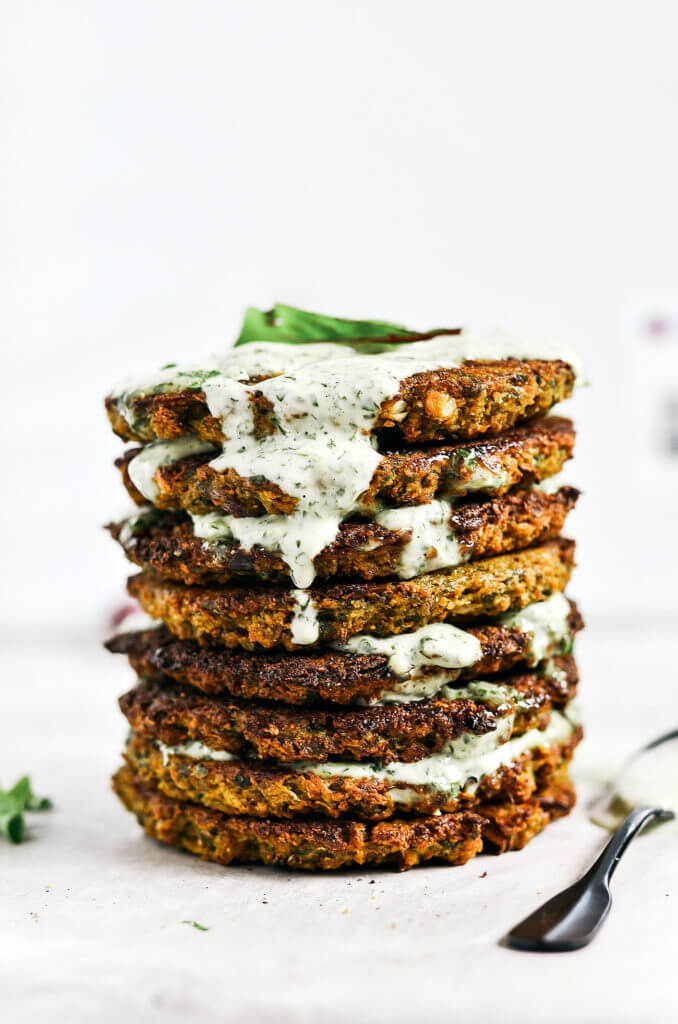 Picture this: loads of cauliflower, garlic, onion, cilantro, parsley, and cumin. Gahhhh, all my favorites dancing together in a beautiful crispy patty! Also, since these patties are baked, you're not going to get loads of deep fried stuff.
On another wonderful side note, these patties are freezer friendly and makes a great "toast" base for a poached egg and avo!
To freeze these patties, just make them as directed, cool, then lay out in a freezer bag and store on a flat surface. Then, when it's time to eat you can pull them out of the freezer and pop them in the toaster oven (or regular oven)!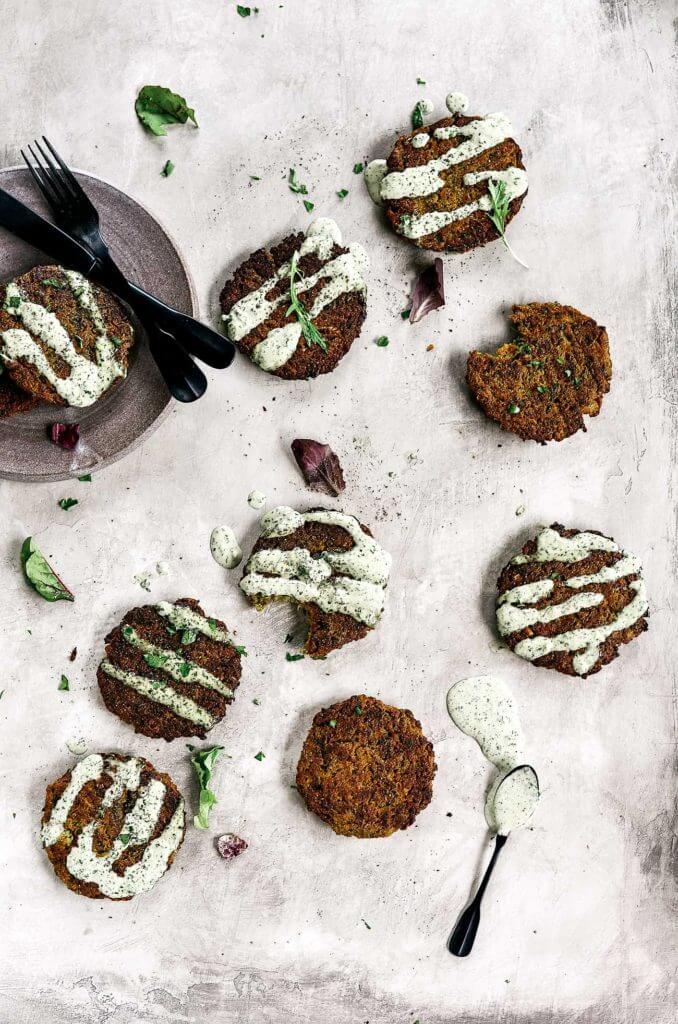 crispy patties topped with green sauce. Mmmmm
On top of these patties is a dreamy and creamy cilantro green sauce! This week, I tripled the batch of this sauce and stored it in the fridge as a salad dressing, dressing for avo toast, noodles, and anything else I feel like. You can leave the sauce out of the recipe if you like. But I promise you won't regret making it, if you do!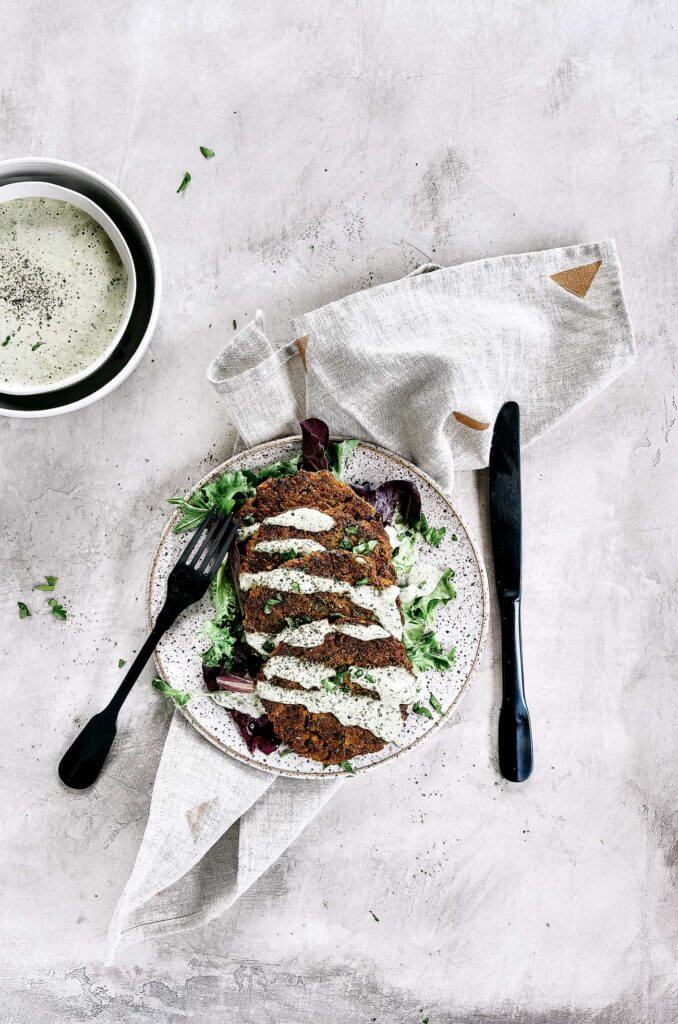 For this recipe, I used my food processor to mince everything. In the instructions it says use minced cauliflower, onion, herbs, etc.. I just measured everything and then put it in my food processor and mined it up! So easy! Feel free to chop away by hand though.
This spread made me want to dig in half way through the photoshoot. But, I with held myself so I could get some pics for you guys. Eating off these beautiful ceramic home goods has made everything taste better.
One of my goals for June was to slow down by really take intentional time to eat, create pretty food to eat (behind the camera), and focus on creating a peaceful eating atmosphere to digest and process the nutrients.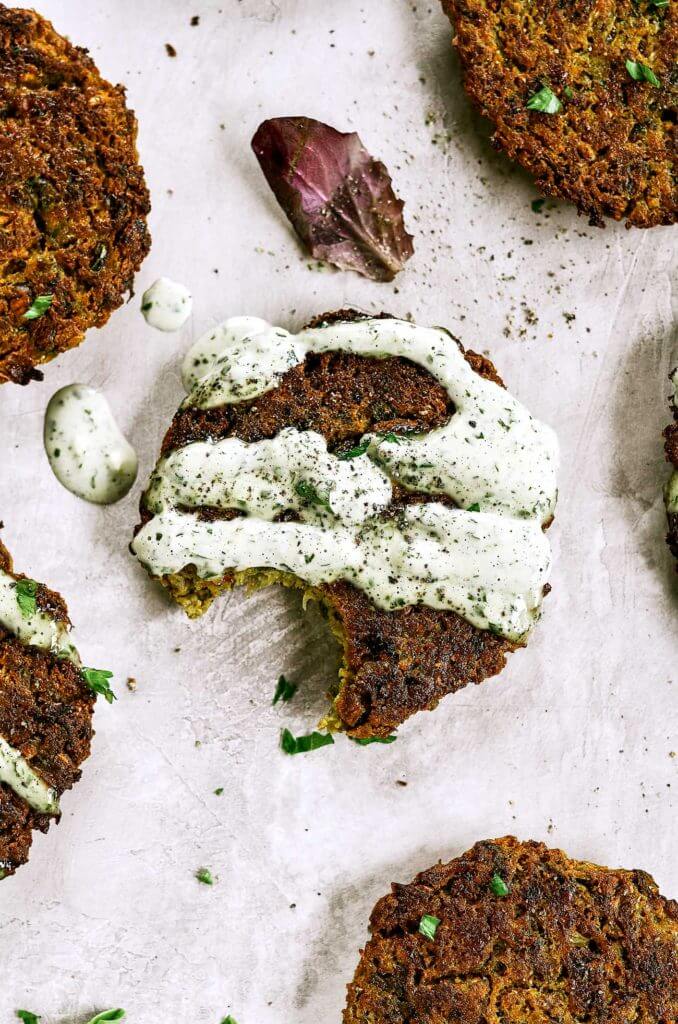 And guess what?! It has been life-changing! Not joking. I feel so much better; more satisfied after eating, my head clears up, and I feel rejuvenated and peaceful after/during eating.
Part of creating a beautiful atmosphere to nourish my body has included being intentional at plating my food/table scape with inspiring tableware. Today's table scape features a lovely collection of artisan ceramics and home goods from Kettle & Brine (my new favorite prop shop obsession!).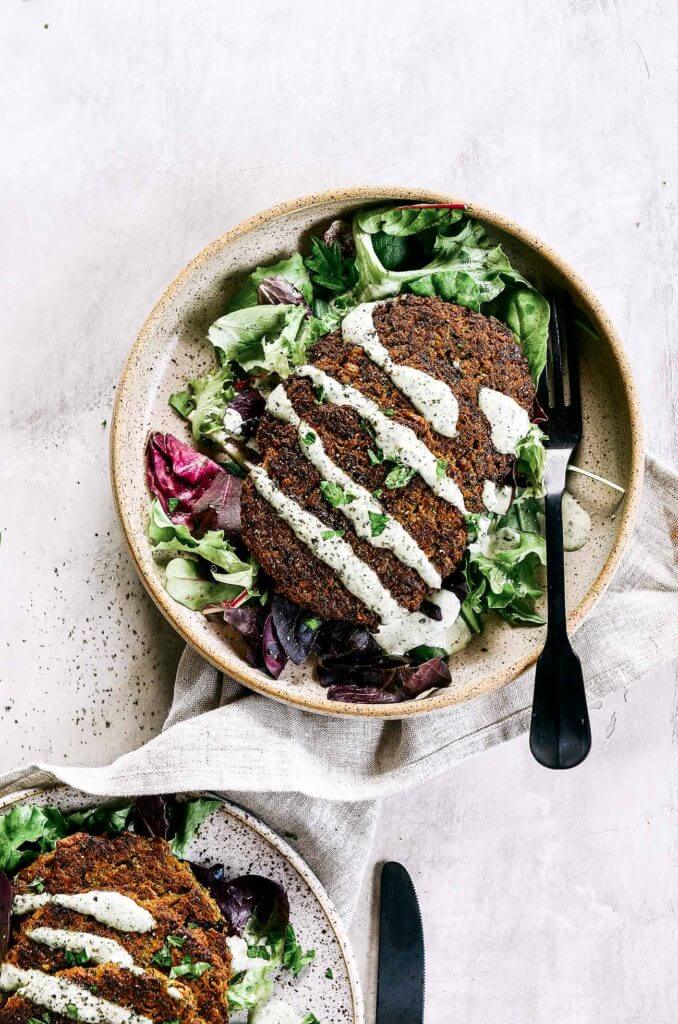 Preheat oven to 400F. Line a baking sheet with parchment paper.

In a food processor blend all the ingredients, except the olive oil. Pulse until combined

Divide the dough into 11 equal balls and then use a pastry brush and brush each ball with olive oil.

Press each ball into a 1/2" tall patty on the baking tray.

Cook for 20-30 minutes on 400F until crispy, then flip the patties and cook for another 15 minutes.
Combine all the ingredients for the green dressing in a blender or food processor and blend until smooth.
Nutrition Facts

Crispy Baked Whole30 Cauliflower Patties

Amount Per Serving

Calories 309

Calories from Fat 225

% Daily Value*

Total Fat 25g 38%

Cholesterol 34mg 11%

Sodium 459mg 19%

Potassium 225mg 6%

Total Carbohydrates 19g 6%

Protein 10g 20%

* Percent Daily Values are based on a 2000 calorie diet.