---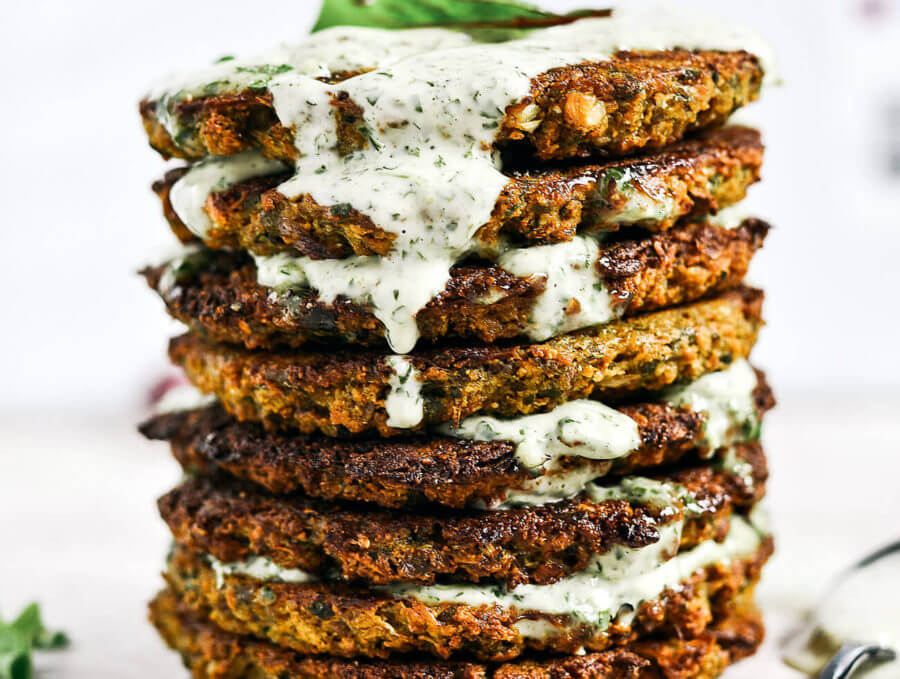 Crispy baked whole30 cauliflower patties with a delicious creamy cilantro garlic sauce. Easy paleo and whole30 recipe for lunch, dinner, and even breakfast if you're like me!

Print Recipe Crispy Baked Whole30 Cauliflower Patties Crispy baked whole30 cauliflower patties with a delicious creamy cilantro garlic sauce. Easy paleo and whole30 recipe for lunch, dinner, and even breakfast if you're like me! Ingredients Patties Main Dish Votes: 8
Rating: 4.88
You: Rate this recipe! Info Cook Time 45 minutes Prep Time 15 minutes Servings patties MetricUS Imperial Course Main Dish Votes: 8
Rating: 4.88
You: Rate this recipe! Ingredients Patties
Preheat oven to 400F. Line a baking sheet with parchment paper.
In a food processor blend all the ingredients, except the olive oil. Pulse until combined
Divide the dough into 11 equal balls and then use a pastry brush and brush each ball with olive oil.
Press each ball into a 1/2" tall patty on the baking tray.
Cook for 20-30 minutes on 400F until crispy, then flip the patties and cook for another 15 minutes.
Dressing
Combine all the ingredients for the green dressing in a blender or food processor and blend until smooth.
Nutrition Facts Crispy Baked Whole30 Cauliflower Patties Amount Per Serving Calories 309 Calories from Fat 225 % Daily Value* Total Fat 25g 38% Saturated Fat 3g 15% Polyunsaturated Fat 1g Monounsaturated Fat 6g Cholesterol 34mg 11% Sodium 459mg 19% Potassium 225mg 6% Total Carbohydrates 19g 6% Dietary Fiber 6g 24% Sugars 4g Protein 10g 20% Vitamin A 39% Vitamin C 85% Calcium 8% Iron 16% * Percent Daily Values are based on a 2000 calorie diet.
Read more