---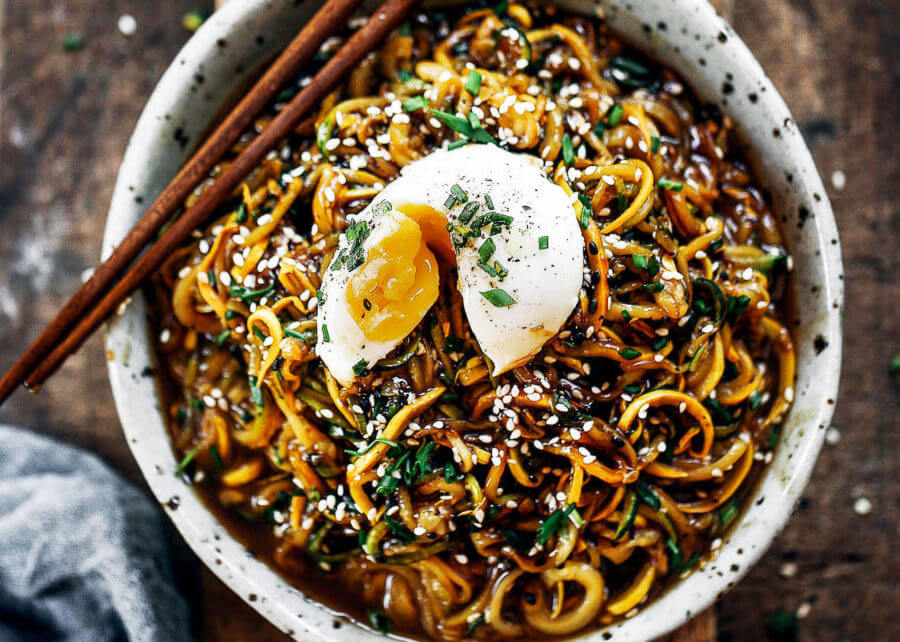 192 calorie whole30 balsamic glazed asian zucchini noodles! Super easy whole30 and paleo meal. A healthy dinner recipe for the whole family! Kid friendly noodles with a tempting asian sauce. 

Print Recipe Asian Zucchini Noodle Bowl 192 calorie whole30 balsamic glazed asian zucchini noodles! Super easy whole30 and paleo meal. A healthy dinner recipe for the whole family! Kid friendly noodles with a tempting asian sauce.  Ingredients Noodles Main Dish Votes: 91
Rating: 3.38
You: Rate this recipe! Info Cook Time 5 minutes Prep Time 10 minutes Servings servings MetricUS Imperial Course Main Dish Votes: 91
Rating: 3.38
You: Rate this recipe! Ingredients Noodles
Begin by preparing your noodles with a spiralizer (read post to see which one I recommend).
Heat a large fry pan over medium/high heat on the stove. Fry the noodles with 1 tablespoon sesame seed oil for about 3-4 minutes until softened. Then remove from the heat and set aside. Drain excess liquid.
Prepare the sauce by incorporating the balsamic vinegar, maple syrup, coconut aminos, and hot sauce together in small sauce pan over medium heat on the stove.
In a small cup mix the cold water and arrowroot flour together into a liquidy paste.
Bring the sauce to a simmer then stir continuously while pouring in the arrowroot and cold water mixture.
Continue to cook and stir the sauce (keeping it at a simmer) for a few minutes until the sauce thickens. Then take off the heat and pour over noodles.
Top off with sesame seeds, chopped cilantro, chopped green onions, and a poached egg, if desired.
Nutrition Facts Asian Zucchini Noodle Bowl Amount Per Serving Calories 192 Calories from Fat 72 % Daily Value* Total Fat 8g 12% Saturated Fat 1g 5% Polyunsaturated Fat 2g Monounsaturated Fat 1g Sodium 359mg 15% Potassium 814mg 23% Total Carbohydrates 28g 9% Dietary Fiber 8g 32% Sugars 15g Protein 5g 10% Vitamin A 16% Vitamin C 88% Calcium 7% Iron 13% * Percent Daily Values are based on a 2000 calorie diet.
Read more