---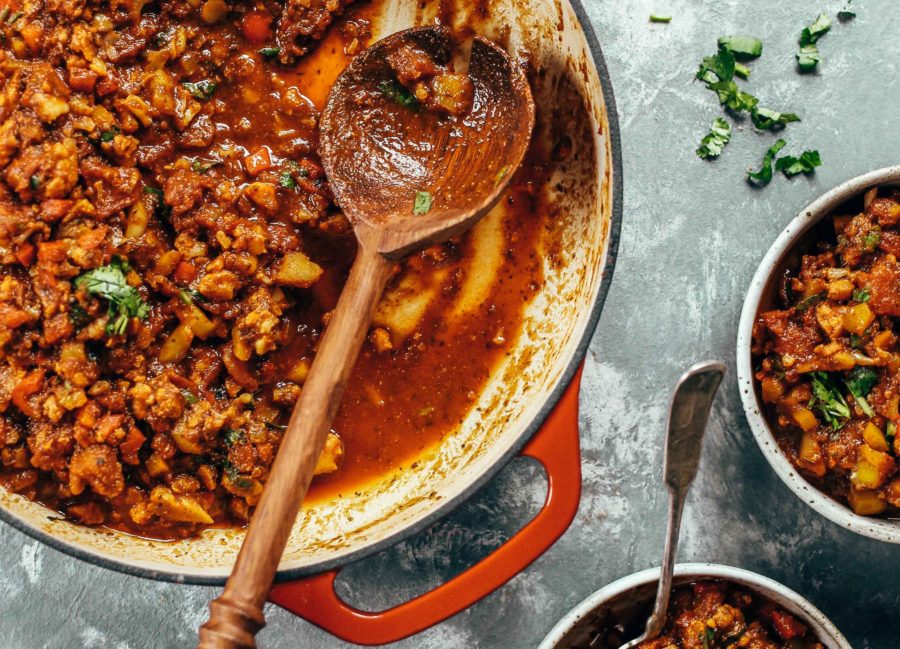 Paleo and whole30 chili made with cauliflower. Full of flavor, healthy, and satisfying. The kind of home-cooked meal that makes you all comfy inside. Recipe can be made ahead and frozen. 

Print Recipe Best Easy Paleo Cauliflower Chili Paleo and whole30 chili made with cauliflower. Full of flavor, healthy, and satisfying. The kind of home-cooked meal that makes you all comfy inside. Recipe can be made ahead and frozen.  Ingredients Info Cook Time 10 minutes Prep Time 5 minutes Servings servings MetricUS Imperial Course Main Dish Votes: 24
Rating: 3.71
You: Rate this recipe! Recipe Notes

To add extra protein to this recipe, sub half the cauliflower for 1/2 lb ground hamburger and cook as directed.

Info Cook Time 10 minutes Prep Time 5 minutes Servings servings MetricUS Imperial Course Main Dish Votes: 24
Rating: 3.71
You: Rate this recipe! Recipe Notes

To add extra protein to this recipe, sub half the cauliflower for 1/2 lb ground hamburger and cook as directed.

Ingredients Instructions
In a large soup pot saute the minced cauliflower with seasonings until slightly softened, but not mushy. You can buy pre minced cauliflower or make it by pulsing chunks of cauliflower in a food processor.
Add rest of ingredients (except cilantro) and cook until soup reaches desired consistency (about 8-10 minutes). Serve with fresh chopped cilantro.
Nutrition Facts Best Easy Paleo Cauliflower Chili Amount Per Serving Calories 220 Calories from Fat 90 % Daily Value* Total Fat 10g 15% Saturated Fat 2g 10% Polyunsaturated Fat 2g Monounsaturated Fat 5g Sodium 924mg 39% Potassium 1114mg 32% Total Carbohydrates 33g 11% Dietary Fiber 16g 64% Sugars 12g Protein 7g 14% Vitamin A 135% Vitamin C 340% Calcium 28% Iron 73% * Percent Daily Values are based on a 2000 calorie diet.
Read more