guacamole or avocado
Category
---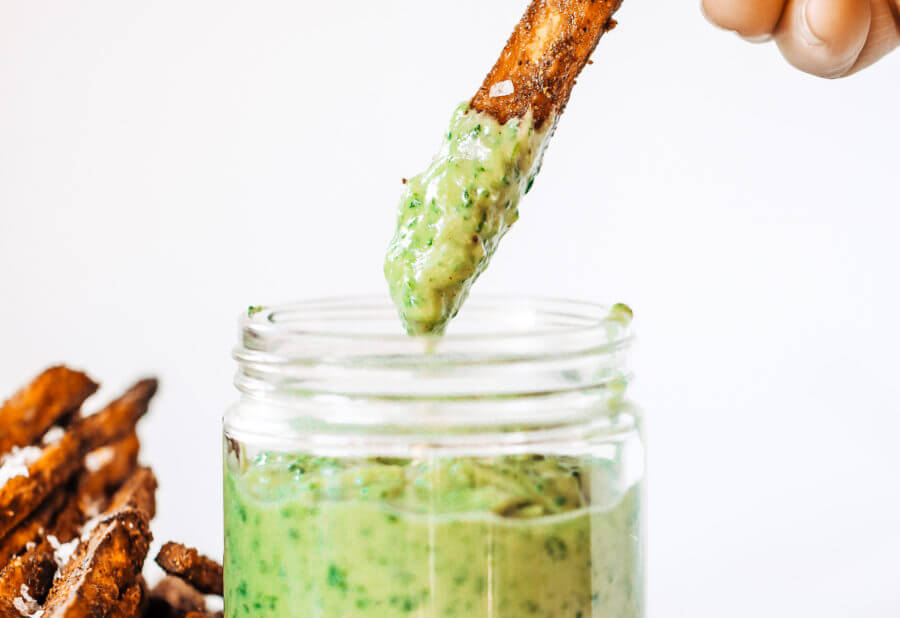 Cumin spiced sweet potato fries are paleo and gluten free. These tasty seasoned fries make the perfect healthy and delicious snack or side dish. This recipe is served with a creamy avocado garlic dipping sauce.

Print Recipe Cumin Lime Sweet Potato Fries Cumin spiced sweet potato fries are paleo and gluten free. These tasty seasoned fries make the perfect healthy and delicious snack or side dish. This recipe is served with a creamy avocado garlic dipping sauce. Ingredients Cumin Spiced Fries Side Dish, Snack Votes: 1
Rating: 5
You: Rate this recipe! Info Cook Time 1 hour Prep Time 10 minutes Servings people MetricUS Imperial Course Side Dish, Snack Votes: 1
Rating: 5
You: Rate this recipe! Ingredients Cumin Spiced Fries
Pre heat the oven to 350 degrees and line a standard baking sheet with parchment paper.
Cut the sweet potato into fourths lengthwise and then again into strips, to make the fries.
Toss the sweet potatoes in the seasonings, arrowroot, and olive oil.
Spread the sweet potatoes out on the baking sheet and put in the oven to cook for 1 hour on 350 degrees.
Dipping Sauce
In a food processor, combine all of the ingredients for the dipping sauce and combine until completely smooth.
Nutrition Facts Cumin Lime Sweet Potato Fries Amount Per Serving Calories 139 Calories from Fat 63 % Daily Value* Total Fat 7g 11% Saturated Fat 1g 5% Polyunsaturated Fat 1g Monounsaturated Fat 5g Sodium 520mg 22% Potassium 242mg 7% Total Carbohydrates 17g 6% Dietary Fiber 2g 8% Sugars 3g Protein 1g 2% Vitamin A 188% Vitamin C 4% Calcium 3% Iron 3% * Percent Daily Values are based on a 2000 calorie diet.
Read more