Sweet Potato Fries
---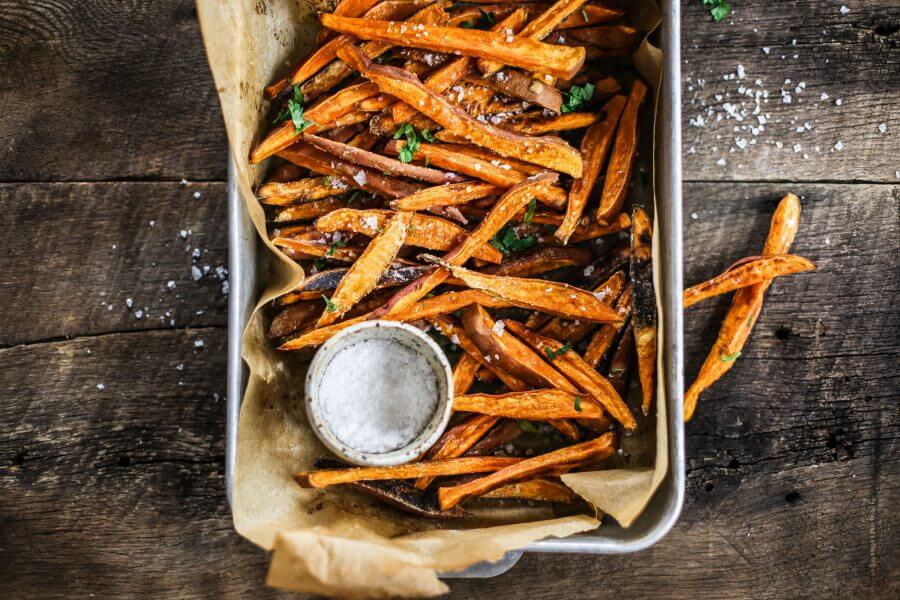 How to make crispy sweet potato fries in 30 minutes! Paleo and whole30 sweet potato fries are a healthy side dish or snack. Make these easy sweet potato fries to serve along a salad or soup. Delicious! Crispy! Easy!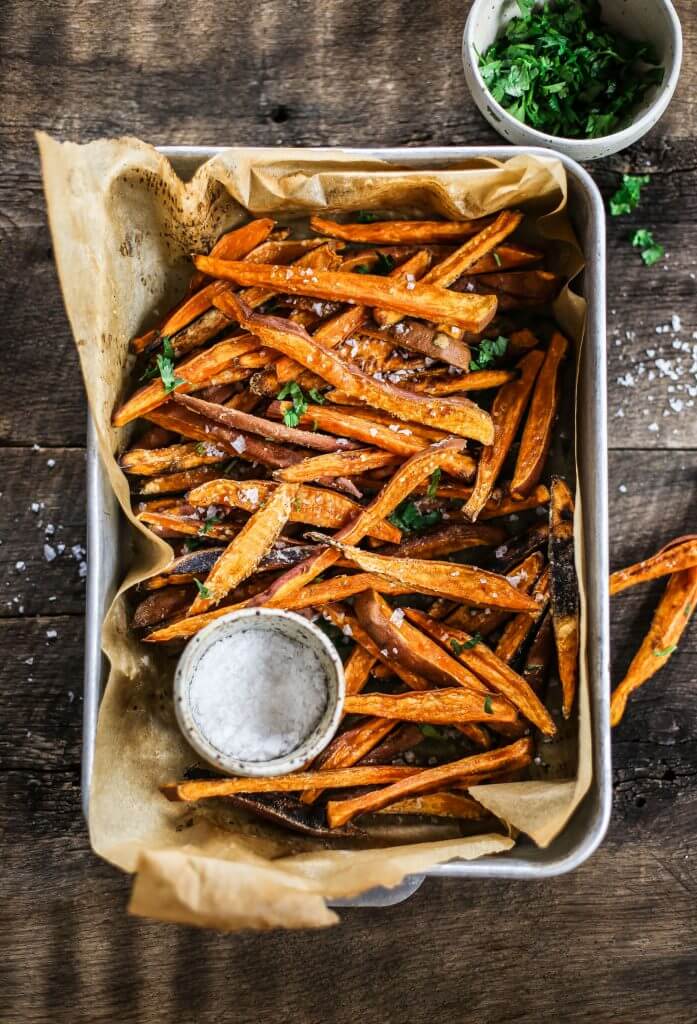 Oh glorious day!
These crispy and glowing-golden sweet potato fries are literal heavenly vibes.
Soooo in love with all the fries; there can never be enough, I am convinced.
Those crispy edges and melty buttery insides are enough to make you run full-speed-ahead for the ketchup bottle and some sea salt flakes!
Yumo!
Who's ready to make some fries?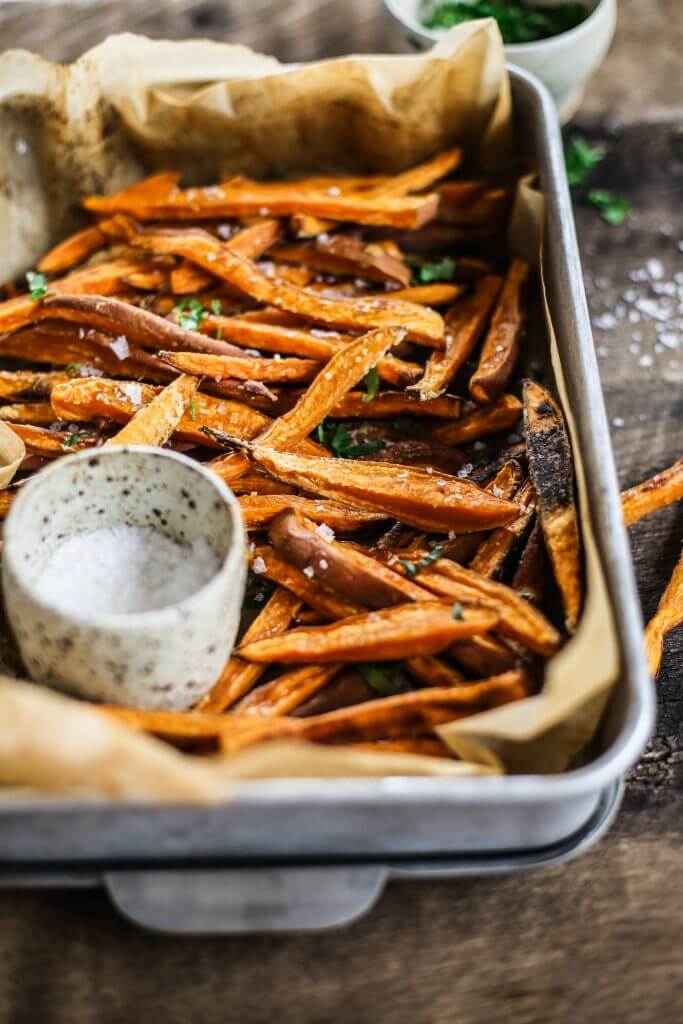 talkin' about sweet potato fries
I woke up and was like, I want fries…
Do I really want to put in all that effort?
As it turns out, it only took about 8 minutes for these babies to be in the oven and in another 30 minutes I was happily munching on all the goods.
Things are about to get pretty delicious!!
Are you ready for it??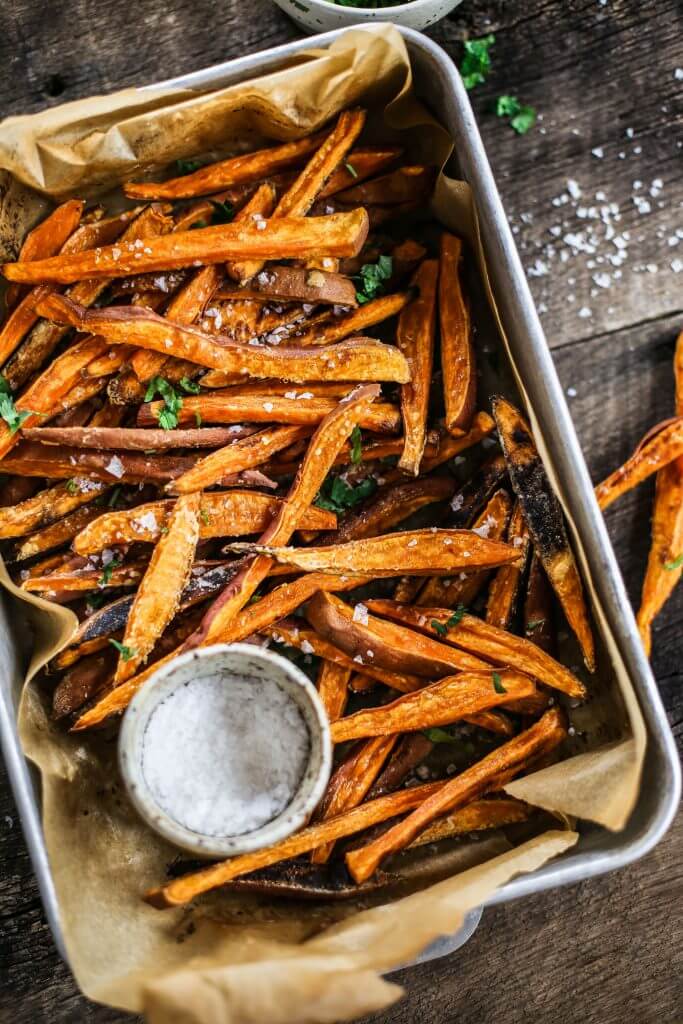 I've been kinda in a lull in the energy department, so I kicked things off with a powerful green drink this morning…
And washed it down with a handful of these delicous fries.
I totally wasn't expected that green drink to clear up my head that way, but it totally boosted my mood, balanced me out, and stopped my cravings.
If you're wondering about the power couple blend:
2 handfuls kale
1 handful cilantro
juice from 1/2 lemon
1 scoop beauty collagen
some coconut water
handful of ice-cubes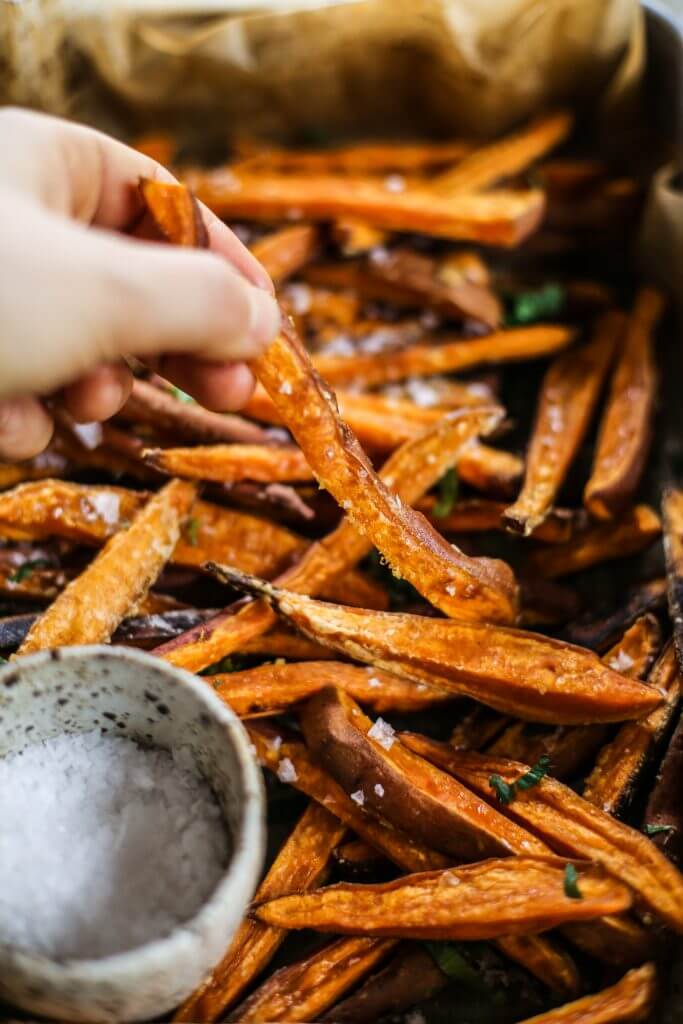 Now that I am feeling boosted and ready to go, all I want is to think about is these fries. 🙂
Hahaha, okay… I guess I need to get on with the rest of life and not just cuddle up to these sweet potato fries and let time pass.
I hope your family enjoys these yummy-addictive-want-to-eat-more-fries as much as we do!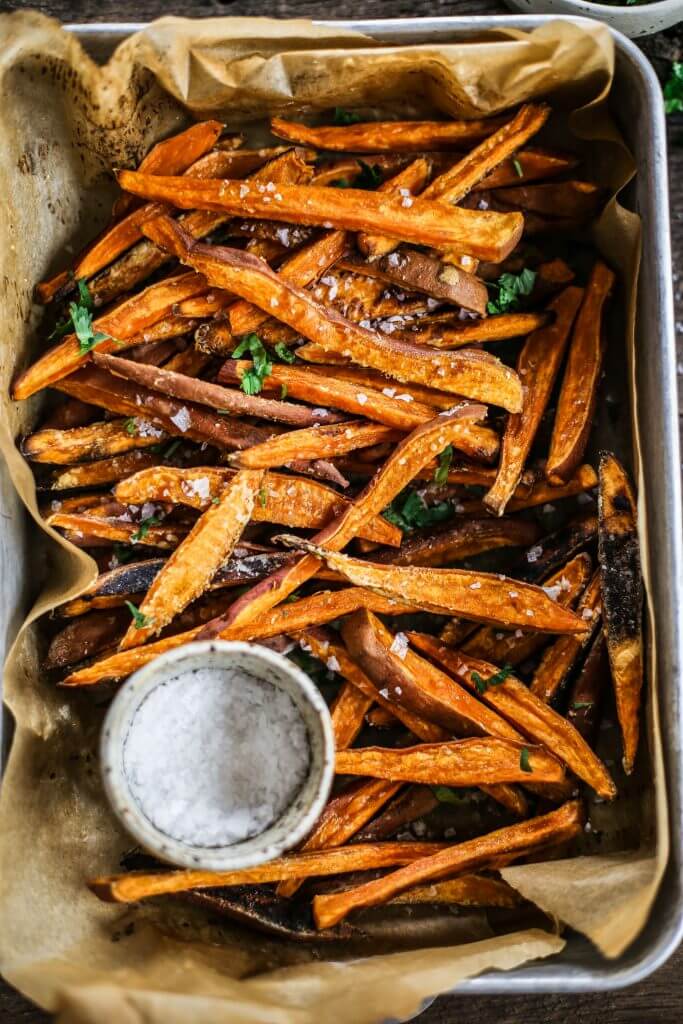 Preheat oven to 425F. Line two baking trays with parchment paper.

Slice sweet potatoes into 1/4" thick strips lengthwise and divide between the two baking trays.

Drizzle 1 tablespoon olive oil over each set of sweet potatoes and toss until evenly coated.

Toss 1 tablespoon tapioca flour with each set of sweet potatoes until evenly coated, then bake on 425F for about 25 minutes until golden, then turn them and cook for another 5-10 minutes or until crispy on the edges. Sprinkle with sea salt- to taste.
Nutrition Facts

Sweet Potato Fries

Amount Per Serving

Calories 186

Calories from Fat 45

% Daily Value*

Total Fat 5g 8%

Sodium 402mg 17%

Potassium 509mg 15%

Total Carbohydrates 35g 12%

Protein 2g 4%

* Percent Daily Values are based on a 2000 calorie diet.