Sweet Potato Carrot Cake
---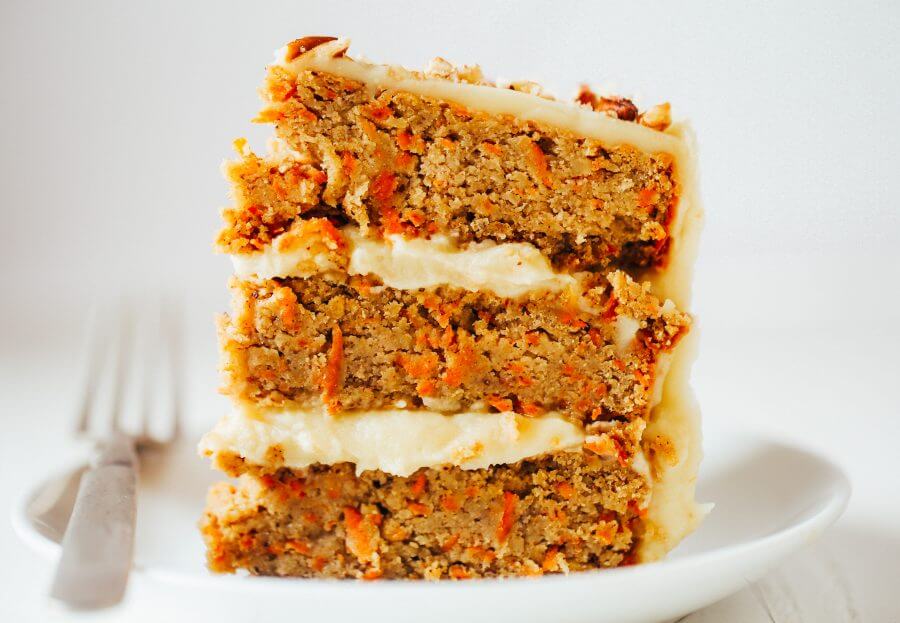 UPDATED RECIPE: Paleo carrot cake made with sweet potatoes. Topped with creamy lemon frosting made from white sweet potatoes. A healthy carrot cake recipe that is gluten free and dairy free. Moist and flavorful carrot cake perfect for spring!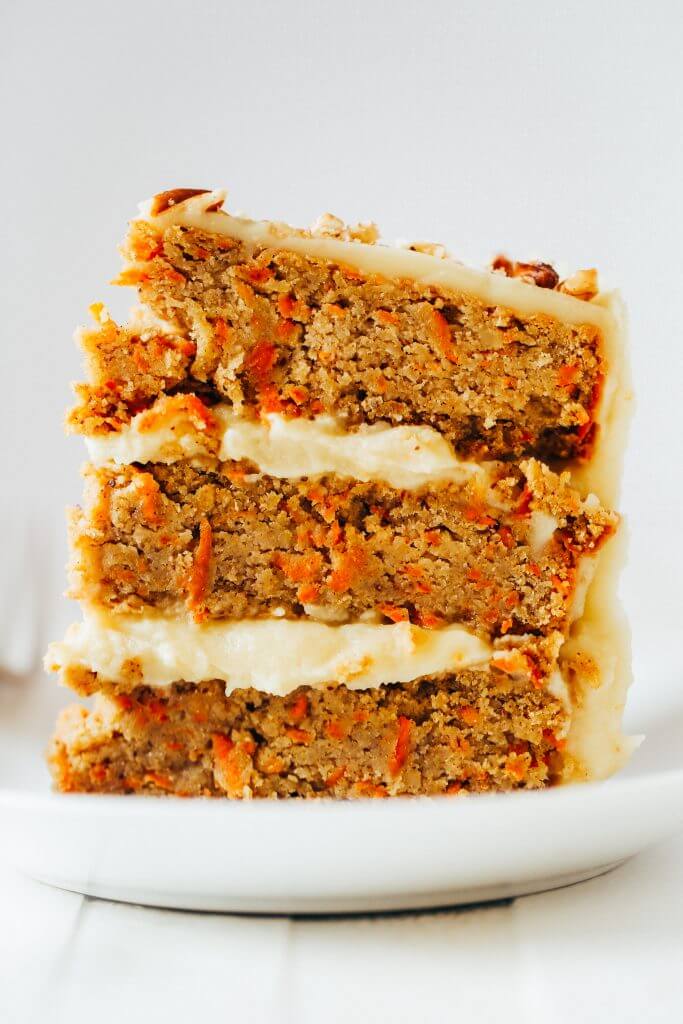 Well, you guys asked for it, so here it is: paleo carrot cake made with sweet potatoes…
And sweet potato frosting. 🙂
Yup!
We are fully committed to the sweet potatoes frosting and all.
Sweet potatoes are in the cake, the frosting, and all over my kitchen.
This layer cake is sandwiched with creamy lemon frosting made from white sweet potatoes, because you haven't heart the word potatoes enough, right?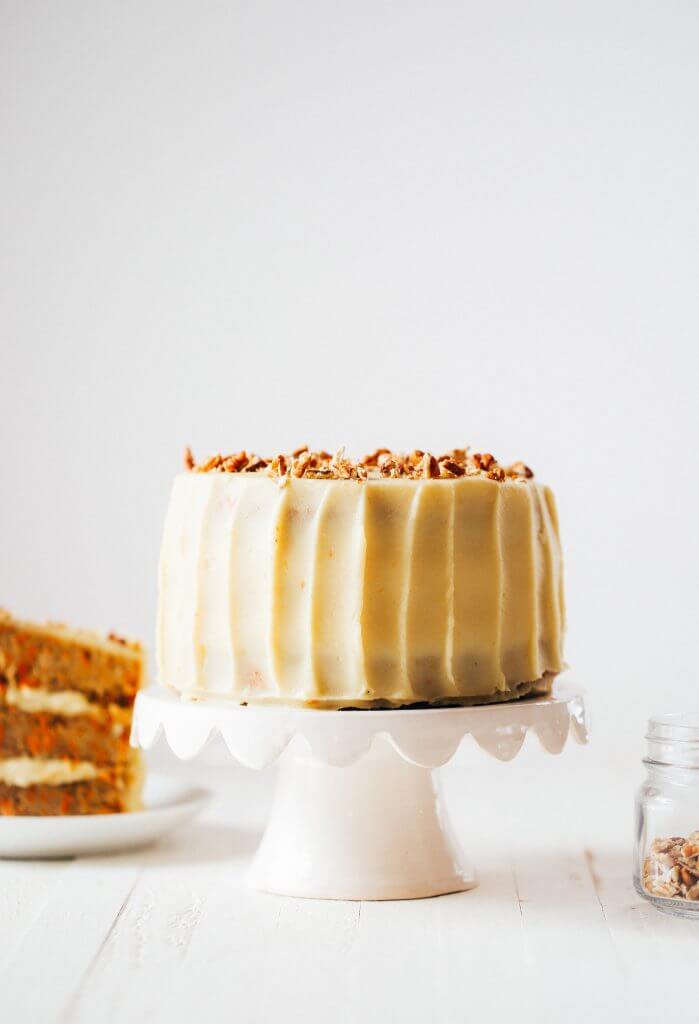 I have to say, this is not your average carrot cake!
But it's a health lovers carrot cake for sure. 🙂
If you don't like sweet potatoes, then there is a chance, this isn't the cake for you…
But then again, maybe you will!
Because all my friends and family loved it- even my dad who hates sweet potatoes!
I wouldn't know, because I happen to love sweet potatoes.
Try it and let me know what you think, please. 🙂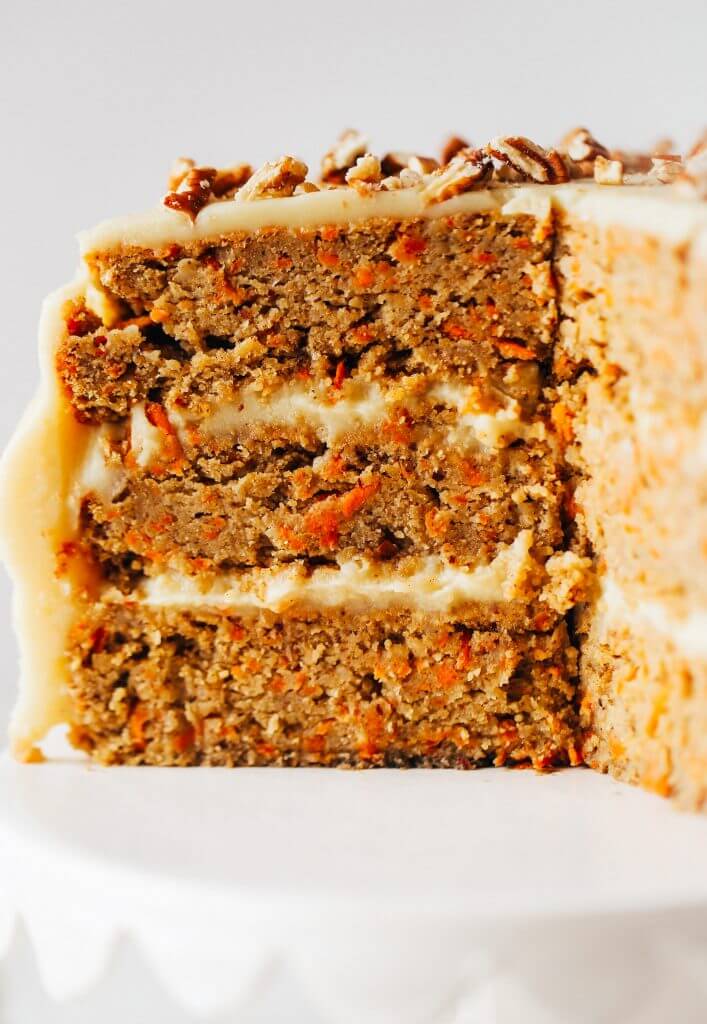 sweet potatoes in cake?
When you guys asked me to make a carrot cake made with sweet potatoes, like in my blackout chocolate cake…
I have to say, I had a bit of a brain stretch trying to convert that recipe into carrot cake.
Okay, so we ended up throwing out that recipe all together and went with this, but it is drawing from all the same main highlights of that chocolate sweet potato cake.
Some highlights include: 
It's moist.
Made with all the veg!
Light + fluffy cake (all the heart eyes).
Covered in a whipped vanilla lemon frosting.
And the cake itself if loaded with spice and carrots- you could also add raisins, which would be bomb!
Even all my wheat eating/non-paleo friends and family devoured this one!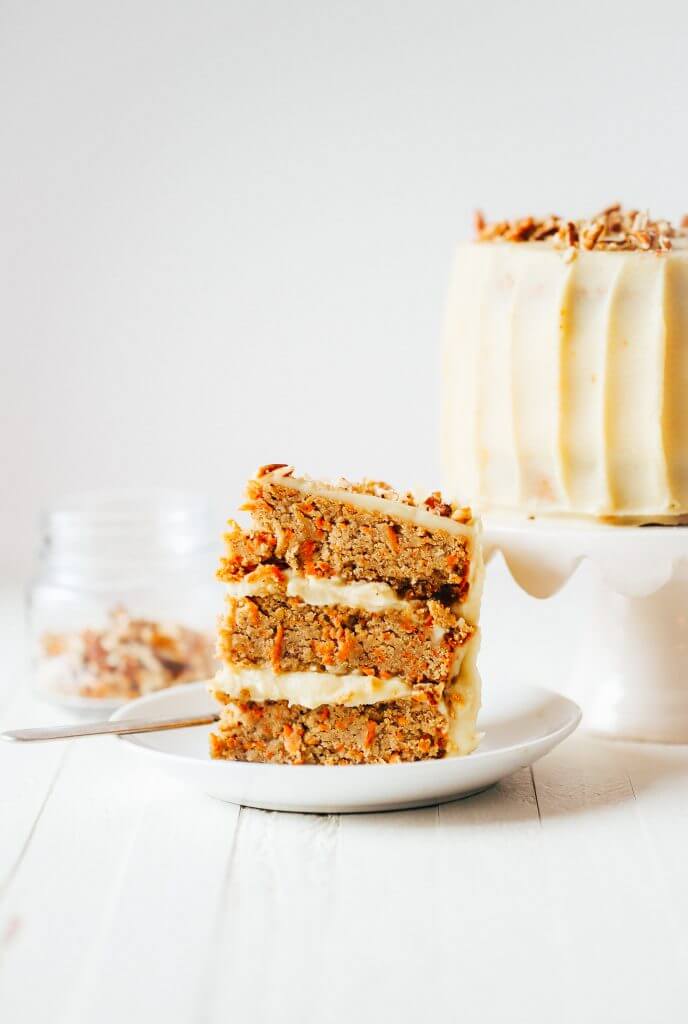 So, if you aren't into moist carrot cake and smooth lemon frosting…
Then stay tuned, because I am planning on brining a more traditional carrot cake your way (for all you non-health-cake-lovers).
This cake it dedicated to all those who can't really eat too many things because of allergies, and to those who maybe have a hard time finding recipes that don't include gluten or refined sugar.
I feel you- been there and done that (but not anymore!).
Please enjoy this healthy spin-off on carrot cake!
P.S. This is the size cake pan I used in this recipe.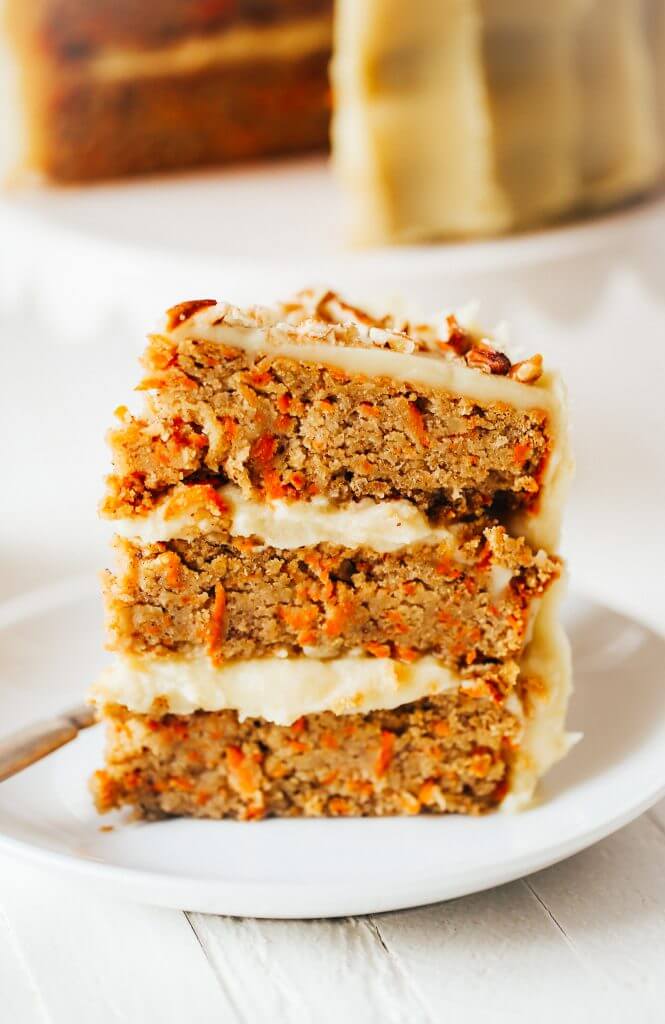 I tweaked the recipe and this is the UPDATED RECIPE: Preheat oven to 350F. Line the bottom of three seven inch cake pans with parchment paper and grease the sides with coconut oil.

Mince sweet potatoes for cake in a food processor, until they reach fine rice consistency- this will be the flour base for the recipe. In a bowl or stand mixer combine all ingredients for cake batter, except the grated carrots until smooth. Then stir in grated carrots (and optional raisins).

Divide cake batter between three seven inch cake pans and bake on 350F for about 60 minutes until golden on top. Tip: You will know the cake is finished baking when a toothpick when inserted into the center of the cake comes out clean. Allow cakes to cool before frosting.

For the frosting: Peel and slice sweet potatoes into rounds and steam in a large saucepan with about 2-3 inches water on high for 5-10 minutes until soft. Then drain hot water.

Add steamed sweet potatoes and all other ingredients for frosting in a food processor or high speed blender and puree for about five minutes until completely smooth.

Chill frosting in freezer in a large metal bowl for about 15+ minutes or until it reaches buttercream frosting consistency and is cooled down. Stir frosting then put through a mesh strainer- to remove any flecks of lemon zest, so it's perfectly smooth.

Assemble and frost cake, top with chopped pecans (optional) then serve. There will probably be leftover frosting. Store leftovers in fridge or freezer.
Nutrition Facts

Sweet Potato Carrot Cake

Amount Per Serving

Calories 423

Calories from Fat 180

% Daily Value*

Total Fat 20g 31%

Cholesterol 91mg 30%

Sodium 486mg 20%

Potassium 182mg 5%

Total Carbohydrates 58g 19%

Protein 4g 8%

* Percent Daily Values are based on a 2000 calorie diet.