---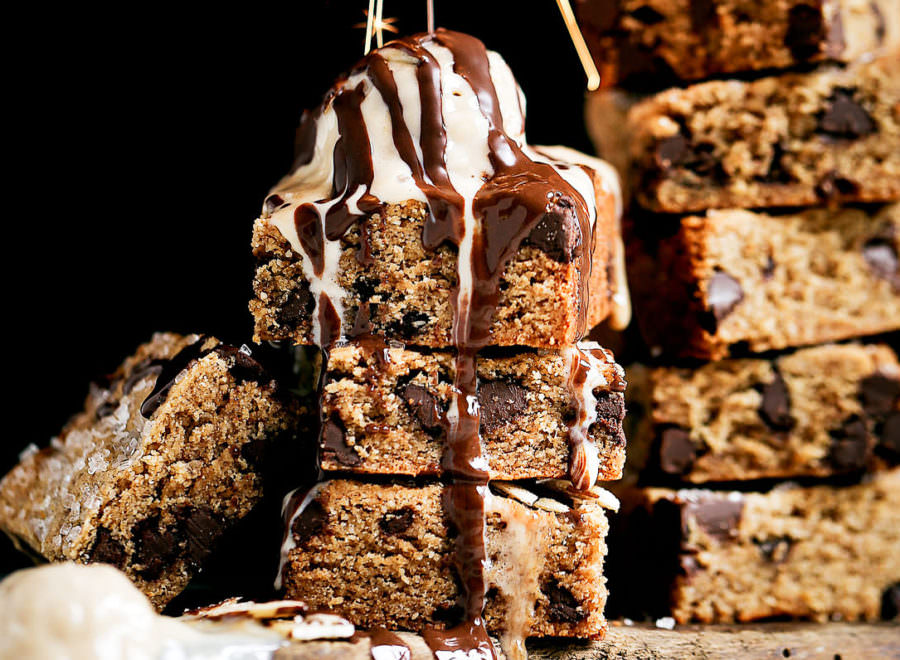 The best soft and chewy paleo blondies! Gluten free, low in sugar (1/4 cup coconut sugar in the whole batch!), and vegan. This recipe can be made ahead and stored in the freezer. It's also safe for raw cookie dough eating.

Print Recipe Soft and Chewy Vegan Paleo Blondies The best soft and chewy paleo blondies! Gluten free, low in sugar (1/4 cup coconut sugar in the whole batch!), and vegan. This recipe can be made ahead and stored in the freezer. It's also safe for raw cookie dough eating. Ingredients Info Cook Time 20-25 minutes Prep Time 5 minutes Servings blondies MetricUS Imperial Course Dessert, Snack Votes: 13
Rating: 3.62
You: Rate this recipe! Info Cook Time 20-25 minutes Prep Time 5 minutes Servings blondies MetricUS Imperial Course Dessert, Snack Votes: 13
Rating: 3.62
You: Rate this recipe! Ingredients Instructions
Preheat oven to 350F. Line a 7" square brownie or cake pan with parchment paper.
In a food processor (or by hand) combine all the ingredients for the blondies (except the chocolate chips) and blend until smooth. Then stir in the chocolate chips by hand.
Press the dough evenly into the 7" brownie or cake pan.
Bake on 350F for 20-25 minutes until golden brown.
Nutrition Facts Soft and Chewy Vegan Paleo Blondies Amount Per Serving Calories 483 Calories from Fat 333 % Daily Value* Total Fat 37g 57% Saturated Fat 7g 35% Polyunsaturated Fat 0.1g Monounsaturated Fat 0.2g Sodium 253mg 11% Potassium 2mg 0% Total Carbohydrates 31g 10% Dietary Fiber 7g 28% Sugars 18g Protein 17g 34% Vitamin A 0.1% Calcium 18% Iron 18% * Percent Daily Values are based on a 2000 calorie diet.
Read more