Soft and Chewy Vegan Paleo Blondies
---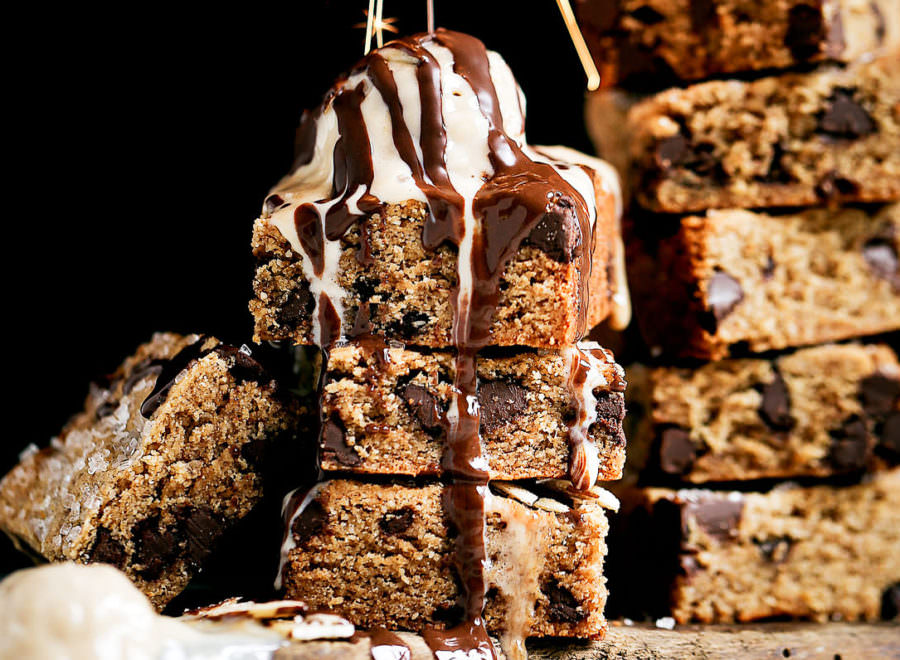 The best soft and chewy paleo blondies! Gluten free, low in sugar (1/4 cup coconut sugar in the whole batch!), and vegan. This recipe can be made ahead and stored in the freezer. It's also safe for raw cookie dough eating. Yum!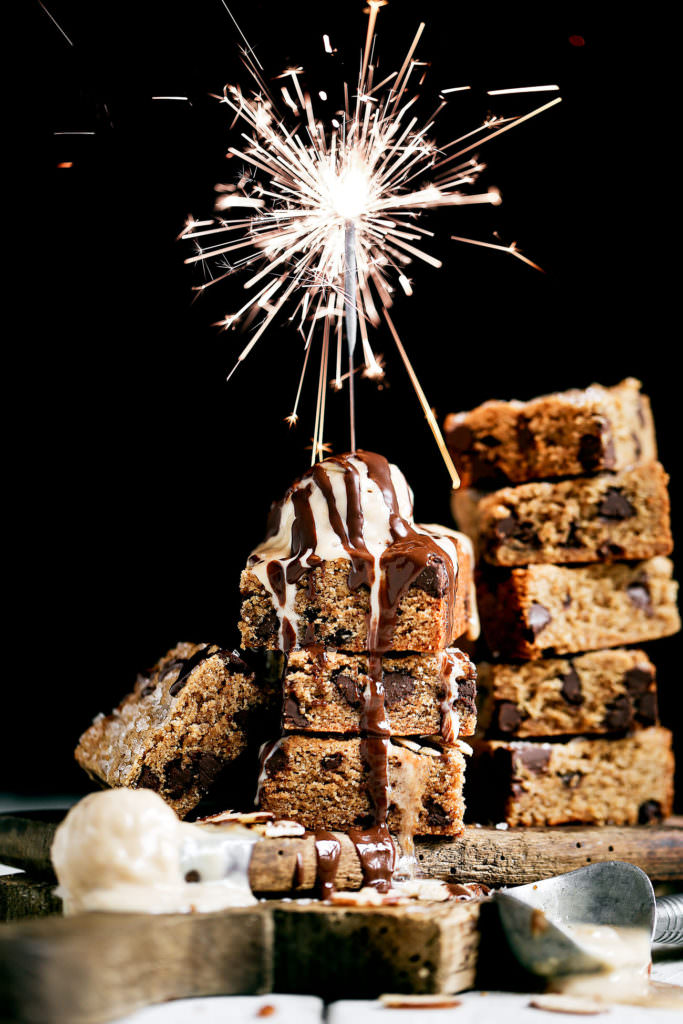 easy paleo blondies for a special birthday…
Guess what!!?? It's happy birthday to my blog this week! I still can't believe it. It feels like it's been five years… but also, just a month. But actually, it's only been one whole year now. I don't know how that happened. Time sure flies when you are having fun and working hard. It's been a successful year replete with highs and lows, triumphs and disasters, but all in all I'd say it's a year celebrating!
And today, we are ushering in the new work year with one of my ultimate go-to healthy snacks. Okay, it's a dessert, but it's so heathy that it should be a snack.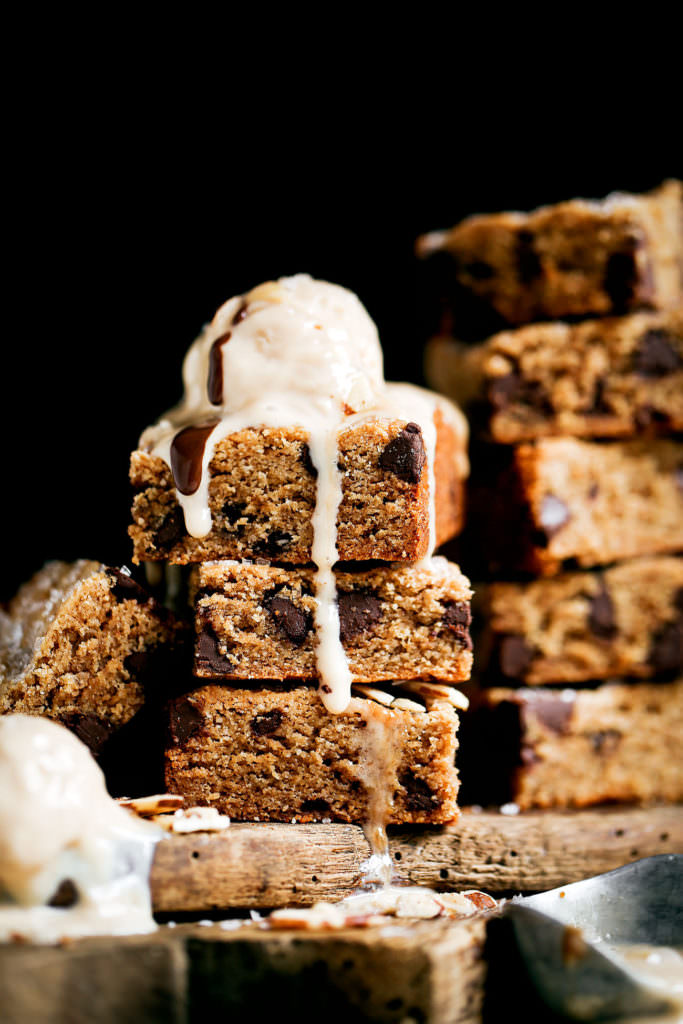 These paleo and vegan blondies are oh SO SOFT, deliciously chewy and thick, and every bit of satisfying. You might already know, but I'm ALL over those healthy treats. If it's made with nuts, has some chocolate, and fuels the bod, you know I'm going to save one or two for later; just for midnight snacking needs.
This blondie recipe has been made over and over again in my house. It's an incredibly easy recipe made with simple wholesome ingredients. You can't really mess it up and the great part is, it doesn't contain eggs! So it's 100% approved for raw cookie dough eating. My kind of treat.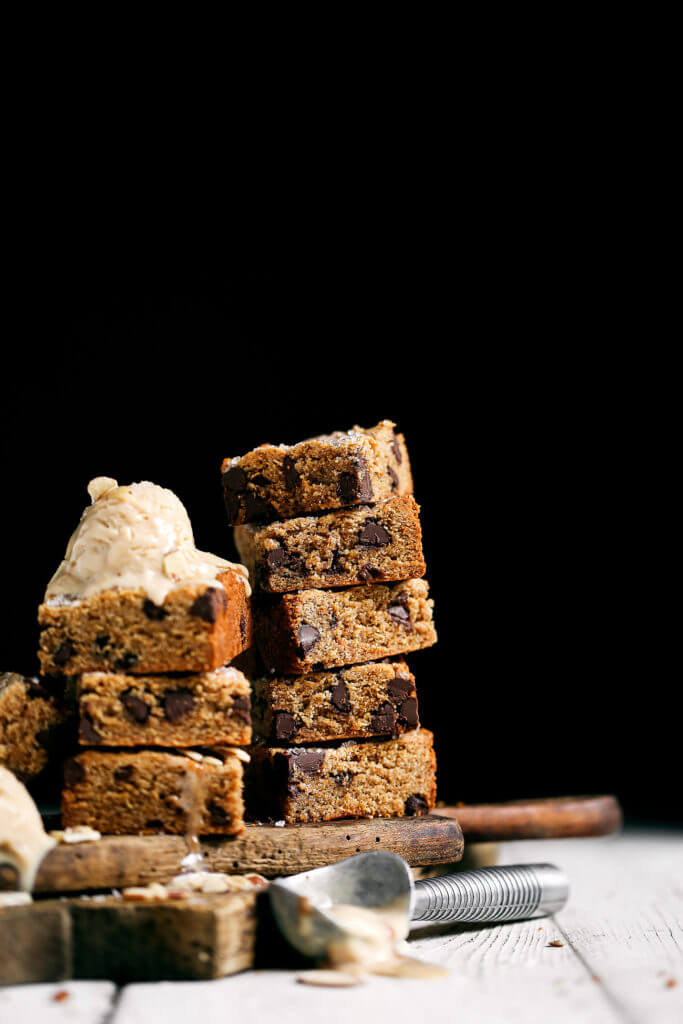 Okay, so heads up- this recipe is mega low sugar compared to your average blondie. And it tastes completely delicious! This recipe is sweetened with 1/4 cup coconut sugar and 2 tablespoons maple syrup. Easy as pie to make and no sugar bonk afterward! Now we are talking. But instead of talking, let's get in the kitchen and whip up some dessert… then we can chat. 🙂
Pro tip: Make the cookie dough batter up ahead of time, freeze it in a log wrapped with plastic wrap, then cut, cook, and indulge. It's the easiest way to have paleo cookies on demand! Enjoy!
More like this:
Dairy Free Raspberry Cream Bars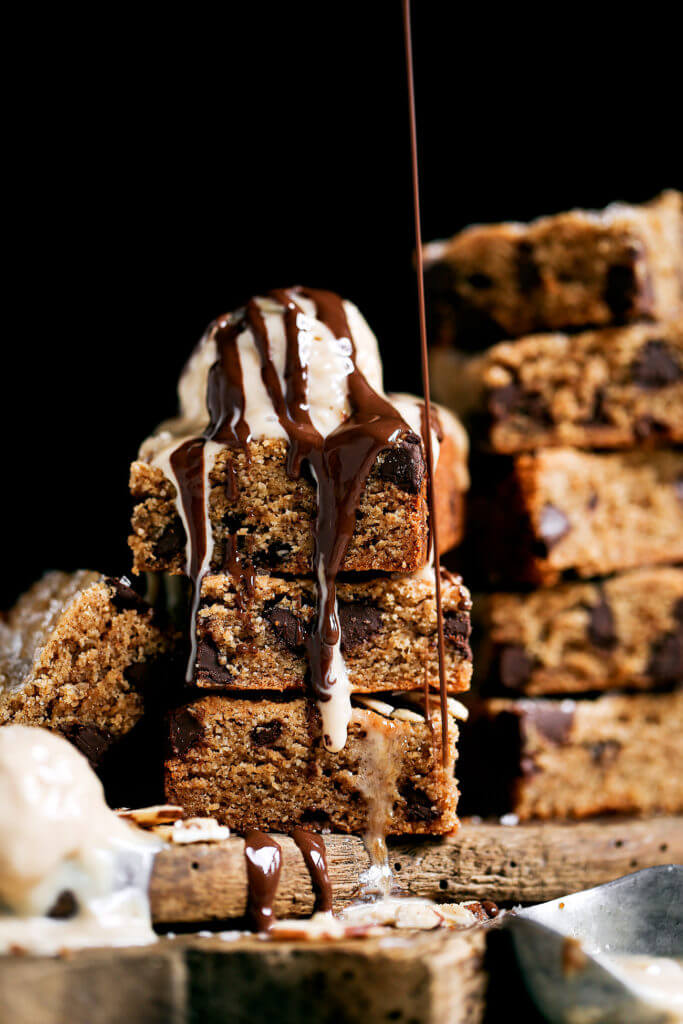 Preheat oven to 350F. Line a 7" square brownie or cake pan with parchment paper.

In a food processor (or by hand) combine all the ingredients for the blondies (except the chocolate chips) and blend until smooth. Then stir in the chocolate chips by hand.

Press the dough evenly into the 7" brownie or cake pan.

Bake on 350F for 20-25 minutes until golden brown.
Nutrition Facts

Soft and Chewy Vegan Paleo Blondies

Amount Per Serving

Calories 483

Calories from Fat 333

% Daily Value*

Total Fat 37g 57%

Sodium 253mg 11%

Potassium 2mg 0%

Total Carbohydrates 31g 10%

Protein 17g 34%

* Percent Daily Values are based on a 2000 calorie diet.